This past weekend, we took a drive up to Paso Robles. It's about a 4.5 or so hour drive up the 101 into wine country. It's a drive of all sorts, as you start here in the foothills, go through Burbank, the edge of Hollywood and the valley, then along the coast into beautiful rolling hills covered with grape vines. Sounds perfect, doesn't it?
It was. We had such a good time. We left early on Friday morning, and made another stop at Sambos on the beach in Santa Barbara, an infamous breakfast spot we found on our last trip to Pismo Beach back in April. The food there is so delicious and you can't beat the view. The view at our table was pretty darn good, too.
We headed back onto the freeway and made it to Paso Robles and our hotel, the Adelaide Inn, by around 12:45pm. Our room wasn't ready yet, but they allowed us to park there which was ideal, as the Lifehouse concert was taking place at the Midstate Fair, which is literally catty-corner across the street from the Inn. We headed over to the fair, wandered, pet some sheep, peeked into the grandstands and headed back to the Inn at 2:30pm. The room wasn't quite ready yet so we sat by the pool. Hearing Lifehouse do their sound check while I'm laying there relaxing? Sweet.
After a shower and settling into the room a bit, we headed back over to the fair. It's wine country and we'd seen several wine booths when we cruised through earlier.
We enjoyed a wonderful Harmonie Riesling and an ice cream cone after some spectacular Crawfish Etoufee from this authentic booth.
Yum. I haven't had a real etoufee since I was in New Orleans 25 years ago!
Then it was concert time. I was jumping in excitement, I am a total fangirl for Lifehouse, I own all their CDs and can sing their music in my sleep. We'd scored on fifth row aisle seats and we knew we'd have great views during the show. Hot Chelle Rae opened for them, and while I didn't know their name offhand, I found I did indeed know a couple of their songs. They have such a good beat though and they're fun to look at, so it was a great way to get us moving until Lifehouse came on stage at nine.
Had to take a stage selfie before the concerts started!
O M G
And then there's Bryce….sigh….
I know, right? (Sorry for the blur, I was probably bouncing…)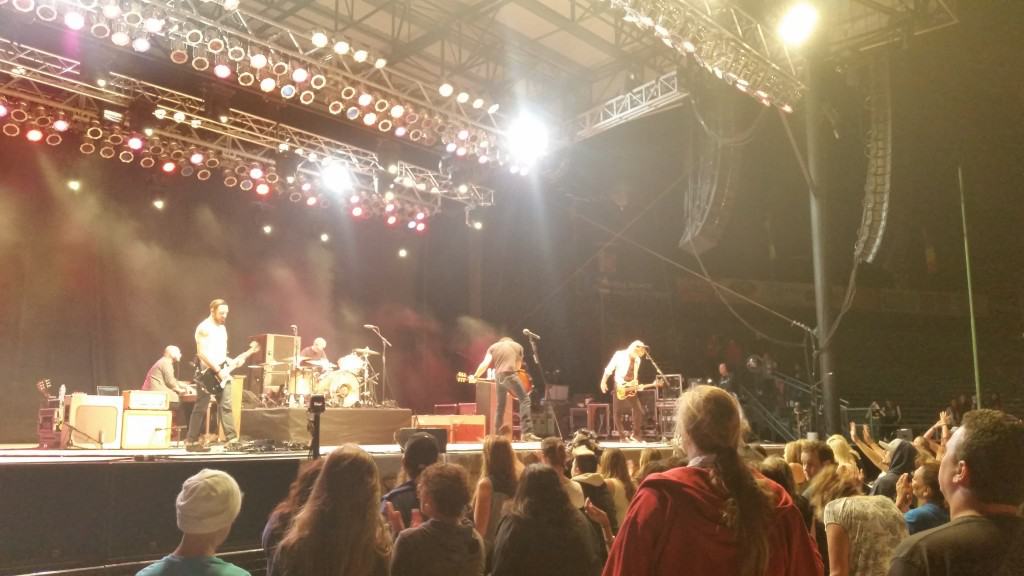 Lifehouse, I love you even more now. You put on one heck of a show! I think I broke a vocal cord when I heard the first notes of Broken and then when you did Hangin' By a Moment for an encore, I pulled a back muscle dancing. You were so worth the drive! Jason Wade, you are such a cutie, I love to watch you bounce all over the stage and the genuine smiles on ALL your faces as you play. Your heart is in it, your fans can see it and we know you love what you do. Thank you!
I floated back to our hotel room and we watched TV for a bit before knocking out. Long day! We were up by 8am the next morning, checked out quickly and headed over to the Springside Restaurant, which we found on my Google maps app. (That app rocks, it's how we found Sambos, too!) Another score — I ordered the Danish Abelskivers and the husband got the California Scramble (I think?). Don't they both look delish? We left an hour later, after enjoying a lot of good coffee and cleaning our plates. We'd also mapped out the winery list, first stop being Anglim Winery.
I'd tweeted back and forth with quite a few cool people before the trip: Steffanie from Anglim, Jennifer Bravo, wine extraordinaire, TravelPaso, Rangeland Wines and others I know I am forgetting and I am so sorry. We were glad to see that Anglim was just a few minutes away from the restaurant and was just opening, so we headed there first. It was like chatting with an old friend over lunch, except lunch was wine…and it was fabulous! We did a full tasting and loved every one we tried, so we walked out over an hour later with one of each, and we have a new friend! Steffanie, thank you again for your hospitality!
And because I like fun photos….can you guess what this is?
We cruised around some after that, got some snacks and ended up at Treana and Hope Family winery up on a hilltop out of downtown. Look at these views! It was so peaceful out there, even the woodpecker we spotted was quietly pecking away. We purchased a delicious Chardonnay and tried six different wines as we got to talking with the hostess. Such a great afternoon!
Don't you just want to stand here and listen to the wind gently blow?

By then, we were out of time and we had one stop left: Solvang Bakery! Had to get a cream puff!
We'd had a retirement party invitation back at home but we knew it was going to be a tight squeeze time-wise. It was a no-go once we got down below Santa Barbara, where the 101 was a parking lot for a couple of hours. Stop. Go 10-15′ . Stop. Go 15′-20′. Stop. The husband may or may not have gotten a little testy and I was constantly hoping the people behind us were as vigilant as watching the brakelights as we were. Then it started to sprinkle, the words no Californian on the freeway wants to hear. Just a little bit of rain can turn a 20-minute road trip into 45 and combine that with already slow traffic? Traffic nightmare. Traffic finally picked up  after the 134, which took FOREVER, but what do you do? We made it home safely, unpacked and collapsed on the couch while deciding what fast food we wanted to get as there was no way I was cooking or going out.
Since then, we've put away the wines and looked at the photos several times. I've got a few videos from the concert but we were so close to the thumping speakers, they didn't come out real well…but that's okay, I'd rather be up close than have good videos! Next time, I am shooting for front row.