First, a little news — last week, I was installed as Marketing/Social Media Chair for the 2022-2023 NAWBO-OC board! I decided it was time to take the leap and join an amazing group of professional women, and I couldn't have picked a better group. Thank you, NAWBO, for giving me the honor of joining the board and for giving me the nudge I needed to get out there and grow my business.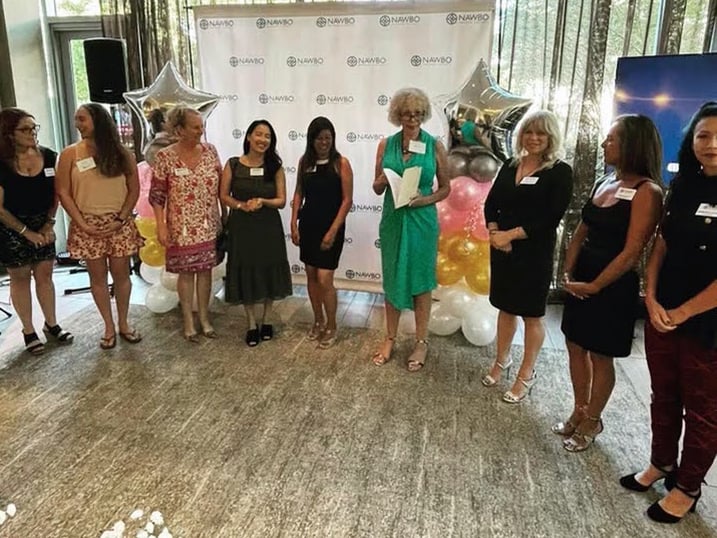 If you're unfamiliar with NAWBO, you can read more about it at their website. In short, it stands for North American Women Business Owners, and it's a national organization that brings together women business owners for the growth of their business, community support, and giving back to the community.
NAWBO-OC is the Orange County chapter, and while I don't live in the OC, some of my clients do. Luckily, NAWBO allows you to join other chapters as long as you're within a certain distance, and I am! (And my local chapter meets out here in the Inland Empire, but further away than the OC chapter, go figure!)
I'd been on the fence for a few months regarding which business organization I would join this year. I'd considered my local Chamber of Commerce, and that's still a possibility. I'd reached out to another local group but never heard back, so I was a little disappointed; if they don't respond to interest emails, what do they offer their members?
All of these groups do have a yearly membership fee, which goes towards resources, events and education for its members. It's really a matter of what you're looking for in a group, how far your driving radius is, and what you seek to gain. For me, I wanted to engage with other women who understand the challenges of owning a business. Nothing against men, but they don't usually come to business owning with the same perspective. Women are more often juggling parental/mom duties and fitting in business growth around the rest of their responsibilities, while society expects men to be able to focus on business first.
That has to change, ladies.
But that's not the biggest reason I joined, to be honest. I'll confess here, I'm not good at networking. I can do social media marketing all day long, but selling my services to strangers isn't my forte. I desperately need to improve, because word-of-mouth is great but an elevator pitch is a requirement if I want to scale.
See, I've been doing digital marketing of some sort since the mid 90's. As each social media platform came to life, I joined it, learned it and used it for clients in some way. I'm an OG community manager from 1996 onwards, and have helped major media down to small one-person businesses grow their business using solely social media platforms. Add in newsletters, press releases, content creation and SEO, and my business helps others while allowing them to focus on what they do best…because social media management is what I do best. Win-win.
NAWBO-OC meets once per month on the second Tuesday at 5pm. We're now meeting at the AC Hotel in Irvine. You can buy a ticket online each month for $30 if you're not a member, and $20 if you are a member. Membership rates start at $239, with a one-time initiation fee. If you join before July 30, 2022 though, NAWBO-OC will refund you that initiation fee. Ladies, now is the time!
Meetings last about 90 minutes, and now that we're at the AC Hotel, there's a meeting space in the lobby (along with a cocktail/soda bar) for after-hours networking and chat. Parking is free in the self-parking lot across from the entry, and valet parking is $10 if you tell them you're with NAWBO. Each week, there is food (so you can eat dinner with us), wine, coffee and waters available for free with your meeting ticket rate. Come join us!
Here are some photos of our recent 2022-2023 NAWBO board members installation celebration, sponsored heavily by SCE as well as some other businesses who donated to our massive raffle. (One lucky winner won a diamond ring!) We got a little extra fancy, enjoyed a spread of food and had a DJ who sang and played music for some dancing. I don't have dancing skills, so I just watched, but we had a great time celebrating our new chapter president and all of the other wonderful ladies stepping in to volunteer their time to grow NAWBO-OC and help provide more to our community (such as the local Girl Scouts) and each other.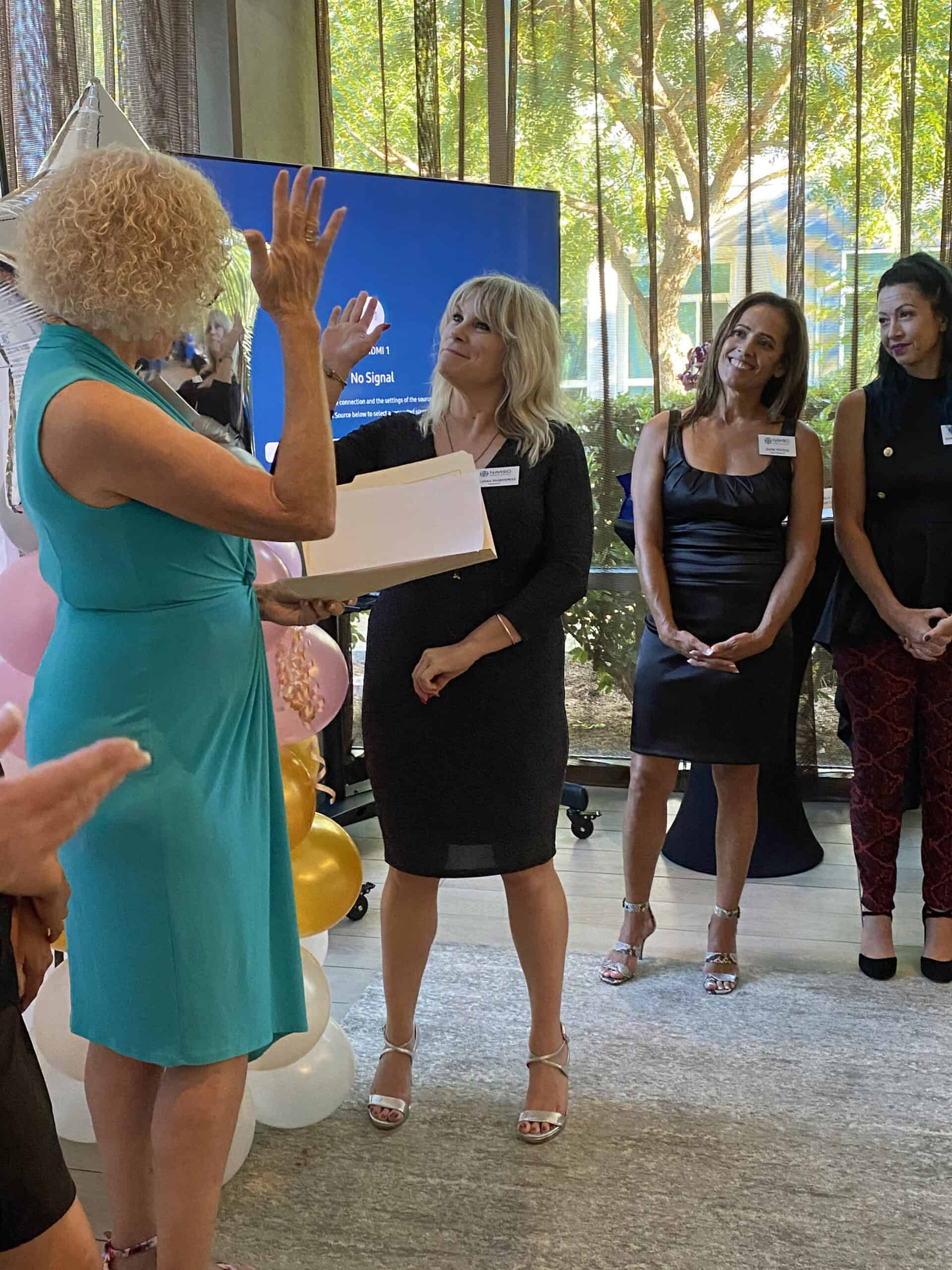 If you need a boost of confidence, some education on different topics, we're your group. Every month, a different speaker attends, covering things like ergonomics to keep your back healthy, social media (like yours truly speaking on growing Instagram), spiffing up your LinkedIn bio, and more. Learn, meet ladies, drop that imposter syndrome and gain new clients…and have a blast!