Are you a photo enthusiast, family photographer or an advanced photographer who needs a trustworthy software to provide enhanced photo editing? Are you a blogger or business person trying to improve the quality of your photographs beyond the basics? Or are you a designer who works with images frequently?  If you use photos on a regular basis and need to be able to make them the best they can be, you will love Adobe's Creative Cloud as much as I do. With the multi-screen capability at an affordable price ($119.99 per year for a regular retail subscription), it's feasible for any photographer as an option to make revised copies of your already spectactular — or not so spectacular — photography and turn it into whatever you envision. In short, you can make it even better with the Creative Cloud Photography plan that I now have from Adobe.
I have been compensated in the form of a Best Buy Gift Card and/or received the product/service at a reduced price or for free. The review and opinions are my own.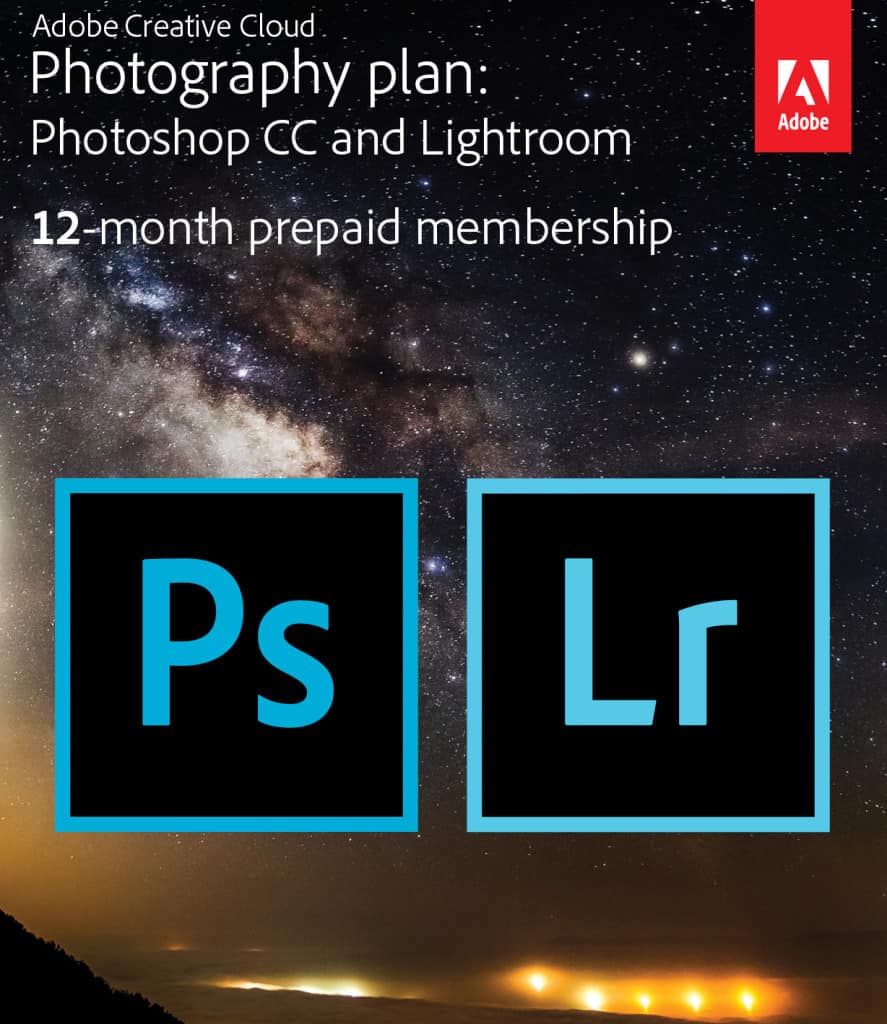 I've been using Adobe Photoshop for years now, through many iterations, and have seen the process of taking a raw photo and enhancing it to its best capabilities become easier and easier with each upgrade. The Creative Cloud Photography plan now allows for editing on any device, anywhere, giving you the control to make total transformations or just those basic edits like smoothing out a facial blemish or removing red-eye.
The Creative Cloud is made for the more advanced photographer who needs the bells and whistles. It gives you the choice of which device you need to do your work on: the computer, an iPhone, an Android or your tablet. The coolest thing about the cloud is that when you make a chance on one device, it's automatically updated everywhere through the Adobe CreativeSync technology. Isn't it amazing to think that the concern about lost images is almost completely removed? Change the filter, sharpen an image, add some text…no worries if you get called away or a battery dies, as your changes are already saved to the cloud. This allows you to organize, save and share from anywhere. How far we've come, right? If you want to take it a step further, use the Adobe Slate mobile app to create a visual story or an animated video, and the mobile app will add your own voice. Isn't it almost Hal-2000'ish what is possible with the help of the Cloud?
It may sound daunting, but once you've got the skills you need for photography to take the photos, you're over halfway there. Adobe has a learning curve that's do-able for everyone, but will come more easily to those who already have some of the terminology down. If you know how to apply filters and have the eye on what you need to edit — remove, blur, sharpen, etc. — you'll find the Creative Cloud worth the time it takes to get comfortable with it. Even if you're not familiar with photography, it's a challenge well worth the time to learn, and totally feasible to even the more amateur photographers.
I take a lot of photos for my blog and my social media business. I also use photography and various images during my day job as a Digital Platforms Manager, where I market, write and SEO the heck out of stuff all day long. It's critical for me to have the software skills to take a photo, and maybe not even the best one, and whip it into something that is compelling, attractive and evergreen. The Creative Cloud gives me the space to do it on a regular basis, without being a resource hog, and to do it wherever I am. Social media managers are frequently on the road and we need a portable resource system. It also appeals on the cost basis, as $9.99 per month isn't a lot and is well worth the minimal cost.
This past week, I was editing photos for a few foodie events that I'd shot for, and I ran into a photo of my son's service, an adorable Labrador with the simplistic, adoring love of a child but with the level of devotion and dedication rarely seen. He is my son's best friend and will do anything for that boy, but he's also a big moose of a dog who likes his naps. His pink nose and big muddy brown eyes suck everyone in and because of his sweet demeanor, he's frequently the focus of photos. I'd taken one of him napping and realized that it could use a few changes.
Here's the original photo: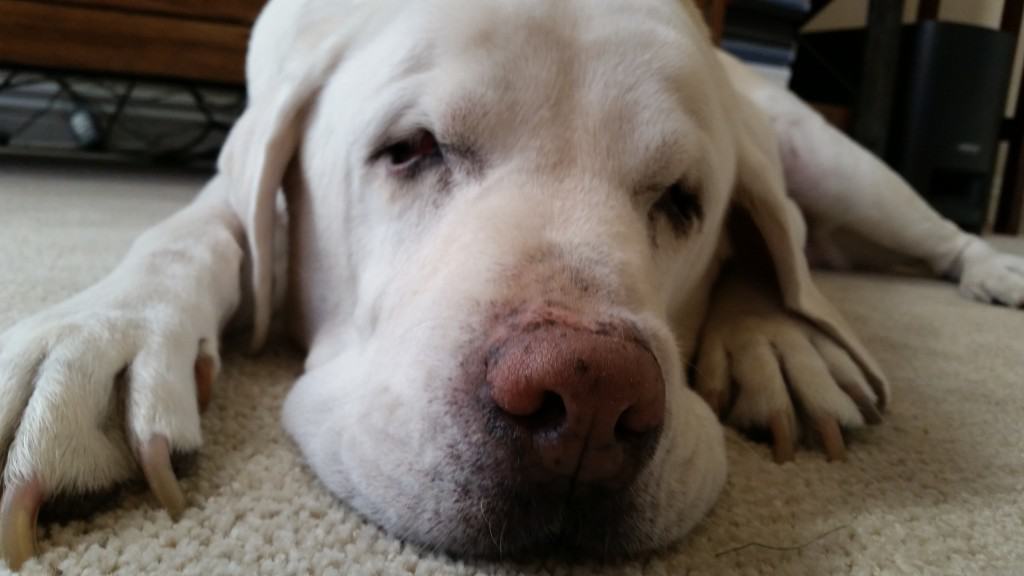 Isn't he adorable? While I'm biased that yes, he is, I can see some imperfections with the photo. It required a brightening, some contrast, some sharpening and some cropping to help focus on the best features. I wanted the focus more on his face and less on the rest of his body.
In photography, it's not just about taking the photo and recording the moment, but portraying exactly what it is you want to convey. A sunset is a beautiful shot, but if there's a spread of sandy beach and two people walking in along the edge, maybe it's taking away from the shades of light in the clouds. Maybe you want to focus on just the one young woman walking solemnly along where the water meets the sand. Photography isn't just beautiful, but it tells a story, and just like when we talk, if we say too much, the point is often missed. Using editing software allows us to remove the distractions, remove the noise, and point you right where we want you to look so you understand what we're saying. This isn't to say that we need to edit everything, but this simple photo of a dog is a great example of how we display him at his best.
Here's the after: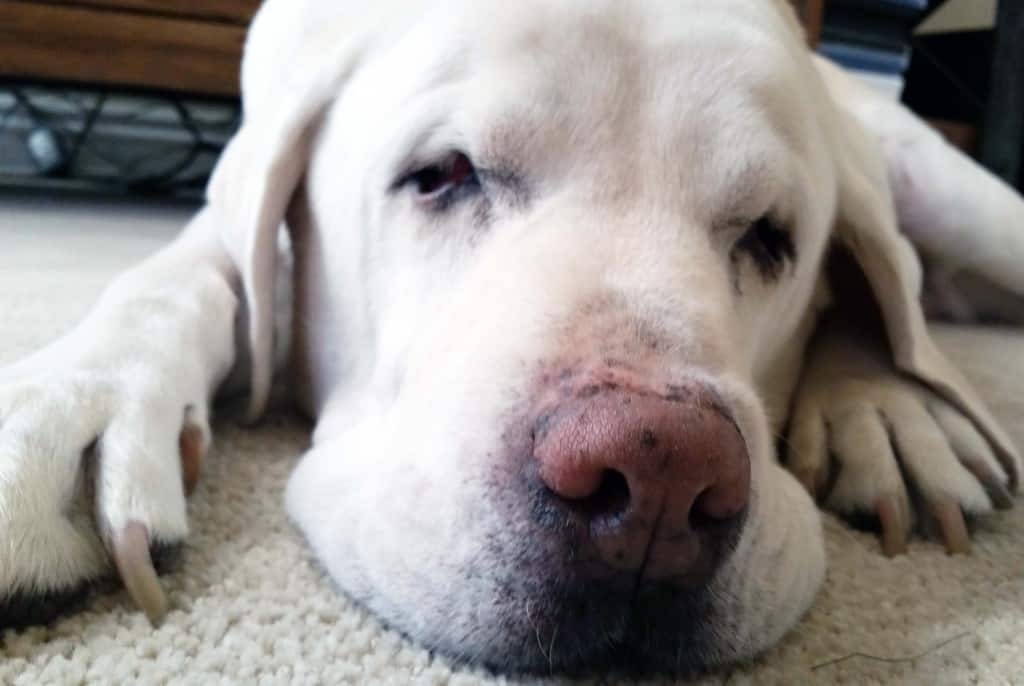 The edits take away some of the background noise, some of his long nails (that have since been clipped) and a lot of the shadows around his nose. His fur is more accurately colored. Looking at it now, I could have removed that thread on the carpet to the right of his cheek. It appears much larger now that I've cropped away some of the background, allowing the flop of his ear onto his foot to be seen much more easily.
In the end, it may not look like a vast difference, but sometimes it's the little things that matter the most. I want to look at this photo years later…rather, I want my son to look at this photo years later and see his boy, see Charlie as he is, to see him clearly without any imperfections. The dog has no imperfections (though he does like to stand in the middle of the only opening and wag his tail, entirely blocking your way) so the photo shouldn't either.
If you're considering the Creative Cloud Photography plan, read more about it here. You'll get a more detailed run-down of what you can get and what you can then do with a simple $9.99 per month. For the price of a couple of coffees, which I spend without batting an eye, I can always make sure my photos are worth the money I make taking them.
Take your best shot and make it even better with the Creative Cloud Photography plan. And go give your dog's nose a kiss.