As a kid, I had to wear braces. It was only two years, but it felt like a lifetime. Just when I was struggling to fit in and look cool, I was stuck with rubber bands going across the front of my mouth, earning me the nickname of Chewbacca. As a parent, I watched both my daughters go through the same struggle, except now I was paying for it myself. I only wish we'd had the option of affordable teeth straightening kits that didn't require monthly appointments yet successfully realigned my teeth in only four to six months!
Braces can be expensive. They can also be painful and some people end up wearing them far longer than two years. Insurance also only typically covers half of the cost, sometimes leaving patients (or their parents) with bills upwards of $3000, $4000 and more. And now, during COVID, we're trying our best to stay home and minimize our risk, making an at-home option for teeth straightening even more appealing.
**This is a sponsored post, and the links are affiliate links, so if you make a purchase, I may be compensated further.**
If you're thinking that this is too good to be true, it's not. SmileDirectClub takes the hassle out of realigning your teeth, in more ways than one. It's actually a pretty simple process: receive your teeth mold kit, make your molds, return them for review by a licensed dentist or orthodontist, and await your custom treatment plan while your aligners are created.
Once they are complete, they are shipped to you, and you wear them according to the plan you're provided, changing the aligners as directed, and all of them will be shipped directly to you. (You can also choose between a 10-hour nightwear plan or a 22-hour daily plan, so you're able to really be involved in the treatment plan. Both cost the same, with the only real difference being how quickly you want to see results.)
Your kit will make it so easy! No appointments to get braces tightened or repaired, and there are no surprise fees, as you know the cost up-front, and insurance may even cover some of it. SmileDirectClub also offers a payment plan with a small down-payment and a monthly payment until the balance is paid off. No credit checks makes it easy for anyone who needs the aligners to be able to get them.
You'll also receive premium teeth whitening, virtual visits with your dentist along the way, and at the end, you can purchase a retainer. If you'd rather go in-person to get started, you also have the choice to skip the molds via mail and go into an office for a scan.
If you want to consider just teeth whitening, look at this discount! Click the image below, or HERE, to get 15% off of a home teeth whitening kit AND get FREE shipping!
I hope you'll Visit the SmileDirectClub website for more information on locations and use my affiliate link HERE to get started! Whether you're looking to purchase the product for yourself or for your child/ren (because the SmileDirectClub teeth straightening kits are so cheap, it's affordable to do it for multiple kids), I think you'll agree how exciting this process can be! Being called Chewbacca really made me embarrassed at my 'brace face,' (another common name), so I'd have loved something so much less visible…and I would not miss those little rubber bands snapping against my lip!
To get started, you can order this impression kit ($18 but FREE with rebate)!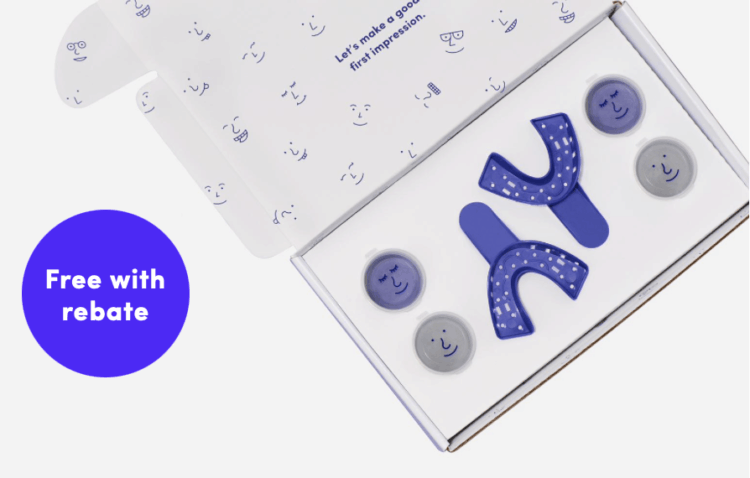 Don't give up if you're in need of teeth realignment. At-home teeth straightening kits have become more mainstream, reliable and easy for anyone in need!