The new Disney Alice in Wonderland movie — Alice through the Looking Glass — comes out on May 27th!
Starring Johnny Depp, Anne Hathaway, Mia Wasikowska and Helena Bonham Carter, it promises to be another wonderful addition to the Disney movie collection and I can't wait to see it!
Here's a sneak peek trailer of Alice Through the Looking Glass!
All the scenes I've seen so far are adorable, and I think this poster is one of my favorite.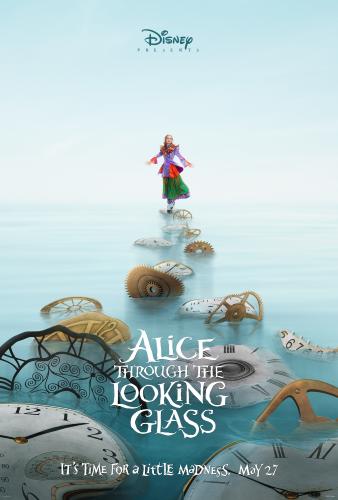 It's time for a little madness, and everyone can use a little madness, right? Alice Through the Looking Glass looks to be one of those movies that will be enjoyed by couples or families, so no worries if you want to take one of those trips to the movies alone…because I don't know many adults that haven't said "hmmm, whose kid can I borrow to go see <insert movie name> because I don't want to be the alone adult there?" Or is that just me?
I remember a few years back, I really wanted to see another Disney movie but the whole family was occupied at other individual events, which is no easy feat when you have a large family likes ours. Should I see the movie? Go see another movie? Stay home alone on a Saturday afternoon? I opted to go see the movie. It's dark inside, right? I went out to eat first, and the waitress came to take my order. "Just you, hon?" <Pathetic pat, pat, pat on my arm. Sad nod of her head.> "Yes. Who doesn't need time alone, right?" I got another sad node and smile like "You're a weird one." But you know what? It was a great afternoon and I enjoyed the movie, alone or not! And I didn't have to share the popcorn. Win-win.
Go see the movie when it comes out and let me know what you think!