Autism advocacy — it's a daunting term. When you first get the autism diagnosis, it's enough just holding yourself together. There's no list of what to do when your child is diagnosed with autism, so you're sent home from the doctor's office with a mix of emotions and no real clue what to do next. You may have been told to go see another doctor, but most people are told to contact the school to get involved with some type of early intervention. And that's where the fun begins.
Don't get me wrong. The school's help can be life changing. If you are fortunate enough to be in the territory of a good school district, you'll have an easier time of having your child's needs met. And your needs — don't forget them, as it's not just about your child. You come as a team, and if you remember that from day one, autism advocacy is going to be a lot easier.
Thing is, nothing about autism advocacy is easy. By its very definition, advocacy requires asking for help.
   advocacy
      noun, plural: advocacies
the act of pleading for, supporting or recommending
Pleading, yes, advocacy definitely requires that, too, despite the fact that it shouldn't. Nothing dissolves an independent, intelligent and solid parent into a pleading mess more than having to advocate for a special needs child.
So how do you go about autism advocacy? That's easy — you're already doing it right now! Advocacy isn't complicated. It's tough, but it's relatively simple and can be reduced to one sentence: you seek out help for your child and ensure it happens. That sounds weighty, and it is, but once you accept that it is your life once a child has an autism diagnosis — or any special diagnosis — you've fought half the battle. It becomes engrained once you start. You don't look at anything the same again. It's truly your way of life.
Being an advocate for an autistic child isn't just the job of a parent. It's the job of every grandparent, sibling, aunt, uncle, babysitter and close friend. If you care for a child before they are diagnosed, you have to be an advocate…or you have to get out of the way so the real advocates can move in. Harsh? Yes, but parents aren't going to have time to educate you and pacify your needs. They aren't going to have the energy it takes to try to get you to understand something they don't even understand. Don't put that on them. If you care, grab a chair and head to Google. Head to Talk About Curing Autism. Go to Amazon and order a book. There are a zillion ways you can learn, and I hope the choice you make is to support rather than tell them how to parent, that their kid really doesn't have autism, that they should spank the child, that they aren't able to help you or listen to your problems or that they can't talk with you on the phone uninterrupted. It's time to get over yourself and love them and their child just like you did before.
The place you're going to have to most advocate is going to be your school — if you learn to walk away from anyone I mention above that can't advocate properly. You'll need to be able to focus, and if the school is going to provide help, then focus there first. You have the choice to choose a new playgroup or a truly loving church but you are frequently stuck with the school, unless you move to a new county. You're already going to have enough on your plate, but for some people, that's still a viable option. We tried it, without zero success, but we certainly did learn something from it. Only you know if that's something you want to, or can, do.
Schools are mazes. They consist of far more than the classroom. They are reams of bureaucracy and budgets wrapped up in a big building full of people that aren't there to help you. But, there are a lot of people who can help you; it's just a matter of connecting with them and working with them. Don't let that scare you, but as soon as you realize that there are going to be battles, and that many people aren't going to care, you'll be less surprised the first time you hear 'no' or 'we don't have a budget for that.' The first time an attendance clerk hassles you over being late (because your child had a meltdown over a tiny seam you didn't even see in his socks) or when a nurse insists on a note saying the rash around his mouth (from licking his lips as a stim) so he needs a doctor's note, you'll want to be toughened up and ready to fight.
Autism Advocacy Tips:
Develop your own personal support system with regards to dealing with the school. If you can, get your spouse on board to attend IEPs with you. CC him on all the emails. There is strength in numbers. Sometimes you'll miss things and another set of eyes or ears can help prevent that; they also can chime in when you've forgotten something or even just momentarily stunned. (That happens very easily if/when the school presents you with assessment results you haven't yet seen, which leads me to my next tip.) No spouse? (The stats of divorced parents of special needs children is scary high.) Find a friend or family member to be your partner.
Get a copy of all assessment and testing results prior to any meeting or call. You'll appreciate the time to read through them, absorb the information and not feel blindsided when they start throwing things at you. You will also have time to research the terms and prepare a list of questions. You don't want to end up wiping away tears when they tell you that your six-year-old child has the communication skills of a 12-month-old rather than listening to what they're saying they can or can't do. And you want to be able to ask them what they're going to do to address that, rather than being numb and shocked. It also gives them less of an opportunity to railroad you into agreeing with something you've not had time to fully understand. I've been told by admin, repeatedly, how glad they are that I take the time to be prepared; it saves them time and honestly, they don't want to have to give you bad news either. They're not the bad guys.
Be nice. It sounds obvious, but the amount of people in the schools who have told me about parents who storm in yelling and screaming is astounding. It's stressful, and it's easy to be upset, but it won't help you to alienate them. Even if they outright refuse to work with you, you're better off remaining calm. I usually take in a plate of brownies. This won't guarantee better results, but it helps to humanize everyone. Someone says something and puts you on the spot? Take a bite and slowly chew while you ponder your answer.
A bonus to being nice is that you can also build a network of contacts. One school my son attended had a few great administrators but some nasty teachers. Being able to call the autism specialist or vice principal, knowing they'd answer my call rather than let it go to voicemail so they could just email me back later, meant I had one additional layer of help. Being able to refer to them saved us many times. At one point, having a good relationships with a therapist that was so involved with my son able to speak up on our behalf for a legal proceeding was worth its weight in gold. You never know when you're going to need people to advocate for YOU. Build that team, even when you least feel like it.
And speaking of humanizing someone, one of my best tips for anyone is to personalize your child. Go beyond the name. Everyone has a name, but no one has the same look as your child. You can describe them all you want, but putting a face to your baby is important. I have a white, sturdy three-ring binder with a clear plastic sleeve on the front. I keep a current photo of him in there, and I update it yearly to what he looks like now as well as leaving in one from years ago to show how he has progressed. If someone hasn't met him, I say here, this is my son. I turn the notebook around and shove it at them. It's not just a way of saying "this is who I'm talking about, this name is a person" but it's a psychological way of disarming them. It's a lot harder for them to be uncaring if they have a face in their mind.
Document, document, document. In that notebook, keep EVERYTHING. Keep a list of everyone you've talked to, when, why and the result. Dates and times, too, and if you have it, the email address and/or phone number. When someone tells you "Oh, I never got that message," you can refer to this list. While the ultimate goal is to work as a team, the reality is that not everyone operates that way and you want to be able to protect yourself.
If you have to mail something, proof of delivery is awesome. It doesn't provide a 100% guarantee, as they could argue what the envelope contained, but it certainly has helped me when time is of the essence and there's a deadline.
Know your stuff. Research autism. Research any sign and symptom your child displays. Be ready to throw terms around, both medical and educational. Attend SELPA meetings and read up on Wright's Law. Know about the IDEA and FAPE. It's all Greek at first, but eventually, it becomes second-nature.
Above all, take breaks when you can. You can't advocate for someone else unless you've gotten some sleep, eaten and seen the sun or been in the fresh air. Time "off" may be in short supply but enjoy it and know it's not always going to be like this. As our kids get older, they will be under someone else's care for periods of time, whether that's at school, with an in-home therapist, respite nurse or outside facility.
One last thing — don't hide. It may be hard to get out of the house, so I don't mean it just literally. I mean don't hide autism away. It's nothing to be ashamed of. I slapped an autism awareness magnet on my car not long after my son's diagnosis. It didn't cause questions I thought it would; if anything, people saw it and silently understood. That was worth a lot, especially when I had issues getting my son into the car or had to pull over because he'd escaped yet another car seat and was throwing it at me while I drove. (True story.) It also was a sign of solidarity towards other moms who were misunderstood. I got a puzzle piece ribbon keychain and to this day, the original magnet is still on my car. I also now have this beautiful charm by Chamilia in honor of Autism Awareness Month.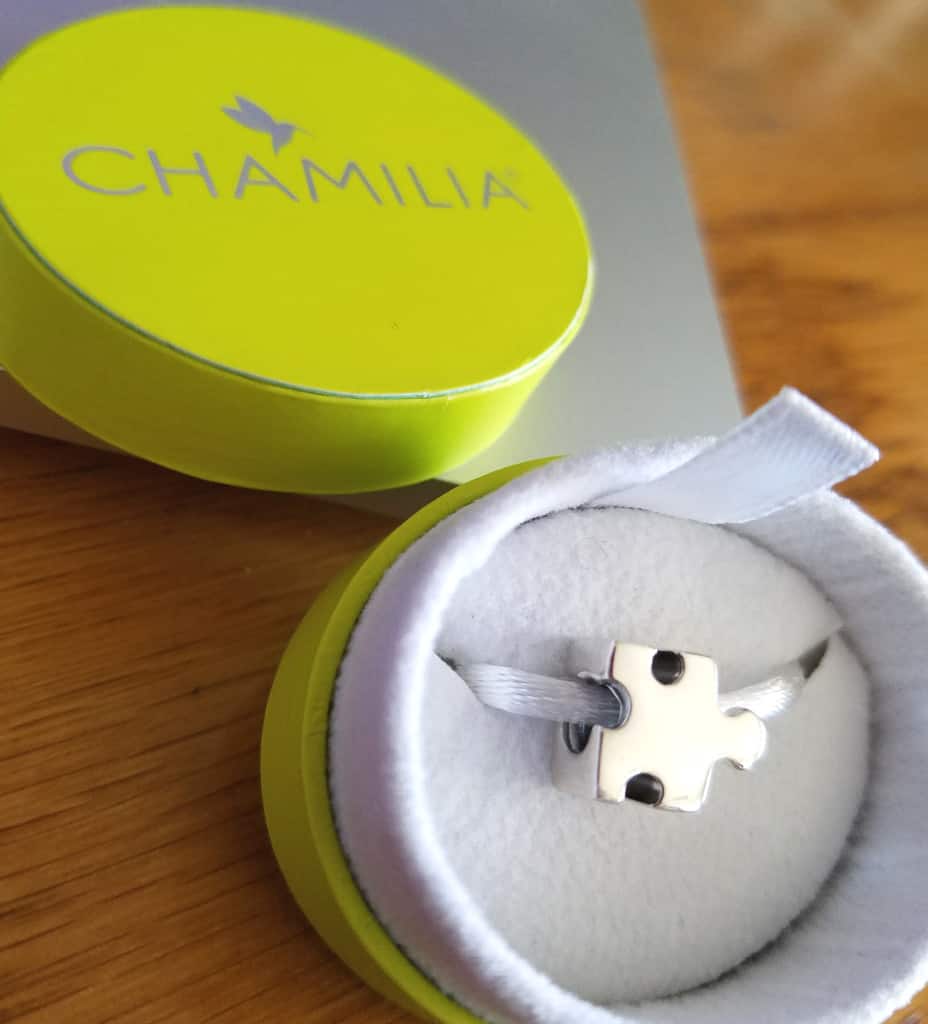 Isn't it beautiful? I was given that charm by Chamilia in exchange for sharing it with you — which is easy, as it's now an additional way for me to advocate for autism awareness and action. People see the puzzle piece and ask me about it. It can go on a band or cord, and is available online here. It's sterling silver and is lightweight, shiny and gorgeous. For only $35, it won't tarnish and can be worn in many ways — I wish I'd had this early on, I've gone through a large number of key chains and bracelets that have turned colors and had to be thrown away. This is something I may keep in mind for future gifts, as it's a lot easier than a tattoo for those who really are our best supporters. 😉
Autism advocacy is lifelong, once you have a child or someone in your life that is diagnosed with autism. Even when they're adults, they still will need you around, just at a different capacity. I remember being terrified when my son was four and I attended my first parent support group. I heard these people talking about high school issues and I was crushed. Right now, I'm worried about getting through tomorrow and I have to hear about 10 years from now? It was both good and bad for me to realize that, but now that my son is 15, I know what they were talking about. There are still issues but they are very different. He's always going to be a unique individual, but that's a good thing. This is why my brand of autism advocacy, built over the last 11+ years now, is so critical. We need it daily. As I type, I'm waiting on a call from the school. It's life, and it's why I work from home. I refuse to leave this part of his childhood to anyone else, and I want his childhood to be as productive and happy as possible. Autism advocacy makes that doable.
You can do it, too.
Let me know what autism concerns or questions you have. I have so much to share but I'd love to be a small part of your support system. And thank you for reading part of our very personal story. Now go out there and advocate!