I remember the first support group meeting I went to many years ago. My son was four and I was like a deer in the headlights. I had zero idea of what I was doing in regards to autism. Hearing the parents of older kids talking about autism and high school was overwhelming, so overwhelming that I almost walked out. He had just received his diagnosis and I was struggling to just get through a day at home. The idea of him still needing help in high school, like the parents were discussing, was scary.
Fast-forward 11 years and he started 10th grade today. The school year officially started three days ago but we opted for an alternative program to allow him to progress more quickly. Grades are not an issue with him, and he likes to put his head down to knock out his work. This program will accommodate his ability to speed through the classes at his own faster pace and graduate early. We couldn't be happier with the choice and we're thrilled his high school offers this program. Same diploma, same classes and course work everyone takes, just at a faster rate. We're so excited!
Still, prepping for the first day of school can be daunting. So many things to do! Shopping, school forms, phonecalls, meetings, the list goes on. With some advance planning though — including more lists — you can ace it, making dealing with autism and high school a lot less difficult.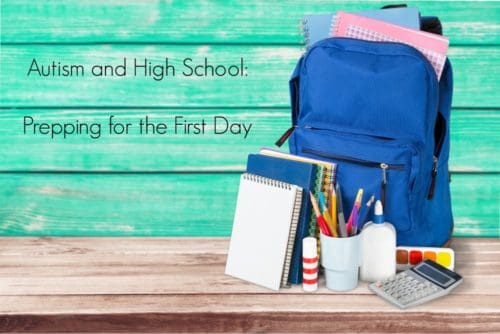 Here are my top tips on prepping for the first day of school without taking away any of the fun!
Involve your child in the shopping plans. Give him a pen and paper and tell him to list the things he wants. Here is my disclaimer: be sure to mention that writing something down does not guarantee it will be purchased. This helps give him some control and personal investment in shopping expeditions, which aren't always fun. This can be a good time to talk about limitations in your time and budget. As much as I want him to go to school with everything he wants, sometimes requests can be over the top and we also want to teach that wanting something doesn't mean he'll get it. Every kid needs to learn that they won't get everything they want. This year, it was yes to the Levis and the Nikes but no to the third backpack; he just doesn't need another backpack.
Make a visual calendar. Write down the dates you'll be shopping or when you're meeting or visiting the school. List the purpose of the meeting and if your child needs to go. Kids with autism frequently don't like surprises so a calendar helps prevent sudden changes.
Talk about the anxiety: ask what makes him nervous, what he's excited about, what he's worried about and what we can do to make it better. We can't fix everything, and it's good to address that, too. When he graduates, our ability to fix things decreases so he needs to learn to handle problems more and more on his own. We can't fix everything, so we just have to learn to adapt. Someone smells bad? Someone talks too much? It's going to happen and we can't do anything about it. Just think jobs and coworkers — we all have a few of those!
Explore all avenues. If your child's like mine and wants to just bust through high school, consider if it's a viable option. It won't be for everyone but if it is, maybe your school can help. Accommodations are usually out there in some form or another; if the school says no, don't automatically give up, as schools are made up of humans like us, and we have say in the outcome.
Plan a few fun outings to celebrate the beginning of the year. We love early morning visits to IHOP for fancy pancakes or lunch over at his favorite Thai restaurant where he can get the iced tea he loves. Enjoy that time together, even if the day has been stressful; time goes too quickly and before we know it, they won't want us around as much.
Be flexible. Last night, I could tell he was nervous about today so when he asked me to stay downstairs and watch an episode of Stranger Things with him, I said yes. It didn't keep us up that late and couch snuggle time isn't going to happen forever. Getting more relaxed before bed helps him sleep better, so it was totally worth it.
Discuss lunch time: my son likes hot food at lunch, which means you have to buy it there. However, school lunches aren't inexpensive and they're frequently not the healthiest of things. This means he won't be buying it daily, so we discussed this. Today he can buy it, so he can not have to worry about packing it and where to put it during the day, but tonight, we'll be packing up a good lunch, including the chocolate chip cookies I'm baking later. (Throw in flax seed or wheat germ to give them a nutritional boost and no one will know!)
Make friends with the school admin. I don't mean you need to invite them to your house kind of friends, but be friendly. Even if you're concerned or there have been problems in the past, they are still a possible ally. There's no need for a contentious relationship. I take brownies to IEP meetings and I joke with the staff when appropriate. If I'm easier to work with, they're more likely to want to help me. I don't need to make their jobs more difficult as my son's not the only student they have to deal with. Being rude or demanding doesn't play in our favor.
Last but not least: enjoy the process. These days are fleeting. Take photos. Smile. Keep it as lighthearted as possible. School is a reality, whether we or they like it or not, and in whatever form we choose. We have to do what we have to do to get through it. Make memories and remember that your child's happiness is the end goal. Sometimes that means letting them take the lead. Sometimes we have to stop trying to make a point with the school or let go of the need to be right and instead, focus on the child. It's all about the kids, not our wants or needs, so we may have to let go of something in favor of the big picture.
Autism and high school can mean challenges and deep breaths, but take it one day at a time and smile.