This month is Autism Awareness Month, or as I like to call it more frequently, Autism Action Month, as coined by one of my favorite autism organizations, Talk About Curing Autism (or TACA). I've got a series of posts planned, including sharing some products with you that may help those dealing with an autism diagnosis. Today though, I'm starting at the beginning: getting an autism diagnosis. It's a moment most parents dread, and it can leave you in a state of shock. Fear. Panic. Guilt. Yet after you hear it, you absorb it, start making plans, and life goes on.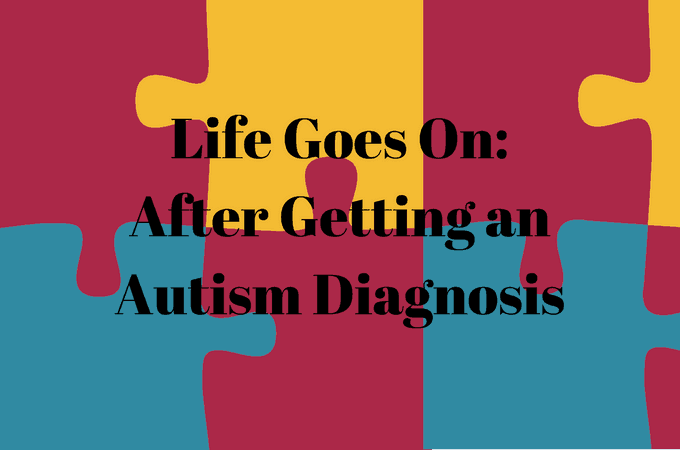 I remember years ago when my son first got his diagnosis. My world stopped for a little bit. I didn't have a lot of support and I was rather astounded. The idea of my son having autism hadn't occurred to me — ever — until his pediatrician mentioned we needed to get him screened for PDD, or Pervasive Developmental Disorder. I nodded, wait, what did you say? What is that?
That began a whirlwind of appointments, tests and waiting lists. Find a Pediatric Neurologist. Talk to the school's early assessment program. Get in line with the Inland Regional Center. Set up appointments with an Occupational Therapist. Speech Therapist. Wait more.
It's exhausting, and it's scary. Am I doing the right thing? Am I doing enough? What did I do wrong to get here in the first place?
My son's 16 now, and he didn't end up with a PDD diagnosis; he got a fullblown, mild-mod autism diagnosis. He's verbal, gets excellent grades in high school and plays football. But it wasn't always this way. He was extremely self-injurious as a toddler and young child. A head banger. Finger flapper. He was easily upset and his meltdowns were epic. The littlest things would set him off. We'd be in public and he'd head for the light switch to flip it on and off. He'd line up chairs, even if people were in them. Then there was the day we caught him trying to lick the shoulder of the student next to him in swim class. And speaking of swim class, I was the mom in the pool with him for a few years. When he finally had to do it on his own, we had to get a teacher on board with giving him extra help.
With autism, nothing is the same. Nothing's easy. You taken nothing for granted and you can't just "do" anymore. You plan. You hope. You pray. You worry. I know all parents worry, but autism adds a new layer of worry. Will he improve? Will he be happy?
But life goes on. Getting an autism diagnosis isn't the end of the world. You'll learn the way. It may not be the path you'd envisioned, or the path you'd hoped for, but it's your way, uniquely yours and your child's, and you make it work. You may even end up being comfortable with the way. After all, your child is still the same child as before the autism diagnosis. You love them just as much. You may just feel it more fiercely, and that's okay. That fierceness is going to come in handy when you have to fight for school services, when you have to stand up for your child amongst family and friends that question you or call your kid a "retard." You will need to develop a thick skin so you aren't offended or dissolving into a bucket of tears when you didn't get test results in writing first and the school psychologist reads you all the things your child needs help in.
Yet, life goes on. You still have to do the laundry, clean the house, maybe go to work. You need to spend time, alone time, with your spouse. Make a rule: you get to talk about the kids for 10 minutes max, then you talk about something else. Stop being parents for at least 30 minutes once a week and enjoy each other. You have to work at that, because 85% of relationships dealing with special needs don't make it reportedly. That may feel like one more thing to worry about, but if you have each other, you can deal with the rest more easily. You'll have someone who has your back when you just can't get up at 2am one more time because your child barely sleeps. Someone can run to Target for lemonade because it's the only thing your son will drink. When you have a bad headache because you got head-butted during a tantrum, you can grab a few minutes of peace until the Ibuprofen kicks in.
Life has to go on. You owe your other kids that as well as the child with the autism diagnosis. They need to see a regular life, not something completely focused on "fixing" them. They are still a kid with interests, no matter how hard it may be to meet those needs. He's still your adorable baby. She's always going to be your little princess. An autism diagnosis doesn't mean the world is ending; it just means your world has a different backdrop.
There are good things to discover eventually. Once you get beyond the initial shock, you'll be amazed at the way your family can come together. You'll be able to blame your child for improving your parenting. That sounds weird, I know, but we're better people because of our son. He's made us thankful for all the things. We appreciate things that maybe I rushed past with my older three kids. We learned to be less militant and more loving. Life's about love and being together, and autism has tested that yet we've prevailed and now we are even more grateful for what we have. We stopped focusing on the long-term and started focusing on the now. Who doesn't need some time doing that?
And speaking of weird…we were placed in a two-year program once, where the kids all had their own one-on-one therapy (or in the case of our son, often one-on-two, as he was kind of a challenge) and we parents would meet together for 2.5 hours per week. "Group therapy? Nope, not for us." Yet we credit it for a lot. Looking back, it was one of the best things out there. Those parents hazed us that first week. We sat while they each asked us one question: does he prefer french fries? is Target his favorite store? how often does he poop? We were taken aback. Who are these people, and why are they asking us such personal questions? Poop? Who talks about that in public? And why in the world are they laughing? This is autism we're dealing with, people!
It's exactly what we needed. Six months later, we were doing it to the next couple. It was close to home for me still then, so I recognized the pale faces that stared at us like deer in headlights. You need this, I said. You need to realize you're among people who get it. We really, really get it. You can be yourself here. You can share the weirdest of things here, because autism leaves no stone unturned. Poop happens, and no one here is going to judge you for needing to talk about it. (And if you're lucky, you won't know that a good number of kids with severe autism have taken to making a large mess with poop; lesser severe kids still frequently have major intestinal issues, because autism isn't just an external issue that presents in behavior. Kids with autism usually have a number of medical issues to deal with. Hence, poop.)
Autism melds itself into your lifestyle. There is no halfway with autism. Even with a "mild" label, it's still there. It will always be there, but it may go into hiding as your child improves. There is recovery possible, but even all these years later, we still see a little finger flapping when life gets stressful. We still recognize his need for quiet alone time. It's okay though, because life has gone on. He's learned to self-regulate and now he wants to speak to parents to help them to realize, it's okay to be sad, it's okay to cry, but life goes on. I'm still your child, and there is hope. Never give up.
Never give up. Life goes on. You can't feel guilty for smiling and laughing and even enjoying time away from your child. Parents of neurotypical kids get babysitters all the time and kids are fine. It's the same with autism, though for years there, the idea of a babysitter was a pipe dream. If you get one, use it, even in small doses. No guilt. Guilt doesn't fix anything and it only creates headaches and heartaches. You didn't cause your child's autism. You only have so much control, so use it to enjoy life as much as you can. Enjoy your child as much as you can. It helps you, your child and your whole family.