December 9, 2004. That was "A Day," the day we were given the official diagnosis of autism for my youngest son. Two days after he turned four years old. In honor of Autism Awareness Month, here's our story.
We'd been told back in August of that year that he was likely on the spectrum, but falling more on the 'high functioning' end. I didn't care for the term but I immediately got on the wait list for an appointment with a pediatric neurologist who specialized in developmental issues. In the meantime, another doctor also told us that he saw signs. The husband went into denial, feeling that our attachment parenting had resulted in a child who was babied so much that he didn't need to speak to get things, that grunting would work, and that I was seeing things that weren't there…despite our son falling on the ground in crowded places, rocking, stripping off his shoes, socks (or clothes), covering his ears at loud sounds, freaking out if people touched him and bashing his head or biting himself as though he didn't feel the pain. Rubbing his ears raw, plucking out his eyelashes, flicking lights on and off. Oh, and the licking of everything. (Keep reading — the husband quickly turned into the biggest advocate our son has, aside from me.) The neurologist appointment came and after a long assessment, after a wait in the lobby where my son sat under a chair flapping his fingers, and the doctor gently looked at me and said "Did you notice he has no eye contact?" I hadn't, and I instantly felt guilty. What else had I missed? How could I not have noticed that?
Truth is, with the lining up his toys, the ignoring of his name, the refusal to eat anything but a few items that were perfectly aligned on his plate, the tantrums, the meltdowns when it rained, the refusal to sleep…I was overwhelmed. Going down a long list of "does he…." questions pretty much verified I'd missed a lot of things, and the diagnosis of autism was official.
We were then sent to the state Regional Center, where we were put on another long waiting list for the series of intake appointments. The Regional Center is a state agency that helps families dealing with children with disabilities, but the requirements are rather stringent. No "high functioning" labels or Asperger's, we were told. We went ahead with the process as well as getting into the educational system; they come to your house and do an educational assessment to get additional services for your child, should they be found in need. I'll never forget my day with the Regional Center. We were actually extremely lucky, with the center having an opening for all the appointments — medical, psychological and administrative — all in a row. It's a long day but I grabbed the chance to knock it out so we could move forward. The medical assessment found no surprise issues, other than an inability to sit still and an apparent case of ADHD, but the psychologist got less than halfway through before she looked at me, while my son was again under the chair hiding his head from the moving bunny she'd placed on the floor, fingers flapping, humming, quietly but very firmly stating — "I think we both know what we're dealing with here, but we'll continue anyway." She said it nicely, clearly, and compassionately, with a tiny smile that says "I know this is hard to hear, but now you'll have help."
It was then that I wanted to hear the words "high functioning," even though I knew it would result in less services. It was somehow easier to deal with than an obvious, outright case of autism. Instead, we got a "mild to moderate" diagnosis. He didn't hide any of his behaviors, but I guess that was a good thing. My head knew what my son needed but my heart was sad. I'd researched. I knew what was ahead and I knew that we had a long road with a lot of work for my son. Autism even 10-12 years ago was less understood than now, but I also knew that there was hope and we aren't quitters. My son was smart, beautiful and before his 14-month vaccines, speaking normally. I knew he was in there. I'd seen him go from zero speech at 2.5 years of age to full sentences with a vocabulary of a child years older; when he did speak, looking at your shoulder or the clouds over your head, adults would listen for a second, shake their head minutely and look at me, then back at him. I saw it all the time, that "Oh, he's so cute..uhm, he sounds like a little professor. What's up with this kid?" The confusion that either scared people away or fascinated them. We knew he was different but that denial, it's there. You want him to just be a genius, or to blame a few weeks of prematurity, the difficult pregnancy, the fact he's the baby of four kids, whatever you can take. But it becomes obvious after a while that there's a lot more involved and it won't be that easy.
The Regional Center set us up with services but also sent me home with an unhappy kid — it was a rainy day, which meant tantrums in the car, and he'd been tested all day. He didn't finish some of the tests. His OCD traits made it difficult for him to not develop a weird routine with everything they'd ask him to do, which took twice as long and of course, made the OCD easy to see. He'd line up everything she gave him. Touch them in a certain order each time. Get mad if you moved them. He was tired and cranky at home, and as a result, so was I. But at least we had a plan. When the educational team came a few days later, I did the same thing I'd done with the Regional Center — put the prior diagnoses aside and let them do their own thing. My son was in full form that day, throwing a tantrum and leaving the psychologist and speech therapist with no doubts either. He was immediately referred for special day school and speech therapy; he was speaking by then, but in some areas, speech therapy is also a blanket term for learning to speak to and with others. He perseverated on things and would repeat things, quoting lines from tv over and over in response, or randomly, and he had no give-take conversational skills. (That turned out to be one of the most difficult things to teach, lasting years and years, and we still, to this day, have to address it sometimes. He hyperfocuses on topics and you have to remind him: five minutes, dude, then we're moving on.) The husband came on board not long after, after viewing a recorded segment from the Today Show during Autism Awareness Month in April, 2005. There was a video of another 'high functioning' child that was so much like our son, it was creepy. That's all it took, and I had the best partner in dealing with it ever.
I won't go into the battles with the school, the lawyers, the horrible, nasty neighbors and church 'friends.' The comments from strangers in stores or other patients in the neurologist's waiting room who told us "that kid needs help!" (You think??) For years, our family as a whole dealt with being discluded from events, or if we did attend, the stares from others. I created autism cards I'd hand out to the haters — green with a gentle explanation, blue with a 'you really shouldn't judge, he's autistic and here's what it means' to the red card. You don't ever want to get a red card. In short, it says "I noticed you staring at my son's behavior. I've noticed your behavior. He has autism. What's your excuse?" The back of each referenced Talk About Curing Autism Now, a website that explains autism and our favorite resource for autism help. It also listed a few autism symptoms, and they were each meant to educate and maybe help another family not deal with the stares. I gave out a red card once. The blustering "uhm, uhm, oh my gosh…." red-face…I didn't like doing it, but I tired of her ongoing, loud commentary about my son that was nowhere near her and not hurting her, in the very public pool/park area, in any way.  Another time, I was at the pediatrician with my son. He was watching the movie in the waiting room and her son, probably about 2 years old, was banging blocks. Loudly. I was updating my personal information at the desk when my son had had enough of the banging; he gently looked at the mom and told her "His banging is hurting my ears. Can you make him stop please?" Granted, the child was a baby and had I not been occupied, I'd have explained to my son that babies do this stuff, deal, cover your ears, whatever, but also, the baby's banging was indeed loud, and if he'd been my baby, I'd have tried to redirect. This mom appeared to be texting on her phone…until my son said something. She rather rudely said "He's a baby. He's playing. You need to learn to deal." Uhm, no, you did NOT just do that. Coincidentally, on the counter next to the forms I was filling out was the card for Open Doors, a local organization about autism and asperger's. It listed the url for the group, contact info and brief autism awareness lines. I took it to her and said "I'm sorry he said that, but this is why." She read it, her chin dropped and with an embarrassed face, apologized. I told her, I don't want to make you feel bad, I'm not trying to be rude, but sometimes older kids have a reason for their behavior, too. She smiled, I smiled, I got called in. I hope she learned something and I also got the opportunity to speak to my son about it, hopefully teaching him how to handle it the next time, because there was always a next time.
Like the time a mom let her baby cry over and over in a restaurant. Loudly. Screeching. You know, the kind that even adults hate but no one will say anything about. The restaurant apologized to us, but finally, we had to move. The waiter said "I'd like to ask them to move instead of you, but I'm not allowed." So we moved and listened to a table of child-free young ladies bash on us for not being understanding. Same thing happened on an airplane once. Babies get understanding, older kids get glares and nasty comments from ignorant people who don't stop to think that some disabilities are invisible and kindness matters FOR ALL.
This is life with autism. It's hours of therapies and services every day or every week. Calendars full of appointments. Disruption to a typical family's schedule. Isolation. Loss of friends. Hating going out in public with him even though he needs to learn, because you know someone will say something. It's walking out the door after Sunday School or regular school to see a mom handing out party invitations to each kid, but when you get there with yours, her hand disappears and her eyes avert. Seeing the worst in others but not having time to deal with it because you're not sleeping and you still have to work because your insurance only covers so many of the services your child needs. 85% of marriages of parents of special needs children don't make it. We were not going to be in that 85%. In short, it's 24/7 work but the payoff is HUGE.
Our son is now an almost straight A student in a regular education classroom. He finally has friends who appreciate his quirkiness. He knows about autism and told me that he would be willing to give a speech at a group to help parents see that it's not all bleak. It's tough, but there are possibilities. There is hope. Our son is compassionate and now has eye contact. He doesn't like it, and will tell you that, but it does it. He has two-way conversations and while he still is hyperfocused on certain things, he will eat almost anything, he doesn't line stuff up and the self-injurious behavior stopped years ago. AND HE SLEEPS. Such a big deal. He sleeps 'normally,' without melatonin or any kind of help.
He is on migraine preventative medication but we don't medicate for ADHD as he manages it. The school works with us and his IEP is very hands-off unless needed. He'll get a job, he'll get married, he'll be happy like he is now. We know this isn't the way it turns out for everyone, and we're thankful for the outcome daily, but it's all my son, he did it. He did the work and it's his amazing personality that people see now instead of autism. Other than some flapping fingers, he manages it well in public. Here at home, he'll still get upset at times and a door will slam, but that's easy. We have his high school transition IEP in two weeks and I look forward to it. Who looks forward to IEPs, right? But this one's a biggie. We get to plan his electives, how to help him with transitions between so many classes and the level of homework, as he does sometimes get anxiety but they work with us on that, too.
So this Autism Awareness Month, if you don't do anything else, do this for me: give someone a break. If you see a child misbehaving or throwing a tantrum, don't assume the worst. Don't comment. Think it if you must, but don't say anything. That mom may be on her absolute last nerve. Your kindness may be the only contact she has that day with someone, and a smile may just get her through one more outing. Bite your tongue and don't assume she's letting him run free. She may just need to get that one thing at the store or she may not have had help enough to get out of the house all week.
We can't teach them in a vacuum, we can't hide them in a closet and we aren't trying to ruin your day. (OH the times I wanted to tell people how sorry I was <sarcasm> that their trip to Target for toothpaste was 'ruined' by seeing my son banging his head in the shopping cart.) And then read up on autism if you don't know about it yet. The symptoms may surprise you and you may just be able to help someone later who is dealing with a new diagnosis. With the stats now 1-in-42 boys, or 1-in-68 kids overall — let that sink in — chances are you already know someone or see them frequently, even if you, or they, don't know it yet.  (And just as an FYI, if spanking them worked, we'd have cured autism, so keep that gem of a suggestion to yourself.)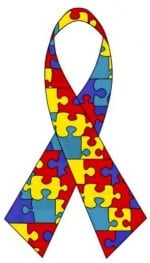 Want to know more about an autism diagnosis in the big picture? Life goes on, trust me. Read more here.