Years ago, when my youngest was diagnosed with autism, we were inundated with therapies, appointments and special day school classes. Someone recommended the PECS autism system to us, but we were overwhelmed. At a time when he didn't deal well with transitions, changes and adjustments, we were suddenly drug into exactly those things, and we had to find a way to deal..and when he couldn't deal, we had to find a way to get through.
Even if we weren't leaving the house, we still had to get from Point A to Point B, even if Point A was the kitchen table and Point B was the bathroom to brush teeth. People with autism frequently fixate on doing something and need to be nudged to get through routines that aren't of their own choosing, so in honor of Autism Awareness Month, I'm sharing something that I credit with getting through a very rough period, our own version of a PECS autism system, or Picture Exchange Communication System.
How to Make Your Own Version of a PECS Autism System
I don't remember where I got the idea of a visual schedule initially. Probably one of our son's therapists, but I didn't have the money to purchase a pre-made schedule, a full Pictures Exchange Communication System and program, and nothing that I saw really met our needs perfectly, so I decided to make it. I drafted out what I needed — a visual schedule I could easily take with us in the car, was easy to update, had some permanent schedules and also offered the flexibility of changing it daily according to our needs. I also wanted it to be easy enough for Little Dude to change — with permission. (That was key, because if he got a hold of it without permission, there were 10 new cards attached, all saying things like Gameboy, computer and waffles.)
After a lot of testing, I came up with the final design. It's 8.5″ x 11″. It's inexpensive. It is very customizable and personalized and hangs over the headrest of the seat in front of him in the truck, so he could know what to expect while we were on the road. It also has pages of things that don't change, such as a school day or a trip to church.
Below is the finished product, our personalized and homemade PECS autism system schedule, with subsequent photos of individual permanent pages.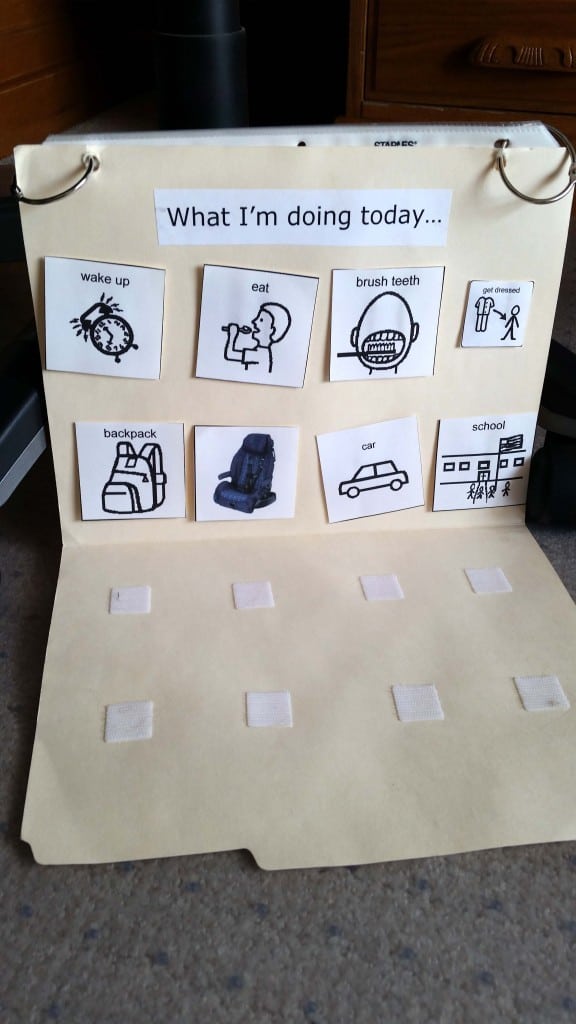 This is the main page, where I built the day from scratch. Every day started with wake up and we changed it up from there, depending on the particular day.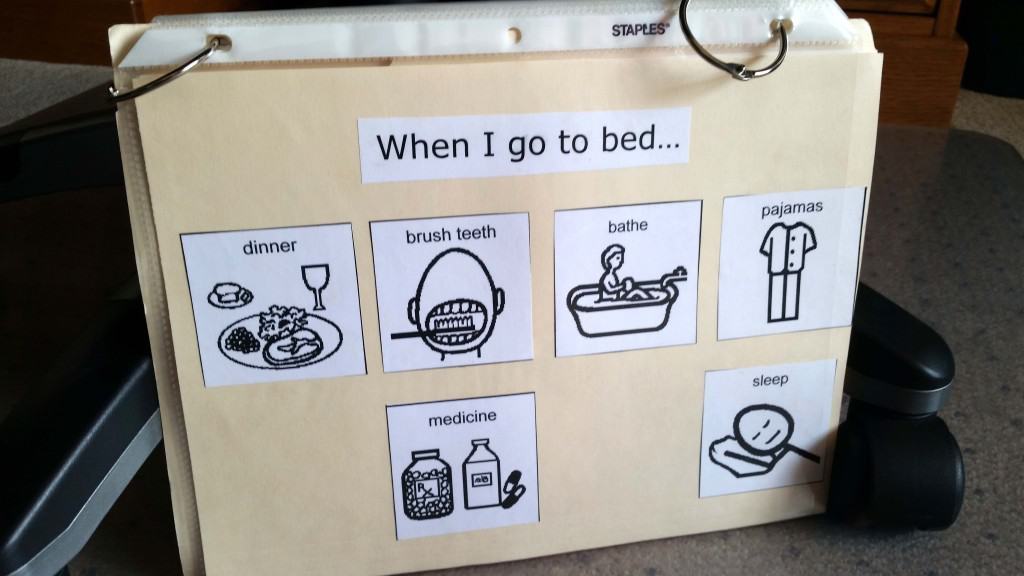 This is a permanent page, where I glued the steps towards getting ready to go to bed.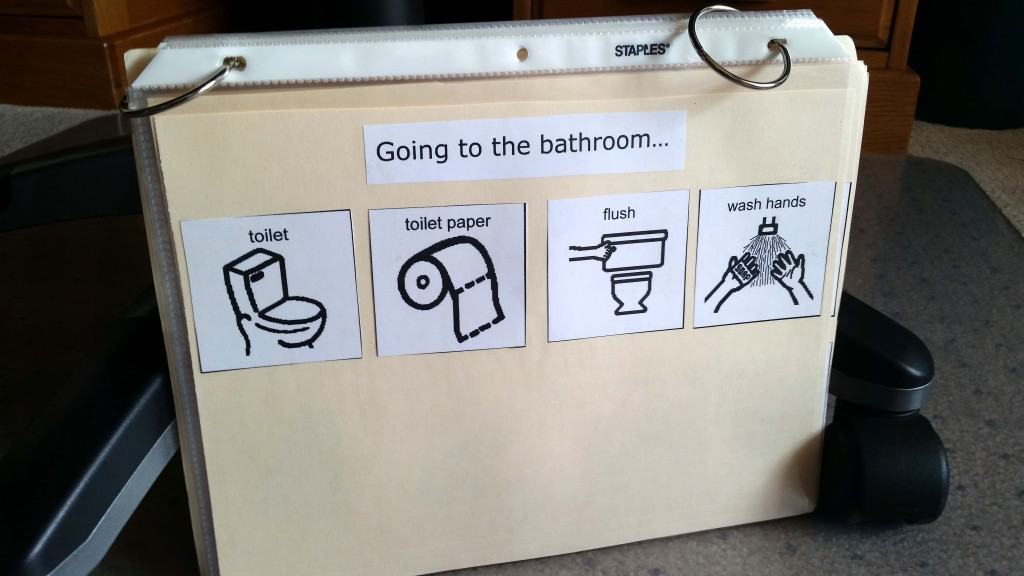 Everyone's favorite topic, right? With autism, every life skill or basic hygiene task needs to be taught. This really helped remind Little Dude that the had to flush, that it would be noisy, and that he had to wash his hands.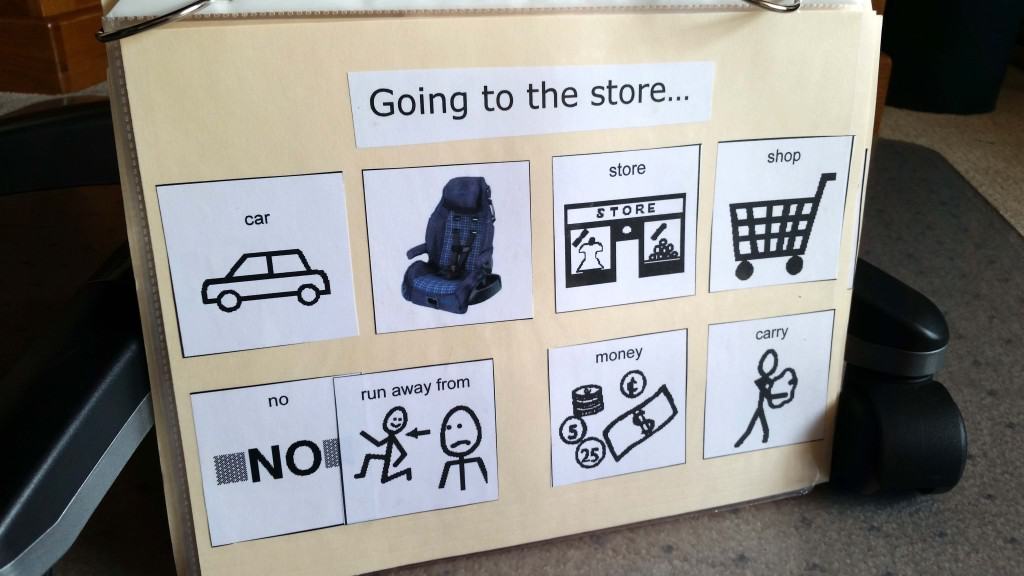 Because no matter how much I tried to work around having to take him to the store, it still happened. And needed to, as much as I may have dreaded it. The stares. The potential for problem. More stares. We can't learn in a vacuum though, so these trips were learning opportunities.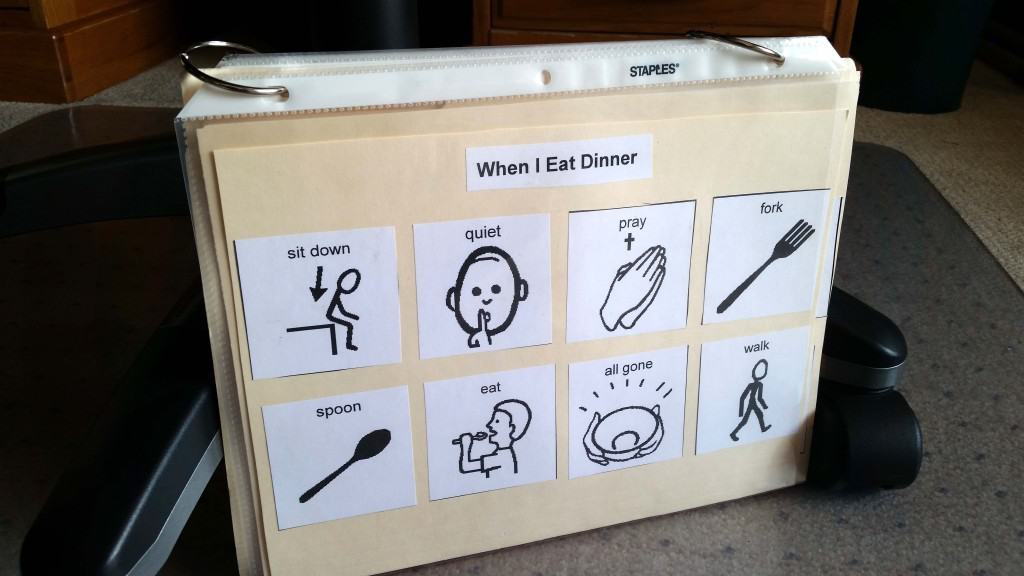 Each little step, outlined clearly.
This page below is one of my favorites and was used daily.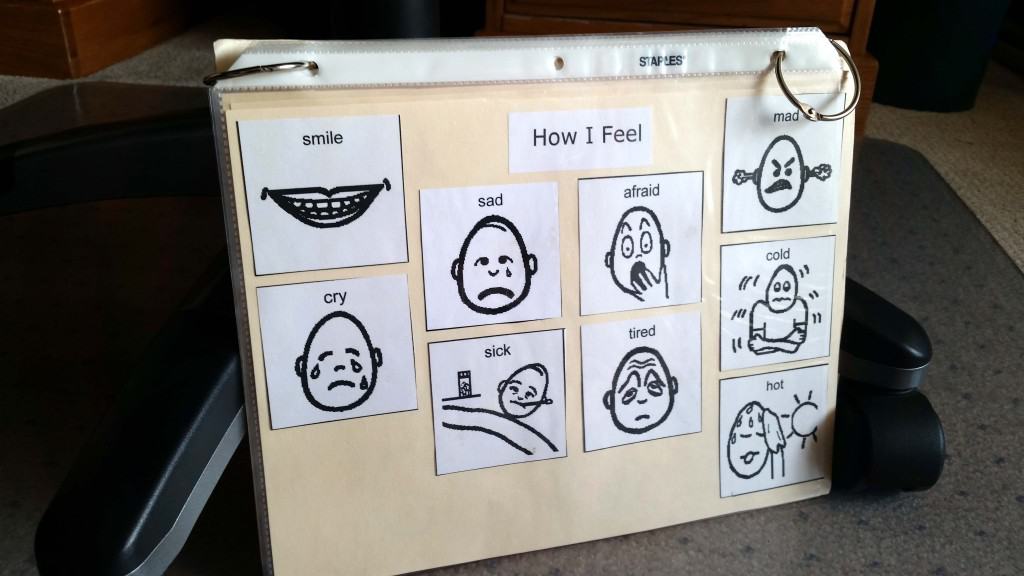 People with autism can't always express their emotions, and communication is a big problem. With daily work, we were able to get our son to use this page to tell us what he was feeling. Without words, you may think a tantrum signifies anger, but it might be pain or confusion that they can't adequately convey. Being able to point to a photo clarified things for him, gave him some control in situations and helped us best help him and provide what he needed.
A therapist gave us a program that had icons for some of the most common items, and what wasn't included in there, I found online on a free art website. (Stealing online art is a no-no.) I took pictures of some things, such as my son's car seat, our truck that he rode in the most, our house, his Gameboy, etc. This big pile is just some of the cards we had on hand, and the beauty of doing it yourself is that you can add photos as you need to! Whenever he changed schools or teachers or found a new activity, we added an accompanying card. If you live with autism in your family, you know that diets can normally be very limited, so we were able to even use this system to help us celebrate by adding photos of newly added foods; while that didn't happen often, it was a BIG deal when it did, and adding a card was one more way for him to see that and feel a semblance of pride in his achievement.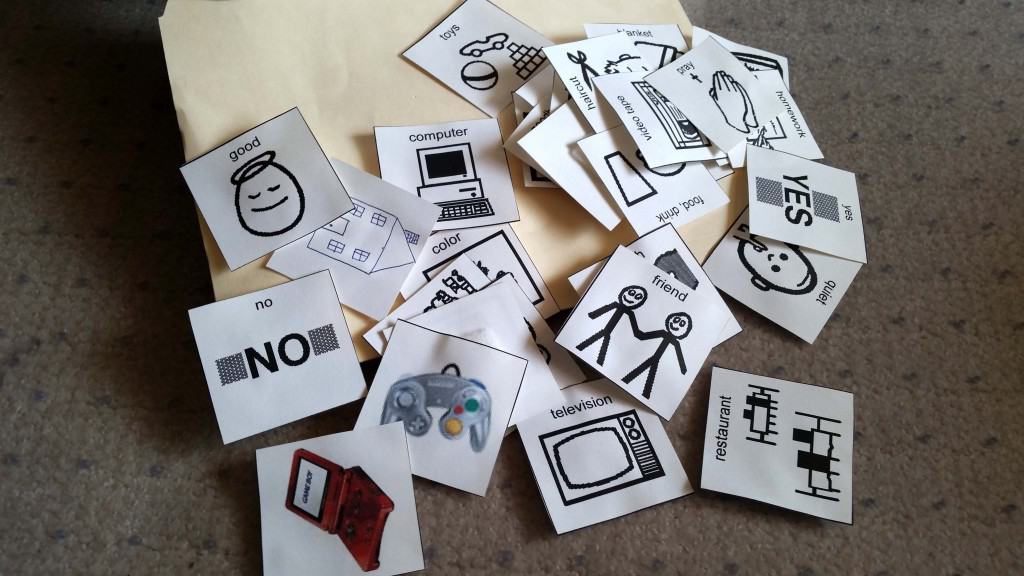 Check out that pile, and this was just some of them!
Making this whole system was easy, though it did take several hours. There are a few basic steps to prep for putting it all together, outlined below, along with the necessary supplies. (These are affiliate links to Amazon, meaning that the prices aren't any higher for you but I may get a little change if you order from it.)
Avery Economy Sheet Protectors, Box of 100
Smead Manila File Folder, Box of 100
Neenah Exact Vellum Card Stock, Box of 250 Sheets
Velcro Sticky Back Tape, 15′ x 3/4″, Clear
S. P. Richards Company Book Ring, 1.5″ Diameter, 100 Per Box, Silver
Printer Ink
Stack the number of number of manila folders that you need; open each folder and punch two holes across the top of the folder side with the tab. (This ensures the holes are all aligned.
Print small squares with the icons/images you'll need. My squares were 2″ by 2″. Print multiples of common images.
Cut the Velcro tape into small pieces; affix them in rows on the daily flexible schedule, as many as you wish to have. (Plan ahead and add extra. I made four rows of four squares.)
Affix Velcro to the back of your images that you'll want to use on the daily schedule.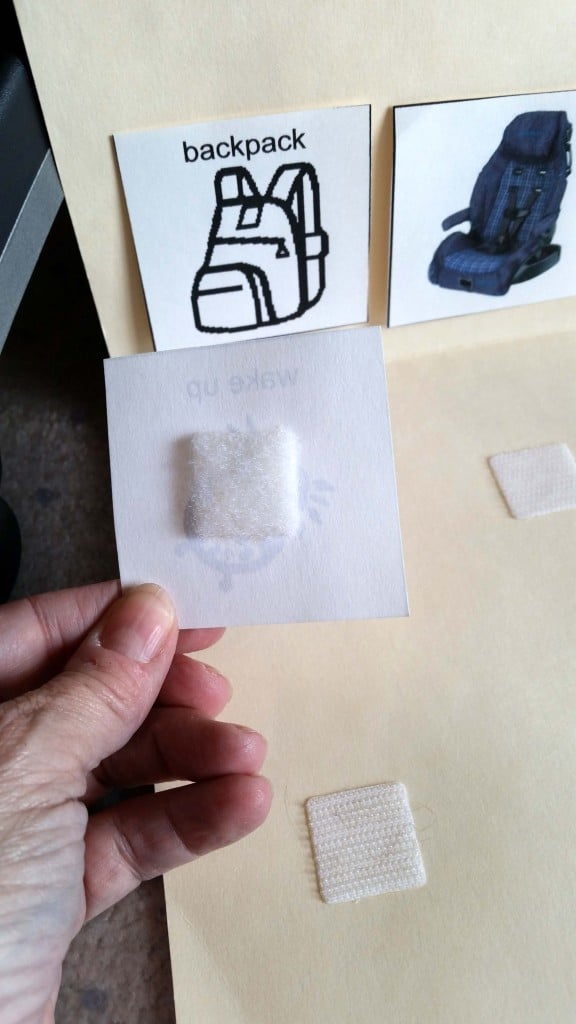 Decide which permanent pages you want, and lay out the images you'll need in order; glue them in rows onto the folder, opened flat so you can cut the extra bottom half off, and cover with a shelf protector.
When all your permanent pages are completed, and your daily schedule prepared, put them in order, put the binder rings into the two holes and you are done. To personalize it a bit further, I put one additional blank manila folder onto the front, with the bottom cut off, and let my son decorate it. I printed his picture and put it towards the bottom, so it was easy to identify in the event we lost it or he took it into a therapy appointment.
It probably sounds like a good investment of time, but I promise, it's worth it. It wasn't just a way for my son to feel aware of what was coming in his day, but it was a talking point and each day, he'd sit with me as I'd attach the schedule images. If he was really upset, he'd run to it and rearrange things, frantically plucking off the part(s) he didn't like; I could then use that as a way to try to understand his feelings and see what he wanted to do without him having the frustration of telling me. He knew each day to look at the schedule first, and it became a routine; if I didn't do it, when floating in a haze from no sleep, boy, he would remind me!
If you're not dealing with autism directly, maybe share my post with someone who is. If nothing else, I hope this opens a little window into something else that parents of kids with autism deal with. Nothing just 'happens.' Days are eventful and chaotic and exhausting. We'll do anything we can to make it a little less chaotic and more enjoyable, and this calendar helped me get a handle on things and cost me about $35 total. Peace of mind? Priceless.
**I cannot recommend the actual PECS program enough. There is so much more to it than just the visual schedule I talk about above, so do your research on how the real program recommends using the system. We used it as I shared above, but that's our own personal experiences, not from the program itself.**