My blog is mostly about food, yet today's been one of those days..the kind that make me want a nap by 12:30pm and a glass of wine by 4pm. Yet I can't do either, so instead, I'll break ranks and blog about something entirely different, a highly personal topic that I typically don't touch on my blog. Bear with me, I promise to get back on topic after this.
That highly personal, sensitive and frequently misunderstood topic? Autism.
You're about to learn about a bad autism day.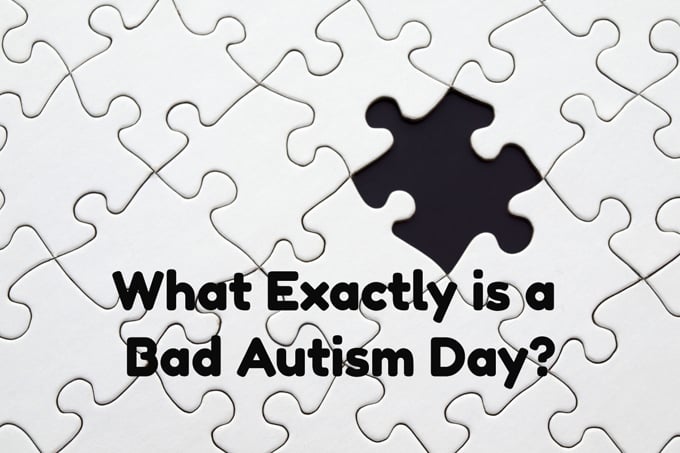 My son was diagnosed with "high functioning" autism at the age of four. I can still remember the date exactly, and I call it "A Day." We don't use the term "high functioning," as it's a misnomer and just confuses the issue more. Let's just say that he was given the term "high functioning" because he is both verbal and able to function independently to an extent. Otherwise, don't be fooled — it's still autism. He used to suffer from dangerous, aggressive meltdowns. He was very self-injurious. He had socially-prohibitive behavioral and sensory skill deficits and his diet consisted solely of five to six items. He'd line up his toys (or the chairs in a therapist's waiting room..even if people were in them), refuse eye contact, flip light switches on and off and cover his ears and hum if the rain or flourescent lights were too loud. Grunting, pointing, ignoring his name when called and an extremely high threshold for pain were typical, along with finger flapping and major fidgeting.
Eight and a half years later? He will look you in the eye..usually? Mostly? He no longer hurts himself or gets aggressive and his diet is more varied than most adults I know, and certainly more than any other child I have ever seen. He doesn't like seams in his clothes, has to have tags cut off and won't eat nuts or jello, but he can tolerate a storm and lights only bother him if he's had a long, busy day with a lot of stimulation. There are still some meltdowns (rarely, and always at home as he locks things in until he gets in his 'safe place') and he still has some sensory issues. Mostly though, you'll see his differences in social situations or when he speaks to you. He has the vocabulary and ability to express his thoughts on the level of a much older adult. He's overly honest yet far-too-trusting with others. You know where you stand with him and he's so smart, kids his age don't always know how to interact with him, especially when he's perseverating on a topic that he loves, usually online gaming or Pokemon.
What caused the improvement, other than plain hard work on his part? A lot of various therapies. A lot of hours at the occupational therapist's office. Behaviorists in my house and at school. Teachers. (Some..others caused more problems that took years to resolve.) Money. Time. And a boatload of dietary changes. In fact, healing him sparked our natural living journey, but that's far too long of a post to add onto this one. I'll talk about that another day, when I'm not already exhausted on the subject.
I love my son. To the moon and back, valley and mountain, highs and lows, darks and lights, he is my heart. I am more proud of him than words can express, and only my husband and I and his siblings know, and appreciate, how his childhood was less "child" and more "work," as he had to learn how to interact, behave, tolerate, deal, regulate..the list goes on. When someone tells me "You couldn't tell he's autistic," I am happy…yet more often than not, it's a person's way of saying "Ha, he's fine, you're just making excuses for his differences" because they weren't around when he was at his worst, or even just a couple of years ago. Without a comparison gauge, without having seen him throughout the years, no one will really understand just how bad autism was initially, and how fan-freaking-tastic he is doing now. So good, in fact, that at times it slips my mind that there was ever anything wrong with him.
Until a bad autism day like today.
We dropped the Yorkie off at the veterinarian's office at 7:30 for a routine dental cleaning under sedation, with removal of a few benign adenomas being done simultaneously. Then we headed off to the dentist so my son could get his teeth cleaned and have his six-month exam.
To back up a bit — dentist appointments are nightmares for anyone with sensory issues. Lights are bright, people are in your face, touching you, looking closely at you. Their hands are in your mouth, along with cold, smelly, sharp and funny-textured tools. Sometimes things are mushy and you might have to bite something and hold perfectly still to avoid radiation exposure or a mistake. (And let me say, with as literal as autistic kids are, when you say "hold still," they HOLD STILL. It's not out of obedience..it's fear.)
We have to plan ahead of time, talk about what might happen, talk through the whole event, and even then, we only use dentists that are highly-skilled in caring for special needs children. Trust me, many dentists out there can't tolerate the moving around, the incessant questions and the need to see everything before it's just stuck in the mouth. If you find one that is good, kind, and compassionate, don't lose their number.
My son was prepped for the appointment and did fine throughout the cleaning. As usual, he had a litany of questions that the hygienist so patiently addressed. He got through it all, until he learned they were going to do sealants for two at-risk teeth.
Oh no.
The squirming started. The questions increased and the voice went up an octave. Hands started waving. Then it happened — they found a tiny cavity.
OH NO.
We've been through this before, with this very same dentist, so she understood him and didn't freak out. She was talking him off the ledge, addressing his panic, by name and by gesture, immediately. I rubbed his calves to let him know I was there, until I had to grab his hands to keep them from preventing the dentist from completing the filling. It was only about five to ten minutes, but it felt like a lot longer.
Fast-forward, we are home. He's decompressing by eating some horrible sodium-packed instant soup and playing on his computer. I had made things worse by insisting on going into Target, which is right across the street from the dentist, for toilet paper and a few other necessities. So I did what any rational parent does: let him buy an Icee. (Sweet, he chose the white lemonade!) He happily sucked on that (which was okay with the dentist) during Target AND Trader Joe's, where I picked up some organic zucchini and cheese tortellini for meals tonight and tomorrow. (More on that later.)
I'm ready for a nap. I'm so tempted to actually try to sleep. I still have to pick up the pup at the vet later this evening, but I probably have at least 2-3 hours. I am NOT a napper, it's not in my nature, but it's also too early for the wine…
So while I sometimes forget that autism is still there, hiding around the corner, it jumped out today and smacked us silly. When not every day is a bad autism day, it can get buried in your normal routine. I had to go from being "mom" to being "warrior mom," where I refuse the flouride treatment and I calm him down before the entire office hears him. He did the work — not me. He did amazing, I just did what any mom does in a situation like that, but it still was definitely a moment of "oof." A sucker punch to the gut where you are reminded that autism is still a reality.
But we don't dwell. We deal. He may appear "normal," for whatever that word is worth, but there are still things in there that he has to work on. I think we all have some things like that, but I won't lessen his accomplishments by thinking they're the same thing as what he, and any other kid with autism, deals with daily.
Okay, it's almost 2pm now, on this bad autism day..what IS the proper time for wine and/or a nap?
(P.S. I did nothing during the month of April for autism awareness. I'm big on awareness but oh so over the tired arguing of awareness versus acceptance versus where the awareness comes from. This post is in lieu of awareness in April, as I strongly believe it should be a 24/7/365 kinda deal where everyone does it on their own level without fear of critique or recrimination from anyone else. Agreed?)