**I recently was gifted with a complimentary copy of this wonderful book, but the opinions (and photos) are my own!**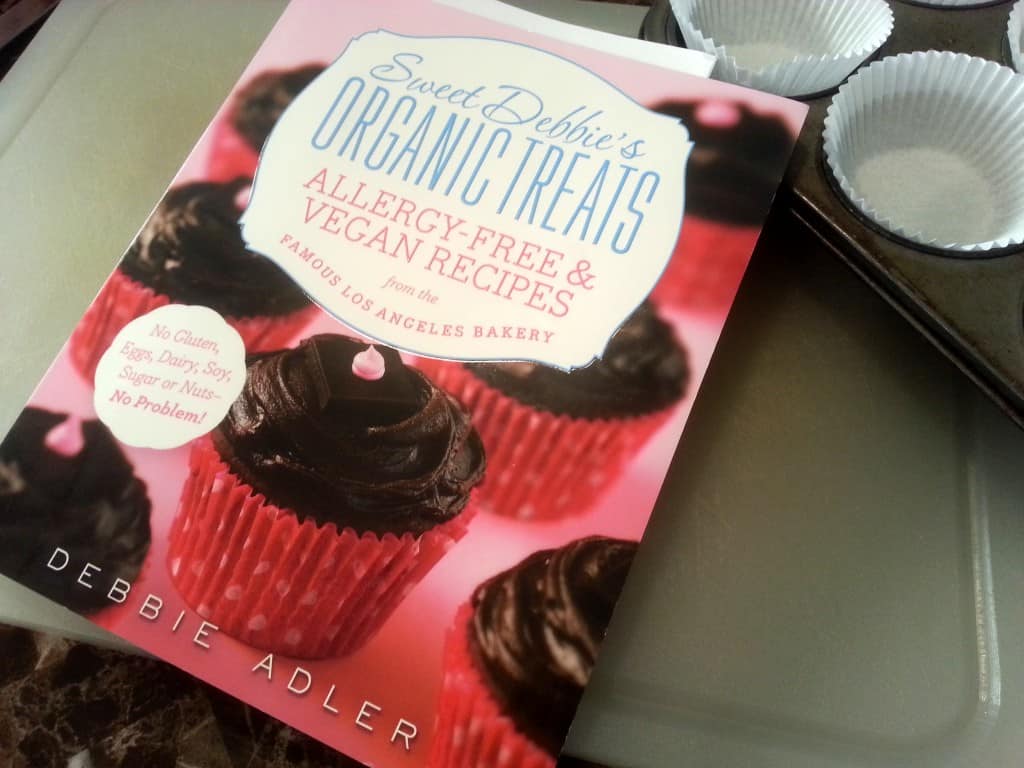 I've mentioned a few times on the blog in the past, I have a child with special needs. While he's not currently gluten-free or casein-free, he has been in the past. We still limit what he eats, cutting out dyes, additives, HFCS and preservatives whenever possible.  We know, firsthand, how important it is to have good recipes handy that make cooking and baking for those on special diets easy enough to accomplish on a daily basis – and for those recipes to be tasty. Even if something is healthy, if it doesn't taste good, it won't do anyone any good. That's where this book, Sweet Debbie's Organic Treats: Allergy-Free & Vegan Recipes by Debbie Adler, comes in handy!
As the tagline on the book says, "No gluten, eggs, dairy, soy, sugar or nuts – no problem!"
Keep in mind, before you go buy the book (and you should, if you have anyone in your family or who will be attending an upcoming holiday dinner) that you may need to visit a specialty section of your local grocery, or a Whole Foods or Sprout's or Trader Joe's, before you can make most of these recipes. They do have some ingredients you probably don't have laying around in your pantry unless you've already got someone gluten-free or vegan in the house; if you do, then you're set! If I had reviewed this book while still living in my small town of South Carolina, I'd have been in trouble. The closest store with these items was close to an hour away and very, very expensive, so plan ahead and look at ordering ingredients online if need be. Luckily, that's not the case here in California! I have my choice of several stores and most were fairly close by.
Why was I so interested in reviewing this book? I fully believe in organic, non-GMO, homemade baking and cooking as much as you can. Food intolerances and allergies seem to be increasing and more and more people are finding they feel better by removing certain things from their diet, yet they feel intimidated by the task of offering themselves and their family a varied choice of meals. With a little effort up front to purchase the additional items – like guar gum, tapioca flour, etc. – you're well on your way to being able to give your child treats or enjoy dessert with everyone else!
Reading through the book, you'll receive a brief education on living this dietary lifestyle. It explains things like why you'd use avocado in cupcakes (beneficial for your health AND it adds creaminess) and why hemp seeds are good for you. I thought I knew a lot about nutrition but there was definitely more for me to learn! The more clients I meet, the more frequently I run into people who need an adaptation to a recipe for them to enjoy it, and I'm so glad I picked up all these tips from Debbie's book.
The book is definitely not a cut-and-dried boring book by any means; it presents these recipes with the same colorful, attractive approach as any other quality cookbook. If you're a visual baker, you won't be disappointed. If you aren't familiar with her name, Debbie Adler opened Sweet Debbie's Organic Cupcakes, an allergen-free vegan bakery, in 2006 in Los Angeles. (You can visit her blog at http://www.sweetdebbiesorganiccupcakes.com. You can also find her on Twitter at @OrganicCupcakes.)
Because I still had some apples around from our trip to Oak Glen last weekend, I chose to make Salted Caramel Apple Muffins. These are perfect for my little guy's lunch and will meet the need for sweet and filling while still being nutritious.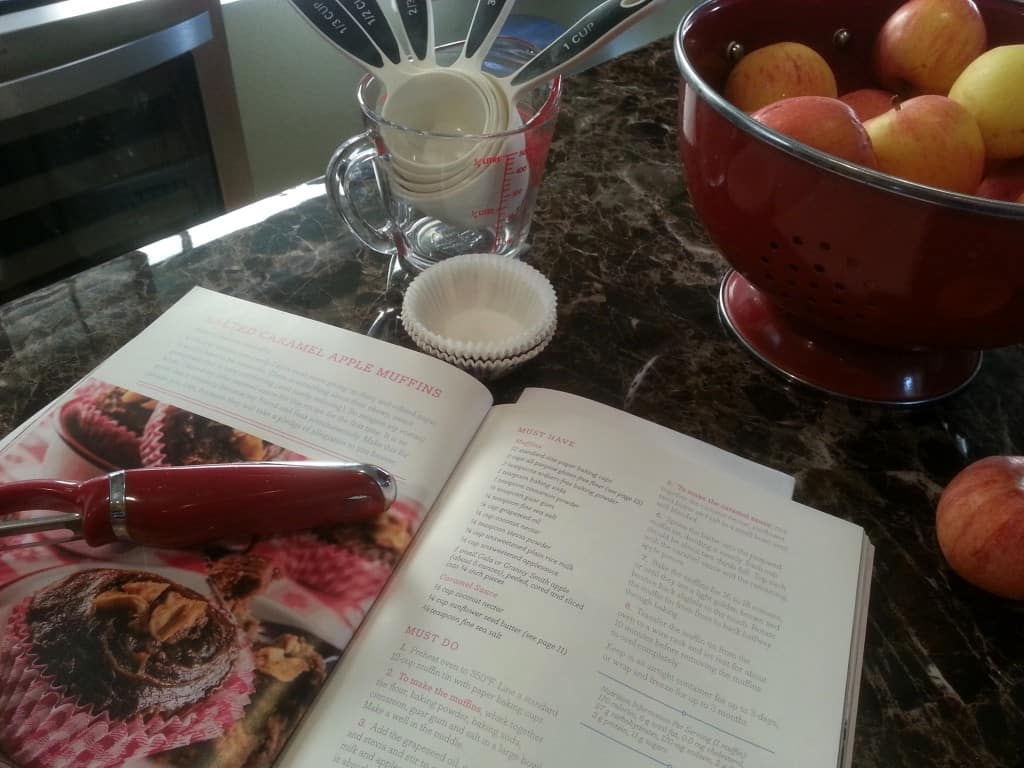 I love the smell of chopped apples…and the taste as I steal a few bites along the way!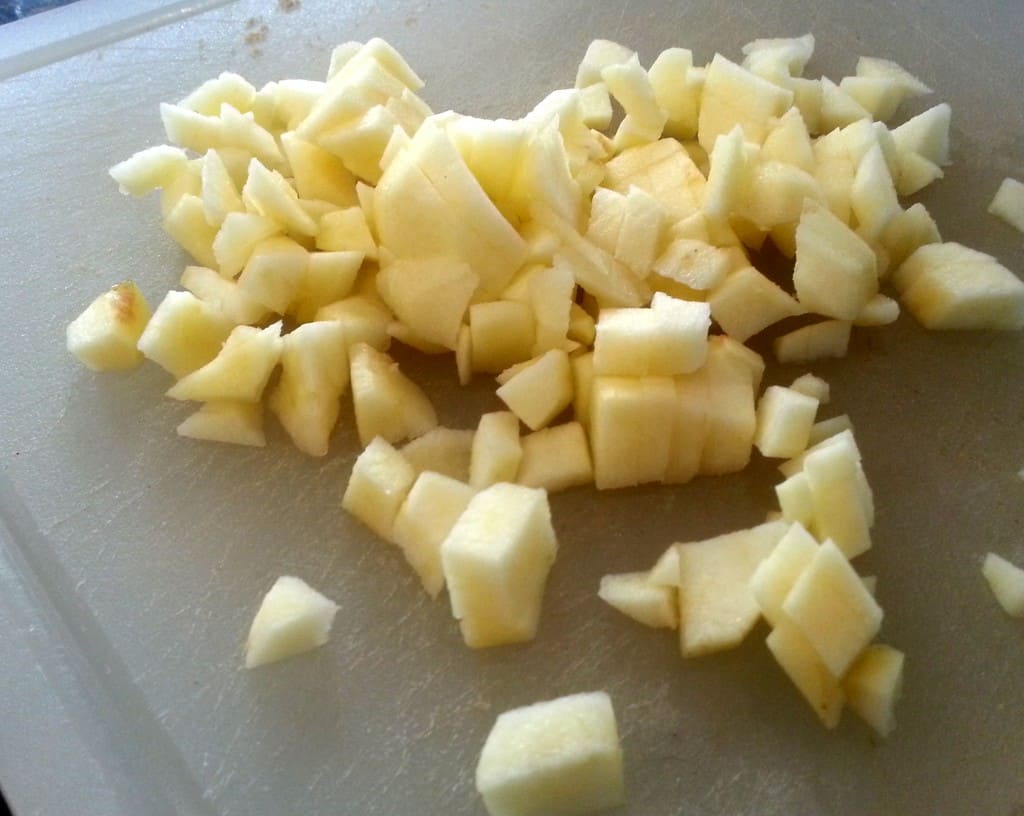 World's best mixer doing its thing!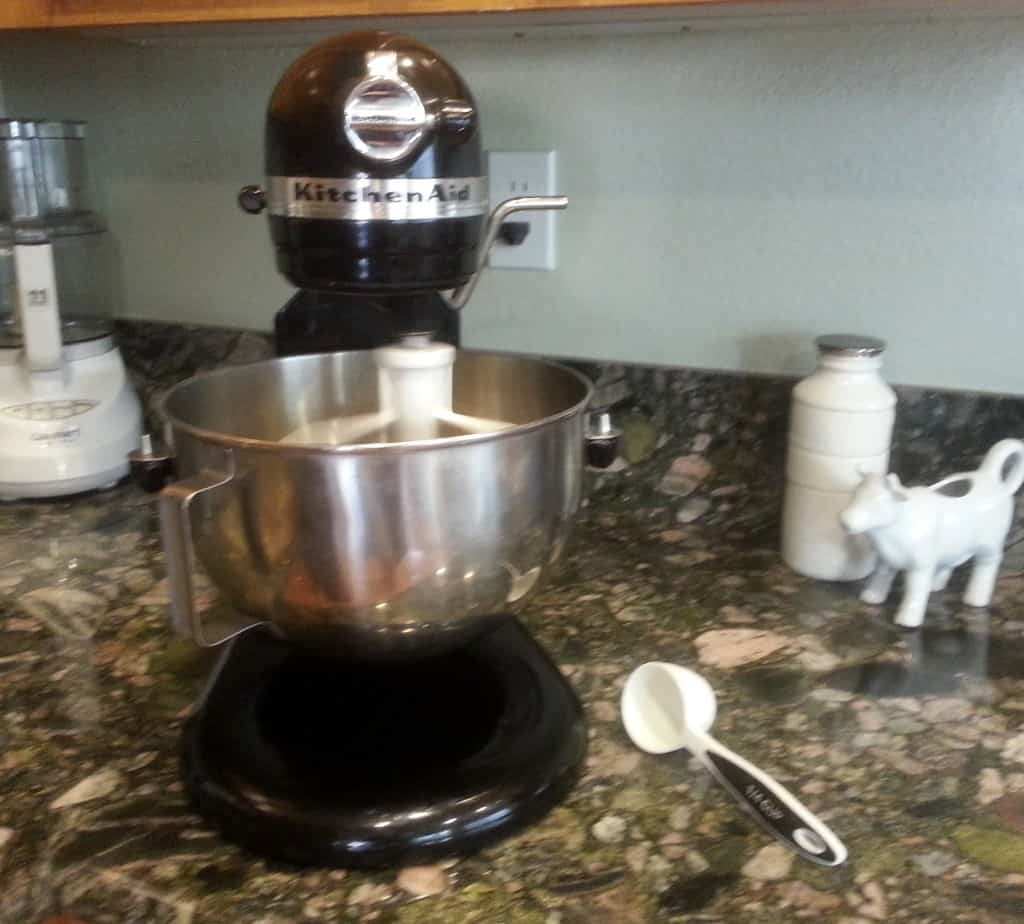 Pre-caramel batter…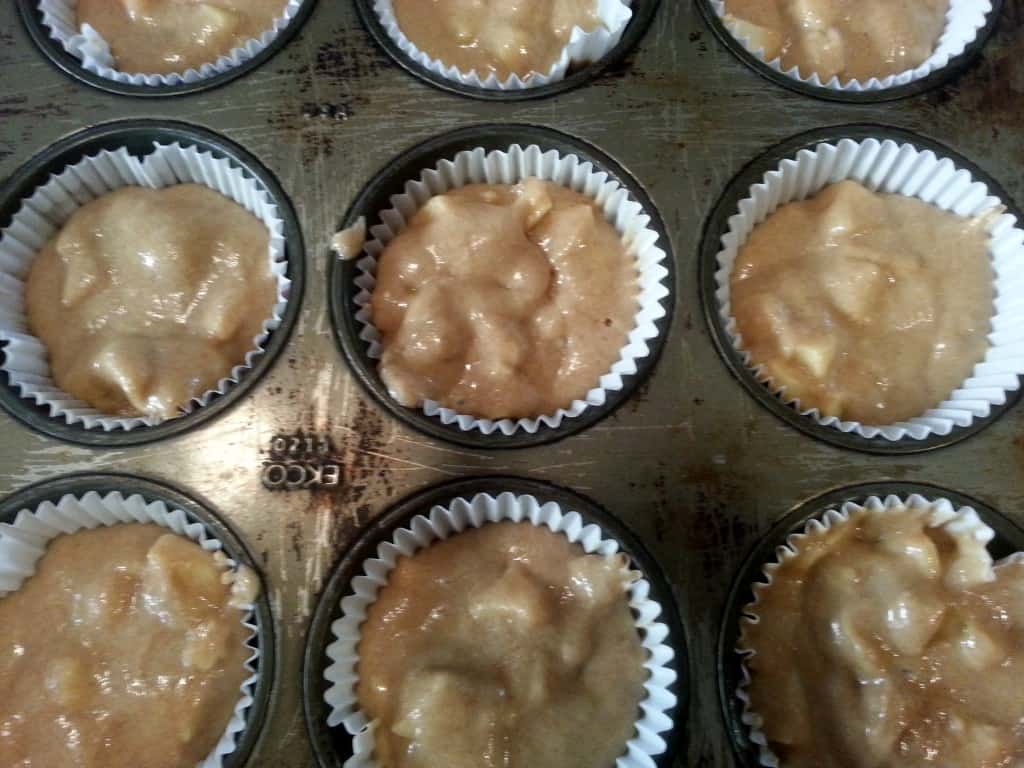 I did take creative license on one thing, by making a couple of the muffins without putting the caramel topping on. Sometimes, little guy can be different with textures and I know that messy items are harder to pack in his lunch. I figured it would be a good comparison test! I'm happy to say that he loves both "equally, Mom."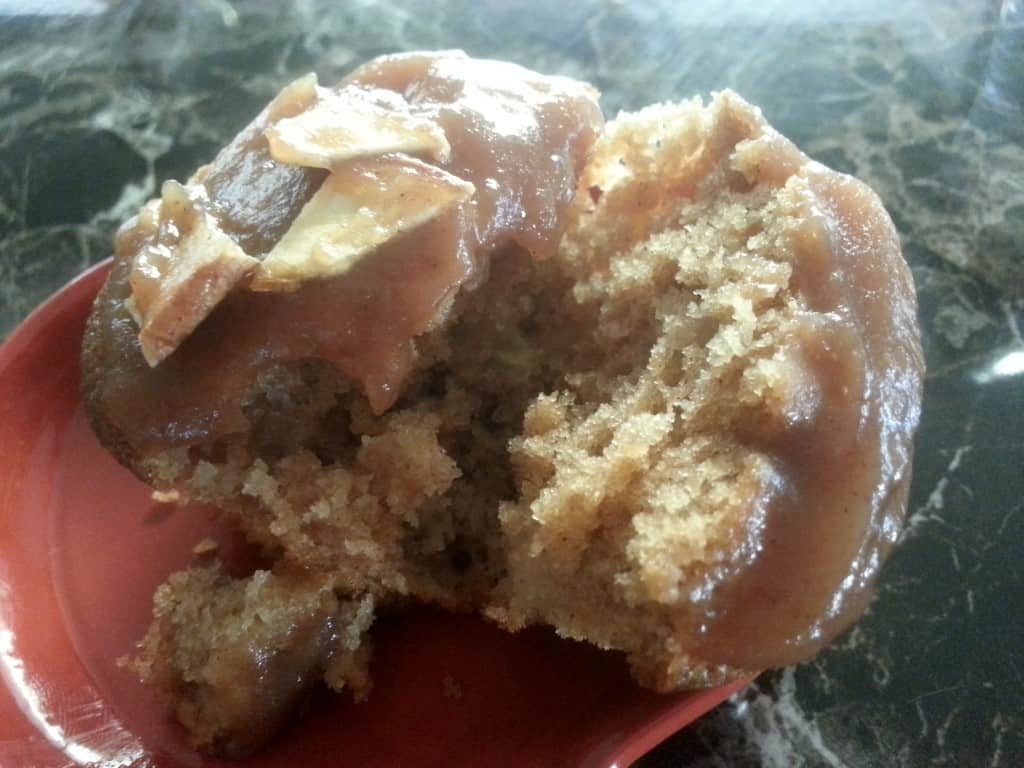 Darn blurry corner…I was trying to show you the crumb and color.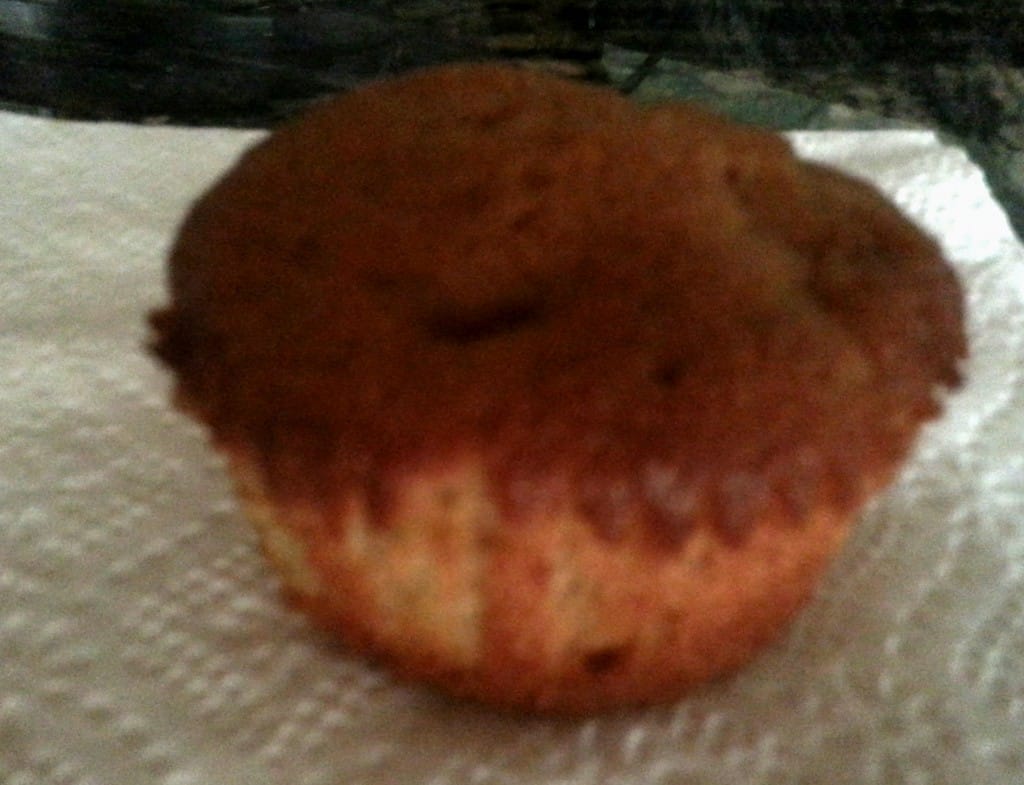 The muffins are delicious. If you're worried about consistency and flavor, you don't need to, though they do come across a little differently from a 'regular' muffin if you're used to having a lot of them. I actually prefer the muffin without the topping, but I may be in the minority when the rest of the family swoops in this evening to try out the remainders. (And there are plenty – the recipe states it will make 12-standard size muffins, but I ended up with 14. Score!)
My only question is what I did wrong with the caramel – too hot of an oven? Not hot enough? It didn't turn as dark as the pictures in the book and I think it was more on the softer side. Next time, I think I might leave them in a few minutes longer though the crumb was PERFECT.
If you're looking for a book to help you master the intricacies of baking treats for special diets, you can't go wrong with Sweet Debbie's Organic Treats by Debbie Adler! Published by Harlequin Fiction and released on October 29, 2013. Look for it here on Amazon.