I'm not a controversial writer. I don't like to write about topics just to get people here that wouldn't normally be interested in my blog's focus. This topic today is something I've had in the back of my head many times, and each time, I squash it and move on but today, it's time.
I really believe in allowing your passions to take flight. If you have a strong belief in something, you should use it. Research it. Learn it. Enjoy it. And then share it with others.
My passion — aside from raising my children and following my blog/social media dreams to fruition — is autism awareness. Actually, it's more than that. It's autism acceptance.
While my blog isn't about autism, and I rarely even talk about parenting on here, I feel like I'm ignoring something important and not using my blog as I could be in this one regard, all so I don't get controversial, yet is that the right choice?
So today, I'm going to go off-topic and discuss something that's going on in my world right now.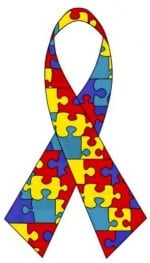 As you know, I have a 13-year-old son with autism. He's verbal, he's smart, he goes to a regular school and is in a regular class…but he's still autistic. He still has social issues and tries so hard to fit in with his unique perspective, obsessions and mannerisms. And it's working, but it wasn't always easy. For years, people would stare at us in public, make comments about him in a stage whisper (in case I didn't know my child was having a meltdown) and sometimes, straight to him or me. Now and then, they'd even touch him. People just couldn't mind their own business, and while that isn't happening to him anymore, I still see the "I'm going to mind your business for you" mentality occurring all over the place.
Case in point: Chili's was having a give back day today, giving 10% of proceeds from customers who brought in a flyer, to the National Autism Association. Cool, right? Except some people didn't think so. From the vitriolic comments on the Facebook page, it seems the majority of those complaining didn't have a dog in this show. They are unaffected by autism. It's fine to share your opinion, but in this case, it was literally being done to take candy from babies. Money from the bank of an association that gives back to families with autism. They aren't shutting down an organization they don't believe in — which would have been real change, albeit BAD change — just giving them a minor setback and therefore, no real action other than to make their ridiculous point, because they can.
Families who deal with autism have it rough. I'm not saying we have it any rougher than those dealing with other medical issues, as there are worse. I'm not going to cry and moan over here, as I'm blessed with my amazing little man, but I am going to say that insurance doesn't cover but the bare minimum, the schools argue and don't want to provide it and they also run out of time and money. And people are mean; people won't let their kids play with ours or they allow their child to be outright mean or bully. We're told "why should our schools spend so much money on your child" and then we hear it again from the insurance providers. If our children were in wheelchairs or had "real" medical issues, there wouldn't be an issue but daily, we're punted from organization to organization and not getting any help because no one wants to spend the money. Where does that leave us? Struggling to pay for services that are unrealistically expensive while trying to provide the necessary care and supervision these kids take. There's a reason that 80% of marriages of special needs parents don't survive, and it's not because they don't love each other.
When people who can't mind their own business speak up, they're saying "My way is better than your way." It happens when you let your child have a soda and some other parent tells you that sodas are bad. Why can't you just mind your own business? It happens when you tell your child to keep his voice down and a stranger says "but aren't you blessed to have him?" (Yes, thanks, through all the infertility issues, I'm well aware of how lucky I am, so I hope that makes you feel better.) It happens when your child plops down in a Target and rocks, with his hands on his ears, because the humming of the lights are too loud for him to cope at 830am. (Thanks, stranger, for telling me I should pull his butt off the ground and spank it, and if it was your child, he wouldn't be doing that. You've found the cure for autism!) It happens when I let my non-autistic daughter dye her hair blue for autism awareness month and someone else's mom whom I don't know tells me that I shouldn't let her be 'wild.' It happens when my infant's head leans to the side, by her choice, in a stroller and a stranger — a non-mom, in fact — tells me it's not good for her neck. (Thanks, but she's doing it herself, she's older than she looks and she's my fourth child, I've not killed any yet.) It happens when your child covers his ears in a pediatrician's waiting room because the baby banging blocks hurts his head, and the mom says "You really need to learn that babies make noise." (I handed her an autism card that was coincidentally just sitting on the counter; I didn't mean to embarrass her, and I felt bad that her face turned red, but my son's reactions were/are mine to deal with, I was standing there writing a co-pay check and I hope she learned that all isn't what it seems, especially when your only child is 11 mths old. To her credit, she did apologize.) The time I told my child no, I couldn't take him to the skate park and the old man yelled at me for not giving him a break. (He didn't realize I was on my way back to work because I needed the medical benefits to pay for that appointment we'd just had.) I could go on but we've all been there, done that.
In short, people need to learn some restraint. When I'm at a park and I see someone else's children misbehaving, it's not my job to tell that mom how to make them behave. The exception? If they're hurting my child or speaking to him badly or there's a bloody eyeball hanging out. Otherwise, they have the right to parent their child as THEY see it, not me. It's THEIR child.
So when I see people complaining to Chili's about their give back day, I wonder: what purpose does it serve? It's okay to disagree, but can't you disagree without hurting someone else or poking your nose in where it doesn't belong? The world needs varying opinions, but that means we have to allow for others to have them, too, even if we don't agree. I'm not talking about human rights — we should all have them, 100% of the time, in every aspect — but just basic respect for differing perspectives. Can't you just mind your own business?
I'm not going into my feelings about the fact that Chili's cancelled their give back event; I never brand-bash and won't start now. I don't know what went on there, just that I feel the wrong decision was made in the end. I just hope that the people who had a part in complaining about it really know what they did. The NAA does a lot for our kids, and us, and they don't call and ask me for my money like other organizations do. Their belief that vaccines can be a contributing factor is but ONE part of their very long list of statements, yet the rest were ignored. It's throwing the baby out with the bath water, and I guess that's easy to do if your baby isn't in the bath. (And I am not putting Chili's on my list of places to eat at any time soon.)
Mine's in the bath, and I'm sad. 1-in-68 kids are in that tub, and we're all struggling for help we can't afford.
So next time you see a child have a meltdown, don't correct the parent. Mind your own business…or offer to help. The next time you see a mom let her child drink coffee, zip your lip. That child may just be allowed some caffeine to help their severe ADHD. (True medical story, though not mine.) Next time you see a mom breastfeed an older child, hold your tongue. (Seriously, who cares, yet I have a friend who hears this all the time!) See a kid say the word "crap" to its sibling? Look away. (True story here. My child said it and wow, three people spoke up. I told them all to call my son's behavioral therapist who said "Pick one bad word, not a true vulgarity, but one word he can say when he's upset. We all have one, why not him?" One mom then actually walked off and used the "f" word..in front of kids. Hypocritical much?) See a mom letting her kid eat chocolate in the morning, back away. (It's not going to kill the child, really.) It's not your business. We can't go around inflicting our beliefs on others. Have your beliefs, uphold them and stand behind them, but realize, they are yours, and everyone's entitled to their own. Unless there is imminent danger, such as 'get off the tracks, a train is coming!' or another similar thing, it's not your place. We all want freedom, and to have that, we have to extend it to others.
Some people say it takes a village, and I'm not sure I subscribe to that. It's great when we hold doors open for each other and scoop up a dropped item for a stranger, but leave the parenting decisions and the donation choices to those involved. Don't want to give to a certain donation? Don't, but don't take away that choice for someone else. We need to be kind to one another, and I think everything else will fall into place.