"Have courage and be kind."
As a little girl, I loved Cinderella. I remember that we had a wind-up Cinderella music box on a shelf in the corner of the bedroom and her beautiful blue dress would shine at night as the light came in. She seemed so magical, and when the mice held up her dress for her to dance in the original animated movie, I always wanted to be her. Fast-forward years later to when I started having my own children and I was so excited that my oldest daughter loved Cinderella as well. I have such sweet memories — if not a little teary, as she as my first — of her going to kindergarten in her Cinderella costume for Halloween, floating around the classroom as if she really was Cinderella. (And maybe in her head, she was, she looked so happy and confident! Something about that blue dress!) When I heard about the new version of Cinderella coming out, I was excited to see everything about it: who they would cast, how the story would go, and what music they would use. This new Cinderella did not disappoint!
Last week, we attended a pre-screening in the ABC building on the Disney Studios lot in Burbank. Visiting the lot is fun in itself, as there is whimsy everywhere, with surprise Mickey ears, a Cars Land gas station and then of course, the infamous water tower and Mickey's wizard hat. It's a treat going on the lot at all, and I love my job that I get to do it!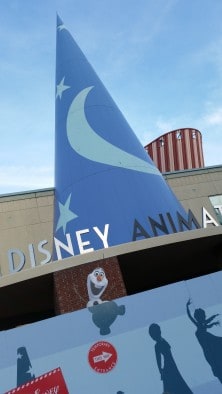 Lily James makes a gorgeous and believable Cinderella, with Richard Madden an equally gorgeously handsome prince. Not everyone could utter "Have courage and be kind" and be taken seriously and Lily pulls it off with ease, portraying the loving and dedicated Ella perfectly. The entire cast befit their roles, though I have to say that Kate Blanchett had me cringing in my seat — she was just that good as the wicked stepmother. (And the step-sisters' dresses made them eerily creepy as well!) "Do shut up" is now a favorite phrase in our house!
If I had to name a favorite scene, I would go with the preparation for Cinderella to get to the royal ball. Helena Bonham Carter as the fairy godmother had everyone laughing as she haphazardly, but expertly, gets Cinderella on the road in an outfit beyond compare, complete with just the right crew to get her to the palace in one piece. The humor in these scenes was oh-so-Disney and is just one more reason that Cinderella isn't just for kids, but for everyone.
Go see it. You'll love it, whether it's a mother-daughter afternoon or a fun date night with the husband — it's done in a way that all generations will appreciate it, and not just because it's a cute movie, but because what Disney movie isn't a great night out?
(Featured photo courtesy of Disney!)