Cooking for a busy family can sometimes mean getting stuck in a rut, pulling out the same old recipes and throwing them on the table without any enjoyment in preparation. I like to cook but not if it's boring, so when I have time, I try new ingredients, get creative and see what I can pull together. This week, I did it with the help of Amy & Brian's Coconut Water. I was provided me with sample products and/or compensation in order to try the items and share with you what I think; all my photos and opinions below are my own.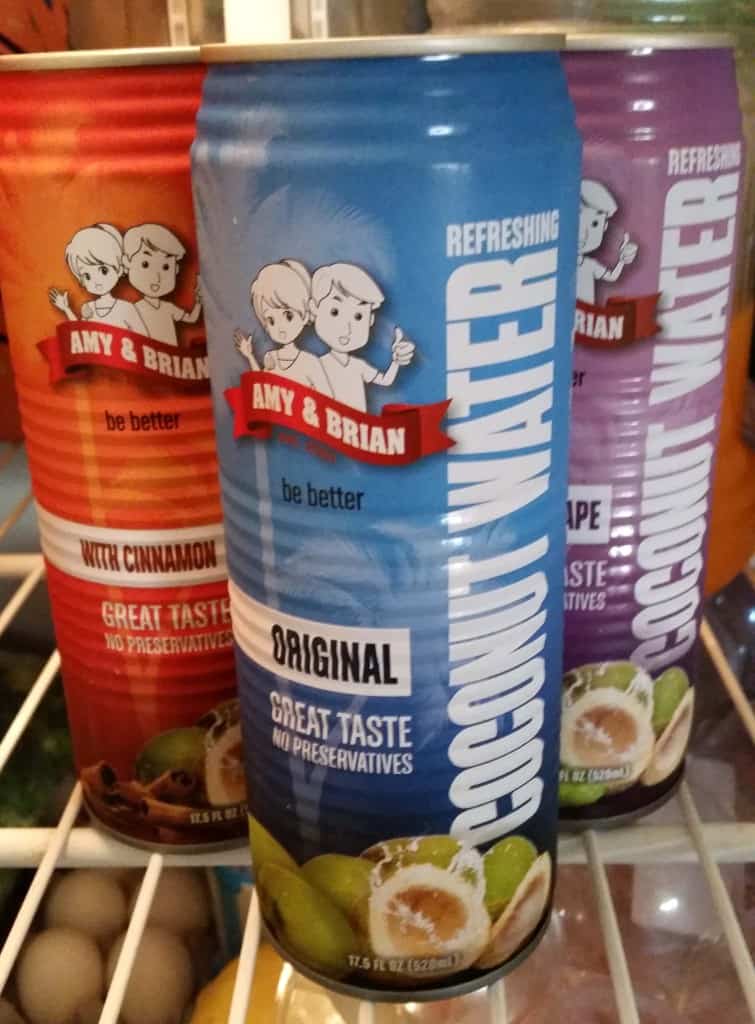 At 17.5 oz-sized cans, it's more than a full serving when you're thirsty and each can gives you plenty to use in a recipe. I had all sorts of ideas, but I'd purchased fresh corn and wanted to use it in a new way. Simply grilling or heating it up fresh seemed boring, but I didn't have time to get fancy, so I came up with a very fast and easy way to change up the flavor and get it on the table fast.
Four ears of corn make quite a bit, but that's good because this recipe had my family eating big servings. I cut the fresh corn off the cob directly into a large sauce pan. Pour 1/2 of coconut water into the pot with 1/4 cup fresh lime juice, a sprinkle of salt and pepper and a handful of chopped fresh basil.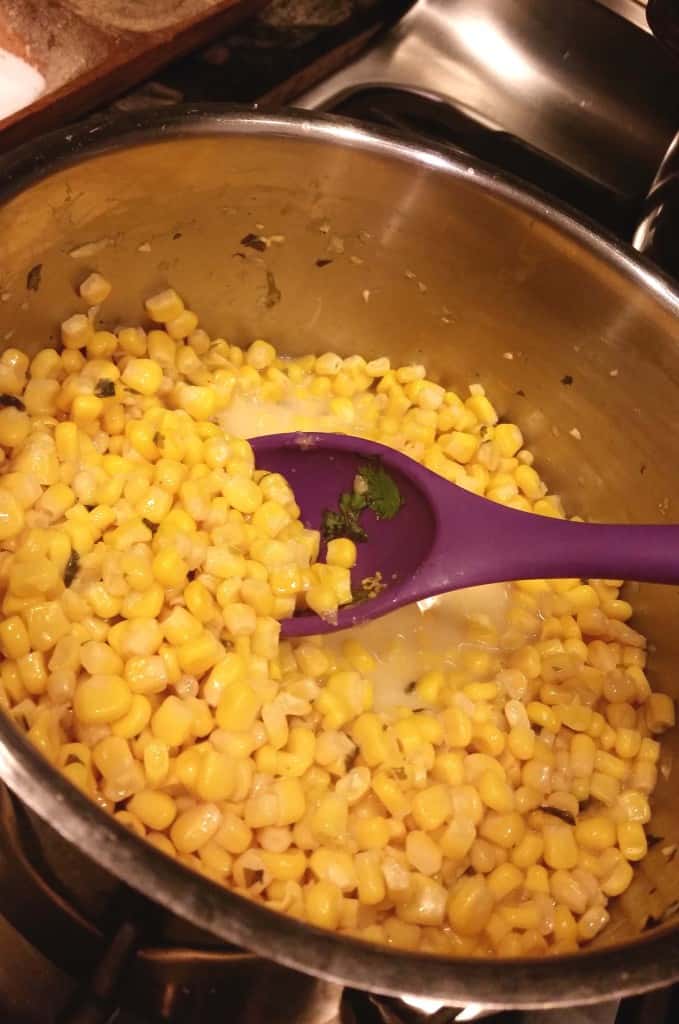 I let it gently simmer while the peppers were heating, and that was it!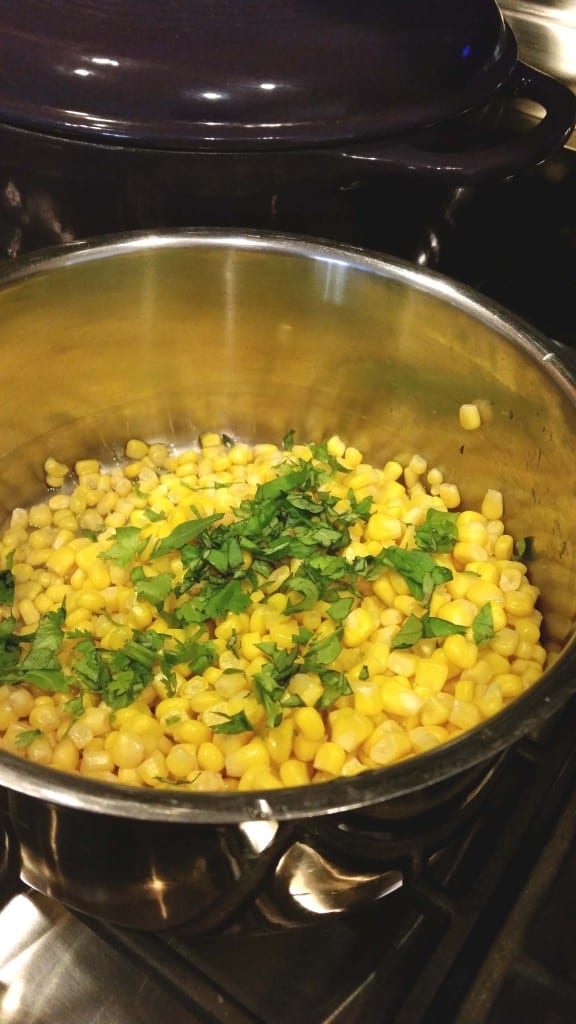 Coconut water is sort of a rage now. I've tried several and some are less flavorful than others. Some are even too thick, so when you're thirsty, they aren't thirst quenching. Amy & Brian's Coconut Water is the perfect balance of taste and texture and I enjoyed a can of the cinnamon flavor after a long run on the treadmill. (It's still too hot here in California for October and I'm running more frequently inside; I can't wait until it cools down so I can get back to early morning runs outside!) Amy & Brian's Coconut Water is available in regular coconut flavor, the cinnamon I mentioned above, lime, grape and regular, with the pulp. I actually prefer the pulp, but I know not everyone likes that consistency. (I had my son try both and he prefers the pulp as well.)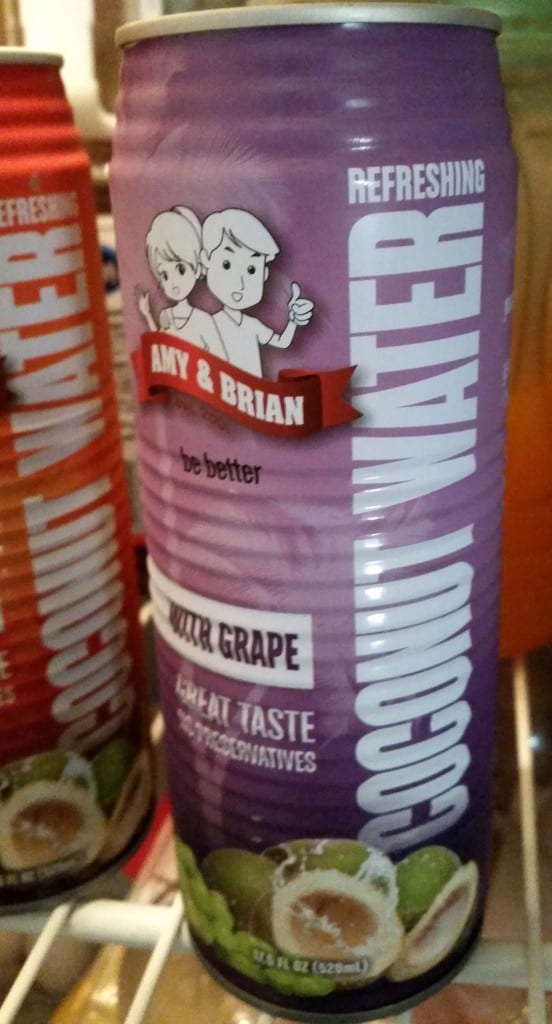 Why should we drink coconut water? It's one of the best natural hydrators available. It's loaded with naturally occurring electrolytes such as potassium, sodium, magnesium, calcium and phosphorus and has no cholesterol or fat. I learned from Amy & Brian's website that it was actually used in place of saline during World War II, when saline was in short supply. Interesting trivia, right? Amy & Brian's coconut water is 100% natural, non-GMO, and never from concentrate; it's made from the juice of young coconuts from Thailand, where the coconut water is just a bit sweeter. Follow them on Twitter to learn more, and check out their website for a store locator and more detailed product information.
Want to enter for a chance to win a case of Amy & Brian's Coconut Water? You can enter several ways below — you can tweet daily for extra entries! (Case will be shipped directly from the company.)
I want to know what your favorite flavor of coconut water is and how you most like to use it — in food or as a beverage! (I know some people who have gotten creative with alcoholic beverages; I personally haven't tried it – yet – so I can't recommend anything but I've going to buy some more and see what else I come up with!