Some days I feel like I'm always on the go. I'm up early to get the little dude off to school — make him a healthy breakfast and pack him a lunch he'll actually eat and that will get him through after-school football practice, then house chores, taking care of the pups and an eight-hour work day. Errands at lunch, more errands after work and then getting dinner on the table, if I'm not out at a social media or marketing event. I get so caught up in getting everything done, some days I find myself hungry with no time to make anything and a deadline to beat or place to be. That's the moment of truth, a moment most busy ladies find themselves in daily, where we need to eat but we don't have time to do it.
Head to the pantry and grab something and hope it's not horribly bad for us, right? In a perfect world, I'd prep my lunches/snacks ahead of time, on a Sunday afternoon, so they're easy to grab and eat while I'm running.
But that perfect world is frequently a fantasy land, as I rarely remember take the time to do it and instead, I rely on things in my pantry or the produce drawer. I like to make sure my snacks are as healthy as they can be, but I can't eat carrots on a conference call or drive in the rain while eating an apple, so I have to make smarter choices all the way around. This is where this new snack fave of mine comes in handy. Crunchies freeze-dried fruit gives me the best of all worlds: yummy food to get me by until the next meal, it's quiet, not messy and I can take it anywhere. Shelf-stable, it can sit in my press bag all day without going bad and because of the packaging and style of the product, they don't get smushed. Win-win!
What is Crunchies exactly? I was sent eight complimentary full-sized bags so I could share with you my feelings! (And the photos are my own.)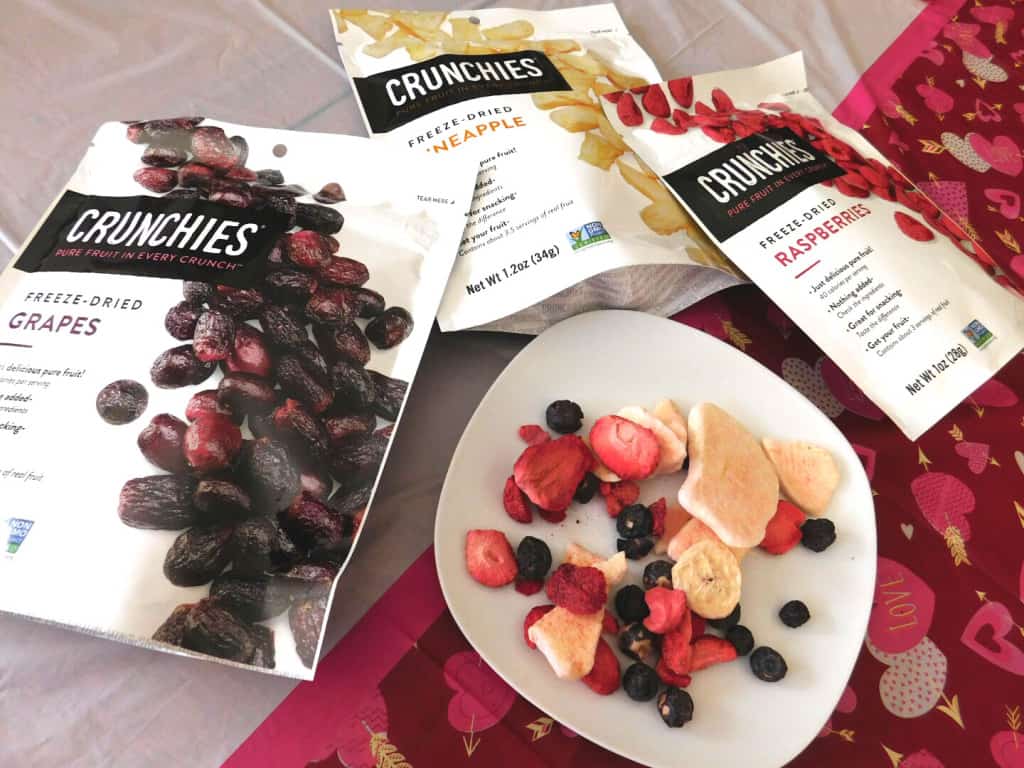 Crunchies is freeze-dried mixed fruit, with nothing added — just check the ingredients! Each bag contains about 3.5 servings of real fruit, direct from farmers that the Crunchies crew knows directly. Made in Westlake Village, California, Crunchies offers eight different varieties of fruit: raspberries, blueberries, cinnamon-apple, pineapple, strawberries, banana, a strawberry-banana mix and grape.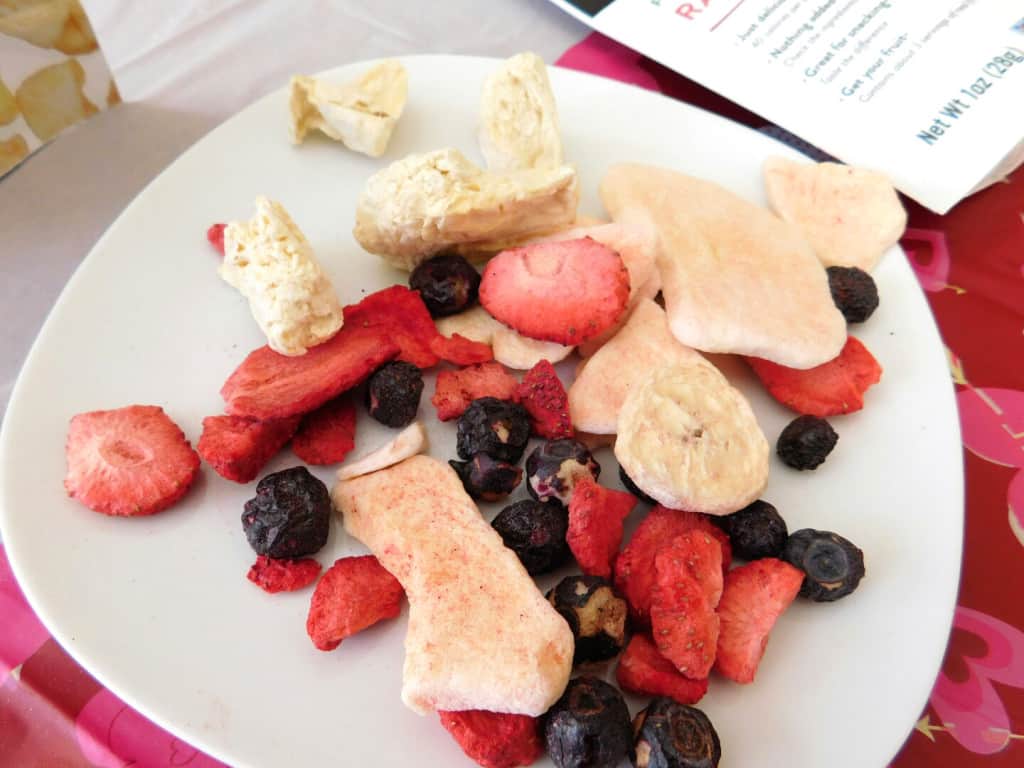 The flavors are excellent — tart when they need to be and mild without overwhelming. I like the cinnamon-apple best, with the blueberry being the mildest. (They ialmost popped in your mouth, pretty cool!) I could eat an entire bag of the dried bananas all at once, too; they aren't what you're necessarily thinking of in terms of dried fruit necessarily, as they aren't the dried crispy, sometimes bland, dried fruit you may buy in typical pre-packaged bags. They are softer, they seem more fresh and best yet, you can eat them while on a conference call!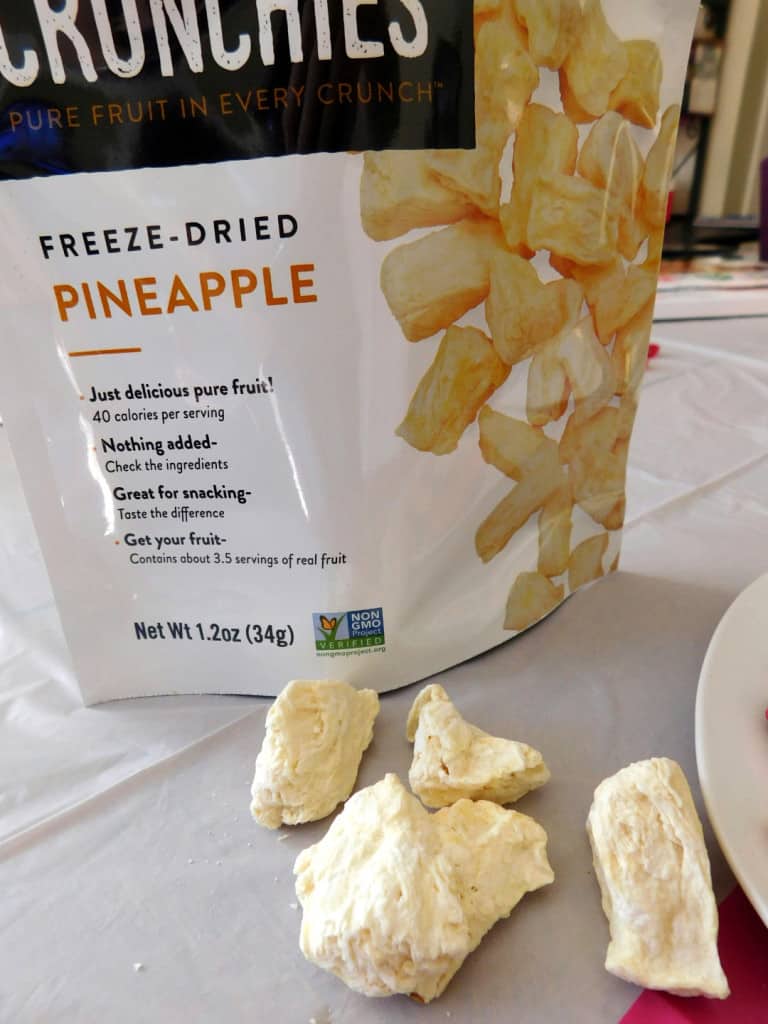 Crunchies easily fit into my son's backpack; I was able to stick the whole bag of strawberry-banana fruit in between his football gear, his wrestling shoes and his ten pound literature book. He had no complaints at the end of the day, other than he wanted more.
One more good thing to know — Crunchies are NON-GMO Project Verified, so you can eat it guilt-free and know you're providing no hidden scary stuff to your family. I strive to keep preservatives and nasties out of our diets when we can, and while it's not perfect, we're one step closer every time we find a product that is not only tasty but safe and healthy. Crunchies fit the bill on all counts.
For more information, visit the Crunchies website, or visit them on Facebook, Twitter, Pinterest and Instagram. You can find Crunchies at many local grocers or you can order online. Enjoy and let me know if you try them!