Yesterday, I had a very long day at the Craft & Hobby Association Mega-Show at the Anaheim Convention Center. I was given the opportunity to attend as Press. I'd never attended before but I am now hooked!
I left the house pretty early for a Saturday — 7:10 — and having grown up in Anaheim, easily found my way to the parking structure. (Not a fan of parking structures and low ceilings. Anyone else? Or am I alone in my weirdness?) Breakfast with a keynote speaker and the CHA awards show started at 7:45, so I quickly picked up my press pass and headed in to the ballroom. Food galore! What a great buffet, complete with the big vats of coffee required when you were out until 1am for a concert the night before.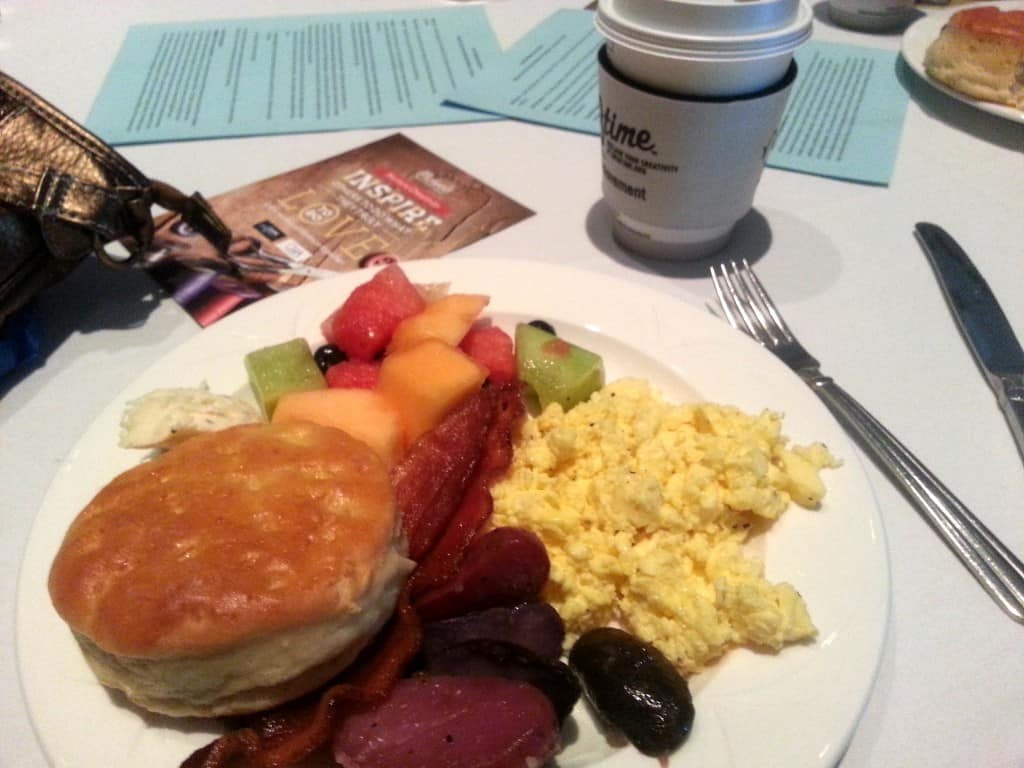 The awards and meeting began, including a fascinating speech from the CEO of Alex & Ani. He shared facts about his business perspective and how he grew a company successfully with his viewpoint. In short, what kind of business do you want to have? $1 million in sales or $20 million? Choose and work towards it, doing whatever you need to do. Very illuminating!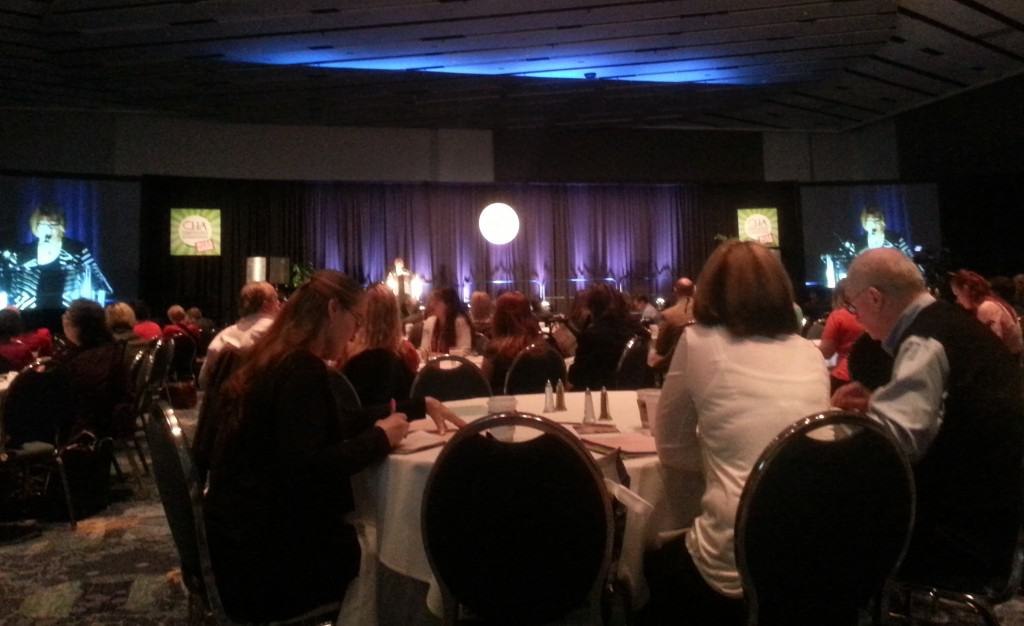 See all those people? That was just breakfast. The hall opened at 10am, so we had some time to kill in between. I met up with some lovely bloggers I've known from an online blogging group and it was great talking in person! (The blogging community is amazing. If you aren't part of one, let me know, I can help you find some either local or just online, or both!) As we descended the elevators towards Halls A, B, and C, you could feel the buzz and excitement of everyone waiting to be let in. I was glad I'd come early. (And I had the enjoyment of a delicious breakfast, too, completely caffeine-fueled.) As those doors opened, the day began.
I have to admit being very much a deer in the headlights. The halls are HUGE. In every direction, you see people, booths, displays and activity. Bright lights. Talking. The smell of coffee from the various venders. Almost overwhelming, but don't let it get the best of you! I chose to dive in. I pulled up my CHA app, opened the event hall layout and headed towards the bead section. I'm a beader at heart, though I also scrapbook and experiment with other crafts. I am always looking at new tools and gadgets and beads.
The bad news about the show? You can't really buy things there, so you have to make a list or gather paperwork if you're not a retail store. I kept taking picture after picture of things I wanted to buy, texting myself the names of things I found. (And I already placed one order earlier this afternoon. Just two items but can't do it all at once!) I also took pictures of a lot of beautiful examples of jewelry creations. The designer talent in this hall alone was staggering.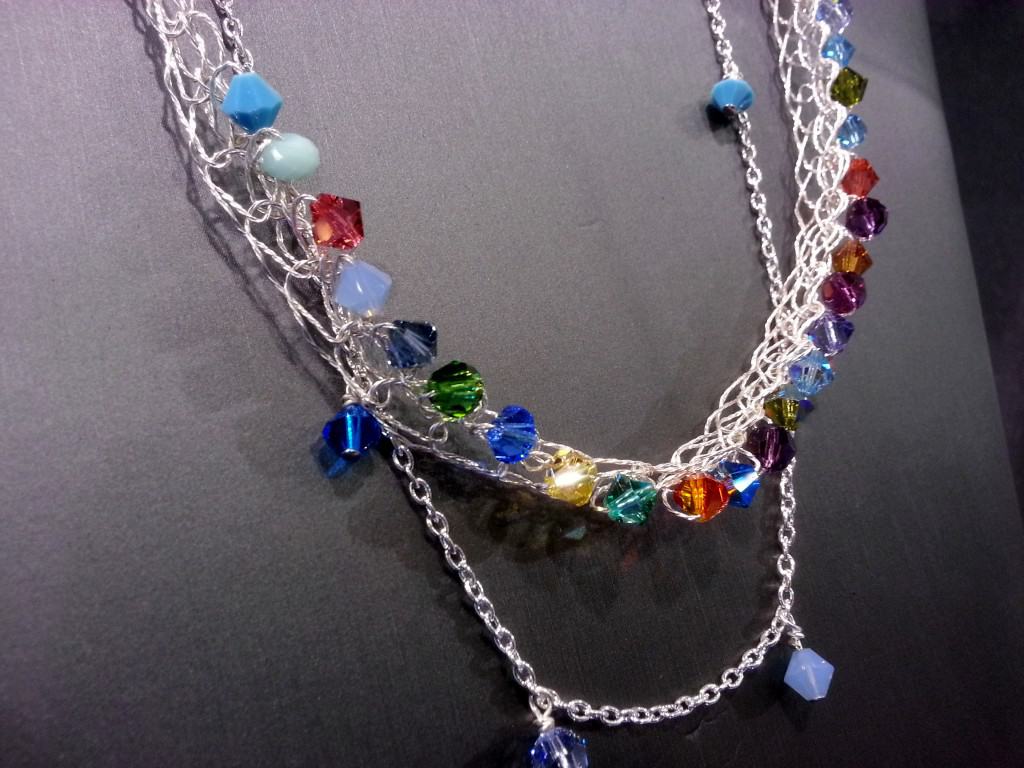 Beadsmith was a great stop on my bead area tour. I learned a lot about their new macrame board and a looper tool, two things I can definitely use in my arsenal of jewelry making tools.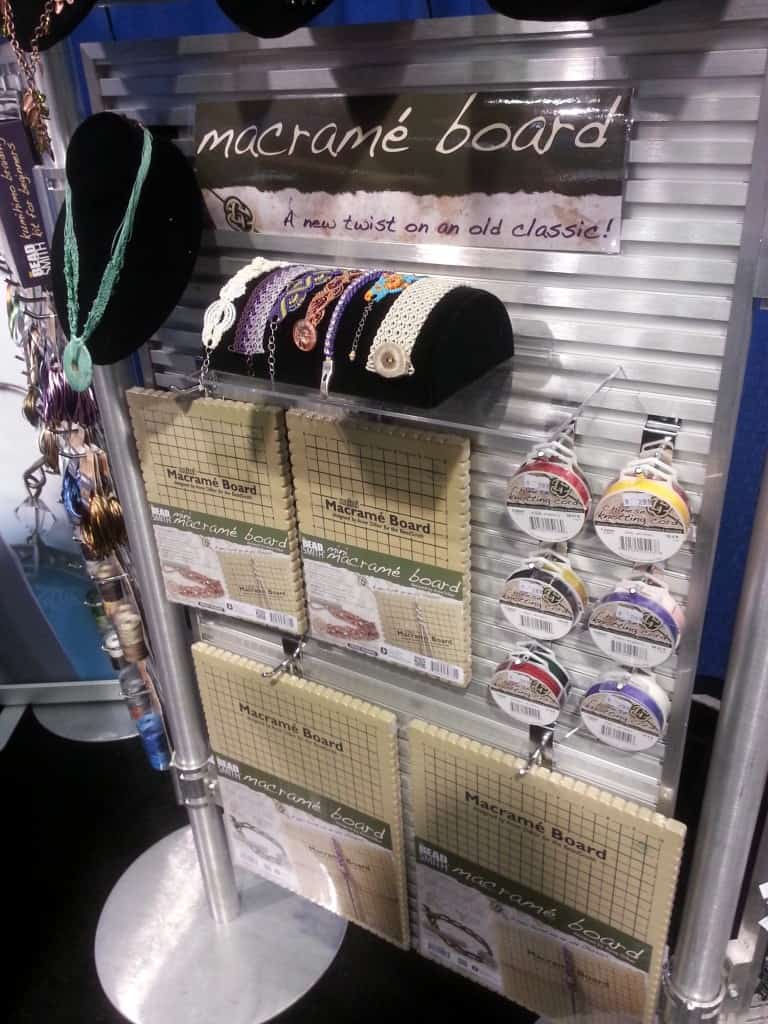 I love macrame. In the 70s and 80s, it meant plant hangers and three-bead necklaces, but it has come a long way! The intricacy and braids and colors — nothing short of gorgeous, endless opportunities. I am so inspired and I need to hit up a craft store soon for macrame cord.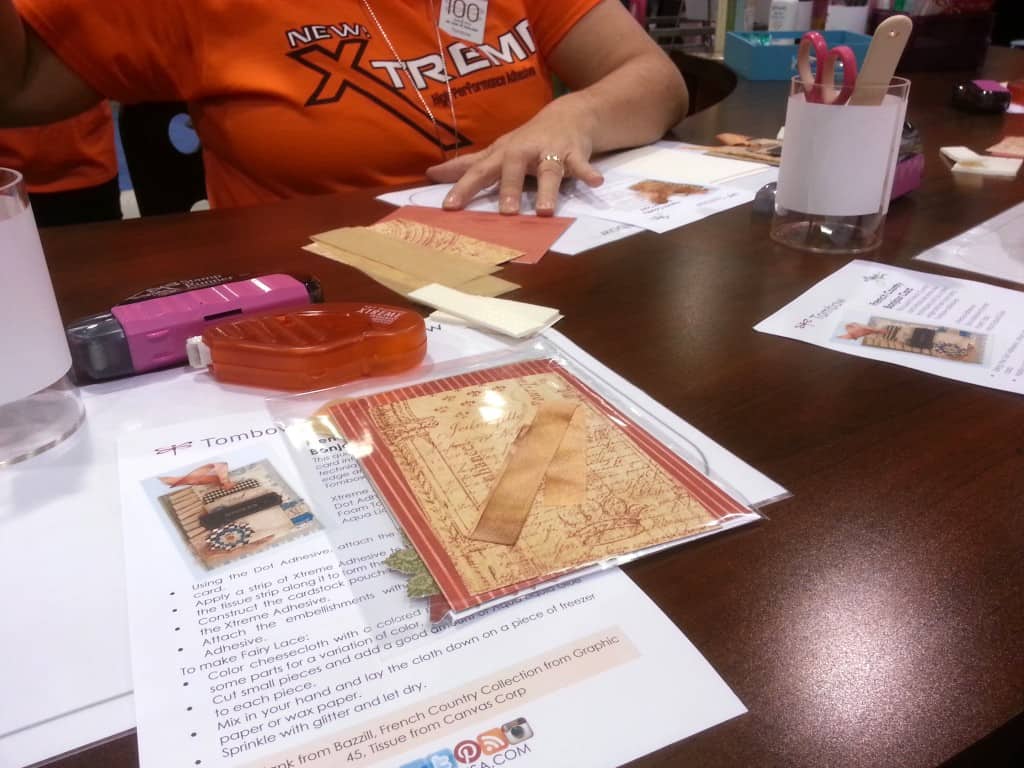 That was a Make and Take card by XTreme, showcasing their adhesive applicator line. So handy and easy to use. I didn't get to complete the card, it took a little longer than I'd thought, even with the very helpful guidance and tips of the hostesses, as I had already arranged an 11am workshop with Swarovski. I had been looking forward to it all week and didn't want to be late..yet I was. Only 2-3 minutes, but I am the uber-punctual person. Luckily, the hostesses were very understanding and I didn't miss anything. I stepped right up to a mat and dove in to make a beautiful crystal, sparkly ring. SO much fun! We were not only sent home with our Make and Take, but we were gifted with a Crystal Ninja tool for future crafting endeavors. It's perfect for the Swarovski crystals in my jeweler's kit that I have been waiting on until I found the perfect project. Thanks to CHA's show this weekend, I learned I no longer need to wait. I just need to CREATE.
And the finished product!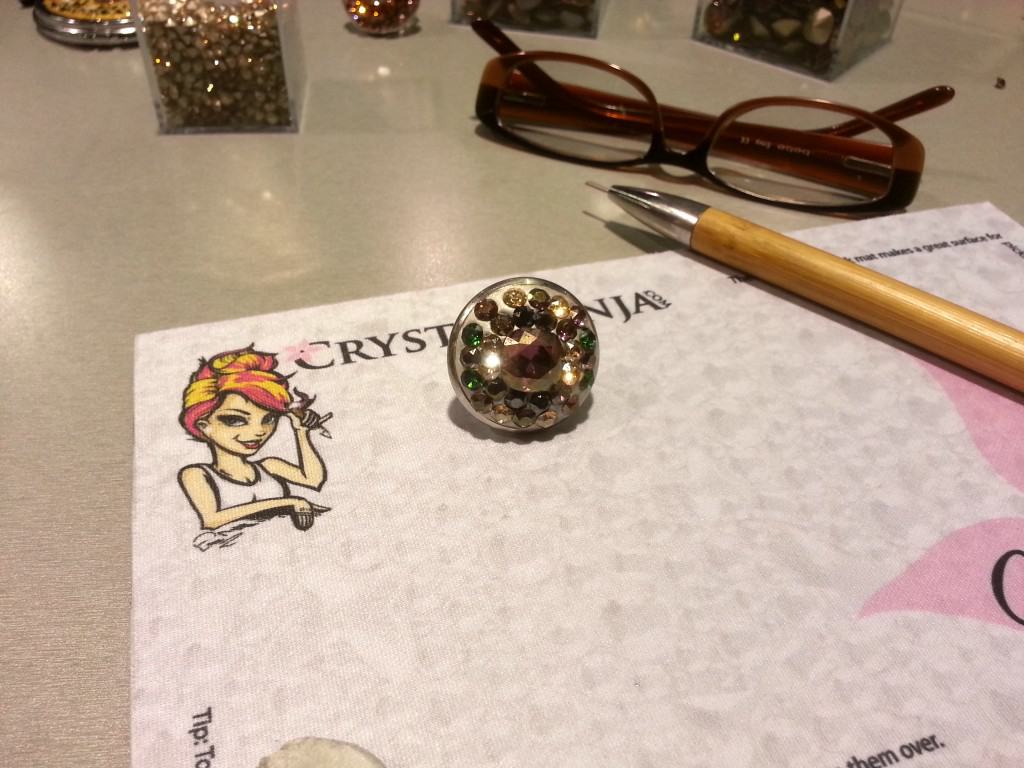 I was so excited about this project and workshop, I didn't realize for a bit that one of the ladies leading the workshop was Erica Domesek from P.S., I Made This. (Check out her site here. You will LOVE it, I guarantee. You can also find her on Instagram at PSIMadeThis.) So inspirational, and she totally so knows her stuff about social media and community following/engagement. I hope to run into her again!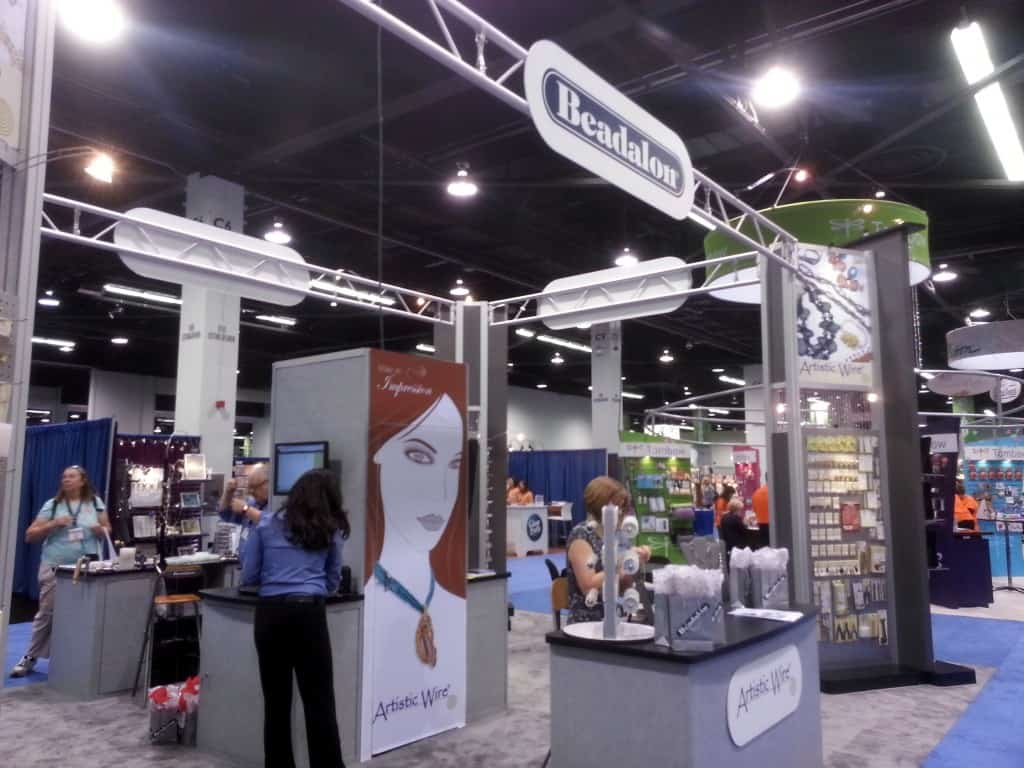 After, I headed back to Beadalon and watched a one-on-one display about the new knot tying tool.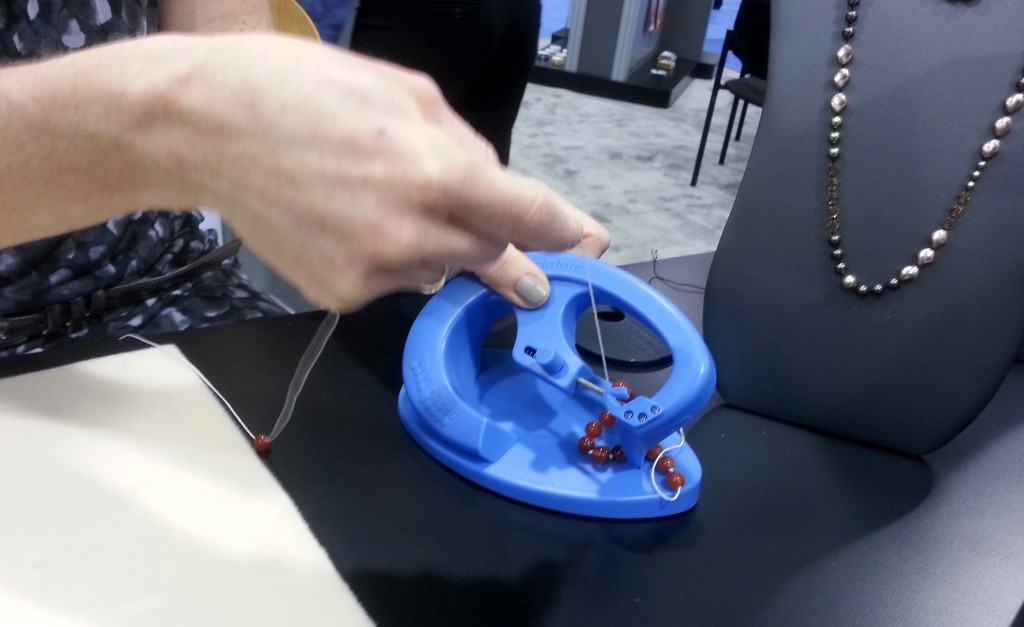 It's on my list!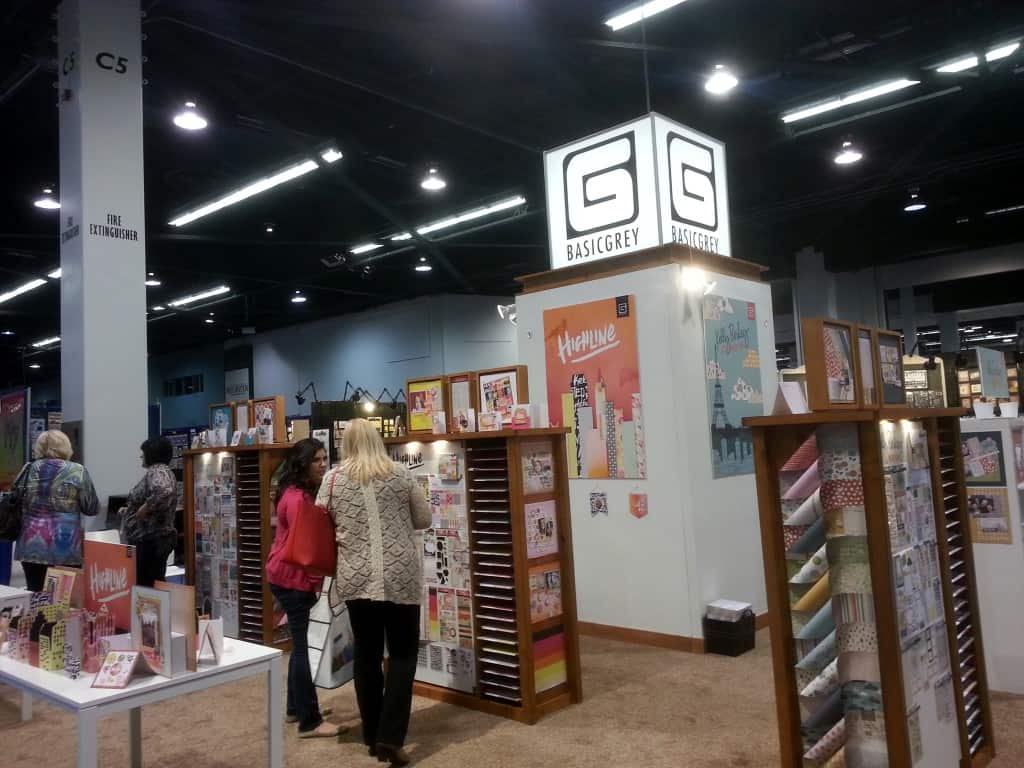 I've been a fan of Basic Grey for years now, and I have a lot of their papers and embellishments in my scrapbook drawers. Love their style!
Here are a few random shots from around the show.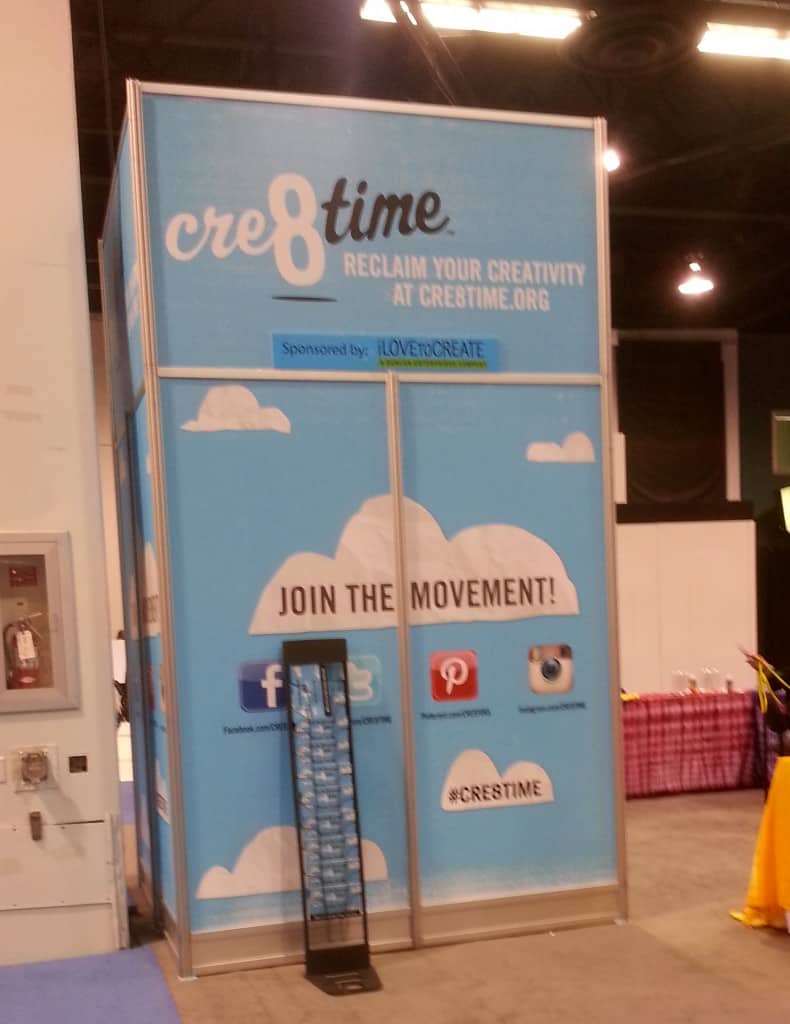 #Cre8time — what you hashtag when you're getting creative and making crafting a part of everything!
Such a pretty booth, and while I'm not a knitter, it made me want to consider it. Love those hats!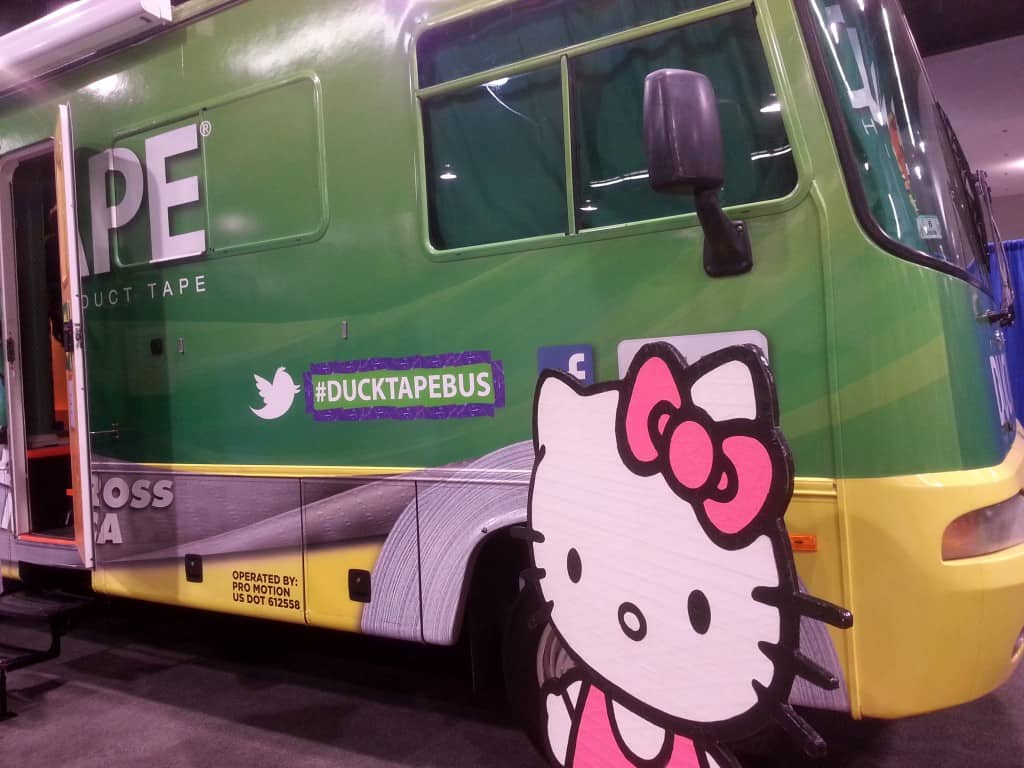 Like Duck Tape? Then you need to see the Duck Bus, a moving museum of amazing Duck Tape crafts, including the winner of the last Duck Tape prom dress contest!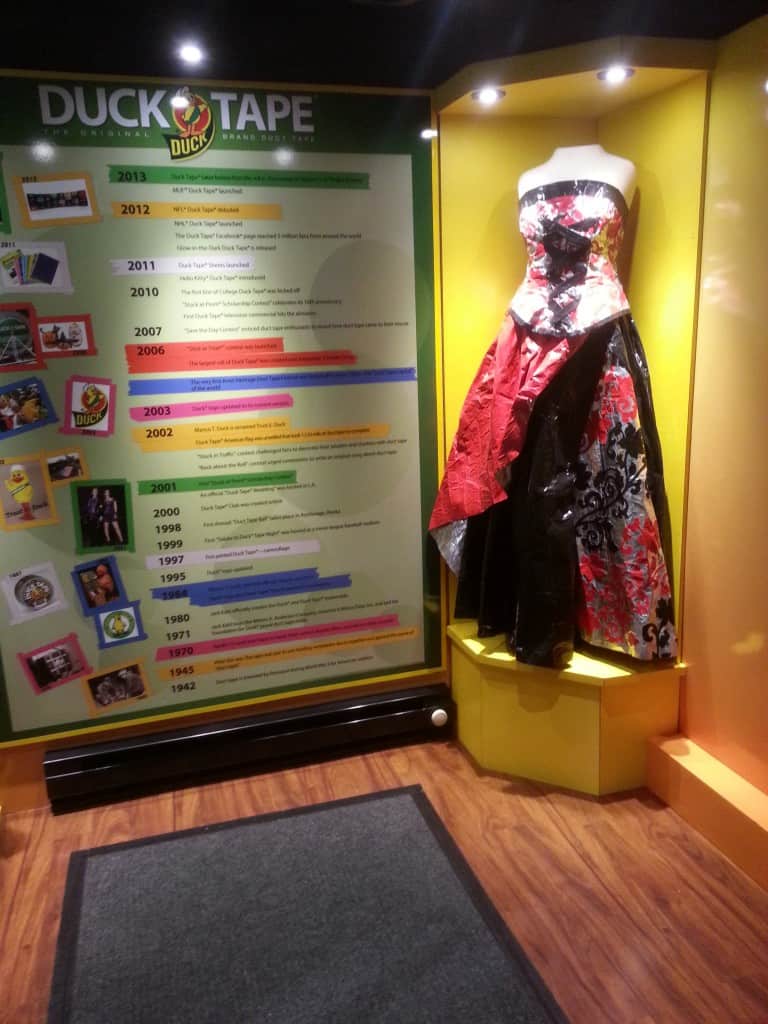 I also took about 10 minutes at their booth to make a bracelet. I'd have never thought about making one of these, but so easy and with all the patterns available, why not? You could take this so much further and do anything.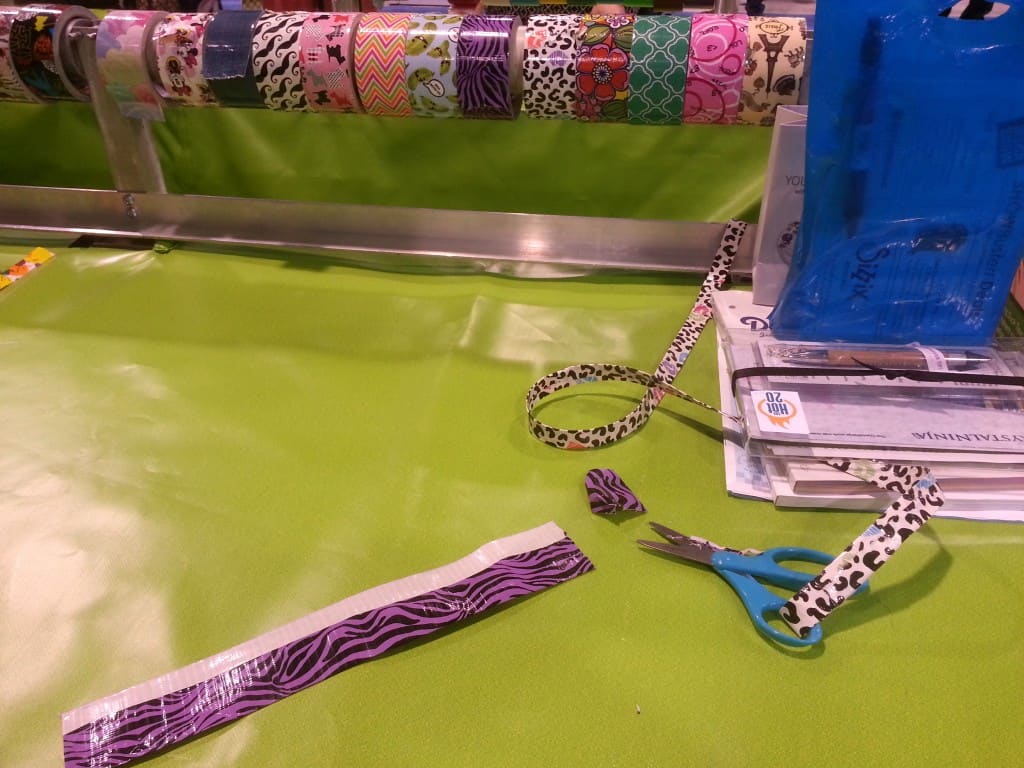 Another Make and Take opp at the DCWV booth. I have a new charm bracelet and was also sent home with more charms to include. Too fun! I chose an animal print set with butterflies. Very cute!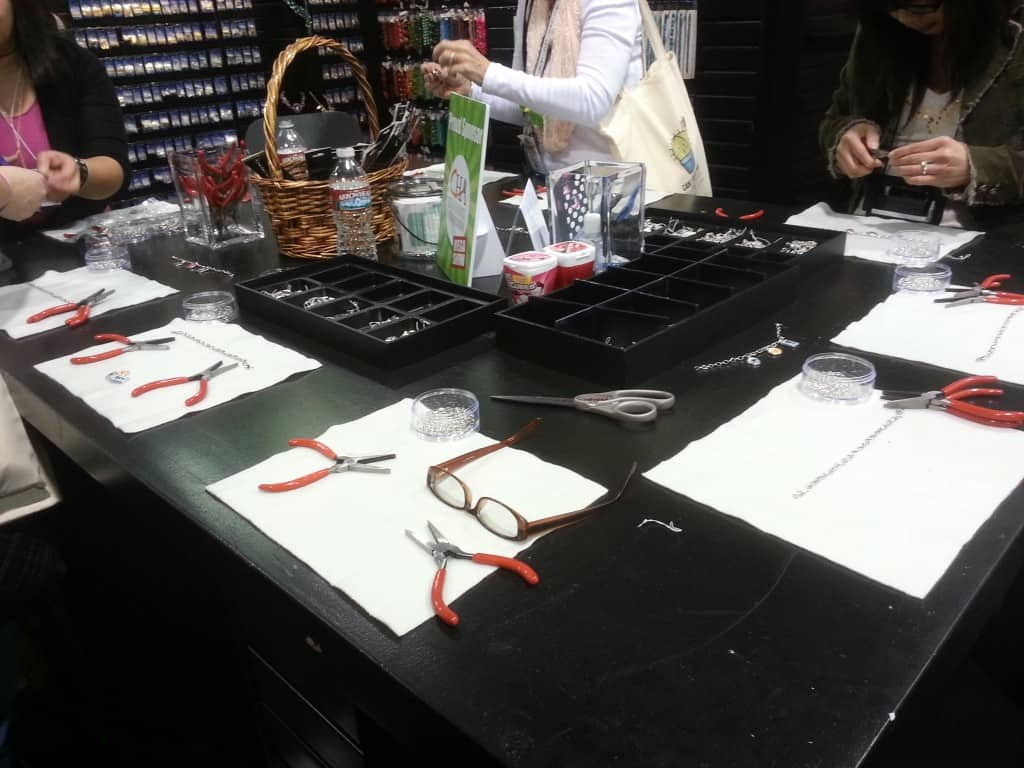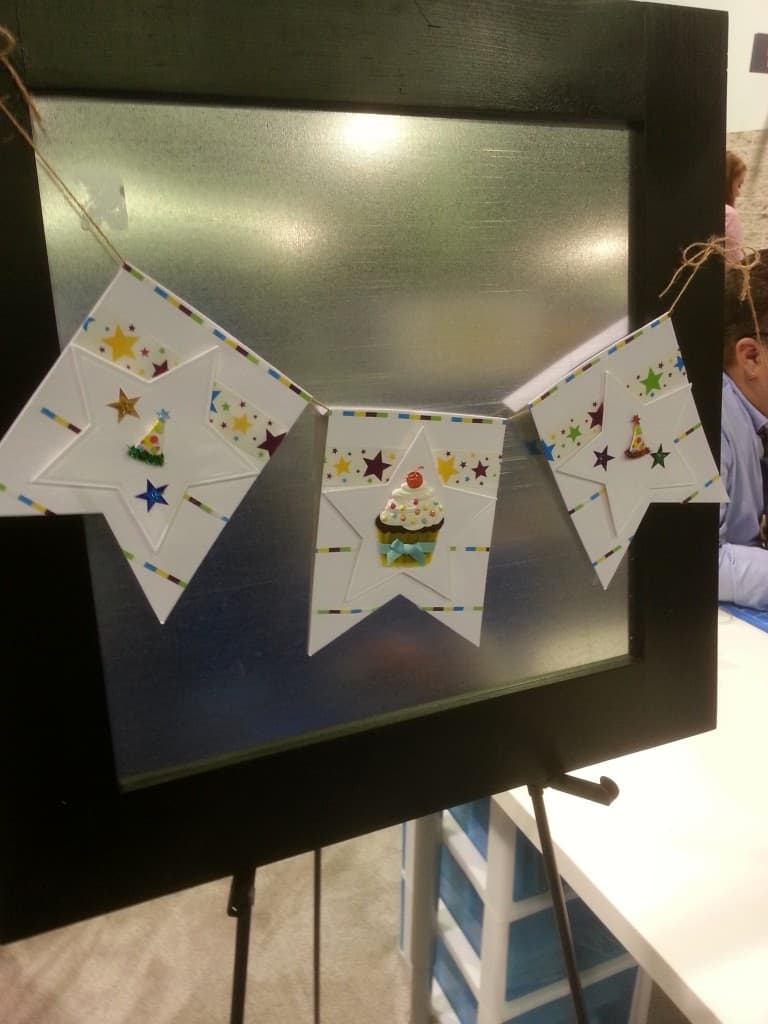 Isn't that adorable??
Speaking of cupcakes, I ran into the Katy Sue Designs booth. Cupcake heaven!! Molds to shape the top of a cake or cupcakes. Tools to emboss shapes into and onto the cakes/cupcakes, and sugar paste molds galore. I can't wait to get a hold of a few of the tools from here.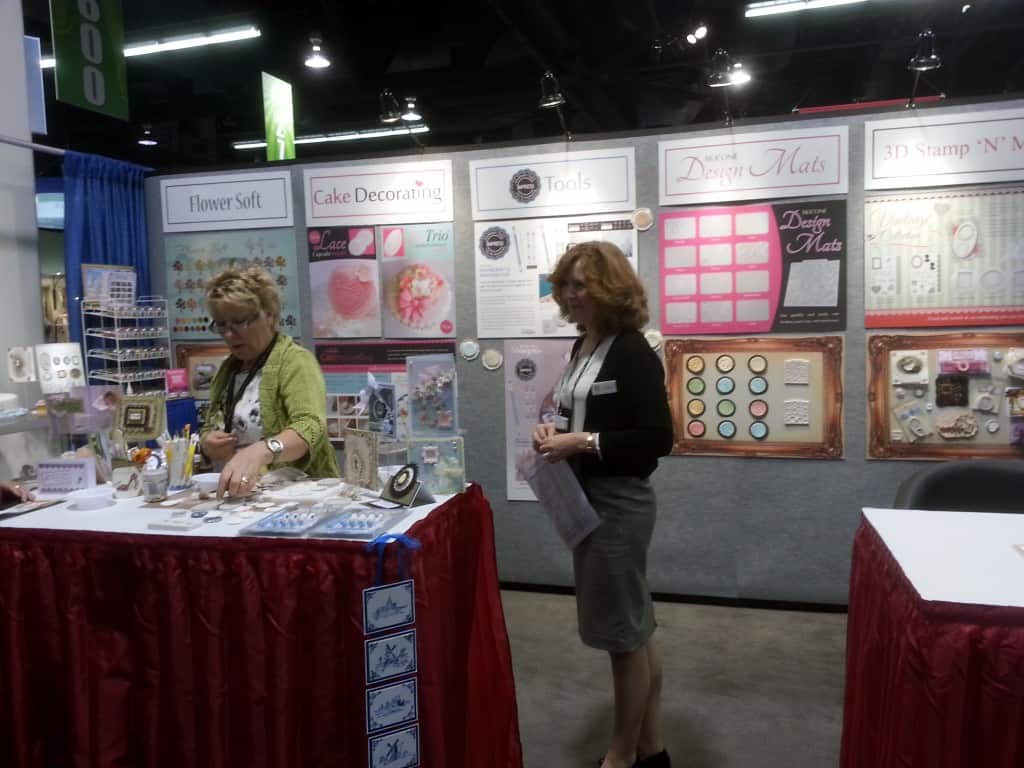 More inspiration!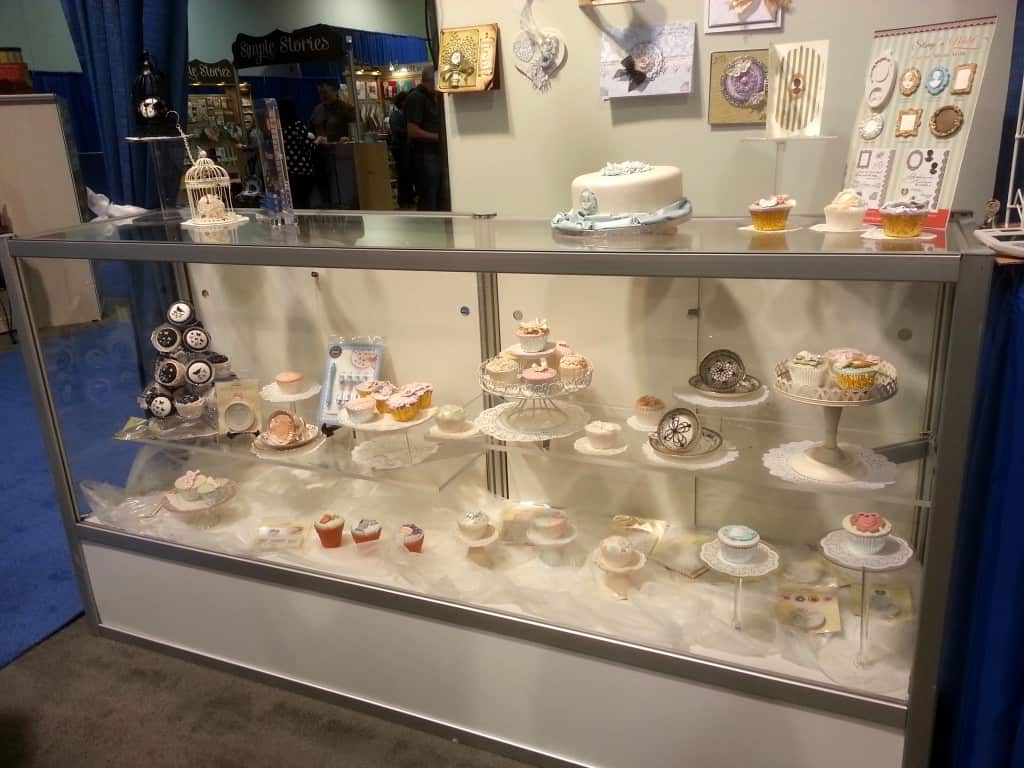 I had a lot of fun testing the mold and came home with an example. These are totally going to be used for my daughter's wedding cupcakes!
And the new concepts display!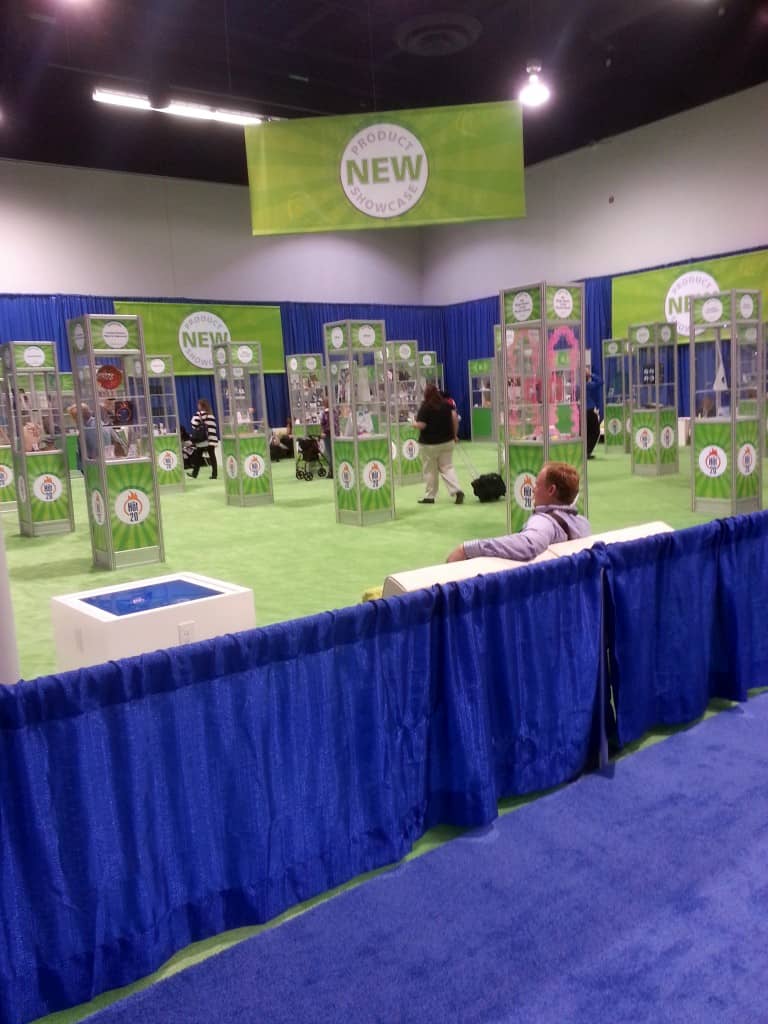 I left mid-afternoon, after wandering from one end to the other, then up and down each column a little more. I met new bloggers, came away with a lot of ideas and am newly invigorated to get back to crafting. I hope to bring some of those efforts here to the blog!
Thank you, CHA for allowing me a press pass. You have a new fan and I thank you for getting me out of my craft rut!