Parents of young children, I've got a fun thing for you to enter today: my Blaze and the Monster Machines: Dino Derby DVD giveaway!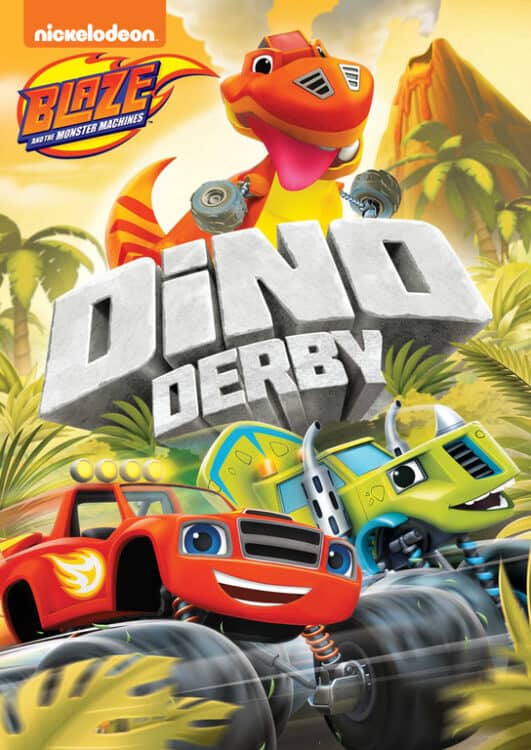 Every time I go to spend time with my grand daughter, or when I babysit her, she wants to watch at least an episode or two of Blaze and the Monster Machines. I ask her what she wants to put on TV, as I feed her baby brother or we calm down before bedtime. "Blaze car, Grammy!" Are you sure that's what you want to watch? "Blaze car!"
Blaze and the Monster Machines, it is.
If you haven't watched it, it's about monster trucks that talk. They have their own group of friends, and each episode includes several learning experiences for small children. They solve problems. And they model how a community of different people get along. As a parent now for 33 years, it is one of the cuter shows I've seen for the younger set. (True story: when I watched Charlie Rose for a few days when her baby brother was born, we watched Blaze and the Monster Machines wayyy into the double-digits. She missed her mama, she had a little bit of a cold, and she gets up at 5am, so I did not mind some down time. By the time I left, I legit had memorized at least two of the episodes.)
From Paramount Home Entertainment and Nickelodeon Home Entertainment, the Dino Derby DVD has several episodes:
Dino Derby
Dinosaur Parade
Dino Coaster
Dino Dash
From the press kit, here are some Blaze and the Monster Machines: Dino Derby fast facts:
Street Date: February 1, 2022
Running Time: 1 hr 28 min
Audio: Dolby Digital English 5.1, French Stereo, Spanish Stereo (Episode 603 "Dino Derby" available in English & Spanish only)
US Rating: Not Rated
CN Rating: G
It's a cute show, and now you have a chance to win a copy of the Blaze and the Monster Machines: Dino Derby DVD for your own collection! My giveaway entry form is below, and the rules are easy: winner must be 18 years of age or older and reside in the United States. Void where prohibited by law and no purchase is necessary. One winner per household. Winner must respond within 48 hours or prize is forfeited and a new winner will be randomly drawn. Prize fulfillment will come from DVD public relations, and Dangerous Cupcake Lifestyle et al is not responsible for fulfillment.
With all those pesky rules aside, enter now — giveaway ends at midnight on Feb. 18, 2022, so enter today! (Multiple entries are allowed!)
a Rafflecopter giveaway