Way back when we first started wearing masks, I wore a disposable paper one until a friend made me this really cool cloth Marvel mask. It was a novelty, an accessory. Who knew we'd be wearing them this long? If you're like me, after nine months of trying to find a mask you like, masks have long lost their novelty but out of necessity, we need to focus on finding ones that we can comfortably wear. Enter the AirQUEEN™ Nanofiber Mask! (And enter my giveaway, below, for a chance to win a 10-pack for yourself!)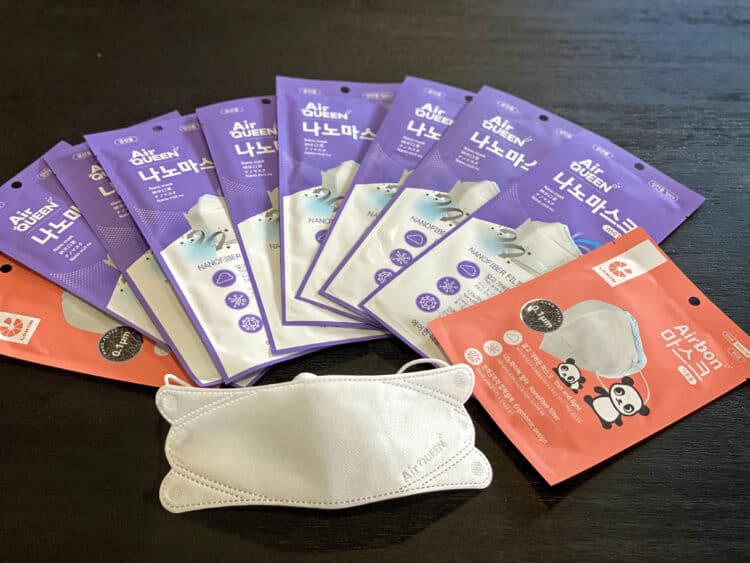 The purpose of wearing masks is to prevent the spread of the COVID virus. Because first responders and medical teams need to have first grab at personal protective gear, the rest of the general public have been trying hard to find masks that do the job but aren't professional N95s. Did you know that cloth masks only provide about half of the efficacy of medical masks? It's still far better than nothing but wouldn't it be great if we could all have masks that make us feel as safe as possible?

When it comes to daily mask-wearing, we want our masks to meet a few needs:
effectiveness
comfort
style
As a glasses-wearer, I'll add that we want them to minimize fogging of our lenses. No one wants to be that person lifting their mask away from their nose to clear the fog, so we choose the alternative, moving up our glasses and blinding ourselves momentarily. It's a lose-lose situation.
The AirQUEEN™ Nanofiber Mask is lightweight, disposable and fits cleanly against your face, reducing the chance your glasses will fog. But how effective are they in comparison with medical-grade face masks?
The masks are not only FDA-approved, but they have a high level of efficacy despite being lighter than a piece of paper! The ear bands are elastic and the nose bridge is wide to prevent slippage. They come in two ergonomic sizes (adult and child) and can be used by medical staff and regular people who just want to know they can trust that their face mask is working its best to prevent you from contracting the virus.
When you initially pull the mask out of its individual, sterile packaging, it seems long and thin, but turn it over, fold out the top and bottom pieces and you can customize it quickly and easily to fit your face. The wire around your nose doesn't pinch but secures tightly and comfortably. You can see below, in this photo of me looking very glamorous in my backyard, because I finished all my Christmas shopping online and have nowhere to go.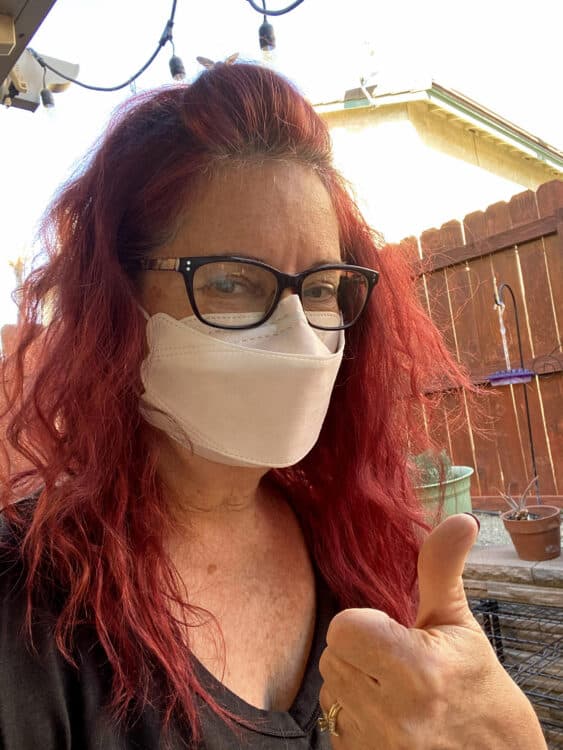 Notice the thumbs-up that makes me look like a giant nerd but when you can't show your smile, you feel compelled to do something that indicates "happy." Or least "I'm good," and this mask did make me feel good…as good as a mask is going to make you feel, since it is indeed very light and I tried to steam up my glasses with some weird coughing and laughing and no dice. Winning!
Head over to the website to check out the FAQ and get more information. There are a lot of answers to various questions as well as links to scientific data to provide a lot more information than I can here!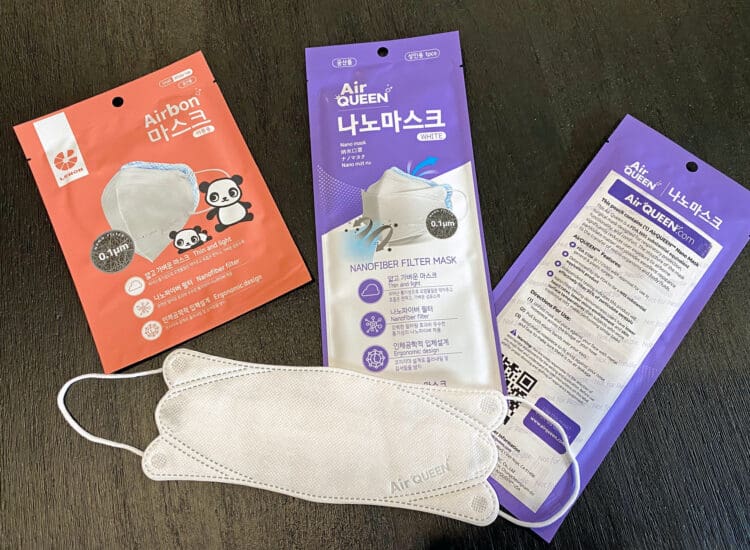 Interested in trying them for yourself? Enter my giveaway below for a chance to win a 10-pack of the masks! You may just be able to stop trying to find the mask you like because the Airbon will be IT!
Giveaway Rules: must be 18 years of age or older AND a United States citizen to enter. Void where prohibited by law. No purchase necessary. Giveaway prize fulfilled by AirQueen; winner will need to provide name, physical address and phone number for shipper. One winner per household. If winner does not respond with 48 hours, winner forfeits prize and a new winner will be randomly drawn.
a Rafflecopter giveaway