Foodies in an RV. Sounds like a b-grade movie name, doesn't it? (C-grade?)
So that's what we are, and here's where we're doing it.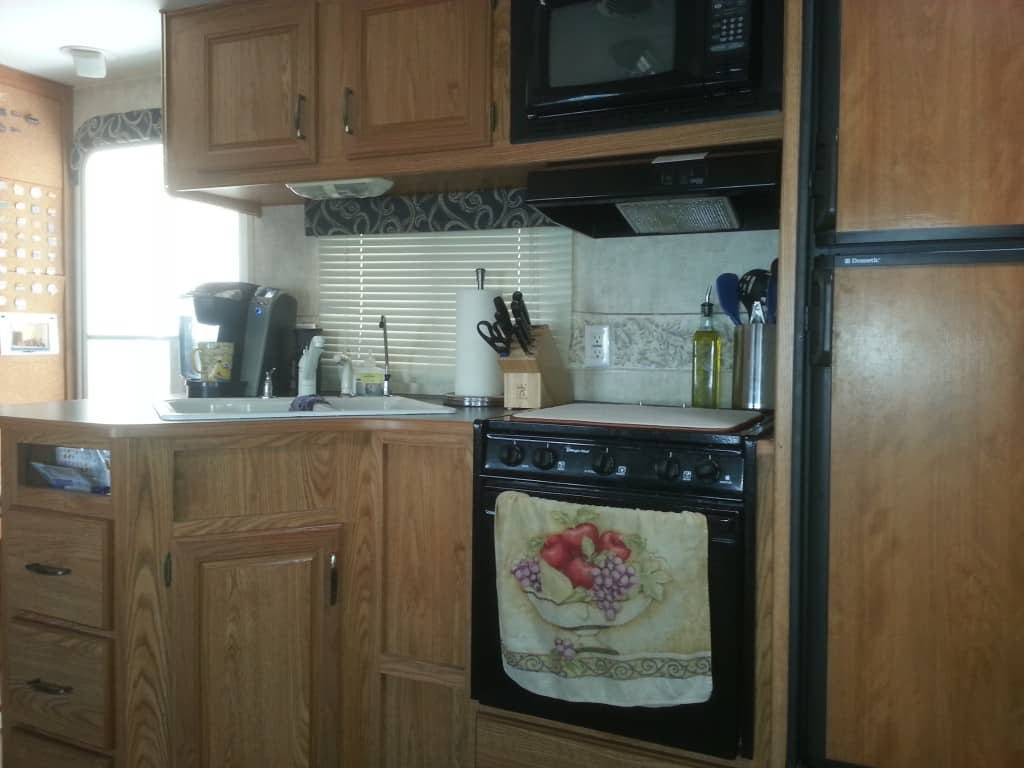 Now that we've finished the fun process of registering your vehicle in California, our house-on-wheels can be permanently set up. And by permanently, I mean just a few months, while we get reconfigured and into a house. At least we're all sporting California plates now!
The RV's refrigerator was fixed last night so that it no longer freezes everything inside. I know, how can there have been so many problems with it? It is only a few years old and had been in an RV carport the last three years, used here and there for a variety of camping trips, the last being at Jellystone Park in North Carolina, before it was winterized and locked-up tight for the season. We never had any leaking or freezing. While it would have been nice to fix it prior to our cross-country adventure, we found an excellent mobile RV repair company who is much more affordable than any repair work we ever had done in South Carolina. (Word for the wise: the south is not nearly the affordable place to live people think. Wages are much lower yet everything else costs more than California, especially food and services. All four of our vehicles were registered and tagged here in Cali for less than the property taxes on them in SC, not including the bi-yearly registration fees. While we're going to pay hefty home property taxes on our next house here, and our gas is somewhat higher..only $.30 per gallon, which is not the hike it sounds like..the rest is easier on the budget, and I'll be blogging more about that later.)
I've been asked a lot: "How do you plan on living in that for too long?"
My answer? Staying organized! That includes the pantry and the kitchen. We packed our Kitchenaid stand mixer, the Keurig, the Le Creuset Dutch oven, the Vitamix and my Cuisinart stainless steel. I even snuck in a very heavy cast iron fry pan. We are determined to not let this get in the way of eating healthy. Re-stocking with such little space is interesting, but we're making it work. I'll be sharing along the way as I get back to regular menus and begin baking. I already have two cupcake clients lined up and a "please make" list from the family.
Foodies living in an RV means getting creative in how to store our fancy oils, vinegars and spices. Special racks for the pans. And my cookbooks? They had to get packed, so we're online recipes all the way right now. (If you want to send me a new cookbook to review though, I'd love you forever. I am feeling deprived!) We do have a food truck-fest coming in two weeks, a day we're excited about. I plan on taking a lot of awesome photos in the gorgeous California sun, and I may even include one of myself, the new Californian!