When you're tasked with making graduation party cupcakes but you're not sure what kind to make, look around your house for inspiration!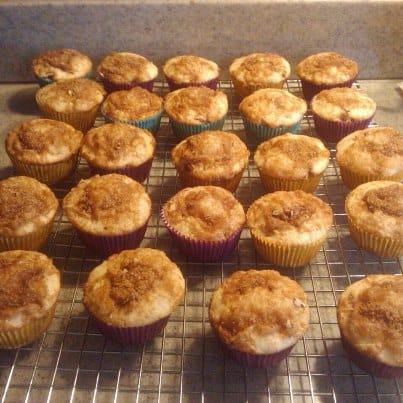 Introducing my daughter's choice for her graduation party cupcakes: Cinnamon roll cupcakes! I could have just eaten them this way, as there are layers of pecans, cinnamon and sweetness in the middle in addition to that streusel-ish crumbly goodness topping that melted and got all oozy. But no, we had to do this…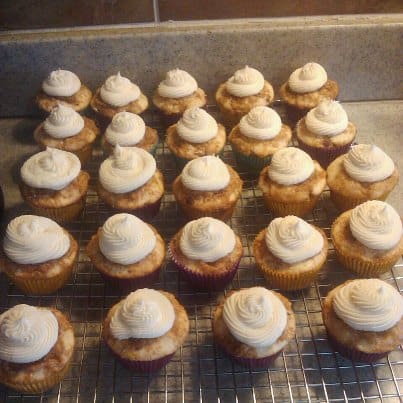 Even then, I was asked "Why doesn't the frosting go to the edge?"
Trust me, you won't need the frosting to the edge when you try these dangerous cupcakes. Yum! I don't have a recipe to share at this time, but maybe when I find it after the moving fiasco is over, I will share it then so you too can recreate this. They were easy to make, didn't require a trip to the store for any ingredient and they made the house smell HEAVENLY.
Mom, are you making breakfast? No, honey, that's dessert…
Next time, I may add a little cinnamon whisky just to kick it up a notch, but let's save those for another celebration. (ETA: Fireball would be fantastic in this!) Don't tsk-tsk the dangerous cupcake, there's something to be said for cupcakes that are infused with alcohol combinations and taken up a few notches for the adults at the party. I always make a non-booze batch so everyone can enjoy. And both batches always disappear quickly!
These graduation party cupcakes were a big hit and we're already planning what to make for our Memorial Day gathering next. Dangerous cupcakes, anyone?