I am an ambassador for Hamilton Beach, so I get to try their new products and share the results with you! (It doesn't get much more fun than new kitchen gadgets!) They sent me a complimentary Wave Action smoothie blender for the purposes of this review, but the photos and opinions are my own. I love to create recipes and try new food items, so things like this really motivate me when I'm not doing it enough on my own, so double-thanks to Hamilton Beach for the incentive to experiment!
I am a big smoothie maker, usually including fresh kale, frozen bananas and berries along with coconut milk. This posed no problem for the blender and the smaller container size is ideal for carrying to the breakfast table to share, since I have a problem with over-making my food. Then, last weekend included National Watermelon Day, which was another excuse to try out the blender. That means we had to buy an organic, seedless watermelon and figure out what to do with it. What to do with a beautiful, sweet watermelon? Mojitos!
I'd seen a photo a friend shared on Instagram and it got me in the mood, but I had no idea how to make it. I am weird and usually make mojitos a little less traditionally, using vodka, but watermelon calls for rum. It was a hot day here in Southern California, so after a quick chop and trim, I had a big pile of watermelon ready to throw into the blender.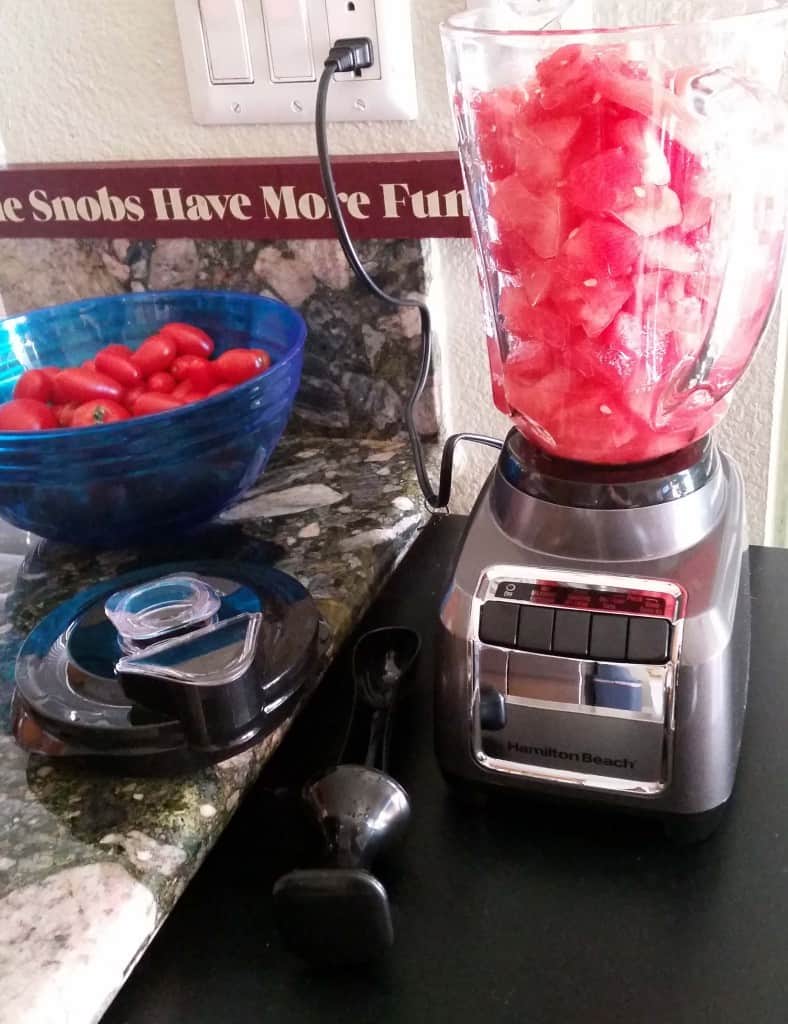 I also dropped in a handful of mint leaves and squeezed in a fresh lime. Whir it up a bit and you end up with a smooth liquid with a ton of flavor!

See how efficient that is? Quiet and powerful and fast!
Next, I poured a few tablespoons, to taste, of simple mint syrup (homemade with organic mint leaves from one of my many mint plants) into the bottom of a stainless-steel cocktail shaker. Pour in a few ounces of good rum, add a bunch of ice and fill with the watermelon puree. Shake it up and you've got any icy, fresh summer drink that goes with anything — or just by itself, because you deserve it!
It made for such a pretty, delicious drink, we have no photos of the finished product!
By this time, I'd put my other blender back in the pantry. There's no need for two on the counter, and the Wave Action is big enough with its 48 ounce glass jar, and durable enough to take on the bigger things, so it won out when it came to space. I think it will be staying there for a long time now, as I even put away my basic smoothie-maker unit, the kind where it makes the smoothie right in the container. It usually gave me a hassle with ice, which was not a problem for the Wave Action. In fact, after using the Wave Action, I realized it was not really an inconvenience to pour the smoothie into a separate container and hit the road. More counter space saved!
This week, I promised the family a batch of my infamous chicken enchiladas. I make them two ways — one with a cheesy sauce, and another with red sauce. I never buy the canned stuff and each time, my red sauce is a little different. I think this last batch though was the best yet and I won't be deviating again! It's a mish-mosh of a bunch of other recipes I've made and/or tried, and it was so amazing. (My family says so, that's not just me!)
I'm kind of a 'pinch of this, tablespoon of that' type of chef, so my measurements are only exact when I'm baking — and even then, I tend to deviate. I rarely make the recipe exactly as it's provided or the same way twice, but that's what makes preparing food so much fun!
Red enchilada sauce is really simple, so simple that you won't want to buy it ever again. Start off with a couple chipotles and the accompanying adobe sauce in the blender, along with a 15 ounce can of tomato sauce and approximately three cups of chicken broth. (I used homemade chicken broth, cooked down after boiling a whole chicken for the inside of the enchiladas, and then cooked down more with adobo seasoning and the bones to really compact the flavor; strain and let cool a bit.) Whir them up until smooth.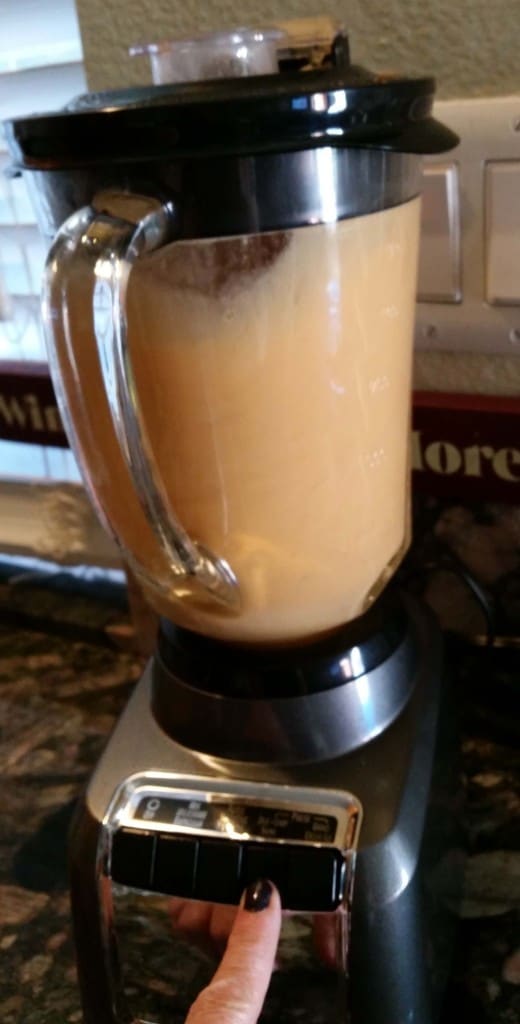 Then work on a simple roux of flour and olive oil (I did 6 tbsp of oil to 1/4 cup of flour) and after the oil is hot, whisk in the flour completely. It will get thick so stir fast and furiously! I do this in my big cast iron Dutch oven, deep enough to not easily splash back on you. Pour in the blender ingredients, slowly, and whisk, whisk, whisk.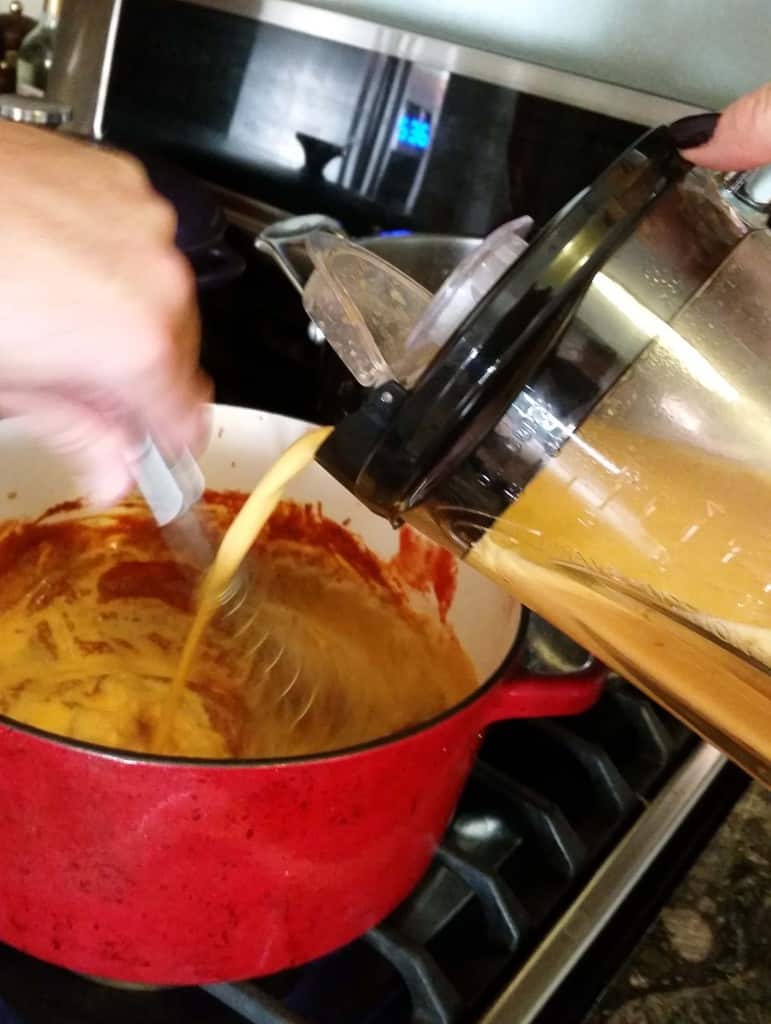 It will start to thicken. I then added in about two more cups of chicken broth. Then it's time for the seasonings and spices! We're a spicy kind of family, so my mix was about three tablespoons of medium-heat chili powder, 1/4 tsp of salt, 1/2 tsp of pepper, 2 tbsp of garlic powder, a splash of oregano and about 1.5 tbsp of cumin. (Really, you can craft this to your own liking, and you can even add 1/2 teaspoon of a good cocoa powder for richness if you want!) Have fun with it; the base of the sauce is the roux, broth and sauce, with the spices just completing the package, so make it your own!
Cook it just a bit more on low-medium heat until a bit thicker and thoroughly combined. You're done!
I let it set aside while I finished the enchiladas, which are again another easy approach to the traditional recipe. I take the cooked chicken, shredded, and pour in a small can of chopped green chilis, a finely diced onion and 2-3 tbsp of adobo seasoning. (I use this recipe forever now!) Pour in about 1/4-1/2 cup of chicken broth, depending on how dry it is, mix up and fill flour tortillas. Put some cheese on top of the chicken, roll up and place in a greased 9 x 13 baking pan.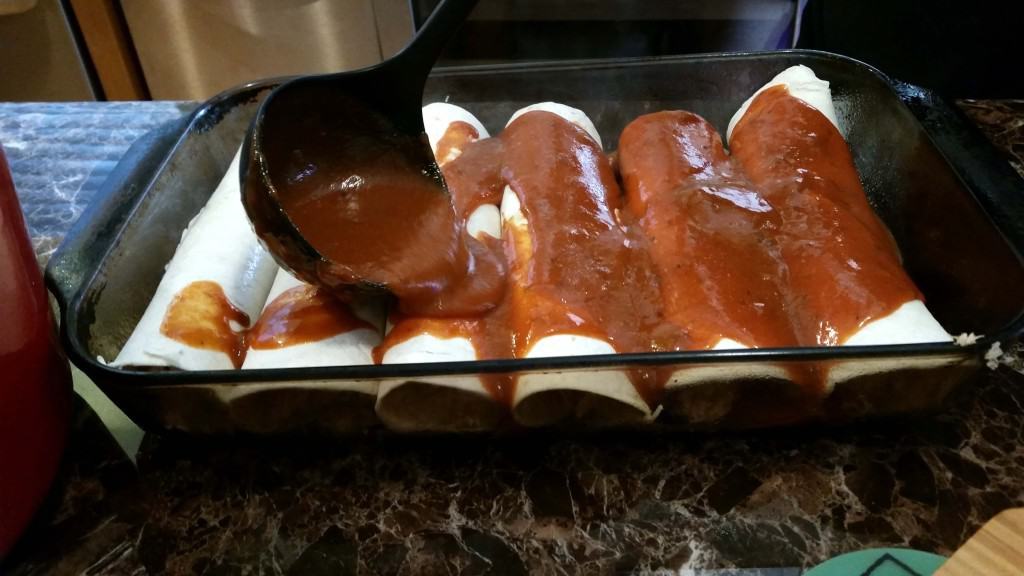 When all the enchiladas are assembled, cover with red sauce and bake for 15 minutes at 375. Done! Other than cooking the chicken, dinner is done in only about 30 minutes, and I promise, everyone's happy! (Well, I can't really promise, but you'll be happy to be out of the kitchen in a short time and your kids will be happy to have dinner on the table!)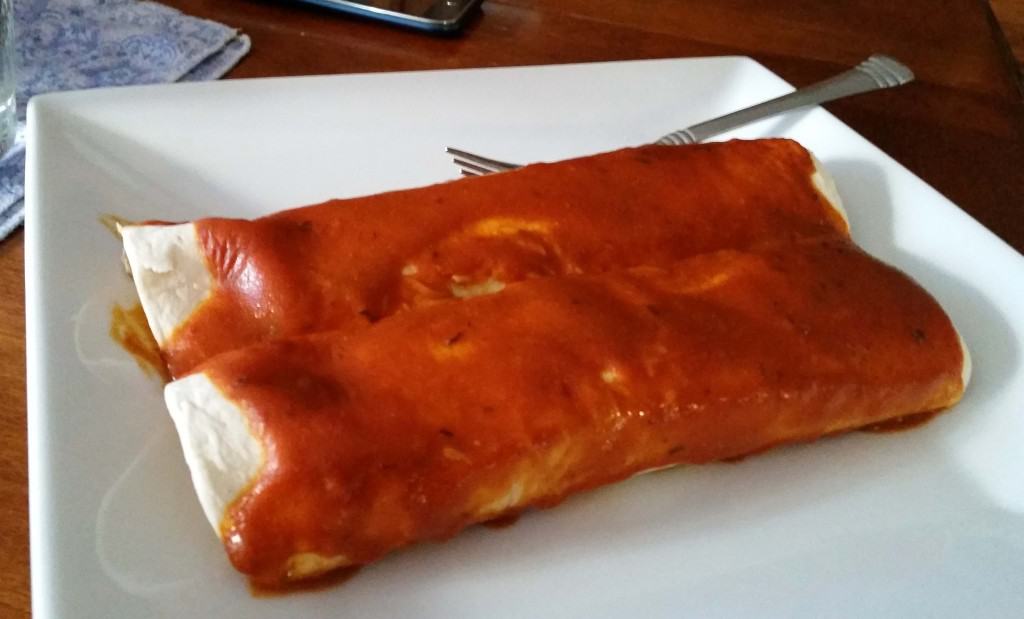 Don't they look good? Everyone left the table stuffed.
But back to the Hamilton Beach Wave Action blender. It's profile is small so it doesn't take up a lot of room. It is compact yet big enough to take care of business without overflowing, and its 700 watts of power really make sure whatever you add into the pitcher is chopped, pureed or whatever you need, as fast as you need it. I really like that it has the scoop/stir-spoon for easy additions through the top hole, or stirring in the event you need to move things around. (I didn't have that problem at all, but I know my other blender does.) The spout on the lid fits tightly with no leaks during blending, and when I tilted it too much while taking it to the stove, no drips despite the really crazy angle I was carrying it. One additional thing that I really like is that all of the areas where food would interact are BPA-free.
Check it out at the Hamilton Beach website and look at all the specs more closely. But, if you're interested, I'm also giving one away to one lucky reader! Enter for a chance to win via the Rafflecopter widget below and Hamilton Beach will send the product to the winner directly. I know whoever wins it is going to enjoy this addition to their kitchen gear!
Are you a smoothie lover or maybe a shake maker? Let me know your favorite recipes!