Did you ever see the fairly recent news story about the octopus who escaped nightly from his tank in the National Aquarium of New Zealand? No, he wasn't Hank the cantankerous octopus from Finding Dory, but I couldn't help but laugh when I heard the story, as it sounded like Hank. Due to my involvement in the Finding Dory Event up in Monterey in early March of this year, I'm always going to think of Hank now when I see an octopus!
Hank the Cantankerous Octopus from Finding Dory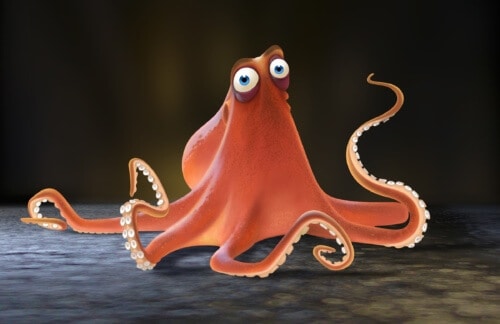 Doesn't he just change your whole viewpoint on an octopus? While I was at the Monterey Bay Aquarium for our Finding Dory Event, I got up close and personal with an octopus. I didn't get as up close as some of the bloggers did…
Apparently they aren't as sticky as they look! I did get pretty close still, all things considered. Isn't he adorable? (I'm not sure it's a 'he,' I didn't think to ask, but he looks like a he.) He sat in the corner of his aquarium for several minutes, as the guest before me had been using flash and he didn't like it (tip: don't use flash up close on the animals, it scares them and who wants flash going off in their eyes, right?) but I waited patiently until he came back out. We were given a personal tour through the cephalopod area and learned that they do have personalities, and this guy showed us that immediately.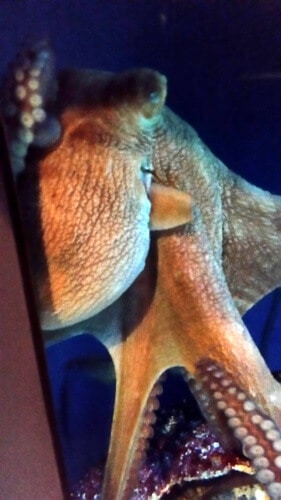 Hank's personality is a little different from the guy above. Hank's outgoing but a bit gruff; he's smart but sneaky, and his ability to blend into his surroundings makes life with him just a bit more fun. Or a lot, but you have to see the movie to know what I mean. His relationship with Dory begins in the Marine Life Institute, a rescue and rehabilitation center that is also a premiere aquarium. The MLI is quite an expansive property, full of pools and educational exhibits, so guests are treated to so many things while being able to learn about marine life of all types. Sounds familiar, doesn't it? We felt the same way about the Monterey Bay Aquarium, with all the exhibits designed to help people of all ages touch, feel and learn about the animals in natural environments; then you head outside to watch the real ocean and it all comes together in a mass of appreciation towards these beautiful species and the MBA team for making it possible.
And we have the Disney team of Jason Deamer, Michael Stocker, Jeremie Talbot and John Halstead to thank for Hank being possible. They did their research on cephalopods, took the story of Finding Dory, and created an octopus that's actually a septopus. That's because he lost a tentacle, which is likely why he ended up at the Marine Life Institute. Hank is Dory's first friend after she finds herself at the MLI, and Dory's friendliness and naive trust — along with her memory loss — plays perfectly into Hank's plans. More on that when you see the movie though.
Watching the process of animated character creation is always fascinating and our visit with this team was no exception. Their concept-to-life series includes a lot of research to ensure realism, down to very small things that you wouldn't even think mattered, many meetings and a lot of story boards. His multiple-limbed movements, gelatinous appearance and suckers all added challenges to creating an animal that's realistic, making him the hardest character to animate. It took about a year, in fact!
I happen to love Hank's eyes the most. They are so expressive and given that you don't really have the rest of a face to work with — something that was discussed during our interview session, since his mouth location was a challenge — you have to really maximize what you've got. Hank has side-eye down perfectly!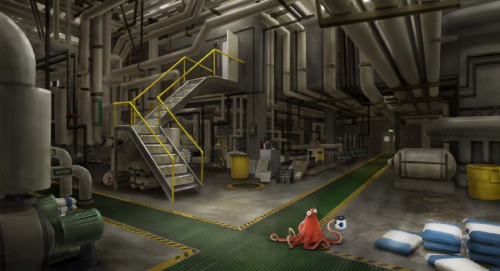 See what's in Hanks' hand? Look close — you're getting a clue about the movie!
Finding Dory is the follow-up movie to Disney's 2003 Finding Nemo. Director Andrew Stanton and team faced a challenge when making Finding Dory, because "Our technology advances so much over time." This resulted in the ability to increase the details in so much of the film, yet they were able to recreate enough of the first film to blend the two. New characters, a new environment and the same lovable Dory, you're going to come out of the theater feeling as excited as you were when you saw Finding Nemo. My youngest was was just a very young toddler when Finding Nemo came out, so I'm looking forward to experiencing this movie with him because he's only watched Nemo on DVD. Ellen DeGeneres returns to voice Dory, and Hank O'Neill's voice lends itself to the best portrayal of Hank I can imagine.
Finding Nemo won the 2003 Academy Award for best animated feature, and I bet Finding Dory isn't far behind! Get ready to buy your tickets and meet Hank the Cantankerous Octopus. You'll love him as much as I do, and you'll have a whole new appreciation for the cephalopod family. (I got home and did even more research and watched several videos; what a species, who knew!)