As a blogger and social media correspondent, I attend a lot of events, many about or including food. I like to eat, so it works out — and I wouldn't change it for the world, I love what I do — but I do need to be careful in other ways to make up for it. I have to stay active, cut back sugar, fat and calories where I can and overall, I still prefer the food I serve my family to be without additives, preservatives, dyes, excess high-fructose corn syrup and other things that need moderation. To make that happen, I look for healthy alternatives for snacks, lunch ingredients and beverages. Luckily, I'm frequently given the opportunity to test and review items and this post is a list of some of the latest items that we've enjoyed, for which I was sent complimentary samples of for the purposes of this review. Photos and opinions are all my own.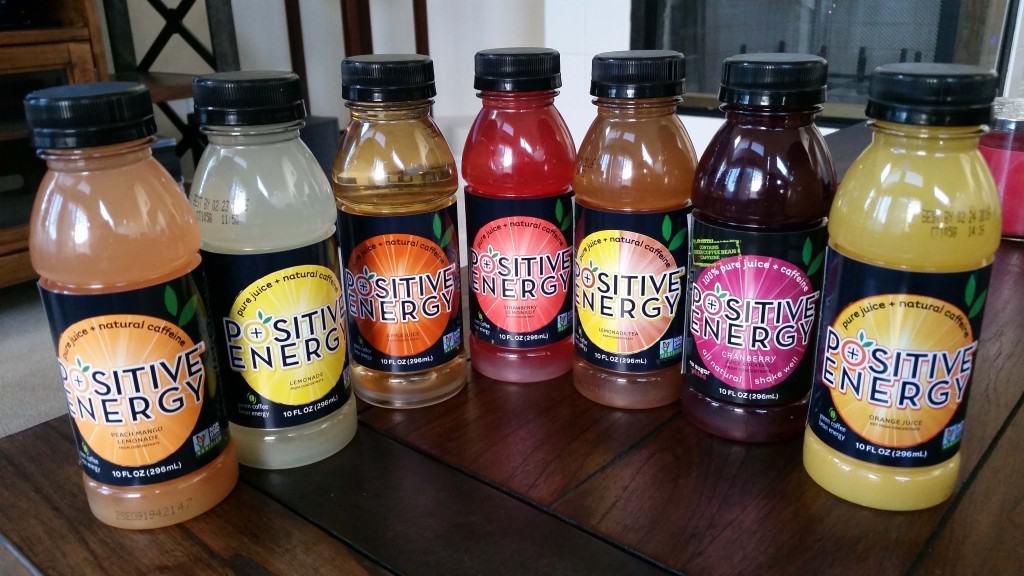 Positive energy isn't what I'd call an energy drink, as it has a more natural flavor than any other energy drink I've tried. It's 100% pure juice but with the energy kick that's much-needed when you're hitting your afternoon slump. For me, that's around 3pm, when it's too late for a snack and too close to dinner. Positive Energy was just enough to help add to my daily hydration numbers without making me a spaz, and because the caffeine is naturally-sourced from green coffee beans straight off the branch, before roasting burns off the beneficial ingredients, I know it's the real stuff. Each 10 oz. bottle contains the amount of caffeine equivalent to one large cup of premium coffee and I found that the natural sugar from the juice counteracted any tummy upset caffeine might otherwise cause in the afternoon if I'd not eaten recently. (They're also gluten-free and non-GMO project verified.) These are an energy drink I can feel safe about purchasing for my older kids and drinking myself, and I love the flavors! I was able to try peach mango lemonade, lemonade, apple, strawberry, lemonade tea, cranberry and orange juice and they are available online, California, Texas, Arizona, Utah, Hawaii and the Pacific-Northwest. For more information, visit their website at DrinkPositiveEnergy.com.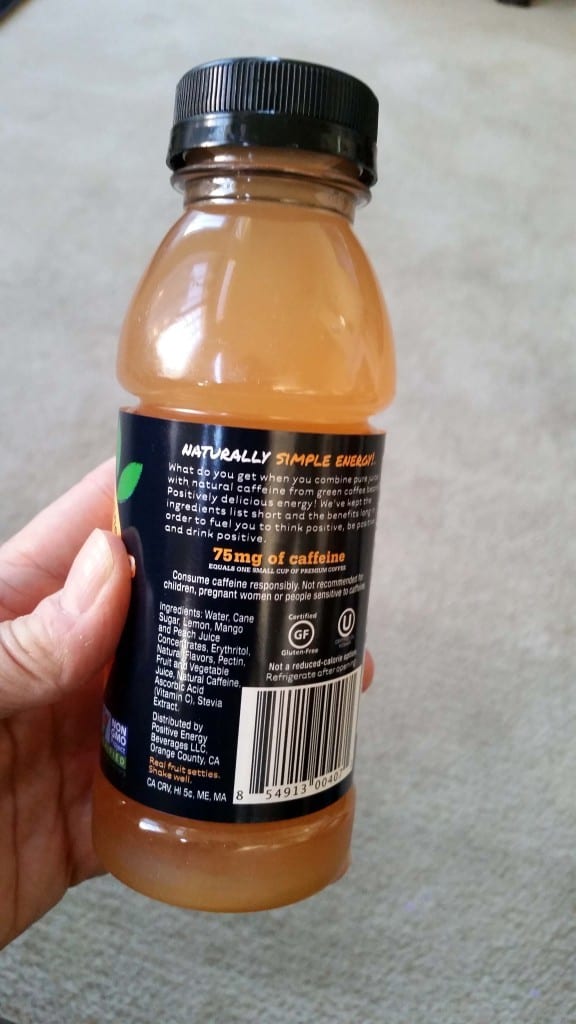 You are probably already familiar with Gaslamp Popcorn, makers of all-natural Kettle Corn and other hand made popcorn varieties. It's non-GMO, made in California and gluten-free, filling several dietary needs while still tasting good, because, let's face it, the healthiest food in the world won't get eaten if it doesn't taste good. Gaslamp Popcorn was started almost 20 years ago in the Gaslamp area of San Diego, and like many California-based companies, is a bit edgy with its flavor offerings — which is all good. Mango Habanero Salsa and Sweet Fiesta Lime are offered right along with Cinnamon Caramel and White Cheddar. Using only pure cane sugar and sea salt, Gaslamp Popcorn is made by the popcorn experts and is a great addition to my son's lunchbox and my husband loves to grab a few handfuls if I'm a little late on dinner…which is frequently, shhhh. I've even been known to throw a zipped baggy of it into my bag so I have something to munch while sitting on a California freeway for two hours on my way home from a media event. (In fact, I think that's where I eat most of my snacks — in the car, stopped on some freeway!) Gaslamp Popcorn is available online and in stores, and check here to find the closest one to you so you can munch it while stuck somewhere on the freeway too!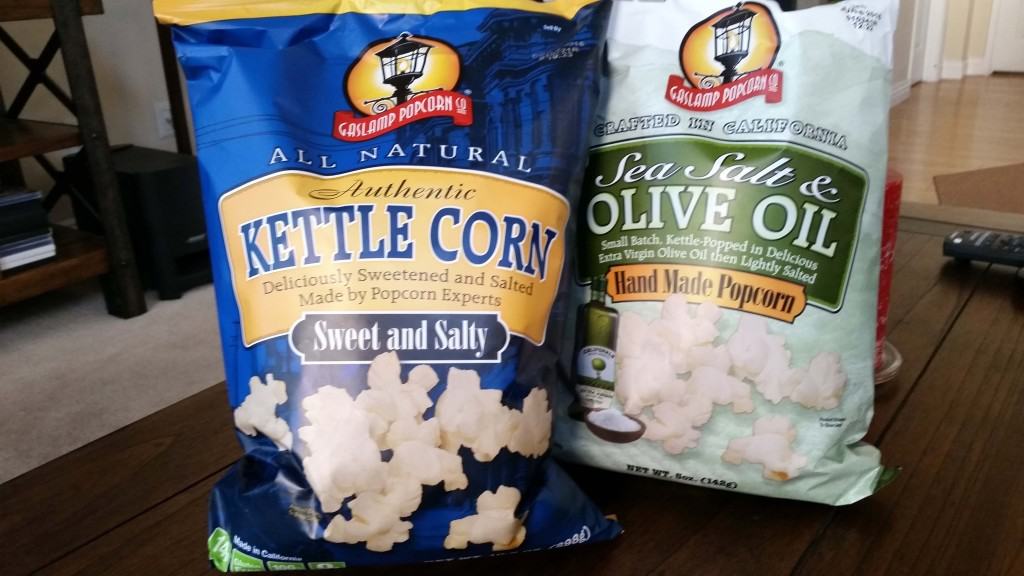 Treats. We all want them, and I personally believe we all need them. Even a stringent diet of tasty food needs the addition of a splurge now and then, but if you're in a pinch to lose some weight faster or you're on a special diet, options are fewer. Nutiva helps fill some gaps with their "nurture vitality" line of superfoods and snacks that you can throw in your bag, lunchbox or desk drawer and not feel guilty about eating. My favorite of the below is the Chiapple — the coconut mango 'drink/snack' was delish and I had to hide it because a kid immediately wanted it. No, uhm, I need it to write a review about it! I love being able to get a sweet fix without the addition of sugar, and sometimes food really doesn't need anything other than the basics to taste good. Having it be certified USDA organic is even better. If only there were more snack items like Nutiva! Nutiva's website is fantastic, as it not only is an educational resource about how they are revolutionizing the way we eat, but it shares how you can, too. Recipes are plentiful and easy for anyone to make, and they are a hit on social media, so you can interact with them. Find it here!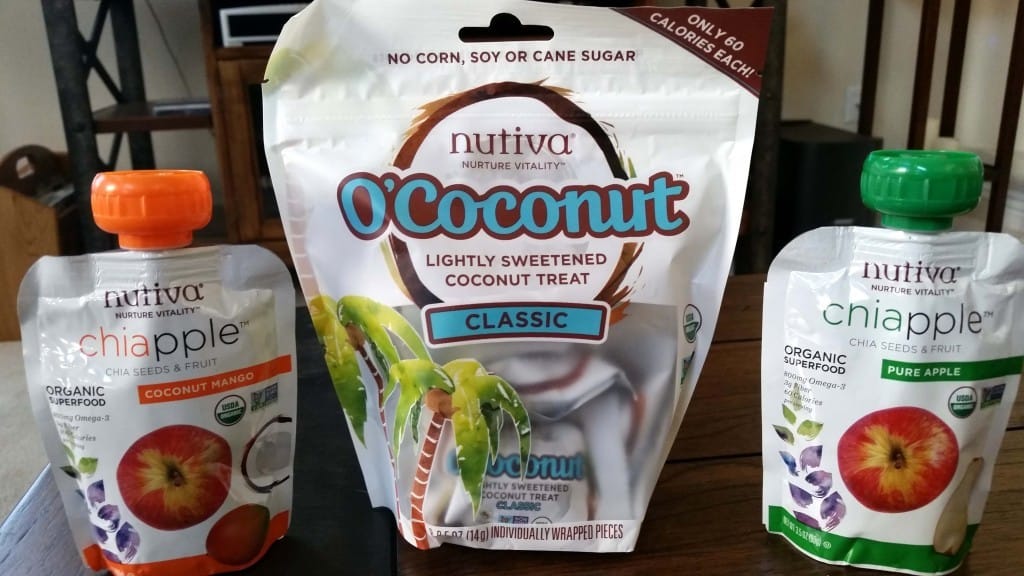 Ever since my younger daughter and I went to a tea house on the coast of North Carolina a few years ago, we've been hooked on tea. This means the purchase of a lot of gear and the search for the really good teas to use it with. Davidson's Organic Teas, found online here, are USDA Organic and Fair Trade certified. As time goes on, this means more and more to me, and it's great to find new products that I can buy knowing I'm helping not only my own family, but others' families, too. Davidson's Teas come in tea bags and loose-leaf teas and their website also offers tea ware and gift items. Available online, the selection is huge. Whatever type of tea you prefer, I bet you'll find it. I tried the three flavors below and them all to be delicious. My favorite is the Tulsi Rose Petals — it's a unique tea and is a mild flavor with a beautiful light scent. I enjoyed it while working one afternoon, head buried over two laptops, and I know it's likely just a mental thing, but I really felt my shoulders loosen up. I steeped it for just a couple of minutes and it was perfect; I'm still learning about tea but when teas smell this good, it's not just a drink, but sort of an experience. Check out their website and see what specials they are offering today. Fair prices and a big variety means I've bookmarked their site for future use.
These handy little chia drink mix packets are from goChia! and they offer Goodness on the Go! Such a cute tag line! Drink Chia and Eat Chia are both from goChia! a company who offers chia drinks, chia drink mixes, chia bites and 100% chia seeds. Gluten-free, made with all-natural ingredients and packaged in perfect sizes, if you like chia, the entire line will be of interest. I am bad about remembering to drink water and stay hydrated, but Chia Boosters makes that easier. The flavors are tasty and I know I'm getting good additives without the sugar that other water enhancers include. I also get a bonus boost of nutrition! These are great to keep in a desk drawer, and even though I work at home, I will be buying more to keep in my 'stash drawer.' Having them so easily accessible will give me no excuses to not drink more of the water I keep in my mini-fridge, something most of us probably need, right?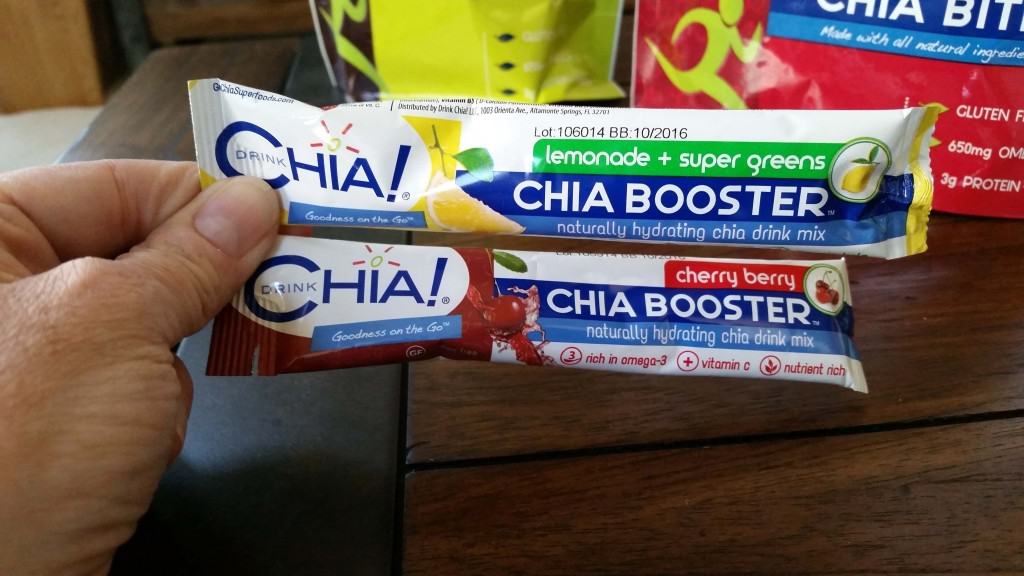 These yummy snack bites are also from goChia! Items you wouldn't think to combine — chia, quinia, cherries, chocolate chunks, etc. — come together and taste so good without being overly sweet. I really liked the texture of these, which is, as the bags say, chewy and crunchy. I really feel like I'm eating more than one snack bite and being hungry, I think, is sometimes more of the act of eating instead of actually filling your stomach. Gluten-free, omega-3s and protein along with the great taste makes these ideal to take on a road trip or again, just add to that stash drawer. (My stash drawer is kind of big now. Good thing I work in my office a lot.) You almost feel like you're cheating when you eat these! Learn more about the goChia products at their website and see where you can buy them too!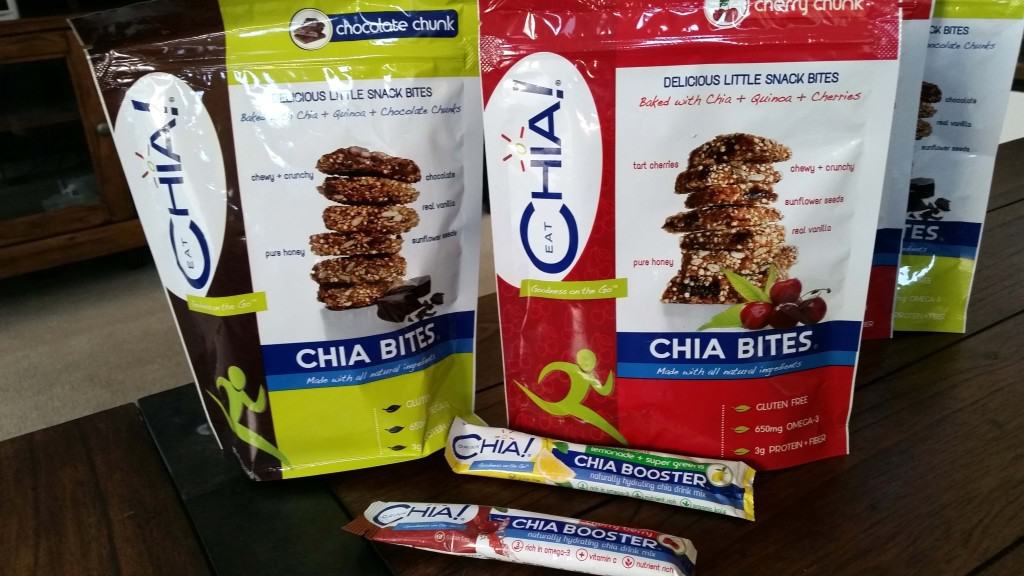 Turmeric Tea isn't something that you think of off the bat when you think of sitting down with a hot, steaming scented mug on a cold day, but try it once and you'll see why I plan to keep this in tea basket and want to try other versions of it. Light, flavorful and not overpowering, both pictured were great afternoon teas that both relaxed and gave me a little treat. Then the sweet teas with chocolate and mint? What a spectrum and all totally good! Non-GMO and USDA certified, Numi Organic Teas is another tea company with numerous flavors and variety of products, to include flowering tea, tea bags, loose leaf tea, gifts and tea equipment. What really caught my eye on their website though is there H2ope charity. If you have internet access and can turn on the taps to get clean water, you really need to check out that page. It's eye-opening and educational and makes you really appreciate that water bill you receive each month. By purchasing from Numi Organic Teas, you can help them provide clean, safe water to people that wouldn't otherwise have it. Their involvement alone in that charity says so much about what a good company Numi is.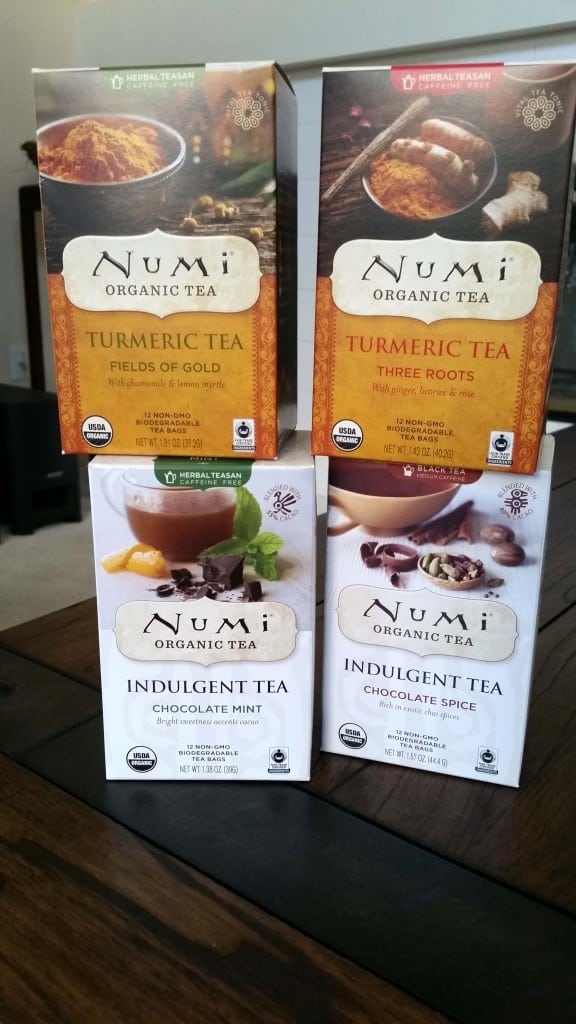 These products are just a few of the things I've tried in the last few weeks, and I don't share them all with you — I only share what I think really tastes good and is a company I want to help spread the word about. I periodically do round-ups of fitness, health and baking things, and sometimes entertainment, for the health-conscious family who wants to enjoy life as much as possible, so I hope the above products help you simplify your shopping and add some deliciousness convenience to your family's week!
Also — as I mention USDA certified organic frequently — if you want to know more about what that is, check out the USDA website for further details. It makes a good read and is enlightening as to what businesses go through to get certified!