Are you struggling to put together healthy lunches for teens? I have to admit, I am. My youngest son is 17 years old and he's an athlete, so he knows he has to eat healthy, but putting together a school lunch that's both tasty and full of the carbs and proteins he needs — in the right levels, no less — can be a challenge.
In addition to the healthy factor, chool lunches have to meet a few different requirements when you're a Southern California teenager:
They have to fit into an already crammed backpack, as our schools don't have lockers.
They can't require a specific temperature: it's often hot so I can't safely send a tuna sandwich.
The food has to factor in as "cool" in some way.
The meal has to be easy to eat since most lunches are eaten outside.
Our schools are pretty crowded, so you have to be able to eat fairly fast as some of your lunch time is eaten up (see what I did there?) by walking across campus and finding a place to eat.
Now, thanks to Sandwich Bros., I'm able to meet ALL of the above requirements!
This is a sponsored post with Sandwich Bros and BraVoMark. All opinions and photographs are mine.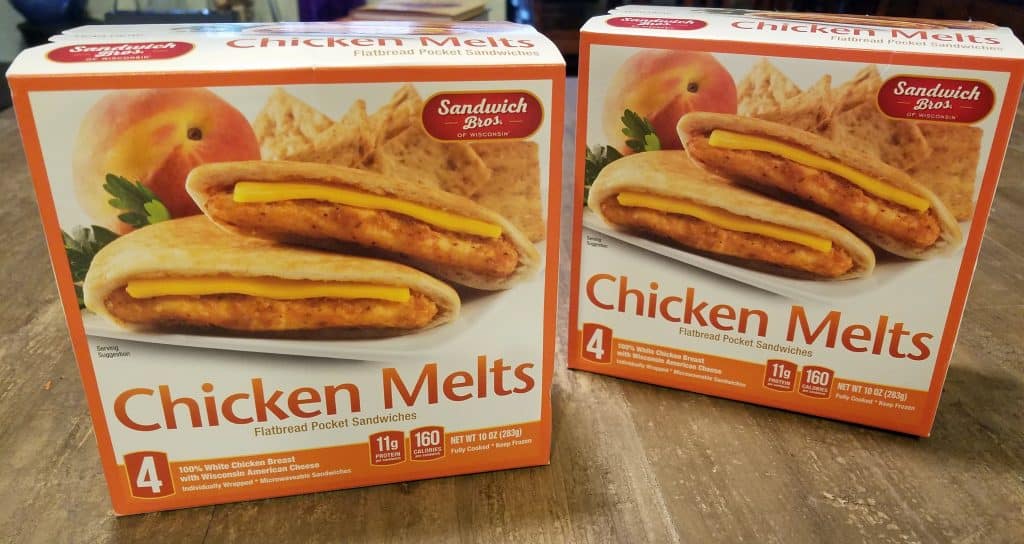 Sandwich Bros. products are protein-packed sandwiches containing fresh-baked flatbread, 100% white chicken breast, 100% angus beef, real American cheese and other quality products. Their tagline couldn't be more spot on:
Really…Really Tasty!(R)
Frozen products often get a bad rap, but they can be a convenient, tasty and affordable component of healthy lunches for teens as well as adults. Sandwich Bros. products are great for portion control, they are low-calories, there aren't many ingredients so you know what you're eating and they are full of protein, making them an excellent choice for many types of diets. Under a minute in the microwave, and the individually wrapped pocket sandwiches are warm and ready to eat. My son has access to a microwave if needed, but we wrapped them in foil (or a food blanket would probably work) before he leaves in the morning. They stayed sufficiently warm and one huge plus is that there was zero sogginess that sometimes frozen food items can have. He was thrilled with this lunch!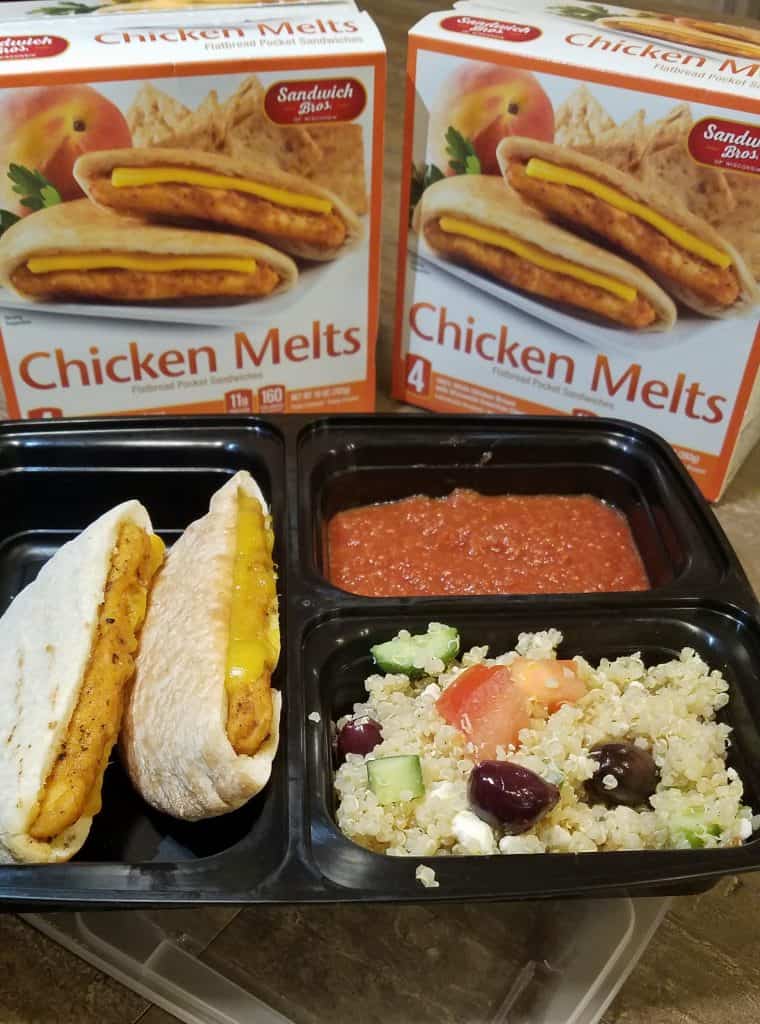 My son loves to dip his food in things, so to add one additional item to his meal, I created a very simple marinara sauce for his chicken flatbread pocket sandwich. I sauted 1/2 of an onion in olive oil for one minute, then added in two finely chopped cloves of garlic, stirring for another minute or so over med-high heat until browned. I then poured those ingredients and a 15 oz. can of diced tomatoes into my blender with 1/4 tsp of salt and a few dashes of pepper. For added zing, I put the onion and garlic frying pan back on the heat until it was hot again, then poured in 2 tbsp of liquid (I used apple cider vinegar, but you can use red or white wine or even water) and scraped up all the bits, letting it bubble and reduce and thicken. It took less than a minute. I then added it to the blender and pureed all the ingredients. Instant marinara!
The other side in his lunch is a simple quinoa salad. If you're not familiar with quinoa, you really need to try it. It's prepared quickly by boiling for 15 minutes or so in salted water, then it sits for a few minutes and is even better completely cooled. It starts off as these tiny little pearls.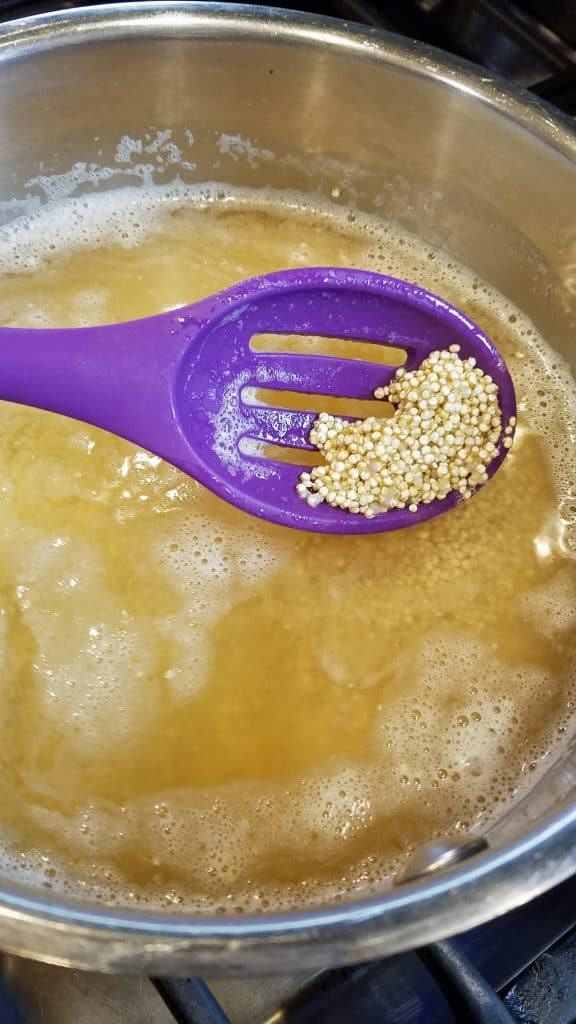 After cooking, it looks like this. See how much the size increase? A small bag is really deceiving as it will double or triple in volume.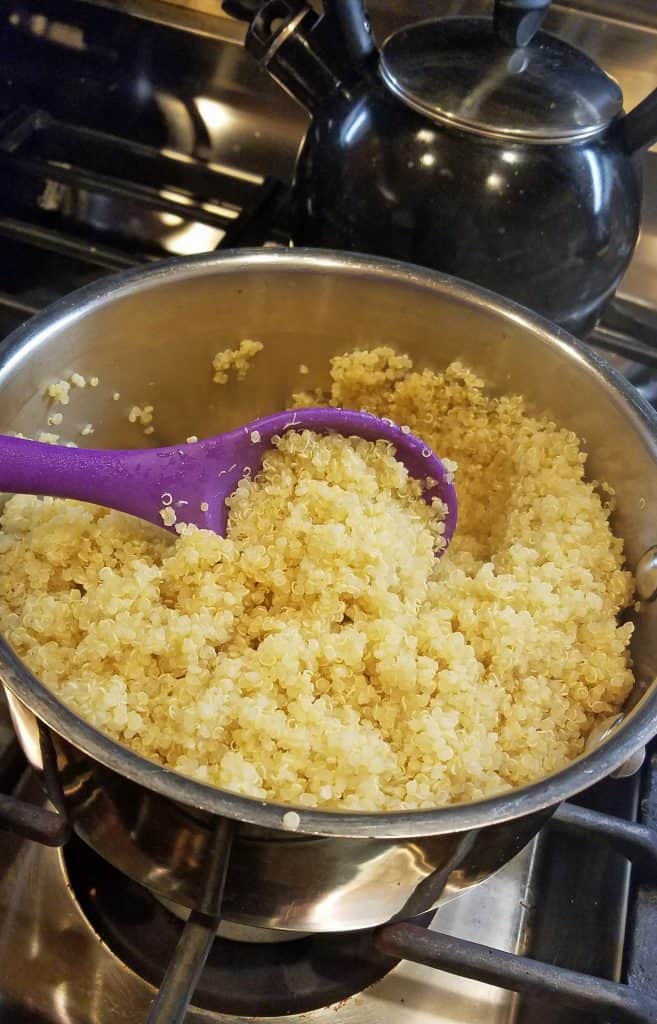 Quinoa is sort of like tofu in that it will absorb whatever you add in as flavoring. While it was cooling in the refrigerator, I chopped up several mini-cucumbers, two large tomatoes and some kalamata olives. When the quinoa was sufficiently cooled, I added in 1/4 cup lemon juice, 1/2 tsp salt and pepper and 3-4 tbsp of olive oil and turned repeatedly until all the quinoa was seasoned.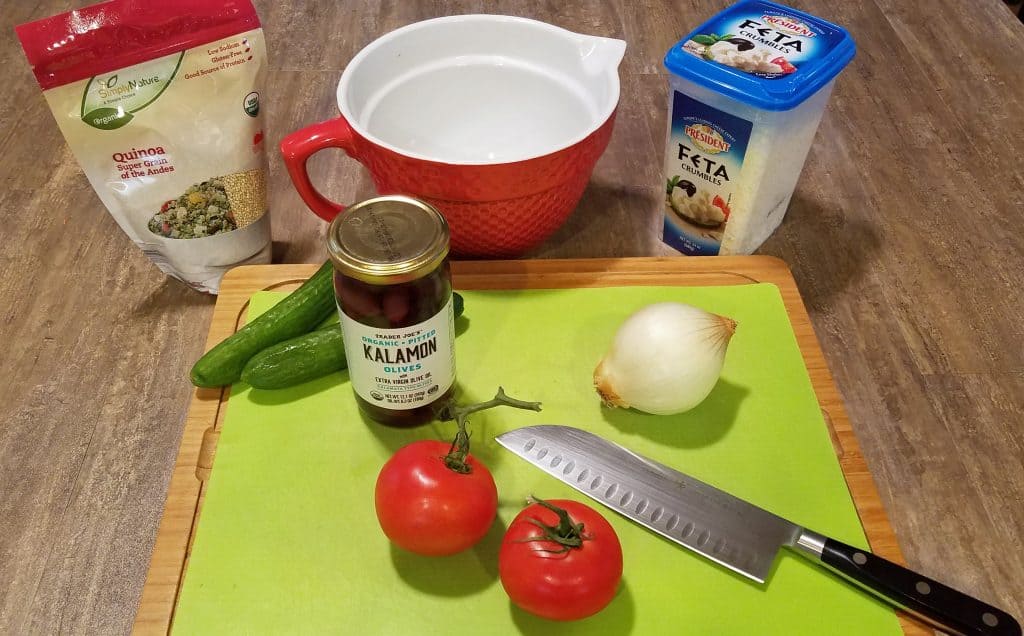 I then gently stirred in the vegetables and olives and shook in a nice chunk of feta cheese crumbles. How much is really up to you. I love feta so I put in probably about 1/2 cup. The feta really blends well with the seasonings and olives and adds a different texture while upping the nutritional value of the salad.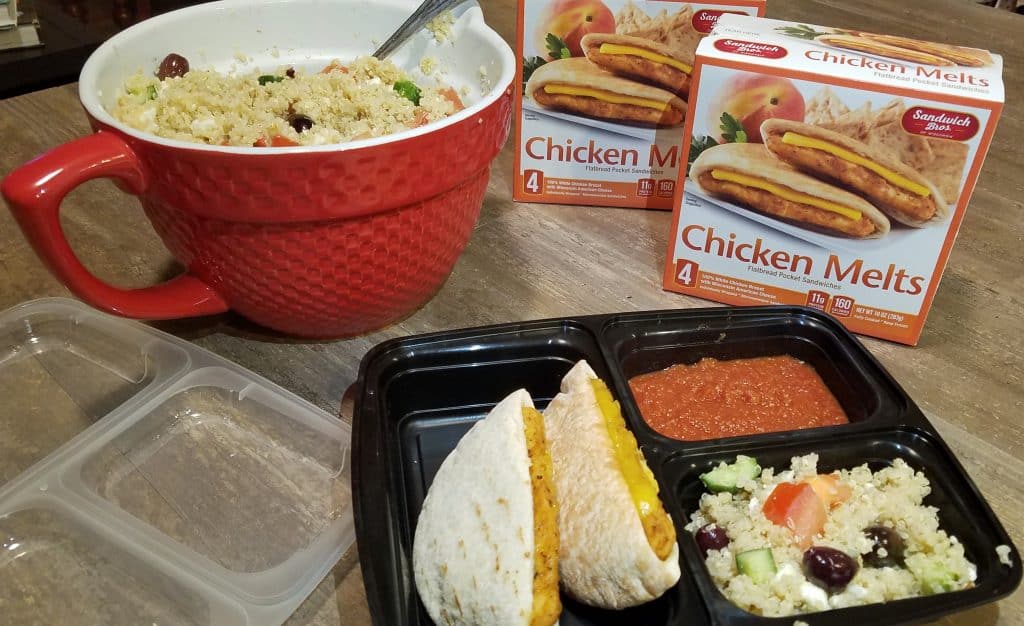 Put it all together in the lunch container at night and you're good to go! (When a sandwich is thawed in the refrigerator, you can reduce the microwave time about 20 seconds.) He had a lunch that he thoroughly enjoys and according to him, he could eat these sandwiches every single day! And at 17, that's high praise, Sandwich Bros.! We already went through another box as an after-school snack, and the husband had one before dinner when I was running errands, so they can fit a lot of needs. I'm always running around, typical mom style, so I can see these as being a viable option for an on-the-go snack or meal when I'm too busy to sit down and eat, without worrying about ruining my Project 2018 healthy living plan! They'd also make a great pre-workout meal, something I am working on making a more regular habit since keeping my metabolism and energy up for an easy run is important!
Healthy lunches for teens don't have to be hard with Sandwich Bros., and they are easily found at many stores, including Costco, Vons, Stater Bros. and more! There's a complete list of purchase locations available on the website. They appear to be pretty popular here, as I grabbed the last two chicken variety at my third store last week, so buy quite a few when you see them!
Be sure to print out these coupons before heading to the store to save even more money off of their already low price! Let me know what you think!