Hey, Honey…
I love honey. It's healthier than regular sugar and while it's still got calories and sugar in it, it's easier for your body to digest. It also has anti-bacterial properties, can help with a cough and provides necessary carbohydrates. And it just tastes good. Because of the natural sweetening ability and good flavor, I try to use it in my baking and cooking whenever possible.
I was sent a four-pack of honeys from Henry's Humdingers. (Thank you!) Four crazily creative flavors that immediately made me grab four spoons so I could try each one. My favorite is Chipotle, but I've always leaned towards anything chipotle-flavored so I could be biased. Since I make a lot of my foods with a spicy kick, I found it easy to use the flavors in my existing food, so instead of giving you a couple of recipes, I'm giving you a few ideas for each flavor. Once you try the honey, you'll be able to add to these lists as I'm sure we can find a ton of ways to use these!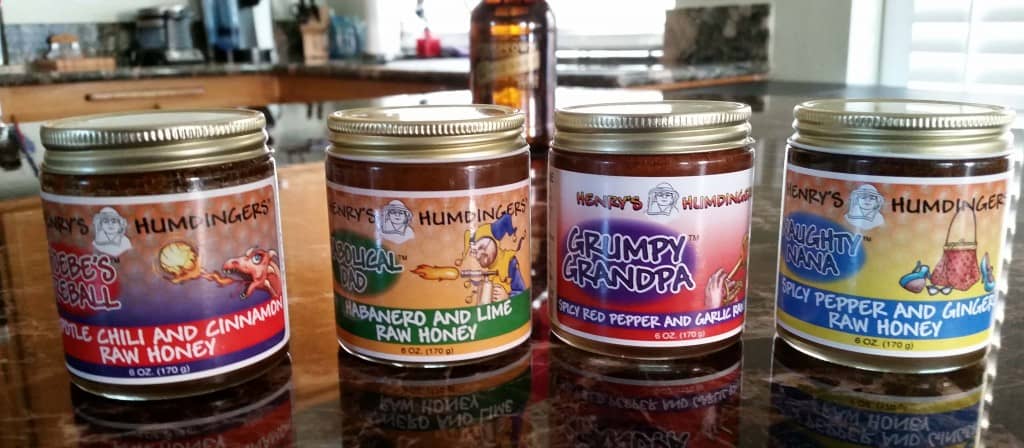 First, the names of these honeys draw you in. Who can resist a catchy name and a cute label? Whoever designed their graphics has a creative eye. These honeys come in 6 oz. bottles and each one packs a punch!
Henry's Humdingers — raw honey and spices. That's it! No additives. You don't get any easier than that. Raw honey comes straight from the beehive, obtained by extraction and strained without adding any heat over 120 degrees.
Naughty Nana: Spicy Pepper and Ginger Raw Honey
Grumpy Grandpa: Spicy Red Pepper and Garlic Raw Honey
Diabolical Dad: Habanero and Lime Raw Honey
Phoebe's Fireball: Chipotle Chili and Cinnamon Raw Honey
Cute, right? What exactly can you do with all of these fantastic flavors? SO many things. I used them in a lot of different ways, and like I said, small portions as a little goes a long way.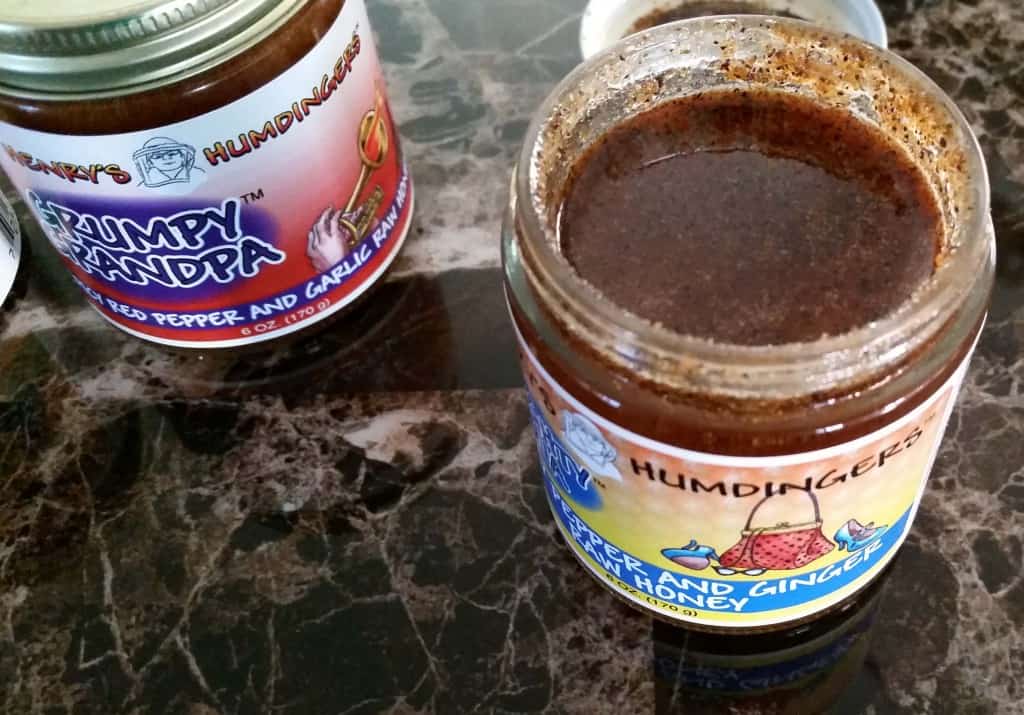 Here are my suggestions for what you can do with these awesome ingredients:
Baked Chicken: A light spread across the top before baking. Yum.
Wings! The fam loved these.
Iced Tea: this was probably my favorite use for this flavor. SO good!
Dressings for salads: with four flavors, you can mix up so many variants.
Rubs for pork chops
Tacos: I mixed Grumpy Grandpa and Phoebe's Fireball in with the ground turkey.
Burritos: Same as above!
Stir-Fried Vegetables: Great addition to the sauce to give them just a little pizzazz!
Bacon: Using the Humdinger website recipe as a suggestion, I put a little of Grumpy Grandpa on a few slices and baked them. Lower fat than fried and more flavor! (I should have coated them in chocolate next…hmmm…)
Smoothie: I never use real sugar, I use only agave syrup and honey. Extra zing!
Pulled Pork: Phoebe's Fireball worked great with this! I used it with vinegar (apple cider or regular) and I had people asking what was different, they loved it.
The list is endless. I'd love to hear your suggestions!
If you'd like to get your hands on Henry Humdinger's Honey products, here's their store locator. You can also order online. Store it in a dry place, as refrigeration will speed up granulation. If that does happen, it's okay – it isn't spoiled. You can make it liquid again, but you'll need a few minutes so plan ahead. Place a glass container in a pan of warm water. Wait. Microwaving isn't recommended; doing it with the warm water will liquify the honey without depleting the nutritional value. (Did you learn something new? I did!)
For more ideas, visit Henry Humdinger's recipes page.