And here's another list of personally-recommended cookbooks for your foodie friends! (You can find the first gift guide here.) I was given complimentary copies by the publishers, but the opinions and photos are my own. I love collecting cookbooks and enjoy sharing ideas for new ones with everyone. This list is a good mix of health-focused books, holiday classics (which includes brunches, dinner entrees and food gifts), spicing up your food and of course, dessert. No cookbook list is complete without at least one sweets or treats book on it!
Because it's close to the holidays, when we tend to overindulge, I'm giving away a book combo focused on getting and staying healthy! Ulysses Press is providing a copy of the first two books below to the winner of my giveaway! All you have to do is comment on my post with the smoothie or infused water you've had and enjoyed the most, via the Rafflecopter widget at the bottom of the post, and you'll be entered for a chance to win the two books! (Prizes will be shipped by the publisher directly.)
Enjoy these recommendations and let me know if you buy of the books for gifts or perhaps decide to keep one for yourself! (We won't tell!)
Power Smoothies: All-Natural Fruit and Green Smoothies to Fuel Workouts, Build Muscle and Burn Fat by Keith Sebastian and Samuel Barnes, published by Ulysses Press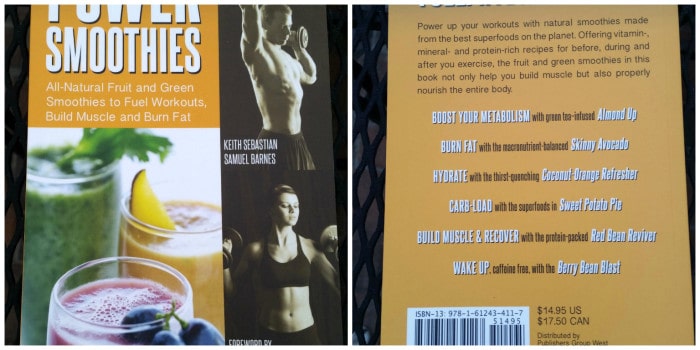 This book came at the perfect time. I've been on a smoothie kick and looking for any recipe possible so I wouldn't get bored. I also didn't want to spend a small fortune on produce, so having an arsenal of recipes has been ideal. One apple left? A handful of almonds? Chopped melon? Throw it into the blender! I'm wasting far less produce and can shop my refrigerator and use what I have on hand. Perfect!
This book really hits the mark with its title. I thought I had a handle on what ingredients did what but I learned that, well, I have so much to learn! The book breaks down so much about each type of food you can add in, like the carbs, protein, fat and calories. Did you know that chard provides 375% of your daily Vitamin K needs? Or did you know that plantains are much healthier for you if consumed before they are cooked? I felt great learning that the amount of kale I put in my typical morning smoothie contains 100% of about everything I need and is great for anti-inflammatory purposes, which is great for after workout soreness. I had no idea, other than I feel better on days where I have the smoothie.
One page that I immediately marked to return to is the paragraph about using smoothies to help maintain muscle mass without gaining weight. This has always been a problem of mine but I hadn't found an easy answer for it, or at least an answer that I could work towards. Since I love smoothies but don't want to drink nothing but mindless calories, I really need tips like this. (I only wish I'd learned this ages ago! I have some broad shoulders and muscle-y upper arms, something I have to keep in mind whenever I try a new upper-body workout.)
The book is divided into many categories designed to give you a good basis on what you're hoping to achieve, why, and how; the table of contents covers smoothie-based diets, drinking your greens, and smoothie recipes, then there are a bunch of smaller chapters on types of smoothies, including low-cal and high-cal versions. (It never occurred to me that people would drink smoothies to gain weight!)
If you're buying for a fitness-lover, this book will definitely be appreciate, especially if they are looking to fuel themselves before, during or after a workout – and aren't they all? There aren't any pictures, but this book is more purpose-driven and informative than inspirational as far as baking or cooking because something looks good. It is a resource for health that will be used again and again, and mine is already dog-eared.
Water Infusions: Refreshing, Detoxifying and Healthy Recipes for your Home Infuser by Dr. Mariza Snyder and Dr. Lauren Clum, published by Ulysses Press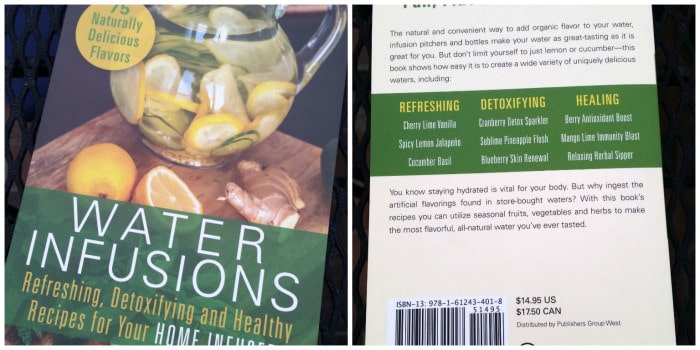 I got hooked on infused water when I lived in South Carolina for a few years. I had a ton of produce, herbs and vegetables growing on our acreage and was running out of things to do with it. I worked out daily, usually Zumba or running, and drank a lot of well-water. To liven it up, I was learning how to infuse water with herbs, then cucumbers, lavender and other garden-grown items and I eventually bought a little infusion ball to put in my water pitcher. (I had the well-water tested and it was labeled about as healthy as fresh water can be!) Then, when we moved back to California, I had to hunt to find a water pitcher that fit in the door of my RV refrigerator. (We ended up living in the RV for four.long.months and I refused to give up the things I'd gotten used to – you're already miserable enough in a cramped tiny space with so many of us, and two dogs, so doing things that made us feel normal and saved money over water bottles was important, too.)
Did you know up to 75% of people in the U.S. are chronically dehydrated? The effects of dehydration can be a lot more than just causing thirst; being properly hydrated can help with weight loss, headaches, metabolism, digestion and other areas. But, getting enough water in your system is harder than it sounds. I get bored with 'plain water.' I can remember my mom pushing me as I grew up, as she didn't buy sodas or much milk or anything, so I'd ask for Kool-aid. Totally not good for me either, right? I've come a long way since then. I don't want kool-aid, but I do still like to change it up a bit and get in my water but without it tasting like water.
The Water Infusions book shows you how to properly combine items (again, small batches of things you might already have in your fridge. Things you didn't think you could mix together can be, and you know the water will be flavorful. Each recipe has a tip about what it's good for, and the book explains overall what you need and why you'd need it in the first place. Call it a beginner's primer on water infusion, something that doesn't sound complicated until you really want to get all the health benefits available. This book's great for any fitness buff on your list and you may want to grab two!
The Cheesecake Bible by George Geary, published by Robert Rose Publishing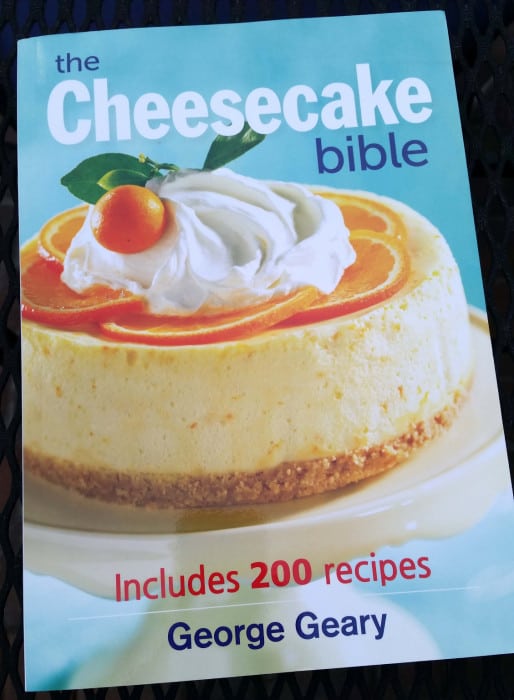 Cheesecake. Say the word once and the husband's eyebrows go up. Everyone has their own version of a perfect cheesecake recipe, but they're usually 'secret family recipes' and getting the ingredients is impossible. The Cheesecake Bible sets you up with 200 recipes of perfect cheesecakes, ranging from fruity to chocolaty to nutty to savory. Like many of the Robert Rose cookbooks, each recipe is one page, including an easy-to-read list of ingredients, tips, serving size and variations. There aren't pictures for each recipe, but like I've said in other reviews, that's probably a good thing or I'd never choose which recipe to experiment with first!
The book just came out in November of this year and is available, like the rest of these, at online and brick-and-mortar stores all over. It is 288 pages of yum and includes recipes like Neopolitan Cheesecake, Carrot Cake Cheesecake, Lemon Souffle Cheesecake, Caramel Pecan Cheesecake, Taco Cheesecake and Cranberry Orange Cheesecake. (And that still leaves 194 more recipes for you to discover on your own!) The Cheesecake Bible is a perfect gift for anyone who likes to bake or who wants to learn. The recipes are easy, don't include difficult ingredients to find and the book is paperback so it lays open flat next to your mixer. And who doesn't love some form of cheesecake? Someone who doesn't may want to take a look at this book – they'll likely be a convert!
Best of Bridge Holiday Classics: 225 Recipes for Special Occasions, published by Robert Rose Publishing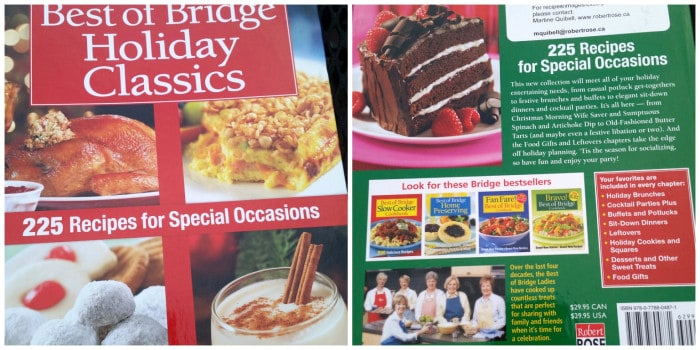 If you've never heard of the Best of Bridge series, its origin is a neat story. In 1975, eight women who met regularly to play bridge were on a weekend getaway when had an idea; they decided to get together to write a cookbook. It led to The Best of Bridge, one of the most successful brands in Canadian publishing. The series includes books with many different focuses and once you read one of their books, you'll understand the appeal. Spiral-bound books that lay flat, use a large but different font, bright colors, a lot of pictures and cute little quotes to make you laugh along the way, like "Golf scores are directly proportional to the number of witnesses."
The Table of Contents has sample menus, holiday brunches, parties, buffets/potlucks, sit-down dinners, leftovers, holiday cookies, desserts and food gifts, among other items. The index is very extensive so you can easily find what you're looking for. There aren't a lot of pictures, which in this book would be helpful as I'd love to see what some of the desserts I've never heard of look like, such as Dream Slices or Frozen Lemon Puff. That won't stop me from making either of them though! This is a book you can leave out on the table for someone to read as they stop over for coffee or while you're getting holiday dinner items ready. The Brie with Sun-Dried Tomatoes was really easy to make and was gone in a flash when I made it for wine night a few weeks ago.
If you've got a foodie on your list that makes a bit of everything, this is a good book to buy. I can also see it being a great book for a non-foodie who just needs meal ideas and wants to stretch their repertoire. The food isn't difficult to make and they can easily surprise their guests with recipes picked up from this book. And it's cute. That's reason enough, right?
The Spice & Herb Bible, Third Ed., by Ian Hemphill with recipes by Kate Hemphill, published by Robert Rose Publishing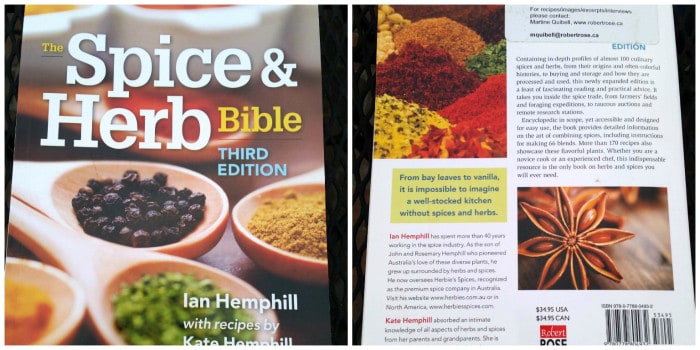 This book…it's probably going to be worn out and looking bad pretty quickly, given how much I've already been reading through it. We just recently renovated the backyard and once we get through the rainy season this winter, I'm planting my new garden. It will include a special section of upright pallets turned into movable gardens that can be easily changed depending on the season and use. For example, one entire pallet is being devoted to micro-greens.
The Spice & Herb Bible belongs on the shelf of everyone who wants to season their food or grow their own. It's basically a resource, an encyclopedia, of spices and herbs, with a similar layout for each entry, which includes Names in Other Languages, the family it comes from, its background, and a Culinary Information chart about its traditional uses, spice blends that include it and what it combines with. All the info you could use on it is included as well, such as processing, buying and storage, uses, sizing and recipes in which it is used. A special section that's new to this edition of the book is Travels in the Spice Trade, based on the author's experience with it during his travels. I love getting some trivia and education and how to dry, grind and store what I'll be growing soon. I have the pantry all ready for it, all the way down to the label maker!
I thought I knew a lot about spices and herbs, but there are things I never even heard of before and can't wait to try! For instance, the term spice often implies hot and spicy, when in fact, the majority of spices aren't hot. This book is a great book for any chef, whatever type – meat lover, vegetarian, vegan, gluten-free, etc., and even gardeners or people interested in making gifts for others. It will inspire any recipient to experiment. Buy spices regularly, in small quantities, and don't keep them too long. The optimum shelf life for a ground spice is only one year, but I bet many of us keep them longer! I'm very glad to have a copy on my shelf so I can keep learning and now I'm going to go clean out my pantry.
All of these books came out within the last couple of months and should be easily found online or at nearby brick-and-mortar stores.
Now enter my giveaway for a copy of the first two books in this list, Power Smoothies and Water Infusions!
a Rafflecopter giveaway