The magic of holiday traditions is one of the biggest reasons for the season. We all have our beliefs as to what the holidays stand for, but one of the most common holiday traditions alive is the Christmas tree. Trees are a quintessential symbol of Christmas, each one unique to its owners. For us, our Christmas tree tells a story. Without our familiar Christmas ornaments and our family decorating session, it's just a tree. Add our ornaments, collected throughout the years of our marriage and the growth of our family, and it's a representation of our home in one 9.5′ gorgeous, glittering centerpiece.
Thanks to Wayfair, here's a walk through around our Christmas tree and a brief glimpse into what helps bring the holiday magic into our house. Keep reading for a chance to enter my giveaway for a $100 gift card for Wayfair, so you can add to your holiday decorating traditions with some unique pieces you won't find anywhere else!

When we got married, like many newlywed couples, we had little decor. We had even less money, being on a budget that didn't let up for years as we chose to grow our family instead of our bank account. Our tree was beautiful regardless of the money spent on lights and tinsel, decorated with love and ornaments made by the kids. The husband would add to the ambiance by stringing lights at the top of the walls, from one wall to the next, all around the house.
As the years went on, we began to pick up an ornament here, and an ornament there. Some were spontaneous purchases that caught our eye, while others stood for something that was going on in our lives. Friends also surprised us with ornaments as Christmas gifts, and four very old-fashioned glass balls are among the very few items passed down from my parents to us that found their way into our collection. The result is a quirky tree that speaks a lot about our family.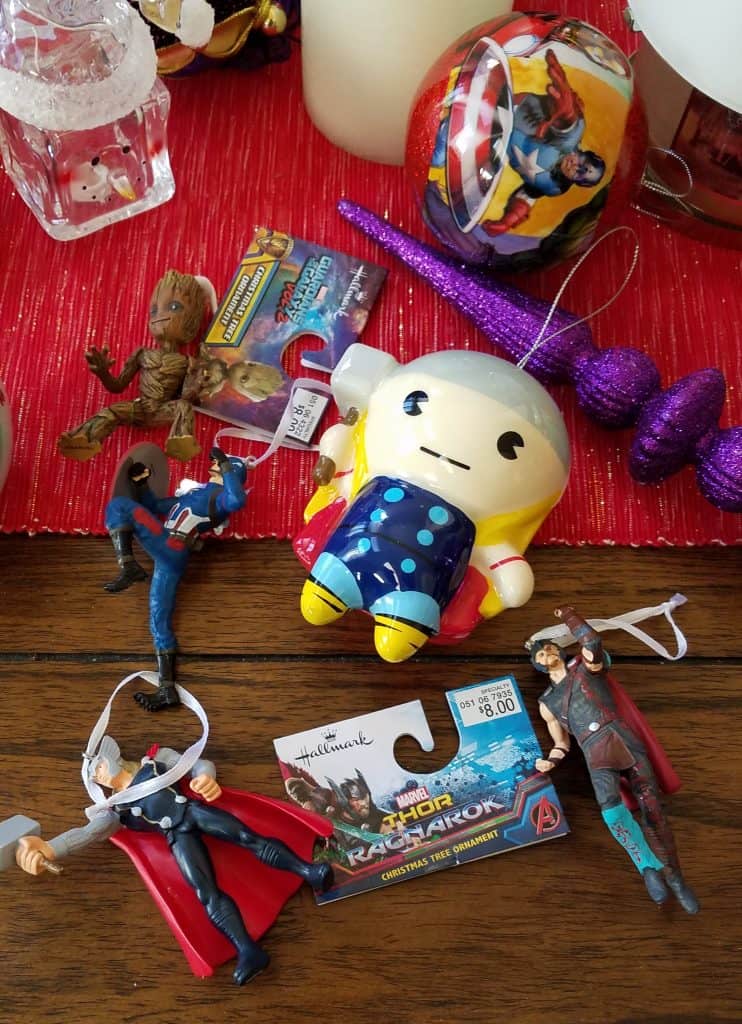 One glimpse will tell you that we have a love for super heroes and coffee, that purple is my favorite color and that we don't take ourselves too seriously. It will also tell you that we have a loved one with autism and that angels have a big place in our holiday.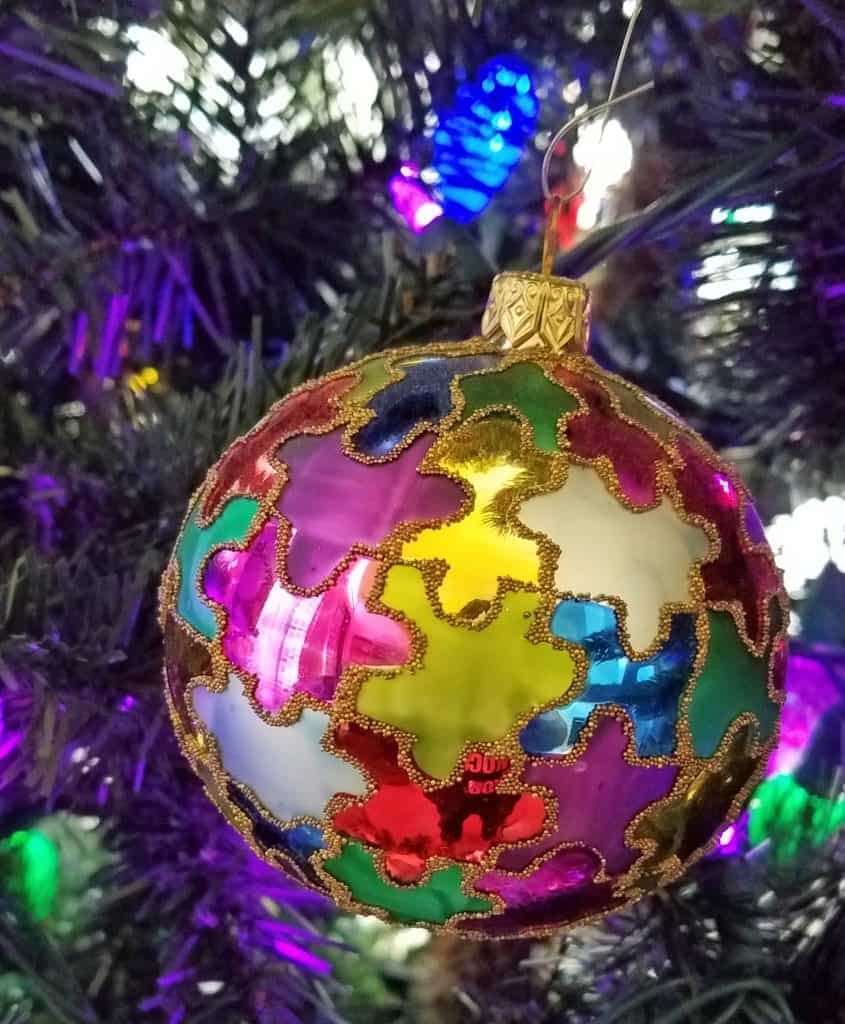 Throughout the years, we ended up with so many ornaments, we had to expand the display to two trees. One large tree now sits in the main family room, and it is 9.5′ instead of the 6′ we started with. The other tree, settled in the corner of the informal family room, was a 5′ basic green tree and this year, we replaced it a 7′ white tinsel tree with multi-colored LEDs. The big tree is the 'fancy' tree, consisting mainly of the purple-themed ornaments and our personalized collection. Can you tell the color of this year's lights in the above picture? (Or all of them, for that matter? The purple hue just seems so Christmas and winter to me!)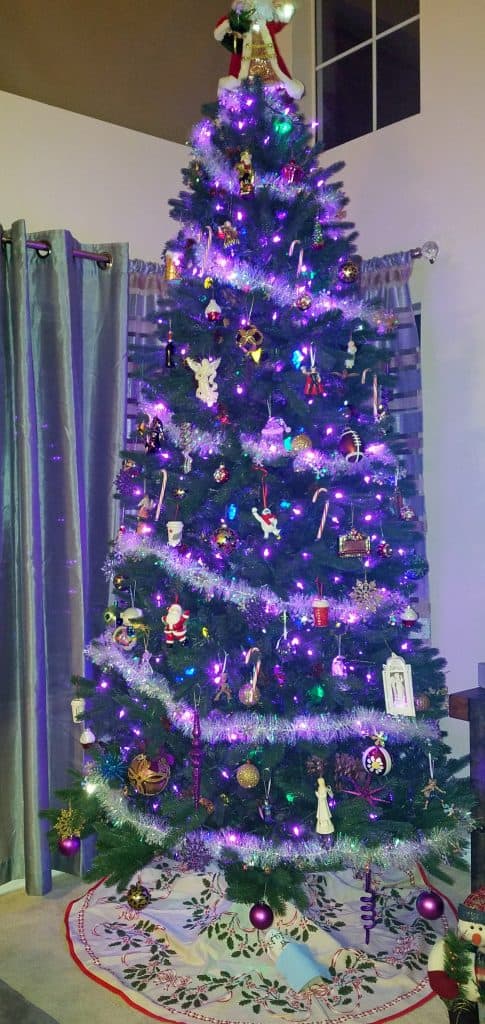 The smaller tree is the kids' tree, and it is where the family heirlooms reside. That tree is where my youngest son's two-year-old fingerprints hang, where the macaroni plate my older daughter made me dangles with her message to mom there for everyone to see. My younger daughter's handmade Girl Scout ornaments hang next to my older son's Boy Scout globe ball, lovingly decorated with gold tissue paper. (He made it the same year that he traded away his own choice in a ornament exchange so he could bring home a very delicate angel he knew I'd love. That angel hangs near the top of our big tree in the other room.)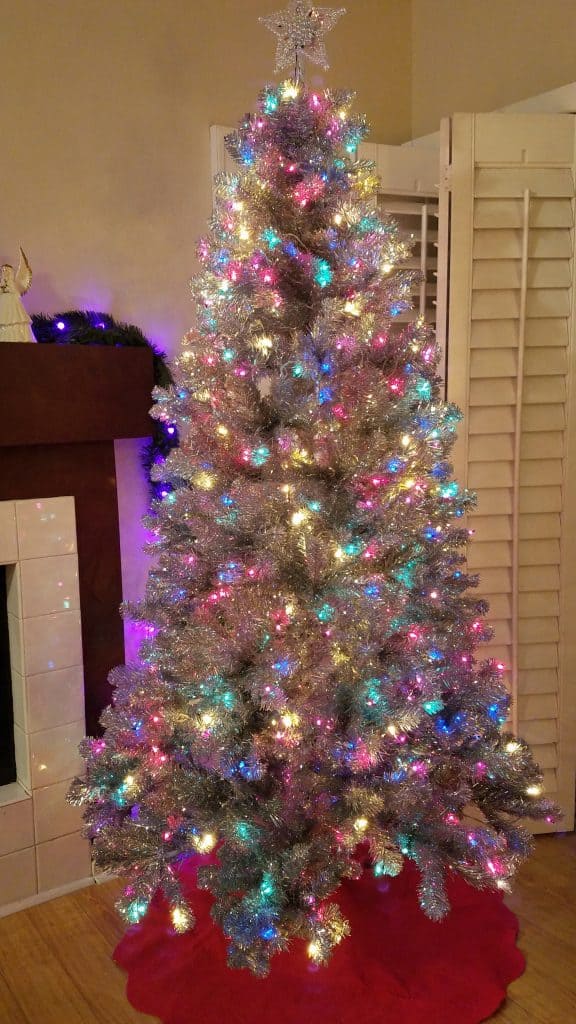 Tradition says that we decorate the big tree first, because it can be done by itself — even if that one poor person gets dizzy twisting around and around the tree, climbing up and down the ladder to make sure lights and garland are just right. The real fun starts though when all the kids get together to decorate the smaller tree. Christmas carols play while the kids sort their ornaments out of the box storing all their special ornaments. They tease each other as they talk about the inspiration behind their own ornaments, the ones we'd bought them every year so by the time they move out, they have a start to their own collection, one that means something to them.
One collection has a lot of car-themed ornaments, while one of the girls' ornaments lean heavily towards a princess theme. Movies they love, things they like to do and even their favorite foods, like pizza, find a place amongst the boughs. Some of the best laughter comes when they get to the photo ornaments — my older son with his first best friend, my girls together in a wedding many years ago, and so forth. My favorites are the ones that they made, the ones that will remain on my tree forever. These are the ornaments that are our biggest tradition, the one of family being together…together on one tree as they are off the tree.
Another tradition, off the tree this time, is our yearly countdown to Christmas calendar. It isn't fancy, but it's an honor to be the person who moves the candy cane daily to the new date, bringing us closer to the big day.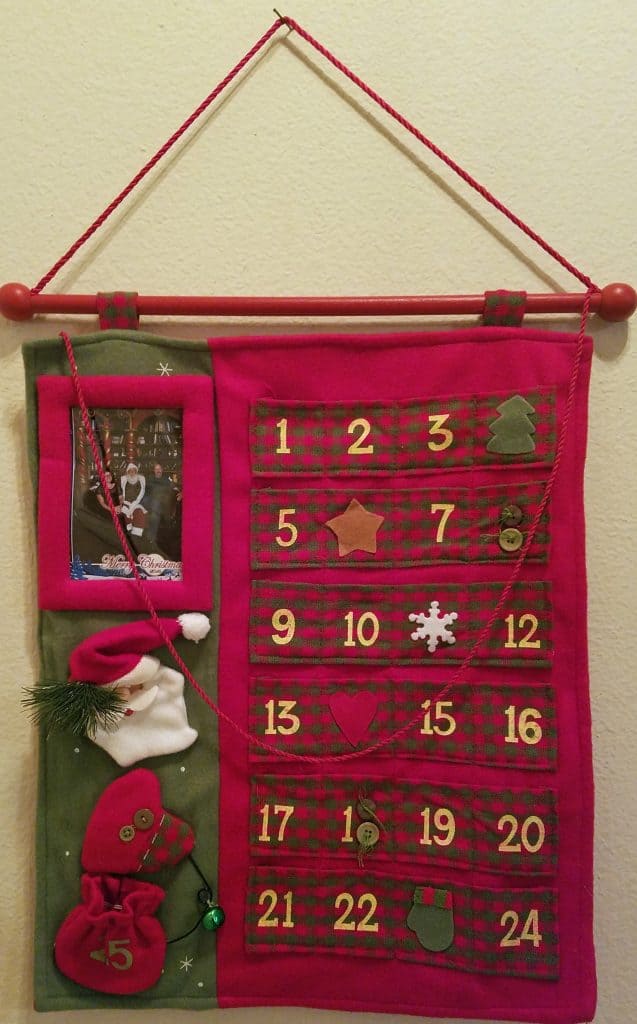 One favorite was purchased when the husband booked us at a B & B in a quaint little town. He's a bit hard to see, but he's less cute in the harsh light of day. Lit up, glowing and a little blurry, you really get the essence of our adorable ice cube man bought in a Christmas store in Julian, California, during a romantic weekend full of horse drawn carriage rides — where we had to stop for wild quail to cross the road — and outdoor hot toddies and bouquets of roses. This is exactly why we buy Christmas ornaments, to evoke memories of milestones and special moments in our lives.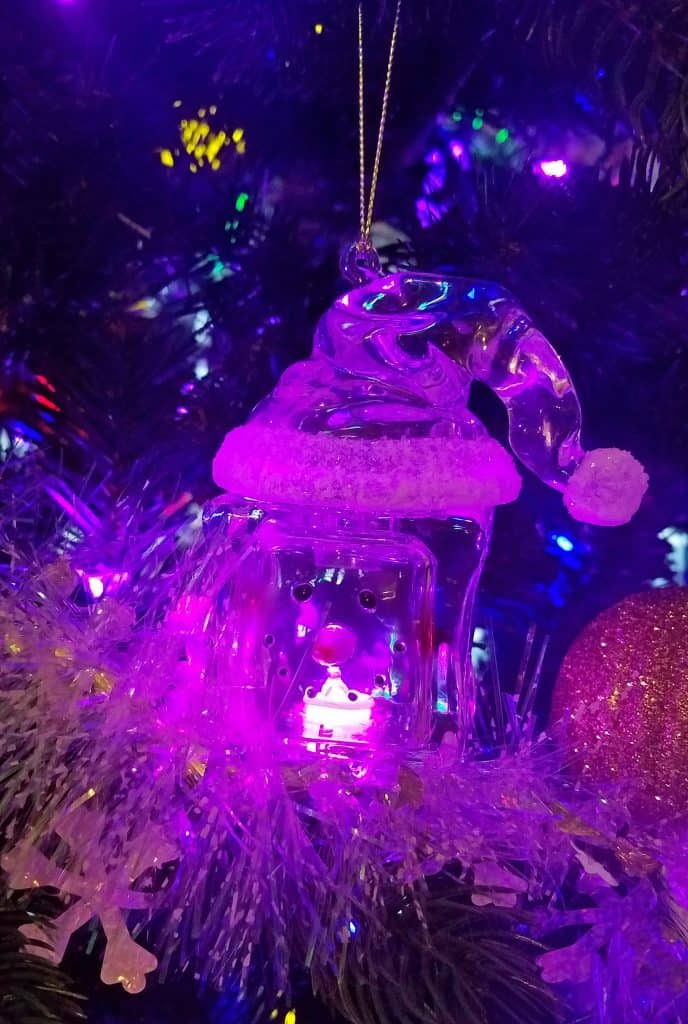 And this one was bought at Sea World in San Diego last year, at the media Christmas party on a cold night, right after my youngest son and my daughter's fiance and I had seen Santa Claus. We'd told him what we wanted, and then walked around a corner straight into Bumble, my favorite holiday movie character. Bumble, the bad guy turned good, is one of many villains we all love. His spirit makes me love him, and his unbridled enthusiasm to just be helpful to others makes him stand out every year.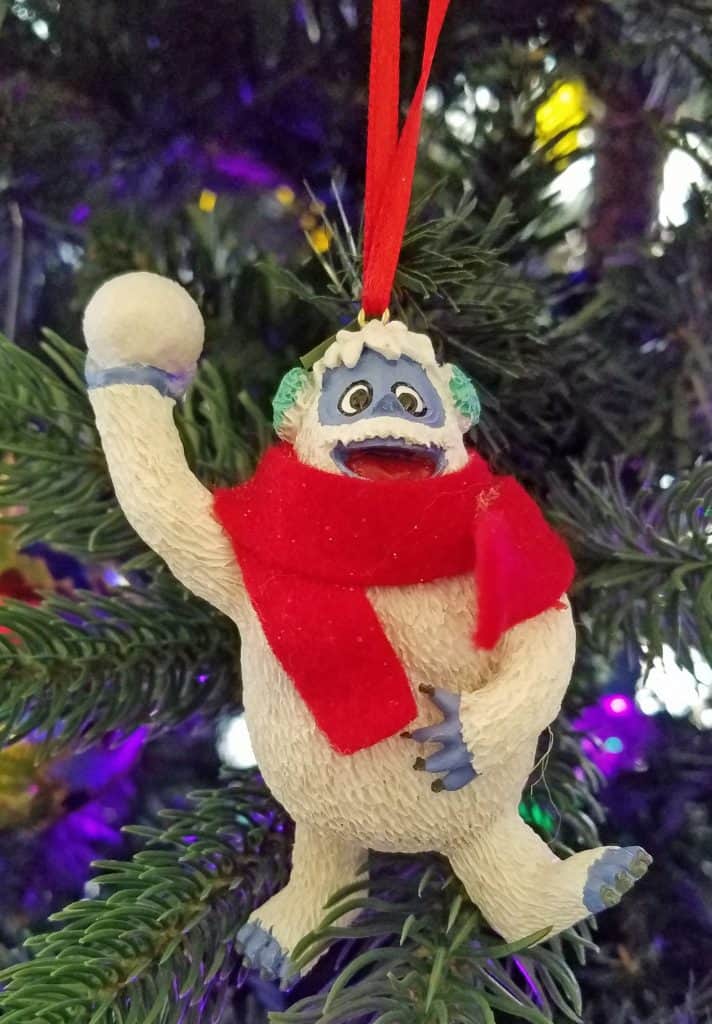 Then this next one is the epitomy of our entire family in one ornament: the Griswolds in Chevy Chase's Christmas Vacation. We watch this movie every single year, multiple times, and I may or may not be able to quote the entire thing. Sparky just wants a normal family Christmas, full of all the chaos and love that his huge house can hold, but things go awry. Yep, story of our life. He never gives up, and this ornament, actually a defective one with a string on the bottom instead of the top — so it hangs upside down — even fits us better.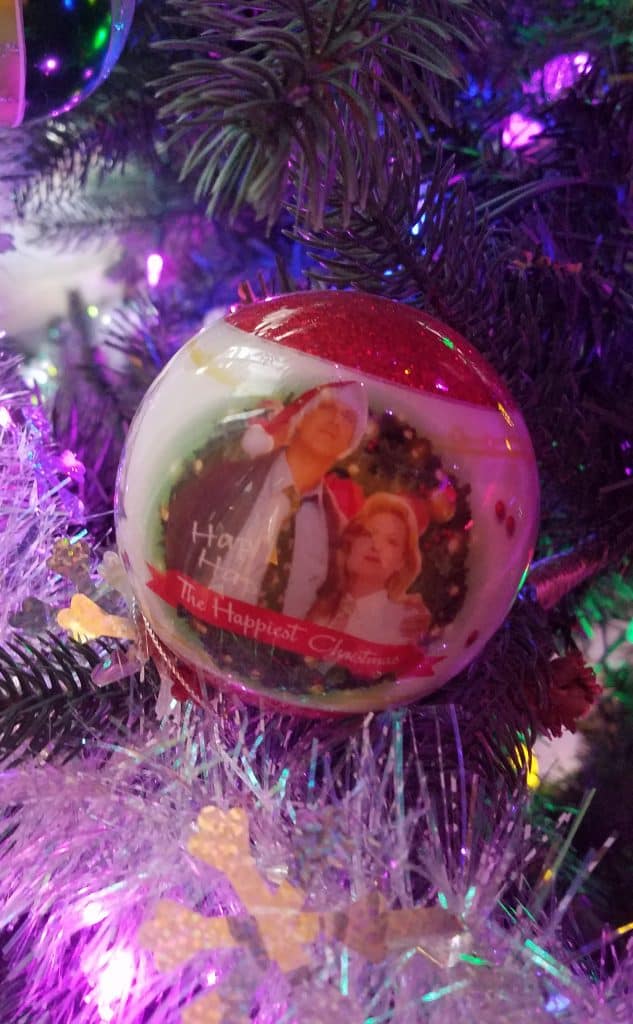 This is just a very small sampling of our Christmas holiday traditions, starting with our Christmas tree. Wayfair agrees on the importance of traditions. I've found decor for year-round events and celebrations, or just regular home decor, on their website, but at this time of year, I visited solely to see what they had for Christmas, because I know I'll always find something unique. This most recent visit, I learned about the significance of upside-down Christmas trees and why they're really a thing. Did you know that? I didn't! A local hotel in San Diego has hung their lobby Christmas tree upside-down this year and it has the social media universe talking. I bet they don't know that there's a long history, dating back to medieval times, full of interesting reasons as to why the trees get hung upside down. Check out the reasons here!
Which of those upside down trees for sale at Wayfair would you buy? Tell me below in a blog comment to be entered for a chance to win a $100 Wayfair gift card. It's really that easy! Rules are in the widget below and entering takes only a few seconds. Tell me your favorite upside down Wayfair tree and maybe you'll be the winner! (If we were able to do this with our tinsel tree, maybe we'd be able to decorate it this year! With our Yorkie having to be corralled into that end of the house when we leave her alone, we were afraid to decorate the tree this year, but this is one of the many reasons an upside down tree is beneficial AND pretty, without the worry of our four-legged babies getting into things they shouldn't.)
Happy holidays!! Get those holiday traditions going — or start new ones — and make this another holiday season to remember!