Back in 2004, we finally got some news that helped explain our child's behavior and medical issues: autism. I'll remember that day forever, because I was driving a new vehicle to an area where I was unfamiliar and got lost, I was alone, and my four-year-old son had gotten out of his car seat and was trying to throw it at me while I was on the freeway. By the time I got into the waiting room, I was already nervous. How do I know if my child has autism? What do I do?
We knew something was wrong, and we had already received a tentative diagnosis of ASD (Autism Spectrum Disorder) and our son was displaying a lot of odd behaviors and meltdowns that we couldn't resolve. We had to wait, as we were late, but the staff tried to squeeze us right in even though there were other patients in the waiting room; my son climbed under the chair and freaked out at the TV because it was displaying people staring at the camera. I tried to distract him with books but faces with eye contact also freaked him out. The only good thing about any of it was that the staff got to see some of the behaviors I knew I was going to have to tell them about. I didn't have time to worry about it then, but I still remember the aghast looks of the other waiting patients, the looks that so clearly said "Shut that brat up!" as they whispered to each other.
I also remember how I asked "what next?" and was told by the very compassionate pediatric developmental neurologist to call the school and state Regional Center because there's no real plan or known cure, just some options that may help.
In other words, we really don't have much help for you, but at least you know now what you're dealing with.
The good news is that parents now get a little more guidance. As time goes on, we find more things that help and there are more services available. The bad news is that 1-in-68 children are now getting this diagnosis and those services aren't always covered by any insurance. There may be some help for lower-income families, but I know far too many two-income families struggling to make ends meet while finding childcare that will still take their child and paying for it while paying for the services. It's a vicious circle.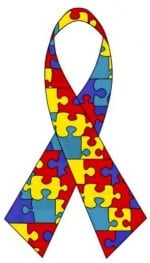 But let's get to the most frequent question I hear: how do I know if my child has autism?
The list of symptoms is long, and not every child will have every symptom. There's a saying out there that I frequently tell people. "If you've seen one person with autism, you've seen one person with autism." Autism's full name is Autism Spectrum Disorder. It is truly a spectrum of extremes, from mildly affected to severely affected. Children can be verbal or non-verbal, and many have severe medical issues, while most have at least some accompanying medical issues or other diagnoses. Some children will grow up to live independently, while others will require 24/7 care for their entire life.  Some other names for autism are Asperger's, "high functioning autism," PDD (Pervasive Developmental Disorder) and classic autism. There's overlap and sometimes the criteria is subjective and dependent on who is doing the testing and how the child's doing that day. Sadly, a lot of people don't take some of the terms seriously but in the end, it's all autism and it all requires and deserves help.
Generally, symptoms of autism relate to social skills, relationships, behaviors (like tantrums), communication and how they play. Lack of eye contact, loss of words, lack of gesturing and response to having their name called. Need for sameness, repetitive movements/behaviors. Obsessive interests. One-way conversation, if any. Sensory problems that can result in painful responses to loud noises, bright lights (even the humming of the lights that we can't hear), being bumped, too high/too low pain tolerance, need for tactile stimulation or strong dislike of being touched/hugged. Tantrums if their routine is changed. Food issues, refusal to eat but a very small number of things. Delayed speech. Inability to communicate properly or start an interaction with someone. Loss of interest in playing with others and odd style of play, like lining up toys instead of playing with them as they were intended. "Stimming," or self-stimulation by spinning, flapping their hands/fingers, rocking, humming, etc.
And that's just for starters. If you're concerned, go with your gut. Talk to your pediatrician, a child developmental pediatrician or neurologist, or the Regional Center. The school can also help but they can't diagnose; they can only give an educational label and provide services based on need, not diagnosis. (And don't downplay the needs — that's the time to be honest.)
While our son was still diagnosed relatively early, we probably could have had it done sooner if we'd had an idea what we were dealing with. Our son was born a little early, after a very tenuous pregnancy where I spent most of it on bed rest and in/out of the hospital on meds to stop pre-term labor. He was almost born at 30.5 weeks but due to medical intervention, and a lot of prayer, we made it to almost 37 weeks. Not technically premature but he came out with jaundice, an inability to maintain his body temperature, low blood-sugar levels and no fat, just all muscle. He'd startle very badly to even minor sounds, only wanted to be swaddled and needed movement in our arms or his swing. He'd gag easily and had a lot of odd medical problems, then there was the intestinal issues that never really quit until he was almost six.
As he grew, he showed signs of functional hypotonia and walked oddly. He'd line up his toys and God forbid you move them. He wouldn't look at us and you can see photos where he was always looking to the side. He would only eat about five or six things and reacted badly to sound. I remember how badly rain bothered him, yet he loved the sound of the trash trucks as they turned the corner. He'd run into the yard yelling "Big! Big! Big!" and the trash man would yell to him each time. If he wasn't out there, the driver would honk and I'd go out to let him know if little dude was having a bad day and wouldn't be out, which was rare. He'd usually run out that front door, diaper or any state of dress, to follow him down the street.
He was also an escape artist though, as autistic children typically have little fear in social or dangerous situations, which sadly results in the death of many children because they dart out in seconds while their caregiver's in the rest room and drown or get lost in cold temps. We had to install special safety locks and door chimes so he couldn't get out when he wasn't supposed to. We became masters at scooping him up quickly and learned 'the hold,' a position where you sit with him on your lap, arms around him so he can't hurt himself or you and can safely calm down..though sometimes that took a really long time.
He wanted to make friends by the time he got to school, which was a special day class before Kindergarten, but he had a very hard time interacting properly. His special class ended up making things worse as he couldn't tolerate screams and sometimes, other kids would have meltdowns and he'd cover his ears and get mad, which would get him in trouble from his teacher, someone who was wrongly placed, resulting in us moving him to a more appropriate location. A good teacher can make ALL the difference in school, so if you're not happy with your child's school situation, don't settle. Ask questions, research and find a better place. They are out there.
There were a lot of rough days — like the time we visited an aquarium and he fell to the ground, humming, and people had to step over him as he'd run a little ahead of us and we couldn't bust through the crowd as fast as he did. He then proceeded to off his shoes and toss them, something that turned out to be a very frequent occurrence. I'd take him to the store, and after a few minutes, he'd melt in the car and resort to humming and ignoring everything else.
As he got older, he'd throw tantrums and yell because the lights hurt or they didn't have his one food obsession. People don't understand these things and frequently would stage-whisper lovely comments like "If he was mine, I'd spank his ass and he wouldn't pull that crap again." There was also a lot of unsolicited advice, such as "If you'd buy that video game for him, I bet he'd quiet down." (Thanks, but rewarding negative behavior doesn't work AND we already have it anyway, that's not what he's tantruming about.)
"You really need to learn to control that child."
"That kid is a brat and is way too old to behave that way."
"You need to keep that brat home until he learns to behave."
"Did you see that kid hit his mom? Now he's throwing shoes!" (Meanwhile, no one helps me retrieve the shoes while I'm trying to grab the bag of food I'd just bought.)
"Get that kid out of here, he needs help!" (Said by an older gentleman in the waiting room of the child neurologist's office. Yes, really.)
FYI, these comments don't help. It makes the person saying them feel superior but really, they don't do any good. Even if you think a child is a brat, keep your lip zipped. It's NOT your place to comment, you have only your judgmental idea of what's going on, and you're probably wrong. Children don't learn to behave locked away at home.
We knew something was wrong, but we didn't know what. Our son is our fourth, and this was all new to us. When someone tried to suggest is was our parenting, I was quick to remind them that we had three older children who didn't behave this way. However, eventually people stopped coming over. They didn't know how to react and honestly, neither did we. We sought help but it's a long process. There was a two-year or so period there where we could rarely go out as a family. Either my husband or I would run errands and take the other kids out. We'd try a family outing here and there, but the stares and comments when my son would act out were hard on everyone. The older kids would get defensive of their brother, yet we also knew there had to be some resentment in there at the inability to go out 'like normal people.' To their credit though, that was never displayed. They were, and are, fierce defenders of their little brother and were autism awareness advocates whenever they had the opportunity.
One good thing is that you learn who your friends are. Those who can't handle an interruption when you're on the phone because he's having a head-banging episode (a frequent thing until he was about four years old) stopped calling, and we were okay with that. We didn't need to have to pacify an adult's behavior when we were trying to stop our child from raking his legs from ankle to hip, cutting his face from banging on the wall or pulling out more eyelashes.
And there was the biting. The licking. The sucking of his t-shirt necklines. The yelling of mean things, when he started talking, and odd sounds out of nowhere. Tics. Twitches. They gave him adaptive P.E. in school but we spent several afternoons a week at a wonderful occupational/sensory therapy clinic that cost a lot of money but was worth every cent as his compassionate and understanding, caring therapists expanded his diet and helped him learn to deal with touch and textures.
We also learned a lot on our own, by necessity. We created our own therapy items at home and changed his diet to get in the proper nutrients and expand his ability to eat. This is what inspired our healthy-living approach of no dyes, preservatives, HFCS, etc. From-scratch cooking started back when he was about four and had to have pancakes or waffles at least 1-2 meals a day. We tried the GFCF diet, but didn't see a big improvement; it only works in approximately 40-60% of autistic children and while it didn't work for us, we have seen it make tremendous positive change in many other kids.
Fast-forward through years of other therapies, even one that required the parents attend a group meeting once a week while the kids were getting one-on-one therapy. You try things you never thought you'd do just to see if it works, and if it does, you don't care how weird it sounds or what others say. Your social circle tightens up and you have the support you needed early on. You have a thick skin and ignore the naysayers and know you can trust those around you to advocate for your son, and the autism ribbon magnet has a permanent place on your car.
We're lucky. Our son has made amazing strides and is in regular class at school getting straight A's. There is help available — though not nearly enough, because social skills programs are often seen as 'not our problem' by the school — and we're always proactive about doing whatever we can to help him as he continues to grow up. He's done so much work, it's not our credit, but we will continue to help the environment so he has low-stress when possible and things are realistic. Some people still tell us we can't expect the world to change for him, and while I think that's sad — again, 1-in-68 kids now, and growing, so yes, the world has to change some — we also know that we can't expect more of him than we do of non-autistic people. If you start a new job, you are trained. When you start a relationship, you go slowly. Take a class and learn gradually. You don't throw a kid in a pool and say 'learn to swim, NOW.' Why should we expect more of our ASD kids?
Life with autism is always going to be a challenge, but if you get help and don't let the 'label' upset you, there's a world of possibility. Seek support. Groups, organizations and classes are out there. Don't be afraid to reach out. You are not alone. Even if you can't leave the house to get it — trust me, been there, done that — you can find it online now, something that was less available for us 8-9 years ago. I hated going to support groups early on because hearing parents of older kids talk about their child's problems discouraged me; I needed to get through now, I didn't want to hear that I'd still be dealing with it as a middle-schooler, high-schooler or young adult, so I sought out groups that gave me that focus, knowing I could change as things went along.
Don't isolate yourself. You need time out with your spouse, even if it's an hour at Starbucks. My best advice to help your marriage? Take that time for each other, and allot no more than 10-15 minutes to talk about your child. Let the rest of the time be about you two and the things you enjoy. Autism isn't your whole life, even if it feels like your whole world many days. You need a break to refresh yourself for the rest of the time. Your child is your child, he's not gone away or left you, but he will require a different approach, and you're best prepared to do it if you are giving yourself some time. It's easier said than done, I know, but talk to people, ask for help, and don't be ashamed. It's a medical issue, and you and your family need and deserve the compassion and help. It's out there, I promise.
April is Autism Awareness Month. If you have to ask yourself, how do I know if my child has autism, seek the help and support. Immediately. And if it's not your own child, even if you can't do anything more than slap a sticker on your car, go for it, your time will come later to do more. Your awareness begins at home.