Two weeks ago, I got to attend the 2019 CTALA Lunch & Learn held in Los Angeles to talk about the topic of improving home entertainment and movie nights at home. With four kids, one son-in-law, another almost son-in-law and our first grandbaby on the way — along with a high schooler always inviting his friends back to the house for movie and gamer nights — this is a topic I could totally stand to learn more about!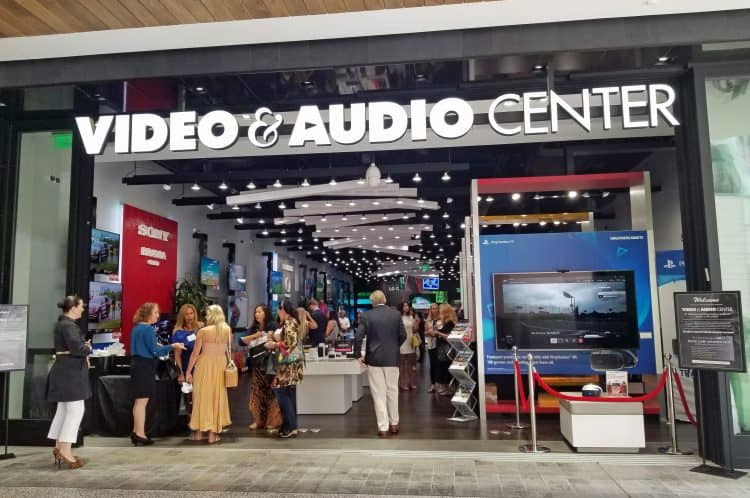 Lunch & Learn was held at the Video and Audio Center at the Westfield Century City Mall. My fellow bloggers and I wandered the store for about an hour, getting the lowdown on all the latest technology designed to make home movie nights more enjoyable and affordable. The things that are available now was pretty astounding!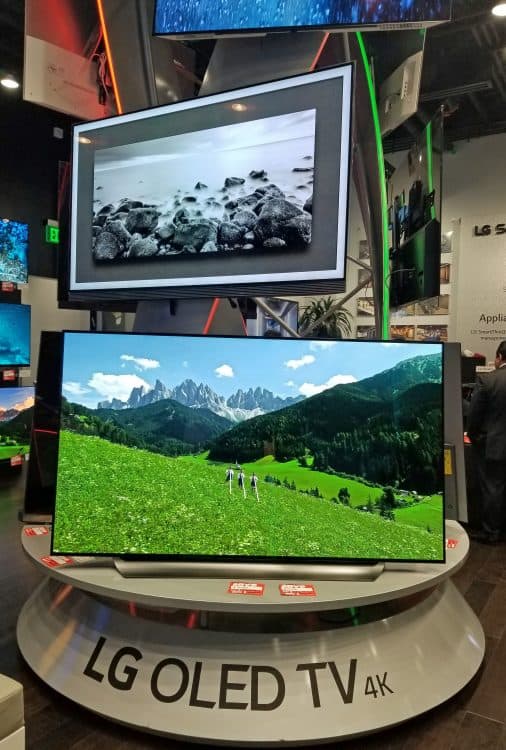 We have been considering buying a new large screen TV for our main family room. We watch a lot of NASCAR races and we host a lot of family movie nights, including our annual Christmas Vacation movie party. Having a quality television improves not only the quality of what we watch, but the entire experience itself. Our flat screen is a good TV, but when we bought the 65″ option, you couldn't get much bigger. Now they have 80″+ TVs available — and they are thinner than a finger!
I think that's what caught my attention most, the size. As one of the salesmen told us, size does matter, and when you're hanging an 82″ flat screen on your wall, you don't want some big and bulky item to heft up. The new QLED tvs are crazy thin — see what I mean?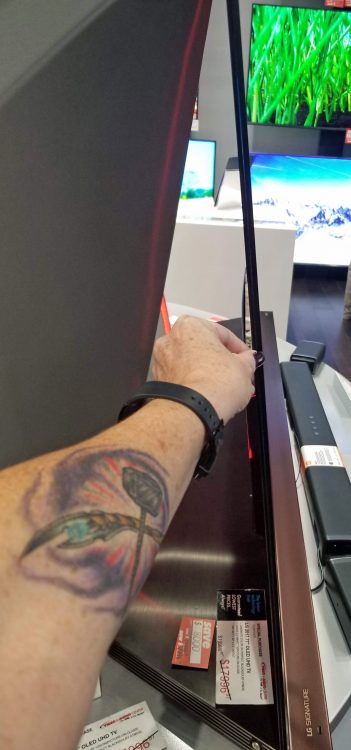 Another option I didn't know existed is what's dubbed a "lifestyle television." It literally is customized to your home and fits in like a piece of decor, making it a great choice for an over-the-fireplace TV in a room where the TV isn't always on. When you're not watching it, you can choose one of many pieces of art to be displayed, so your guests will think you have artwork on the wall, not a piece of technology. You can also choose the frame, helping it to match the white wall, a dark piece of furniture, or more.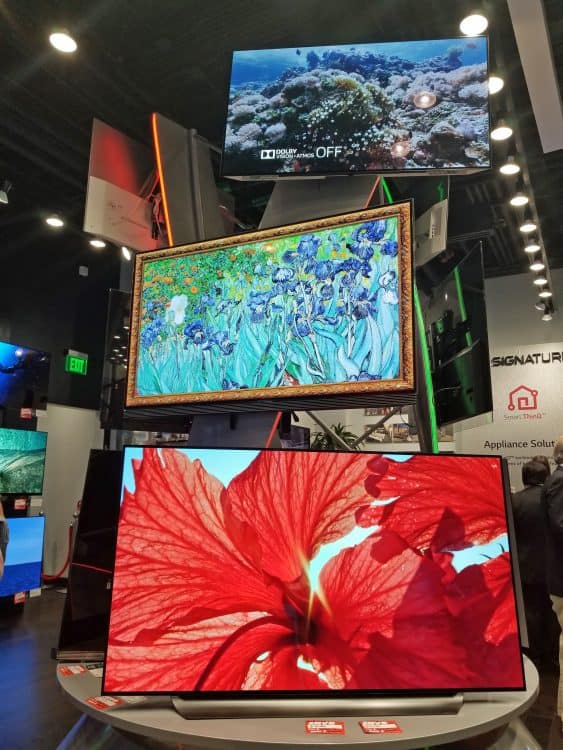 The owner of the Video and Audio Center filled us in on the history of the store, and then we were ushered over to Rock Sugar for lunch. Sign me up for any working lunch where we are greeted with champagne, right?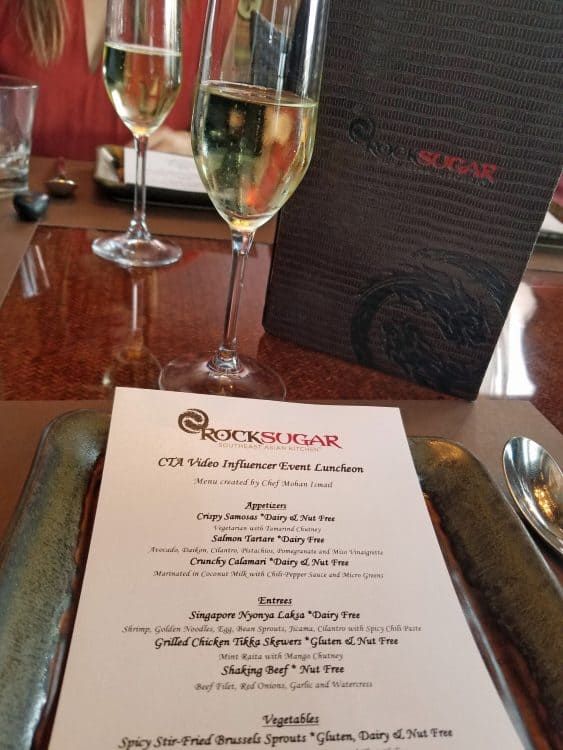 Oh the decor and food there! We learned a lot about technology while there, including some surprising facts about electronics and entertainment viewing.
For instance:
33 million Americans are cord-cutters, meaning they don't pay for cable television anymore, instead relying on things like Netflix and Hulu.
In the LA area, there are currently 21 channels you can watch without paying ANY fees. You will, however, need an HDTV antenna, which costs about $20. Learn more at at.antennaweb.org.
HDR viewing provides better contrast between the darkest and lightest parts of a scene, including more detail. To get the best HDR experience, you'll need an HDR-capable TV and true HDR content.
62% of residential broadband customers have at least 25 mbps speeds. (I will add, I doubt it's anywhere in my area! I pay a lot to get a high speed, but many neighbors are topping out at 18mbps…in 2018!)
4k UHD TV's have over 8 million pixels, which is 4x more than a regular HDTV.
Samsung and LG make some amazing equipment and technology, and not just in televisions. Their sound equipment is outstanding, from in the tv itself, to sound bars, to individual units designed for your smart home. One thing that caught my eye was the new Samsung refrigerator with a computer screen in its door, so you can create your grocery list, look up recipes and do far more right in your kitchen. (And now I want one. We have a stainless Samsung refrigerator already and we love the quality.)
The color quality on their TVs is spectacular!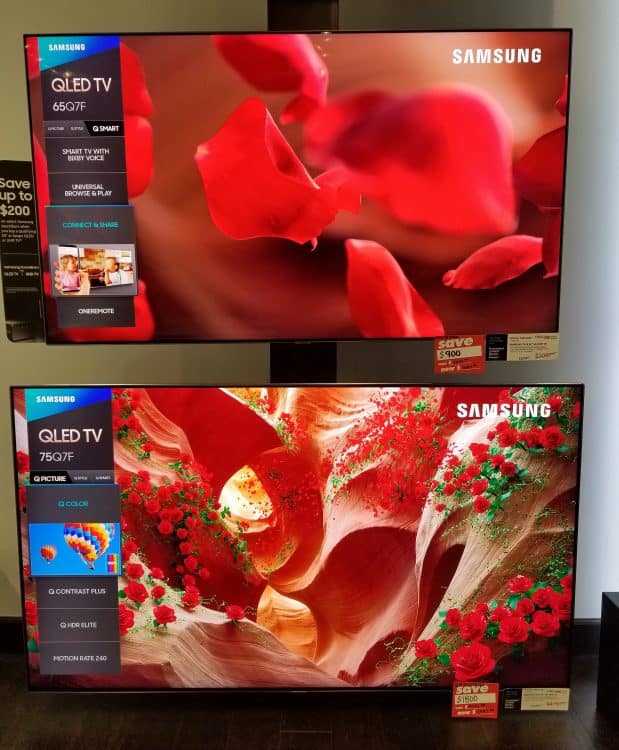 Rock Sugar's food was amazing. We were a large bunch and they served everything with ease. So many good foods and their sangria was so refreshing.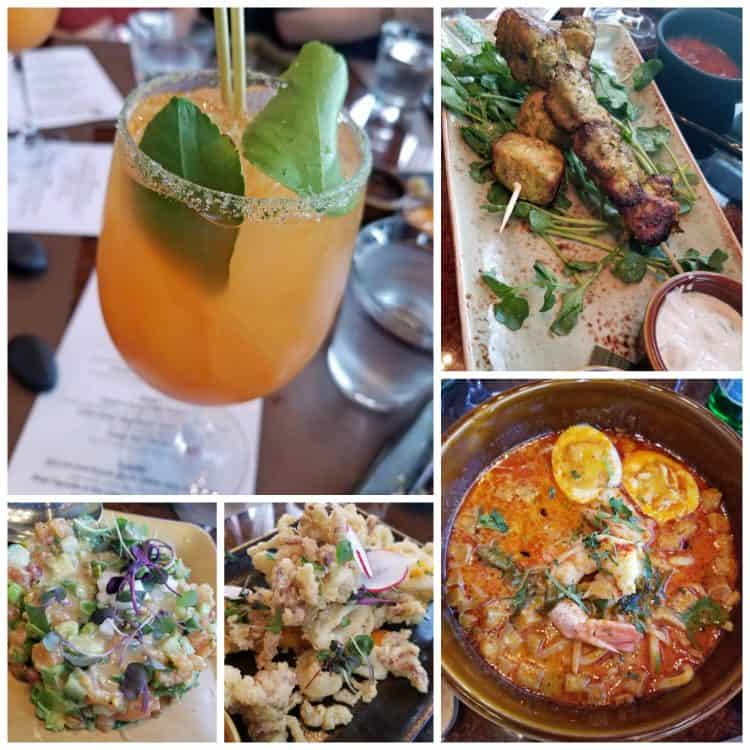 Thank you, Consumer Techology Association and MomsLA for a fun lunch time event! CTALA Lunch & Learn 2019 was an informative event where I got to 'work' while hanging out with friendly colleagues. Can't wait until next year's Lunch & Learn!