Do you ever look at those fancy oils in the store and cringe over the prices?
When I moved to the south, I had sticker shock over food prices. I kept hearing "such a low cost of living" and outside of Walmart's food prices, I hadn't really researched. I wrongly assumed that since wages were so much lower, living expenses would be too. Wrong. (I highly suggest that if you're moving ANYwhere outside of your normal locale, you pretend you live there for a day and drive around your would-be town. Check out the grocery stores, get insurance quotes, price clothing, craft items and whatever else it is that you'd normally shop for or buy. It could prevent a few OMG moments later.)
Anyway…we are a family of foodies. We love good food. Good food doesn't need to be expensive, with the right additives and ingredients. It can also still be healthy on the cheap. However, if you're in an area where a tomato costs a dollar, you either learn to deal with a higher grocery budget, less tomatoes, or canned tomatoes. (And you can totally can or freeze your own, which we'll talk about another day.) We opted for a middle-ground — we grow some of our own produce, we preserve what we can, we cut back on the expensive items and if we can, we make them on our own. That way, I can afford the fancy cheese (twice the price of what I'd pay in California) since I've saved elsewhere.
One thing I love to cook with is flavored oils and vinegars. I'm also big on spices, so we create mixes on our own, saving a ton of money. (Re-use your spice jars! It can cost more initally to buy your spices in bottles than in little bags, but the cost over time is much better.) This week, I wanted to make a stir-fry with a spicy kick, so I decided to take some of our dried, garden-grown cayenne and chili peppers and infuse them into oil. Score! It was SO easy. I took about 1.5 cups of oil (you can choose amongst many — olive, canola, vegetable, etc….each have their pros/cons and some would say never use vegetable, but for some purposes it works) and threw in the dried chilis, broken into pieces. I heated it on low/medium until the oil started to sizzle, without frying the peppers, then let it cool. Easy!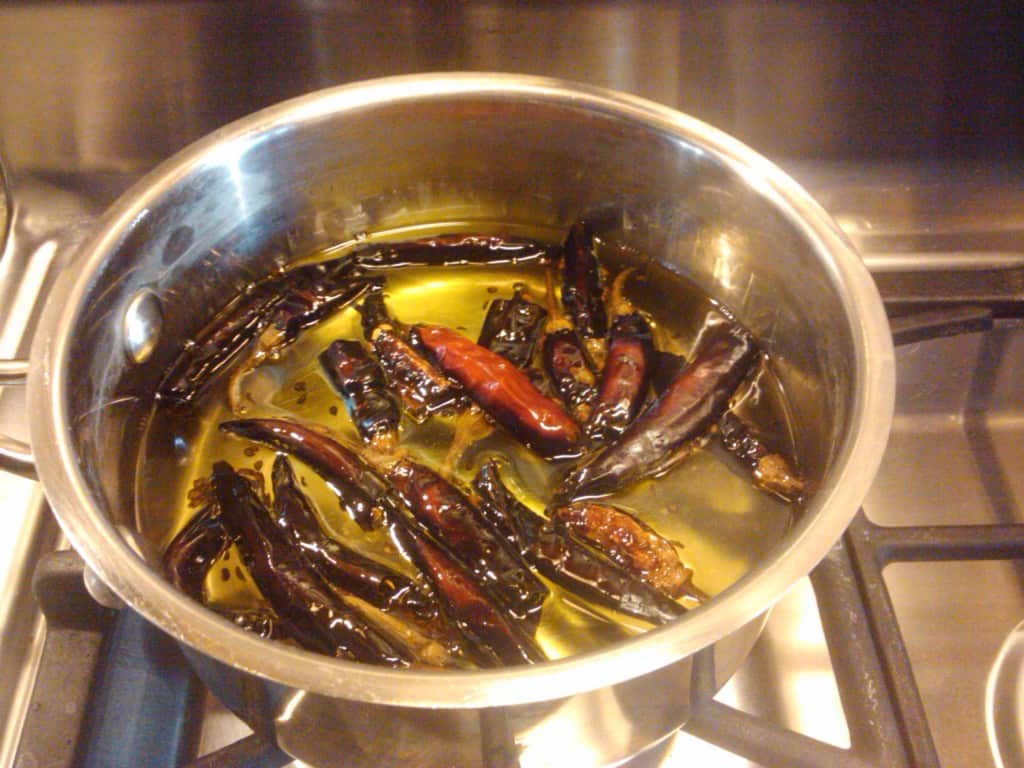 Now I can use the oil in my stir-fry to jazz up the flavor in a different way, and it can be used in a vinaigrette as well!
Off to plan my Super Bowl party menu. Yes, I'm that behind, but I now have a trailer in my driveway and boxes all over my kitchen. More on that later.