My almost-two-year-old grand baby LOVES dinosaurs. From Jurassic Park movies to dinosaur toys and books, she's got it all, so when I was invited to attend the new Jurassic Quest drive-thru event, it was a quick YES. So, let me start by thanking Jurassic Quest Pomona for inviting us!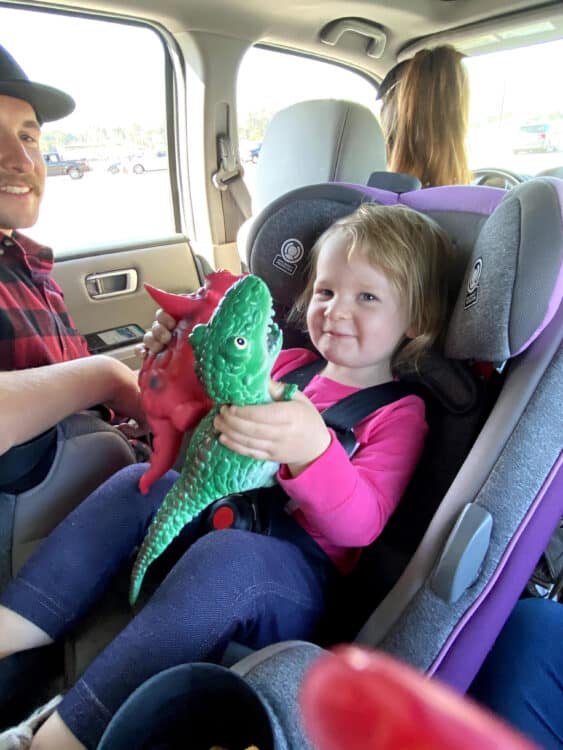 If you're looking for a fun, safe, family event, this is it. For $49 per vehicle (8 passengers or less), you get transported through time to the Jurassic period, surrounded by life-sized animatronic dinosaurs of all colors, shapes and sizes.
Jurassic Quest is touring the country, but tickets sell out fast! We arrived on Saturday morning at 8:45am and people were already in line. Entry was quick and painless; they scan your ticket at the gate, and you're on your way!
Vehicles are divided into two lanes, so everyone gets up-close and personal with the dinosaurs. After you enter, you'll be provided with a QR code that you can scan to take you to an audio tour. Signs are everywhere telling you when to turn on the audio and pause it so no matter how fast or slow you advance through the tour, your audio is always current with the dinosaurs surrounding you.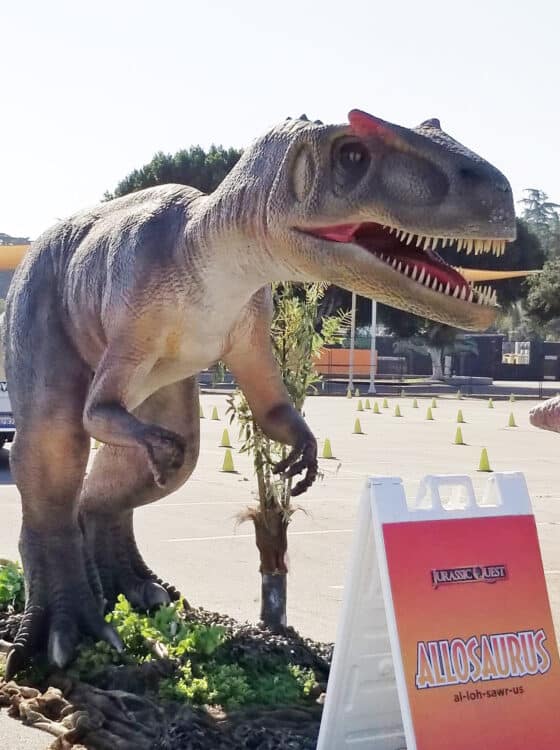 If you choose to not listen to the audio tour, you will still have a blast, as many of the dinosaurs themselves make sound, and all of them have signs to identify themselves. We kept ours on throughout but we also had an additional narrator with the baby — and her dad, who is and always will be obsessed with dinosaurs as well.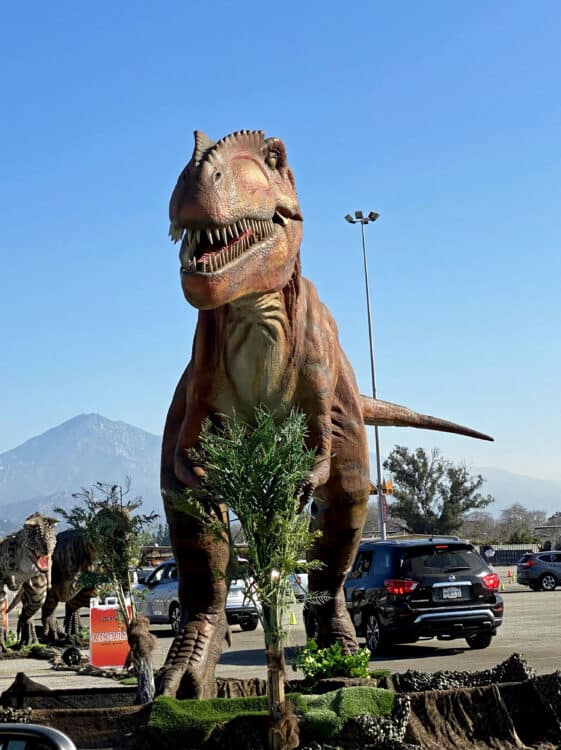 We had a couple of favorite scenes: the massive t-rex, towering in the sun, and the megalodon. He was massive and just felt a little too real, laying there and staring at us all. The dinosaurs are incredibly realistic!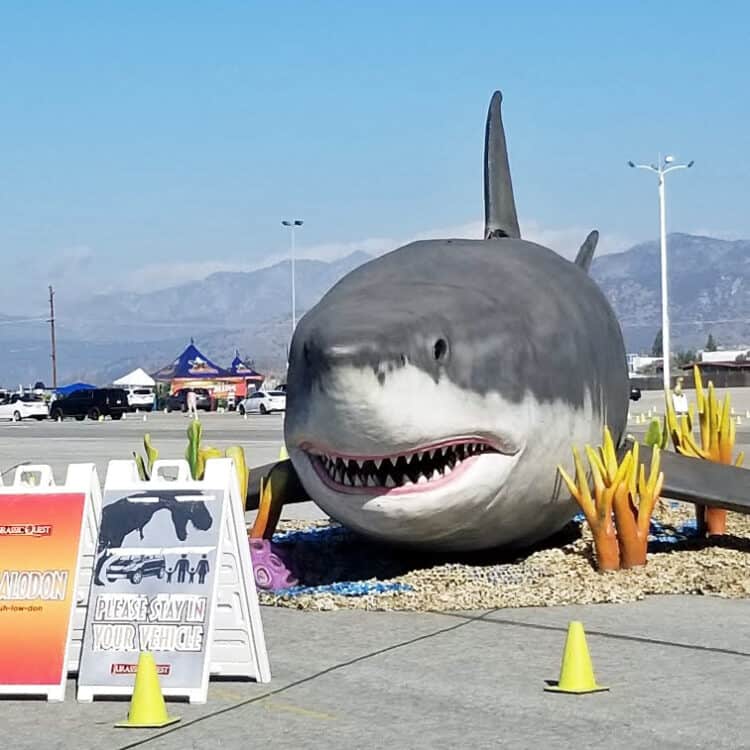 We also liked this guy, and the shot I got was perfect, with his silhouette making him look a lot more scary than he really looked.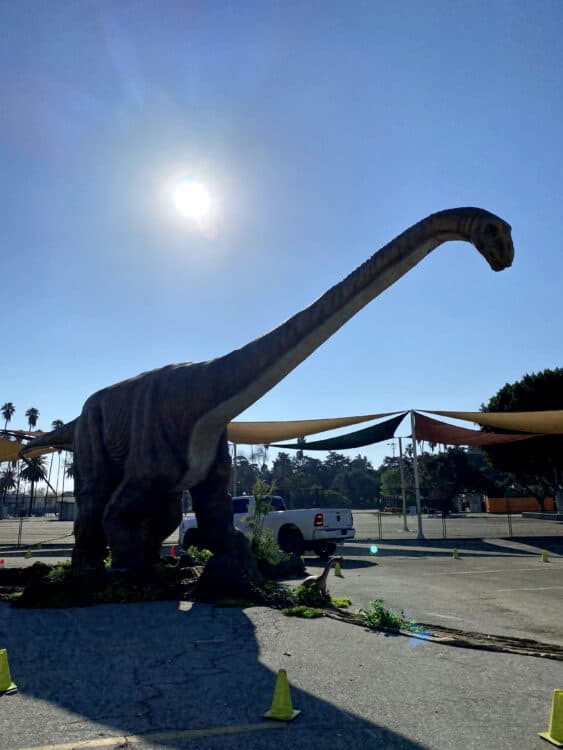 Safety protocol is in place. Masks are required when doors are open or interacting with staff, though recommended all the time as windows are open. Getting out of your vehicle is prohibited, but there are bathrooms available in a couple of spots. The entire tour takes about 40-55 minutes. We experienced almost no real delays, and even when momentarily stopped, we could see and hear dinosaurs in other areas of the lot, so zero time for boredom!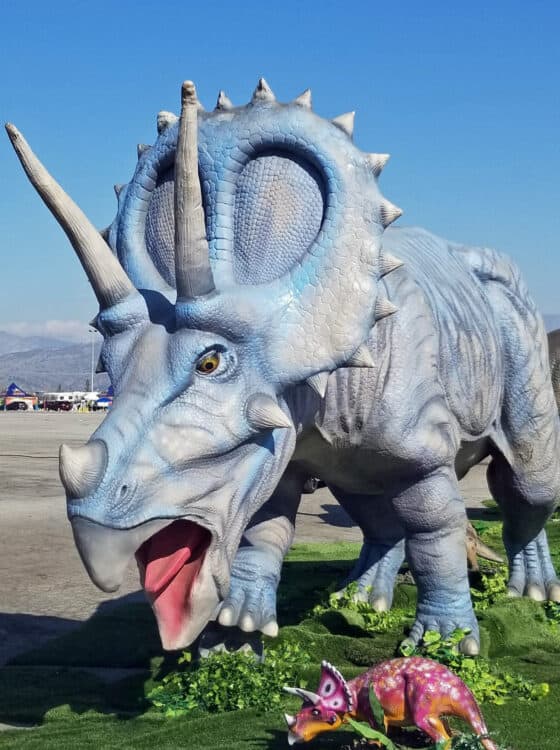 At the end of the event, there is a drive-through souvenir shop. Prices are fair and items are readily visible, so your transaction (cash or card) goes fast. They also provide a photo of your group in your vehicle as part of the admission.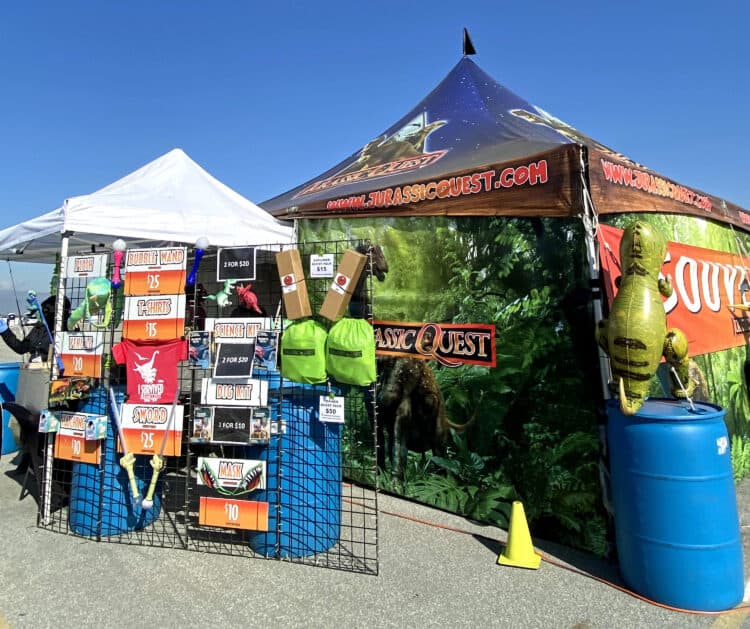 For more info, visit the Jurassic Park Pomona website — you can click around there for tickets and information about other locations as well. You can purchase add-ons as well, all described on the website in more detail.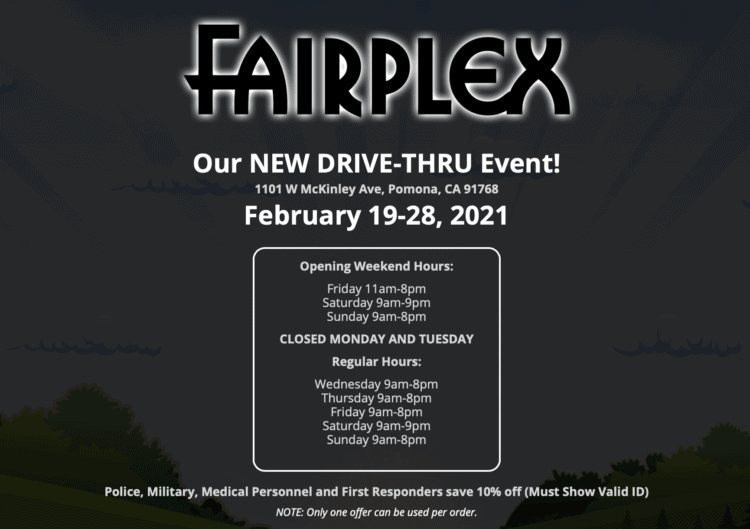 For $49, you'll relive a little of your childhood interest in these beautiful creatures. I guarantee you'll also get a kick out of the giggles of any small kids in your car…and others' cars. Our grand baby got a kick out of other kids saying hi to her across the aisles, and we loved hearing kids everywhere laughing and roaring back at the dinosaurs. Here's a brief clip of baby Charlie doing it in our car!
Thanks again, Jurassic Quest Pomona for the wonderful hour of fun!