I'm a dog lover, with two dogs who are important members of our family. They are indoor dogs, as one is an autism service dog and the other is a Yorkie princess who wants to be on my lap 24/7. The Labrador service dog takes a walk every night with dad, and both have free reign in the backyard. We think they are pretty secure, but nothing's ever 100% with animals, so when you can take any extra precaution to keep your pet safe, why not, right? Especially when it's low-cost.

Our dogs are chipped, but even a chip isn't a guarantee that someone who finds your animal is going to take it to the vet to have it scanned, so the new MyEndless ID Pet device could literally be a lifesaver. A small device that hangs from your dog's collar, it can be scanned with a cellphone, allowing your pet's profile to immediately be seen or the ID number from the tab can be entered at the myeid911.com website.
What exactly does your pet's profile contain? Most critical is the pet's medical history. The profile is easy to fill out. When you receive your device, you can enter it yourself on the website, and if you want, you can also give your veterinarian access to add anything additional. In my case, my Yorkie has only one kidney so she's on lifetime medications; I'd want anyone that found her to be able to get her what she needs until she's back in my possession. If a pet's on a special diet or has any other special needs, these can also be entered onto the profile.
While that's all super-cool, one thing that may be even cooler is that anytime your pet's profile is accessed, you'll get a notification via email, text or a phonecall, showing you that someone has read your pet's information, along with a GPS location. If your beloved pet does get out, you'll know where to go find her! This saves you the stress and worry of launching a Lost Dog sign campaign and gets your dog back in your arms quickly.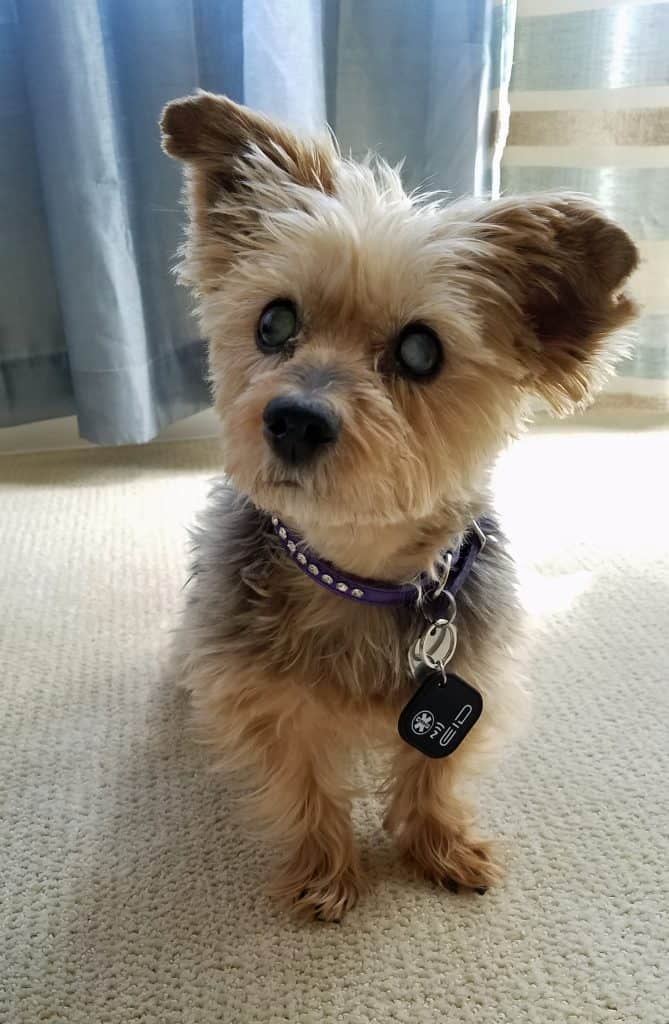 The system is easy to use. Light and small enough for even a tiny dog, it doesn't get in the way. The plastic casing is quiet, unlike city tags that dangle on your pet's collar throughout the day…though sometimes that's a great way to find where your baby is in the house. The device itself is $19.99 and includes a one-year subscription to the service, but if you want an added peace of mind, you can pay $50 for the device and some of the extra options, which includes the vet access, all without leaving the house as you would to chip your pet. (I'd personally do both, but getting your pet to the vet and incurring chipping cost can be prohibitive to some. To get our Lab to the vet, we have to use our truck, as he hates getting into any vehicle, and he can't jump in/out due to his back legs both having had ACL repairs.)
Take a peek at their website, where you can purchase the device and let me know what you think! Our babies are our family, so it's great to have products like this available for our furry babies.