When we moved here, I'd envisioned our grocery bill going down. Way down. I figured I'd learn how to can so much that we wouldn't have to buy much but pantry staples. I pictured our produce drawers full of beautiful garden greens and baskets hanging from the ceiling full of brightly colored fruit and dark red peppers twined together on the wall.
Then we realized how hot and humid it is here during the summer. How many bugs we have to contend with. The voles. The squirrels. The cost of a roto-tiller. How much you sweat while digging. How much you sweat while getting out the shovel. How much you sweat while walking from the air-conditioned house to get the shovel.
That's far too much sweating.
I don't mind sweating, but it's a lot to contend with when I'm the main "farmer-on-duty" Monday through Friday. Keeping a business going and working while doing that just adds to the challenge. Our garden plans were down-sized. And we buy a little more at the overpriced grocery store than I'd like to. (Nowhere else on the planet have I found produce to be this expensive. I think people are charging per sweat drop to get it to market or something. Seriously. Whoever said that small-town living can be more affordable did not visit here.)
We'd also planned on having goats, so I could make goat cheese, yogurt, and serve goat milk. We have over six acres but didn't make that jump yet, and at this point, I'm glad. I'd have become attached and we can't have goats where we're headed in California.
All that said, we're in good shape. We were able to focus on the things that did work and get good at them. Instead of learning how to grow the 15 things on our list, we have about 7-8 items in the main garden, mainly tomatoes and various types of peppers, along with corn and zucchini. That's all surrounded by fruit trees/bushes: lemons, figs, blueberries, raspberries, and more figs. The muscadine grape vines are growing in front of my eyes.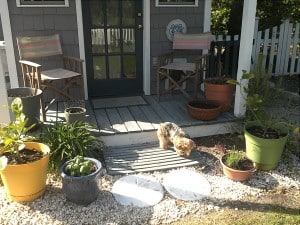 That's my princess puppy wandering around the studio porch.
My advice for those of you considering a move to the country? Dive in head first, but don't spread yourself too thin. You won't learn unless you try, but be realistic about your time. If you have a job, you don't want to feel pulled between it and the kids and the spouse and getting dinner on the table. Gardening and other homestead tasks aren't always fun, but you should be able to enjoy it. While I don't have the garden bounty I wanted, and would ideally have, I have what I can handle, and that's important. Because I'm not overwhelmed, I am not wasting anything I pick. I am able to keep the garden weeded and if an ant hill pops up, I can find it before it's out of control. (And here in the country? Ants are as common as the rain, especially fire ants, which I happen to be drawn to like a magnet.)
Research. As we were planning the move, I bought The Encyclopedia of Country Living and the Southern Living Garden Book. I learned about zones, where to plant and when and how. I stood in our pantry…not once, but many times…as well as in front of the refrigerator, coming up with a list of the things we eat consistently, what we'd like to eat consistently, and using that along with the research I'd done to choose what we'd plant. I went through seed catalogs and wandered garden stores and nurseries. You have to take budget into consideration, but if you shop around, there are a lot of deals to be had. I spent probably $15 on pepper plants and now I have fresh peppers in a variety of colors, sizes and heat levels to throw in my every day cooking. (That may sound like a weird priority, but coming from Southern California, where Mexican food is all around us and we are used to eating it several nights a week, peppers are always in our home.)
Not being able to grow all that we wanted isn't affecting our menus; each week, we still eat home-cooked meals 95% of the time, and some weeks we hit 100%. My goal is to each week take one more thing that I was buying and finding a way to recreate it on my own for a lesser cost and without additives, preservatives and dyes. I'll let you know what my next item is!
Next up is finding where I can easily buy goat cheese and pecorino. It shouldn't be this hard, in an area surrounded by cows, but I have learned that just because you're in the south, it doesn't mean that people will eat southern or that people everywhere know what finer cheese is. Driving too far for a good cheese means I either have to buy in bulk and find a way to preserve it, or have it only now and then. Neither is a great option, but until I'm about to close escrow, I'll sure be looking.
Off to check weather.com and see if there's an end to this humidity, even somewhat, in site!