I am a big planner. I want to live with purpose, but I've got so much going on, between the blog, the social media marketing business, the family, work and more, that I can't juggle with it all in my head anymore. I keep a lot of lists, including a pad next to my bed nightly so I can do a brain dump before bed. If you don't do that, I really recommend it. You can sleep without worrying you'll forget something and if you wake up in the middle of the night with an "oh no" moment, you can remember to jot it down for the next day.
Lists help me keep it together successfully, but there are time I need more. I tried a bullet journal, but I had a hard time setting up so many of the pages, and all the journals I saw were so creative…I have to find time for that, too?
In comes the Turtle Journal. They are solidly bound, the perfect size for stuffing in my purse, and they're attractive. I'm the proud owner of three complimentary 90-day journals, courtesy of Turtle Journal itself, so I can test them out and tell you all about them.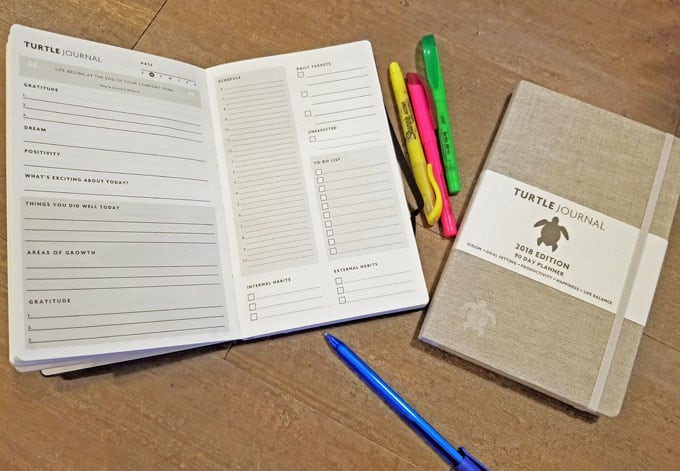 They're also incredibly inclusive and intuitive. There's a place for everything, and even a few categories I didn't think of.
Each Turtle Journal is a 90-day journal, with daily pages and weekly pages. The daily pages give you space to notate goal setting, gratitude, productivity and life balance. There's a schedule list, so you can keep track of your appointments and timed tasks, and a separate To Do list.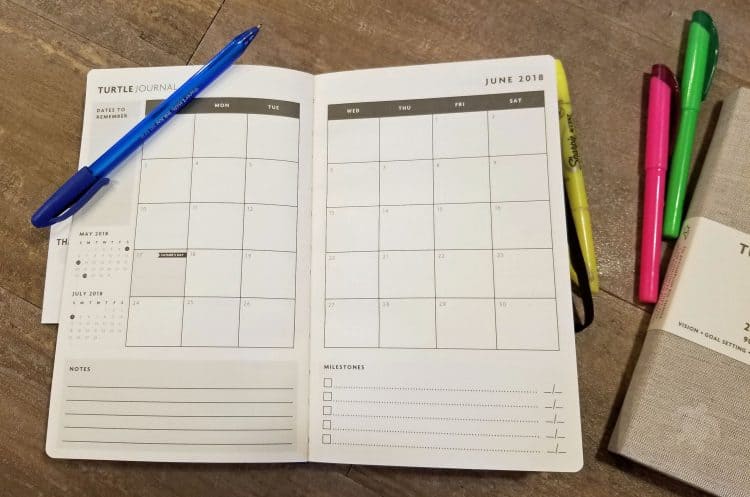 The weekly review page allows you to survey how the week went: things you did well that week, did you make progress on your dream(s), and if not, why not? You can talk about your focus on growth and keeping balance, allowing to look back on what you may need to do differently going forward, using this information to help you with the weekly planning page. That page gives you space to reiterate your dream, why it's so important to you and more space to write out goals.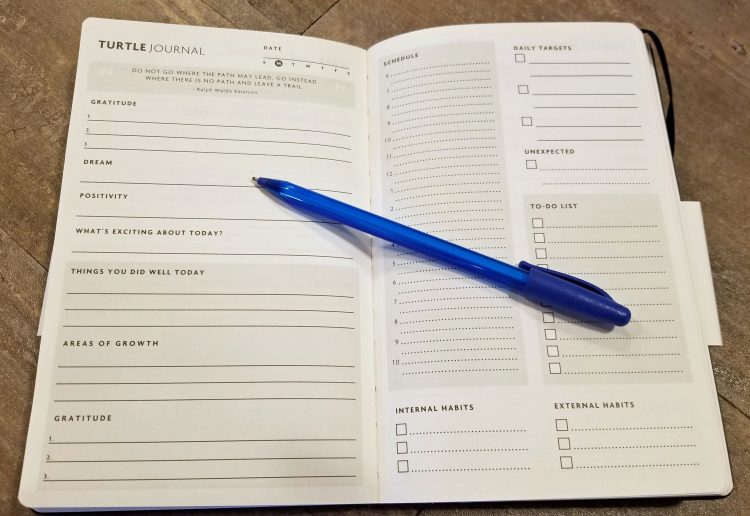 Bringing all of this together is not only an organizer, but it really is a journal. I can consider last week before I plan next week, but even better, I can look back 60 days ago and see my progress, or see where I have patterns of behavior that may result in lack of progress. For a person that's not so good with criticism, this is a self-focused way of staying on track and I love that!
There are currently two different versions of the 90-day planners available — light sand, including emojis, and dark charcoal, a simpler version with checkboxes in case you aren't a fan of the emojis.
Each of the journals go for $25.99 and include a flat-lay binding, non-bleed paper and are made of eco-friendly, recycled paper.
Live with purpose. Design your life. Do it all easily and affordably with the new Turtle Journals, available online now!