A couple of weeks ago, I had the distinct pleasure of a visit to the Los Angeles Chocolate Salon, which was actually held in Pasadena on October 6 and included tequila and olive oils. This was my first attendance at such an event and let me just say that I've never seen so much chocolate in one place outside of my visit years ago to Ghirardelli in San Francisco!
The smells…the colors…the tastes. Amazing! I didn't want to leave yet I couldn't take one more piece of chocolate. Much like wine tasting requires you to cleanse your palate in between flights, so does chocolate, and if I had any gripe at all, it's that there was no water or any 'cleanser' available in the main venue area itself. (On the way out though, we did find ice cold water coolers upstairs! Ahhh, Heaven.)
The show was overwhelming, to say the least. I learned so much about chocolate – its creation, its use, its coloring, its consistency – that no one blog piece can cover it all. Instead, I'll cover several of the booths and share photos. (I would have done them all, as I took photos at most, but honestly, a few of the booths appeared less-than-interested in talking about their product and others were just too swamped to do them justice. So sorry I missed those!)
When we walked down the stairs, we were greeted by a CocoTutti sampler – what a way to start!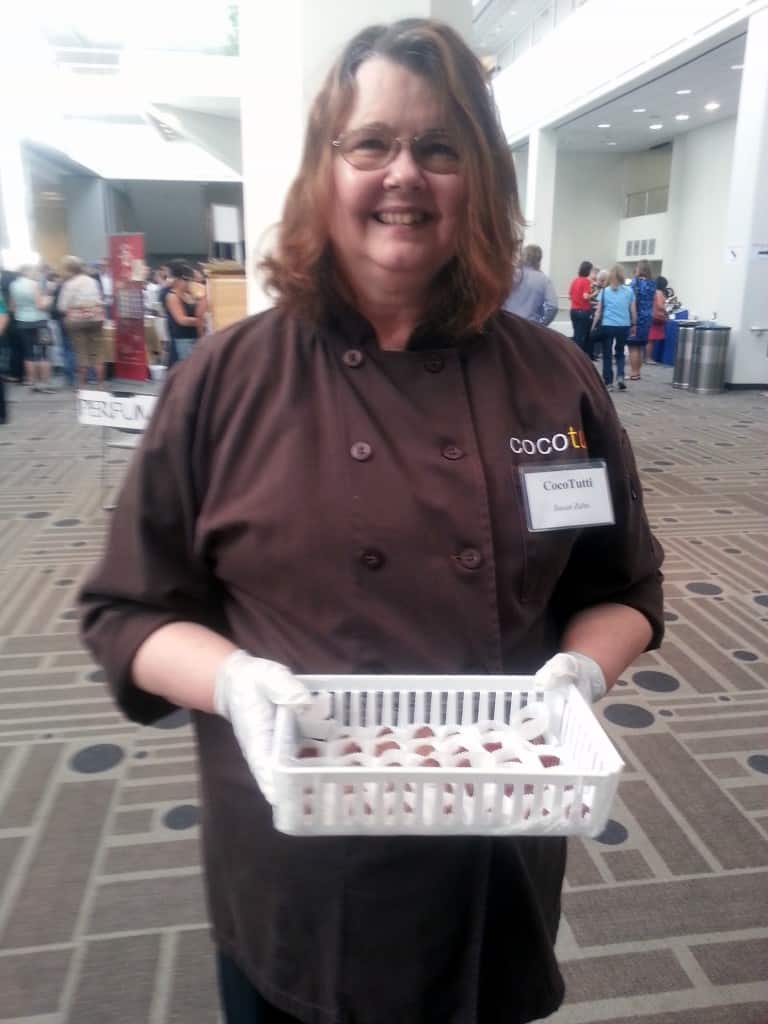 The raspberry chocolate was amazing – rich and fruity – and it paved the way for the rest of the day. We wandered by the Toffee Talk table and ended up at Chuao, where I could have bought two of every flavor they had available and still wanted more. The novelty of a bar of chocolate that pops in your mouth – who knew? You must try one to fully understand. Picture pop rocks mixed with your best hot chocolate and yummy flavors like chipotle? It was the first thing I bought. It's going to be enjoyed, slowly, with red wine, friends, and a few hand smacks if I have to do it to make it last.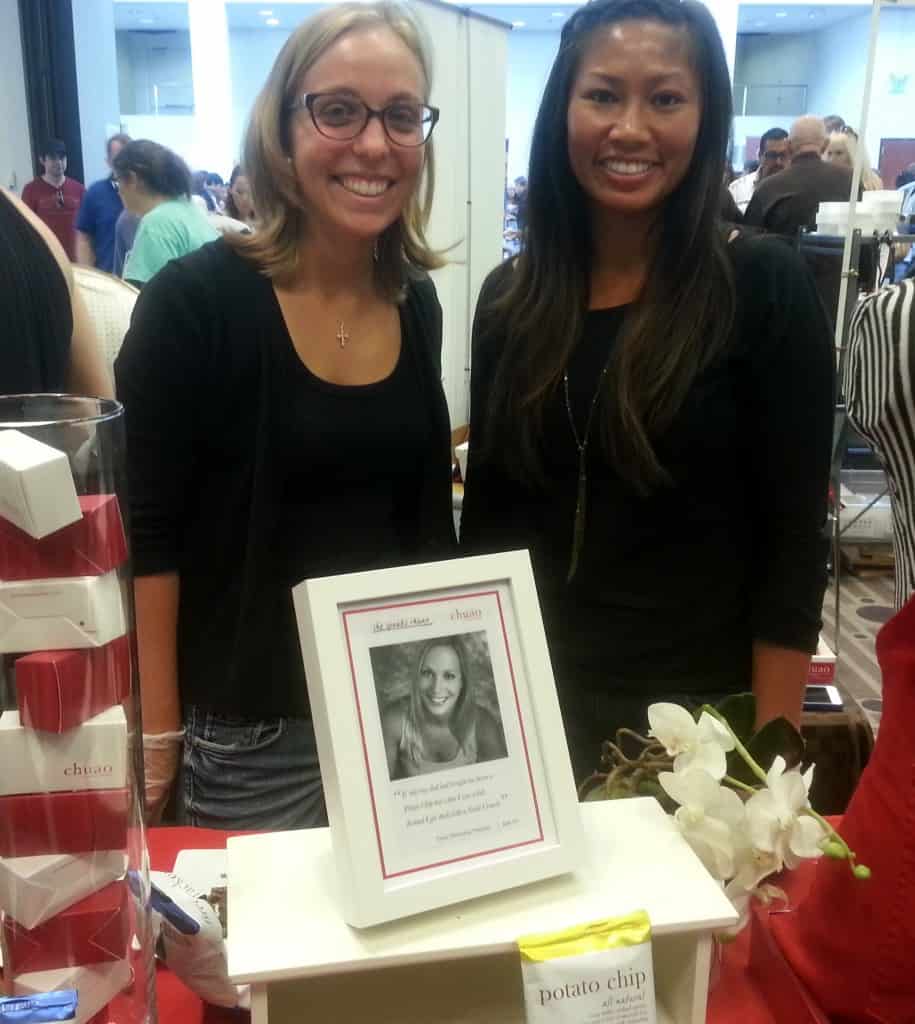 The lovely ladies from Chuao were very friendly and the first that we really talked to.
Valenza Chocolatier was probably a top three of the day, and not just because my husband fell in absolute love with their Limoncello truffles. Look at those colors, aren't they amazing? Valenza is located in Costa Mesa, California, and trust me, they are worth the drive! They are relatively new on the scene but it doesn't show in their fine chocolate. (I want more of their espresso truffles!)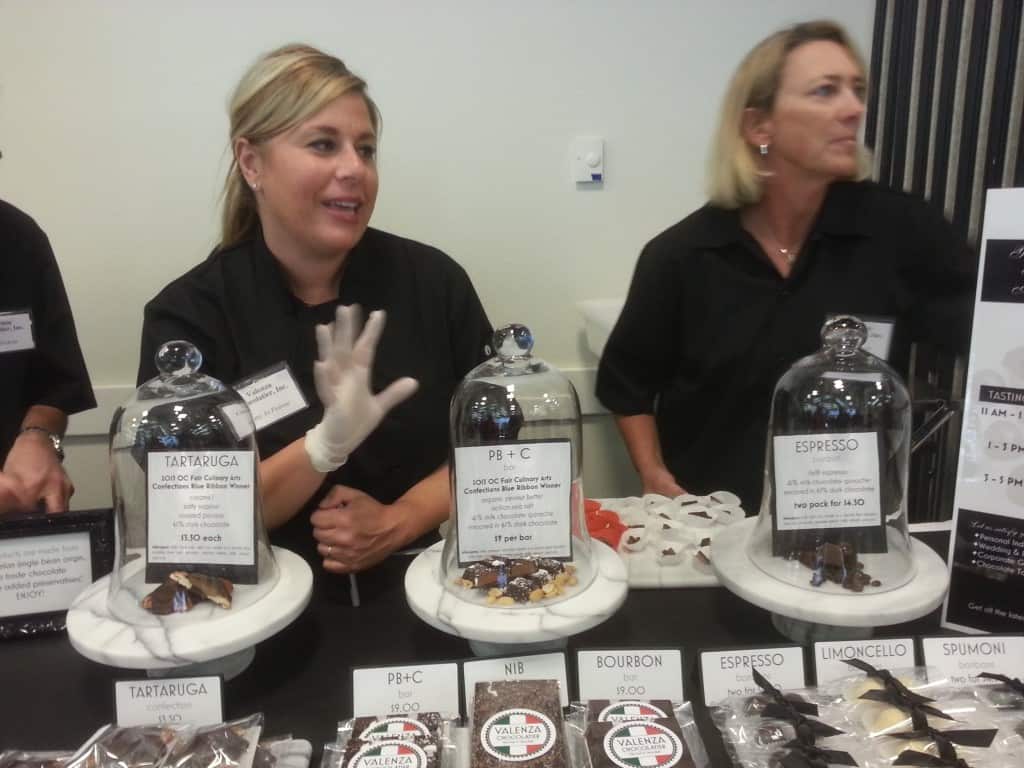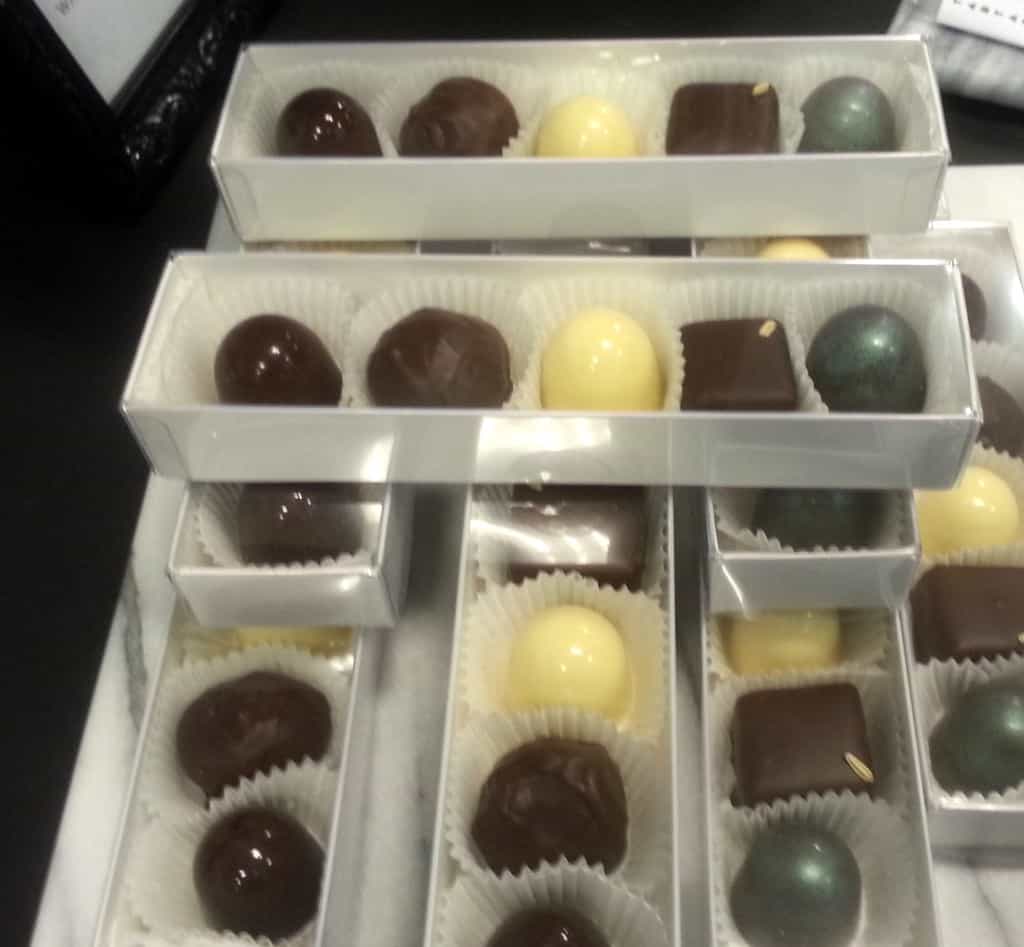 Ever seen a chocolate shoe? Me neither..until the salon. Isn't it gorgeous? Chocolates by M. Josephs can make these and ship them to your event!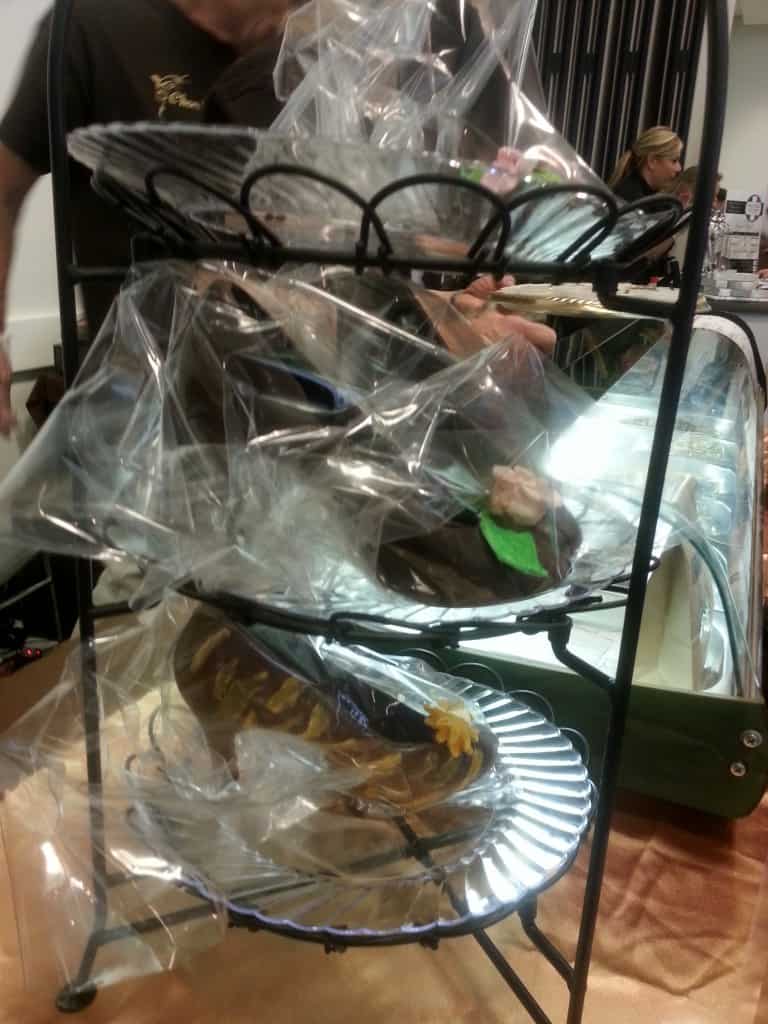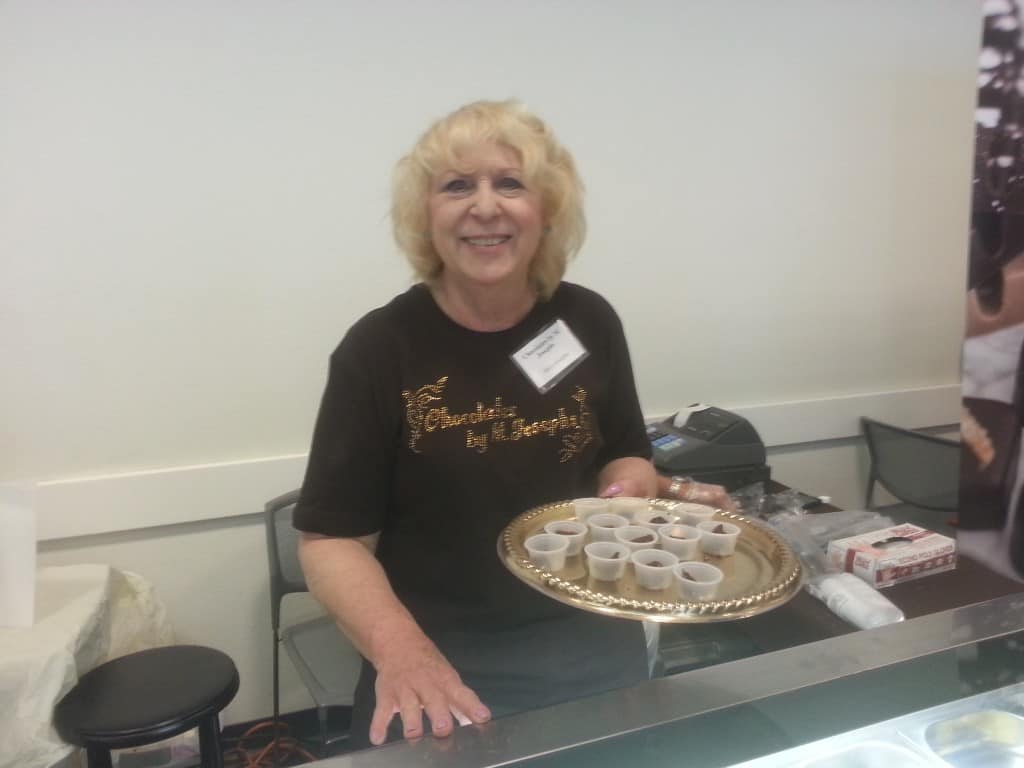 I am a big vinegar lover. Big time. Ask my family, especially my daughters and sister who helped unpack my pantry items here in the new house. "More vinegars??" Yes, please. There are never enough. (And now I have been gifted with a "How to Make Vinegar" book so I can make even more! Score!) Anyway, if you are a lover of good balsamic, the authentic kind that doesn't drip off your spoon, check out Leonardo e Roberto's Gourmet Blends. I must have tried six different kinds, at least, and I kicked myself later for not being a six-pack sampler. Yum.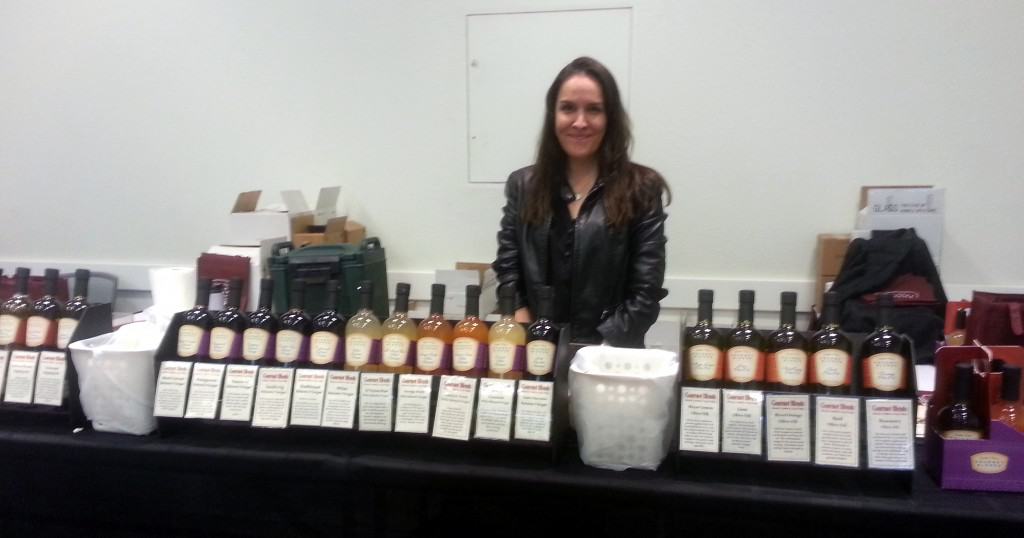 You've heard of Dove Chocolate before, right? Did you know they also have a Dove Chocolate party line now? Now that's a party I want to go to! You can find more out here. I'd be horrible, I'd be baking with everything so much, I'd never get around to selling! Theirs was a friendly booth with a lot of samples and ideas, and I especially liked their sign.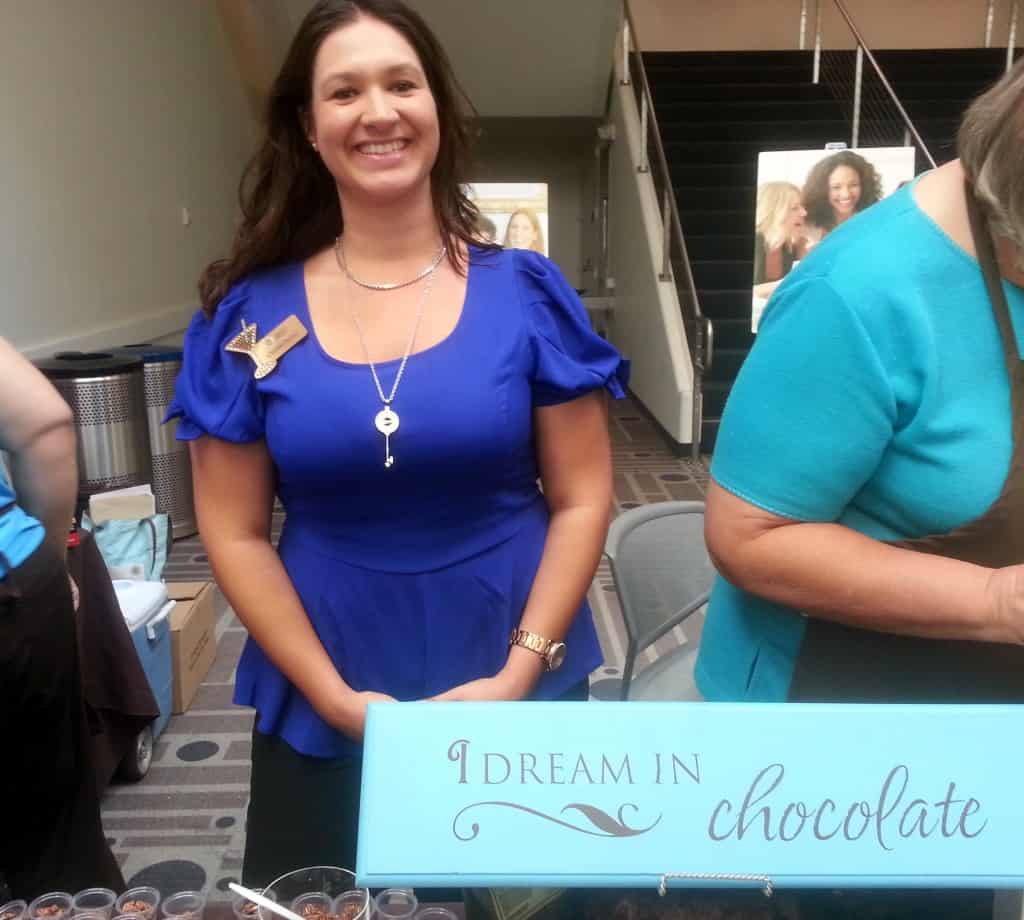 Wine. Wine and chocolate. Perfect match, right? The Chocolate Shop, makers of the Chocolate Lover's Wine. Yum. No more words are needed. I had a picture of the beautiful girl behind the table but it's too blurry to use, no matter how long I spend in Photoshop. My apologies to her, she even posed for me…after I sampled the Chocolate Covered Strawberry Wine. (Maybe that's why my picture came out blurry?)
Do you like jerky? I love it, except I can't eat beef and most places don't make good non-beef jerky. Enter Krave. Not only were they uber-friendly to talk to and quite generous with their samples, but their flavors are good. Black Cherry, Chili Lime and Sweet Chipotle, to name a few. How to choose a favorite?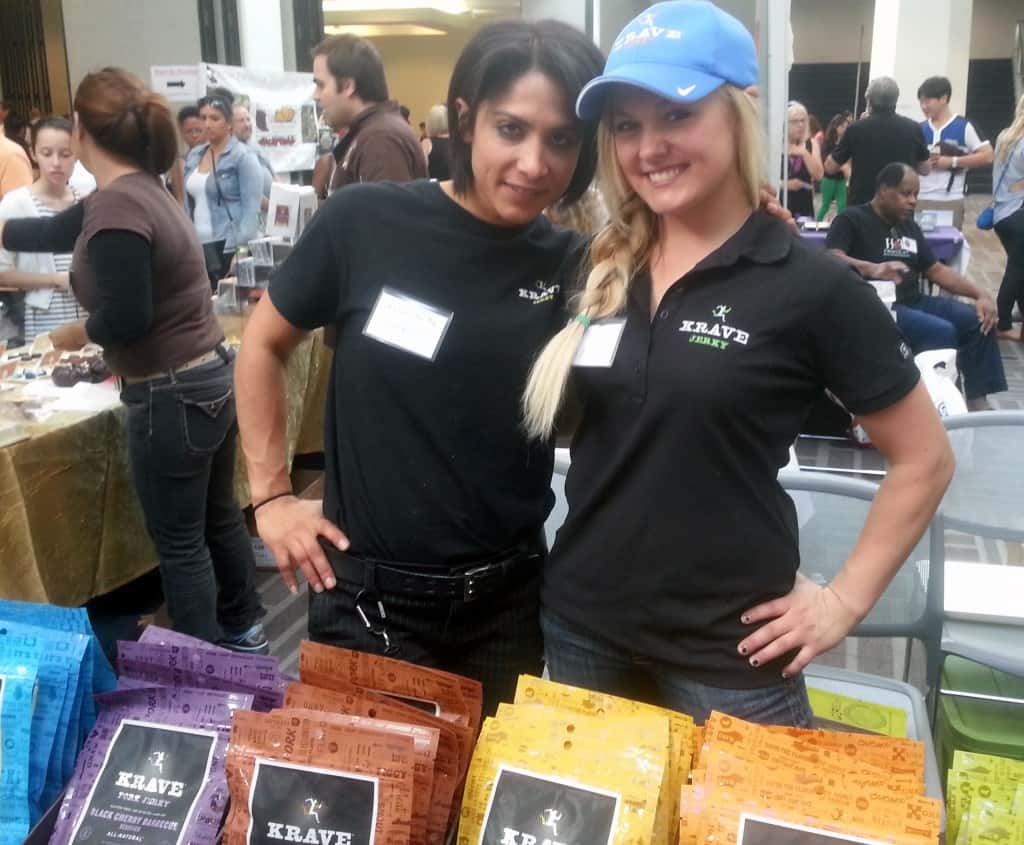 If you haven't figured it out already, I'm a spice-lover. Chipotles, jalapenos, anything along those lines and I'm all over it. Enter Marco Paolo Chocolates. What colors! They were amazing just to look at. I am not really aware of all the work that goes into being a chocolatier – I know just enough to make fancier cupcake toppers, and am dying to learn more – but I was inspired. The pomegranate-laced sampler we had from Marco Paolo was amongst the best of the whole day. (And their crazy tiny uber-cool business cards? Love them!)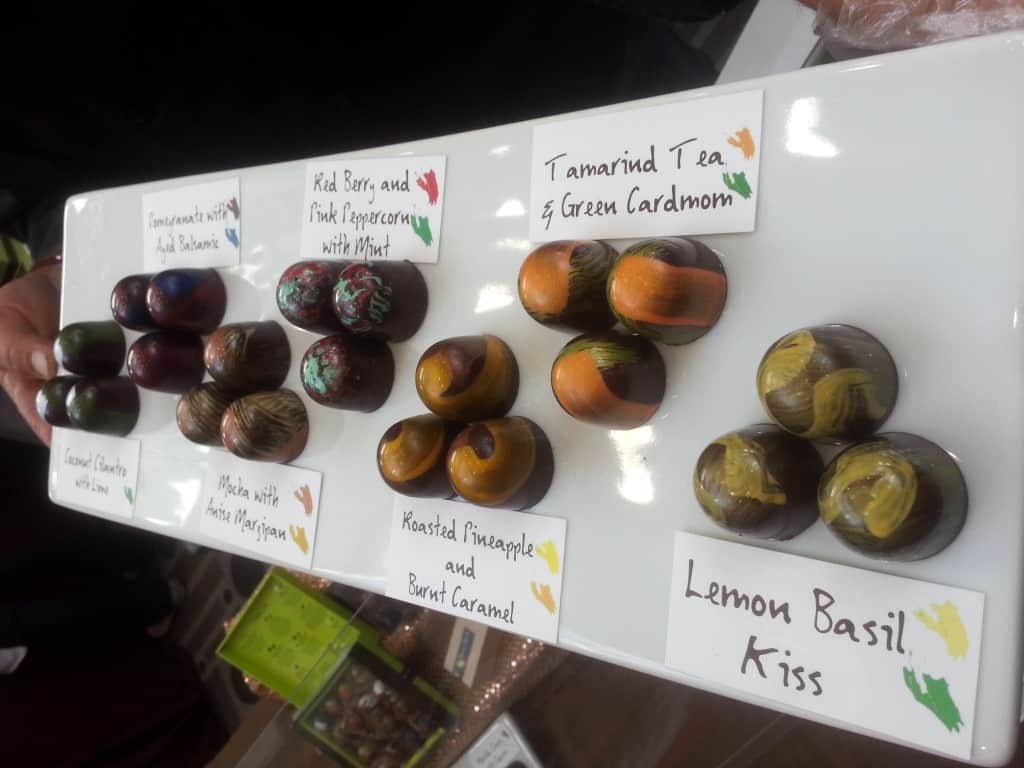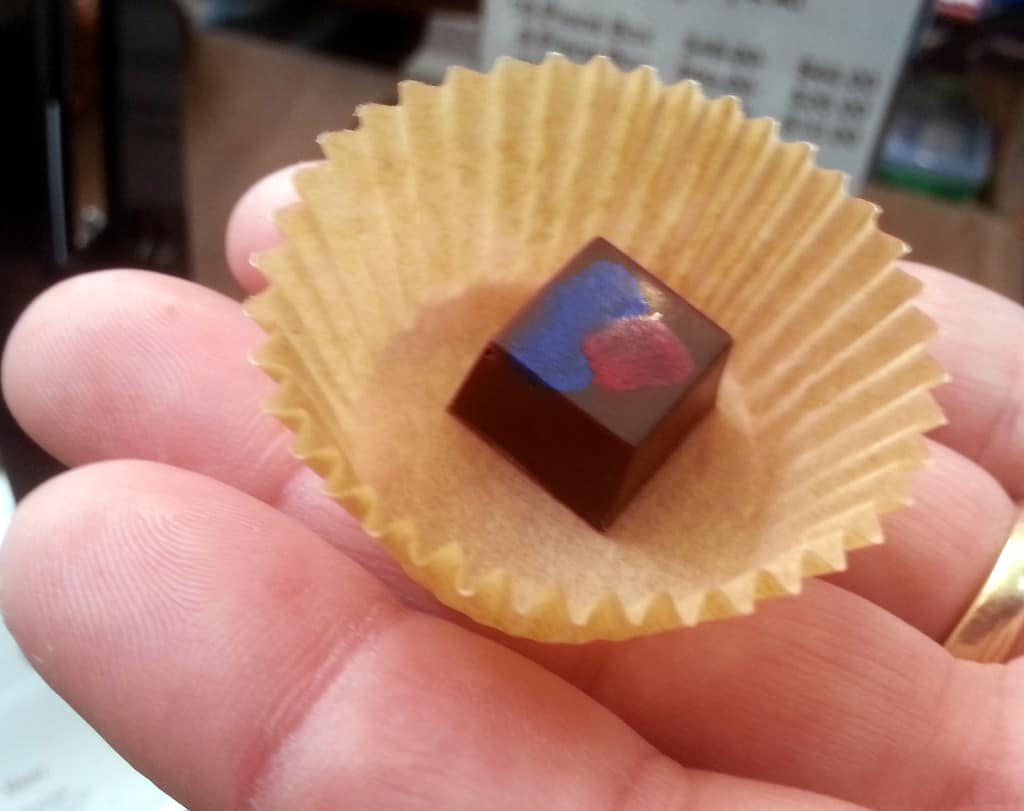 And my coverage of the event wouldn't be complete without  mention of Tequila Alquimia, the only USDA Certified Organic tequila in the United States. The owner, an eye doctor who believes in sustainability and healthy treatment of ourselves and the earth, was serving up samples of three kinds of his gorgeous tequila. I only tried two – they were good-sized servings! – but my husband tried three and was a diehard fan from the first sip. In fact, he's so much a fan that we hunted down a place to buy it on Saturday on the way home from a beach trip where we kayaked like crazy people across the ferry and boat channels. It tasted just as fantastic here in my kitchen as it did at the salon and it's well worth its higher-than-average price. Check it out – if you are a lover of tequila, you can't go wrong. We prefer the blanco, but the reposado rocks as well.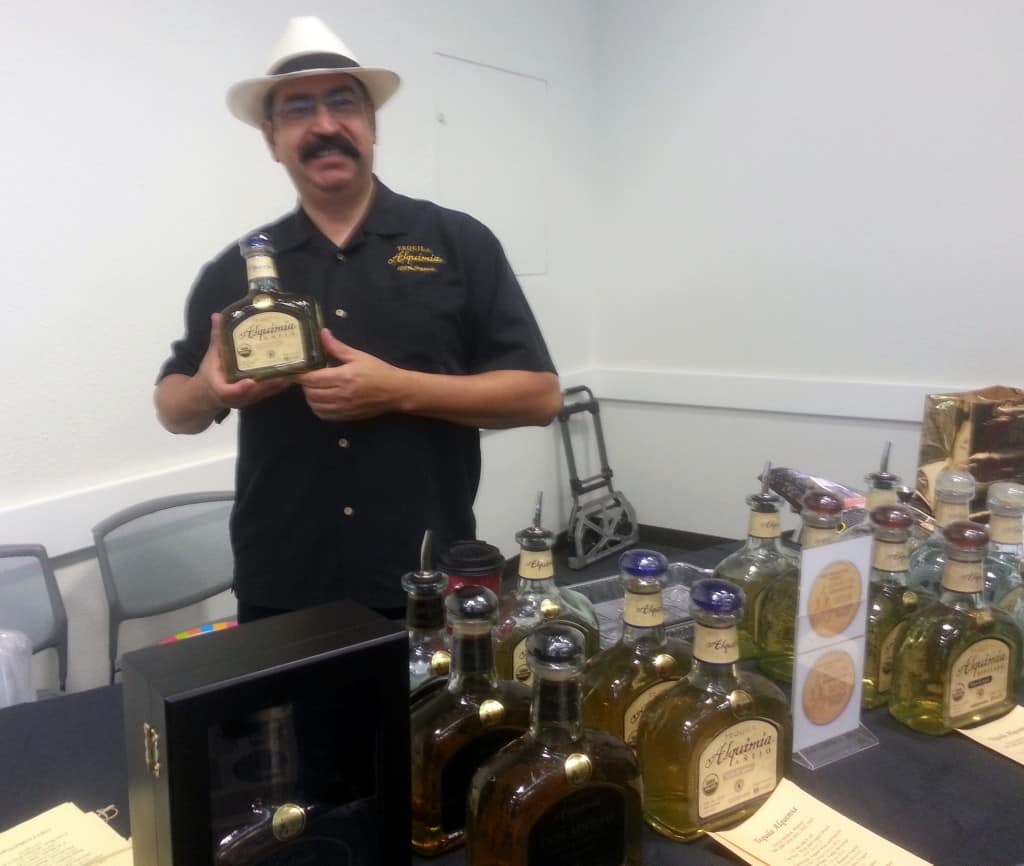 I'll end this with a random selection of other photos I took throughout the day to give you an idea of the variety available. And the chocolate perfume? No words.
Viva la Chocolat!