I've mentioned once or twice…or forty or fifty times…that we're NASCAR fans. We're also huge holiday fans so Christmas is a really important time of year in our family. Lights, decoration, music, then the food and the fun and the family, we love every single second of it. This year, we get to combine two of our favorite things at the Magic of Lights at Auto Club Speedway!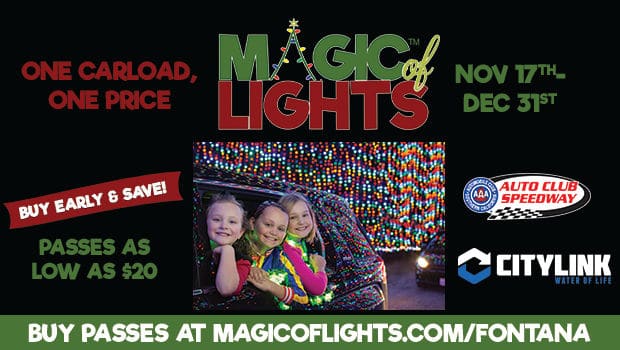 The Auto Club Speedway, which used to be known as California Speedway, is located in Fontana within 10 minutes of our house. We know the speedway inside and out, as we've ridden on the track, camped in the infield during a NASCAR race weekend and tailgated many times in the parking lots. There's no NASCAR race until March of 2018, but we welcome any opportunity to attend the track. Such history as well as amazing memories for us that we'll have forever.
If you like Christmas lights, consider putting the Magic of Lights at Auto Club Speedway on your holiday list of things to see! Tickets are $20 per car in advance, or $25 per car if you purchase them at the gate. You can also take advantage of early bird pricing and get the carload in for only $17. The show runs from November 17 through December 31. One carload, one price! (We're going to be bringing our SUV, which seats eight! With a big family, we want to be able to enjoy it all together! I'm attending with complimentary tickets in exchange for telling you about this holiday event that will probably become an annual family tradition.)
There is also a front of the line pass available, also called a DASH PASS, and there is special pricing for oversized vehicles. A portion of the proceeds will go to benefit CityLink, so not only are you having fun, but you're helping out those in need.
What is Magic of Lights? It's a 1.5 mile drive-through holiday lights experience, featuring more than 400 spectacular displays utilizing the latest LED technology and digital animations. It takes about 20-30 minutes to drive through entirely. I can't wait! We have done a few of these before but nothing this close to home or this affordable. I hope you get a chance to visit Magic of Lights at Auto Club Speedway. We have a lot of cool stuff out here in the Inland Empire area of Southern California and it's always great to be able to share them with you!
Merry Christmas!