In keeping with my need to get those 12 pounds off, I've got to stay consistent with my running and other cardio. Last week, I took my first legit Zumba class up at Holman Ranch and I honestly loved it. I'm now on the hunt for a class to take regularly in my area – though a class at a winery cannot be beat.
I like the freedom of running, the peace and the 'life at your own pace,' but I also tend to get bored, so I always keep music on. The music helps me stay on pace while enjoying the chance to listen to a whole song without an interruption. It's also great for mind games: "Get to the end of this song before you slow down!"
In California heat, or any that's as nasty as July and August out here, we ladies sweat. It's not a glisten or a sheen, it's a sweat that runs down our foreheads and the backs of our necks. It gets into our ears and if a set of headphones or earbuds don't sit comfortable or they get loose due to said seat, it can be miserable. Having to slow down to adjust your running pants or tie a pair of shoelaces is annoying enough, but when your earbud falls out, it really messes with your mojo. I've tried out a lot of pairs and was really excited when Panasonic contacted me to offer me a complimentary summer workout set to help me stay on track and have a summer adventure. (This post is a review of those products, with my own opinions and photos.)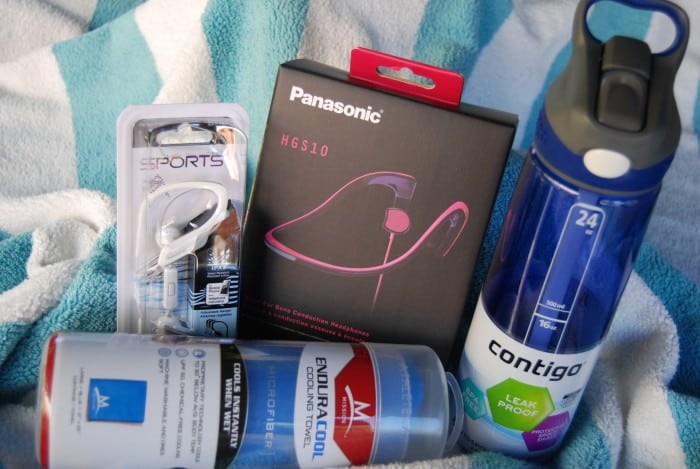 It includes a pair of open-ear bone conducting headphones, an over-the-ear earbud set, a Misson EnduraCool™ Instant Cooling Towel and a Contigo AUTOSPOUT® Addison Water Bottle. (Ever tried Contigo products before? If you want something to stay hot or cold, they're a must-have. My Contigo coffee carpool mug is my number one road trip item; that caffeine, I mean coffee, stays ho for a few hours.) The cooling towel is a fantastic way to wrap your neck or mop your forehead and the Contigo is so easy to carry! I don't normally carry water on my shorter runs (5k or less) but when I do, it needs to fit in my hand easily and be easy to drink from…or pour onto my head…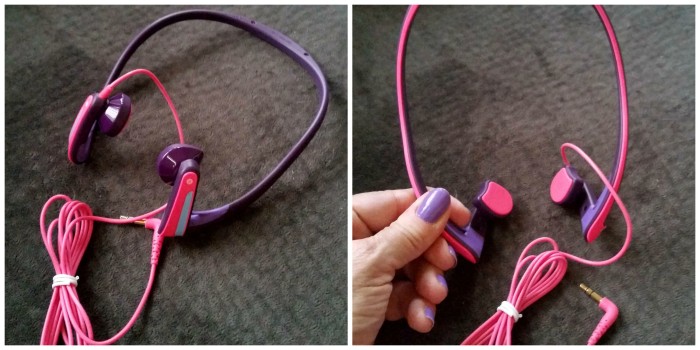 The Open Ear Bone Conducting Reflective Headphones (available at the Panasonic website here)  are a unique approach to listening to music on your own. I've never tried a pair like this before, and I initially put them on totally wrong. These don't sit on the top of your head like other headphones, but around the back of your head. I was concerned they'd slide with activity, but I didn't experience that at all. The pads in front of the ear conduct the music/sound through your cheekbones, allowing you to still hear other sounds – like cars, if you're running/walking outdoors – while enjoying your music clearly. They also don't have slippage due to sweat nor did my ponytail get in the way at all. And the color? I got the purple/pink combo and love how they match so much of my running gear!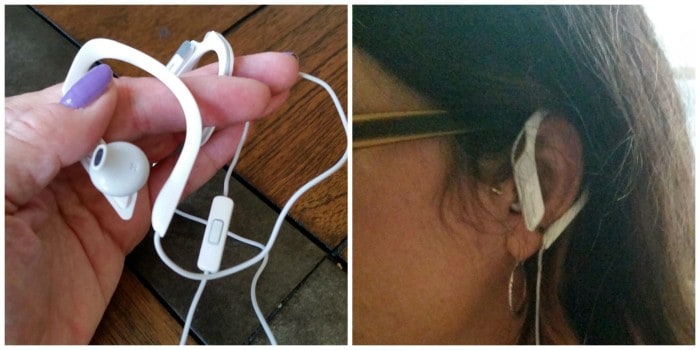 The Panasonic Sport Clip Headphones, or around-the-ear earbuds, were equally cool. I've got a pierced tragus on my left ear, so I'm always a bit hesitant with earbuds as the back of the earring can get in the way of the earbud sitting solidly. Not a concern with this pair as they still sat snugly in my ears and didn't jiggle. It felt a little different while wearing my sunglasses (prescription) so I did have to do a little adjusting but not enough to not wear them. I was able to take a phone call with that pair, which is a definite plus while out running or even just during a cool-down walk.
Panasonic has quite a line of headphone products available, and I'm thinking my son would really enjoy one of their soft over-the-ear headphones for his gaming. Now that he starts high school in August, he's likely going to need something quality to drown out the excess noise while working on graphics or videos in his computer classes or AP English. (Proud mama here who will do anything to help him succeed and be happy in school!)
Thanks, Panasonic, for sending me this gear to help my summer activities be more enjoyable and to help erase the excuses that I can come up with to not get out there and move! Having fun on your run, staying as cool as possible and probably most of all, staying hydrated – I got it covered and I'm all set for a summer #PanasonicAdventure!