Last year, I made jars and jars of fig jam. SO good. While the figs are coming in faster than I can pick now, I had a flat of peaches I needed to use before they spoiled.
After a lot of internet searching, as I knew I wanted to make a unique peach jam with an almond infusion of sorts, I found this recipe by Abby Sweets: Peach Amaretto Jam.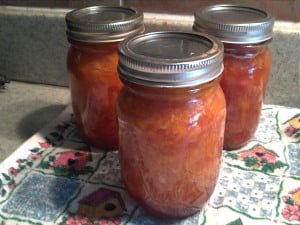 Tonight, once it cools off a little more in my kitchen, I'm making English muffin bread, which you can find here. The two together? Who needs dinner!
Stay tuned for tomorrow's new weekly blog piece: Life in the Country! Before I moved here, I had a bunch of romantic notions about what it would be like. Considering moving to your own little piece of private Heaven? Come back tomorrow to get an idea of the reality of it!