**This post is sponsored by CyberLink but the photos, screenshots and opinions are my own.**
As an online content creator and social media business owner, I'm frequently tasked with creating videos. I have big ideas and take a lot of good footage, but when it comes down to processing it into something enticing, informative and concise, as well as entertaining, I come to a screeching halt. What app to use? What video creation software is best to use on my laptop? What works for slideshows as well as video?
So many questions, so little time! When I was approached by Cyberlink to do a review on the PowerDirector 18 program, I jumped at it. I'd heard good things about the program but had yet to test it out. At $149 online, I was worried it would be more than I needed, but I was wrong. I've only had it for a week and while it does have all the bells and whistles, I can actually see myself using them. More importantly, I can see how this program will make me want to do all the things.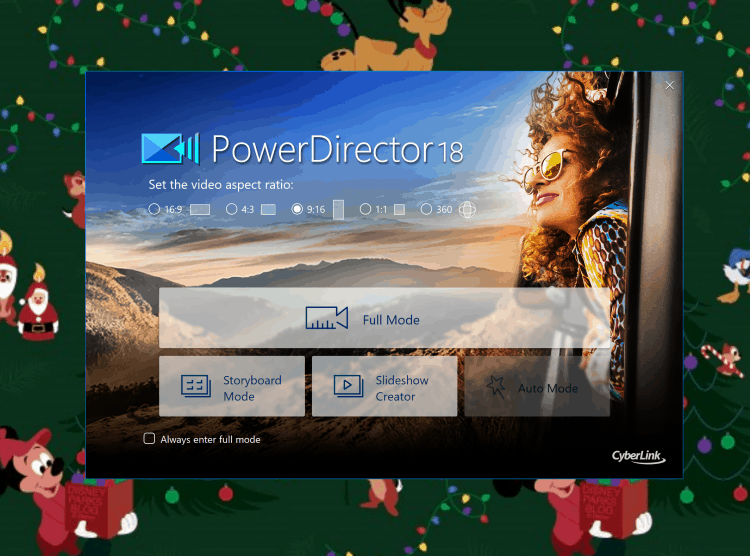 The program is a full-force version of a video creation app you may have on your phone. It does slideshows and videos, short and long, with music and sound effects, voiceover options, transitions, text, sub-titles, and more. Gone are the days of agonizing over putting videos in order, trying to make them segue smoothly and adding text that gives people time to read it without lagging.
There's also a version of the video editing and creation app for your mobile device, and it's got everything you need. I was able to replace all my other video creation apps. It's available for iOS and Android. As an Android user, I feel like we often have less than optimal choices for professional video creation, so PowerDirector has filled a void for me. Bonus: the app is free! (It is less robust than the paid computer version but you will still be able to put together the videos you need to shine on websites and social media shares.)
Add a title to display before the video starts, add text to the videos, change duration, add transitions, or even make it into a pop art type of display. It's all easy and you'll have a video or slideshow made in just a few moments. There's something to be said for having the full benefit of a keyboard. I created a video about a month ago that required a lot of subtitles for recipe directions, and doing it all on my phone was painstaking. Now I can type things in, drop and drag more changes, clip out what doesn't work and boom, I've got a full version video ready to export to any number of social media platforms or email.
Top 10 CyberLink PowerDirector Video Creation Software Facts
Named 2019 Editor's Choice by PC Mag
It makes square videos for Instagram and Facebook
New downloadable design packs monthly
New monthly music tracks
Includes access to thousands of free downloadable plug-ins and special effects
Versions are available via lifetime purchase or monthly subscription
Comes with a free screen recorder
Customizable shapes, text and more
Includes animated titles and motion graphics
Action Camera Center is top editor for video and photos
And SO MUCH MORE.
PowerDirector video creation software not without a learning curve of sorts. The interface can initially be confusing, but I suggest you drop in some basic photos and start pushing buttons.
For my first real video, I created a video slideshow out of photos for a recent craft blog post. I'll share that with you in just a bit.
Let's get more into detail about the software. When you open the program, you're initially given three options: Full mode (full-screen with all the options and tools available), Storyboard Mode (all your clips/pieces of a project) and Slideshow Creator (self-explanatory). You can also set it up to always go to Full mode by checking a box. You'll also need to select the Video Aspect Ratio, and Auto Mode will appear. Auto is a great option for those unfamiliar with video editing or are in a time crunch. (Or if you just want to let PowerDirector do its thing!)
Full mode provides the new project timeline, with all the options to add, edit, produce, save and export. You'll also like the Capture option, where you can 'capture' input from devices the software detects, such as a mcrophone, CD player, camera, etc. You can then insert this into videos you're editing.
Capture is one of the main four option tabs in Full Mode, with the other three being Edit, Produce, Create Disc. Each tab has a list of its own options, so you'll want to do a lot of poking around and testing. One of my favorite options is the Particle Room, where you have an array of options like falling stars. (Many of the options are called "Rooms," like Media Room, Effect Room, Audio Mixing Room, Voice Over Room, etc., all of which are basically the screen with all those specific options, allowing you to drill down and focus on just what you'll need for a set task.)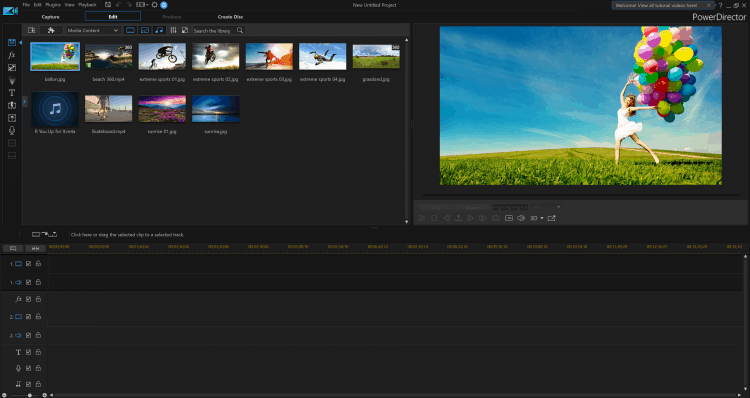 If you want to add even more themes and special effects, the options are endless with the online download availability. It's free to sign up for the DirectorZone, and when you've opened the video creation software, you'll see ideas of things you can download.
My PowerDirector 18 Magic Movie Wizard Example
I did a test with Magic Movie Wizard, where I imported in several clips from a recent craft blog post. Step two was to select a Style, so I downloaded the new Memory style and instantly, I had a video I could share on social…though the Memory theme is more geared towards personal photos, as it has a flowery field intro/background and pretty music. So, I switched styles. It's just that easy to go back a step, all the way until you've produced the final video. I tried quite a few before I settled on Original, editing the opening and closing text.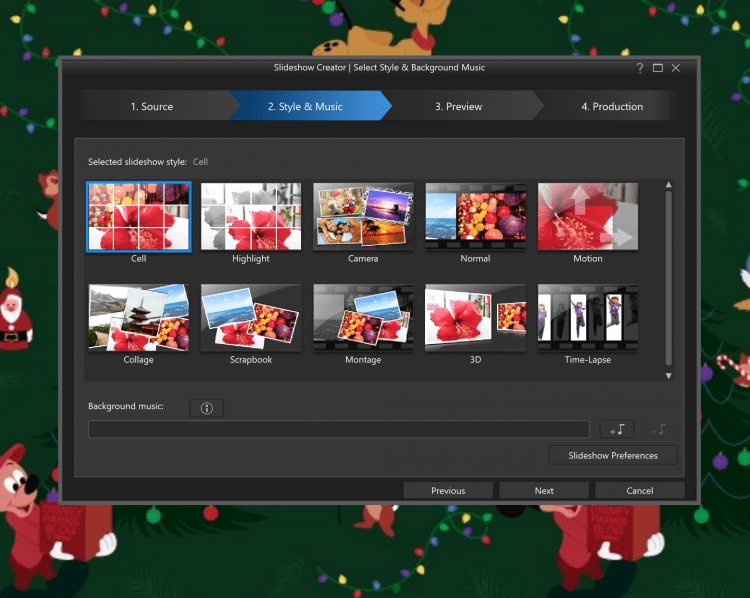 Once I clicked Produce, I could be done — or I could click to further edit in Full Mode. I chose this option because I wanted to add some audio and make it a little more fun. Then I figured why not go all the way and really jazz it up? Here's what I ended up with! (And I barely scratched the surface of the options the program offers.)
Check Out My First PowerDirector 18 Movie
You can read more about the gift tag project over here!
Default view is Timeline, but you can go back and forth between views; the Storyboard view allows you to see all the clips in more detail.
Once you start, you'll find you can edit each clip, all the way down to a very granular level. If you forgot to edit the picture or video enough for insertion, you can do it in the tool itself, like improving the lighting of a photo. You don't need to remove an image and re-add a new one. Such a timesaver for on-the-fly video creation!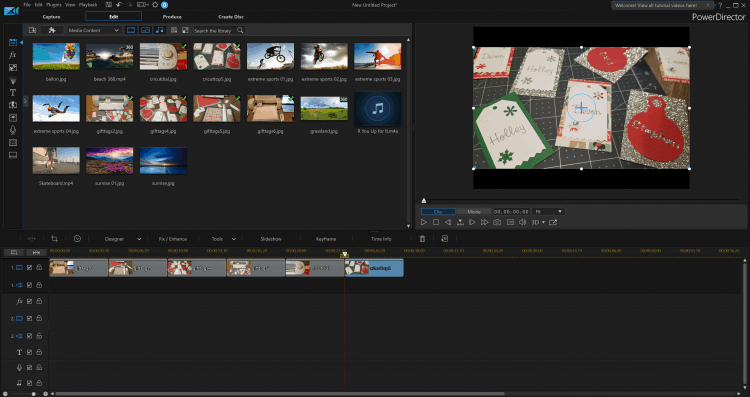 One big tip I learned was to change the view of the timeline. I wear glasses to see up close, and my new laptop has a smaller screen than my old one. (I wanted one that fits in standard backpacks for all my traveling.) Click on View and then Zoom In….several times. I also clicked on "View Entire Movie" down in the timeline bottom and it enlarged everything to where I can easily see it. Click and drag each clip to trim/lengthen and edit. This little tiny option made my video creation so much easier.
When you're all set, you click Produce and it saves the file to your computer. Then you can click Device to share to your phone, so it will play properly on mobile, or click Online to share on YouTube and other video sites directly.
My Christmas gift tags video is pretty basic, all things considered, but next time I have great video footage or I want to do an instructional video or slideshow, I have a lot of knowledge and the right tool to do it. CyberLink PowerDirector was well worth the time to learn and now I have a lot more confidence in offering the ability to do more than just unedited footage on a new level. Thanks, CyberLink, for solving a problem in content creation in a way that's attainable for all of us! If you're looking for a video creation software program that we can all use, check this one out!