Breast cancer. I've been so fortunate to not have a personal experience with it, but I know women who have. We don't have it in our family but I still get my mammogram regularly and take all precautions – those that we know – but it's such a scary thing and is happening at devastatingly high rates. Women we all know and love are being affected by this horrible disease, and not everyone survives their battle. There is a lot of awareness out there, but as I've learned with promoting autism awareness, there is also more to do. So I have partnered with Skechers in order to do my little part.
Thank you, Skechers, for providing me a pair of their pink GoRun shoes to help. They have sponsored this post.
This isn't just a post about some awesome Skechers shoes, but the story behind why I run. Do you have a story about why you run?
As I've shared before, I really enjoy running anymore. It's not only a way to tone my flabby thighs and burn fat, but I am energetic. I sleep better. I am doing all that I can to be healthy and running is great cardio. I also like that it will help me take off pounds, or help balance me out a bit on a day where I'm baking and have to try a few tastes of buttercream and/or cupcake batter. Or I have a night out. One huge benefit to running that is extremely undervalued is the peace of doing something without interruption.
How often do we moms have that time?
Some people run with their kids and/or family, and I don't mind a running buddy, but I normally have to run alone, due to schedule conflicts, and the time to myself is heaven. I love my running time. I could plan my day and think about things I need to do, but I try to really let my mind wander. The skies are beautiful, even if they're grey and cloudy (because California is in a drought and we badly need rain) and I pass rose gardens, classic cars and waterfalls. I hear kids laughing, watch families walking to school and saying goodbye as they head out to work. It's much harder to think about the tiredness in my legs when I have so many varied distractions. One leg in front of the other, it's almost mindless and the run goes a lot faster. I have no time to get bored! I get not only physically rejuvenated, but mentally refreshed and ready for the day. Since I usually run before work, that makes my work day that much better, too.
I'm also training for a 5k next month. 5k doesn't sound like a lot, but it's definitely a good workout and a do-able level of exercise for a lot of people. (I'm considering a 10k after this, but we'll see how the added training time works out for me.)
Wearing good shoes is paramount to success in running. Wear an old shoe or the wrong shoe and you can be putting yourself at risk for injury. Not all injuries are as common as spraining an ankle or falling either; you also want to protect yourself against plantar fasciitis and other foot/ankle injuries that running can cause or exacerbate. I suffer from PF at times and it can be oh so painful, resulting in some modified runs or treatment that gets in the way. Nobody's got time for foot problems, so be sure you're wearing a good shoe, and Skechers is quality for a 5k runner. I not only love the shoe they sent me – lightweight, comfortable with no rubbing, good insoles that you can use if you choose for more support, and nice traction – but it also helps promote breast cancer awareness.
Aren't they pretty?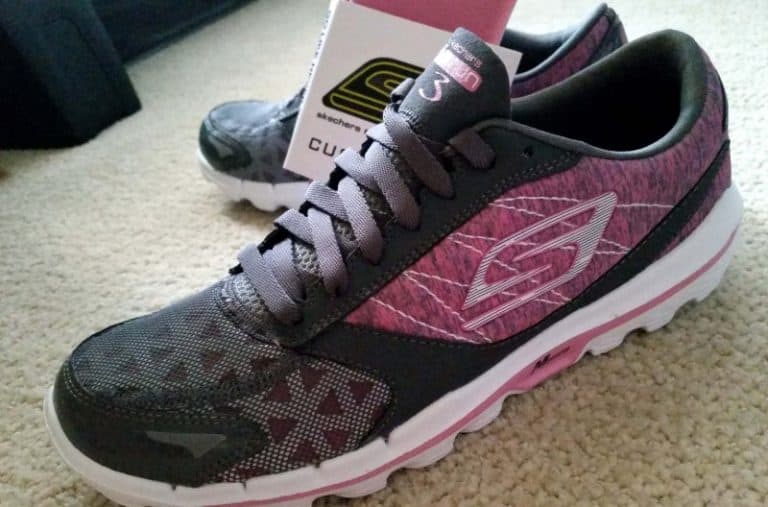 Those custom fit supports — love them! I have a high arch and they are perfect.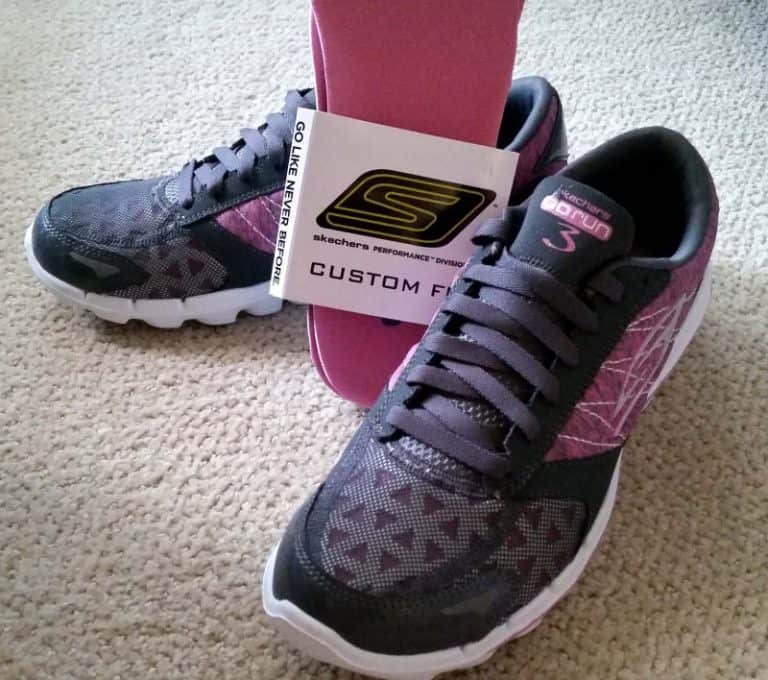 Here are the specifics on the shoes —
Skechers GOrun 3 – Awareness ($85)
Designed for speed with innovative performance technologies to promote a midfoot strike, it fosters a barefoot running experience while offering cushioning and impact protection.
• Improved breathability and flexibility
• Roomy forefoot. 3 layer Power-prene mesh on front panel allows for support while offering ample room for toe splay
• GOimpulse sensors offer flexibility and feedback for a responsive running experience
• M-Strike Technology™ promotes a midfoot strike
• Custom Fit insole is removable for an even more minimal feel
• 4mm Heel Drop to bring you closer to a natural barefoot experience
• Resalyte™ Midsole – Proprietary lightweight injection-molded compound with memory retention helps absorb impact
• Nearly seamless flexible mesh upper with lace up front
They also have two other pink shoes in the breast cancer awareness line, both for walking and in two different styles depending on what type of shoe you like. All items in the line feature a soft, heather grey and pale pink colorway, as well as the breast cancer awareness ribbon.
Skechers is launching a register round-up program in Skechers Retail stores where customers can round up their purchase to the nearest whole dollar to benefit American Cancer Society for the entire month of October.
If consumers donate $5 or more, they will also receive a 20% off discount for their next visit. This will offer anyone shopping for any item in a Skechers retailer store the opportunity to give back and support the cause.
Furthermore, Skechers retail stores are offing a gift with purchase for customers who purchase a pair of limited-edition awareness shoes. The gift with purchase will be either a breast canvas awareness canvas tote back or a pink water bottle.
Look at the box they come in!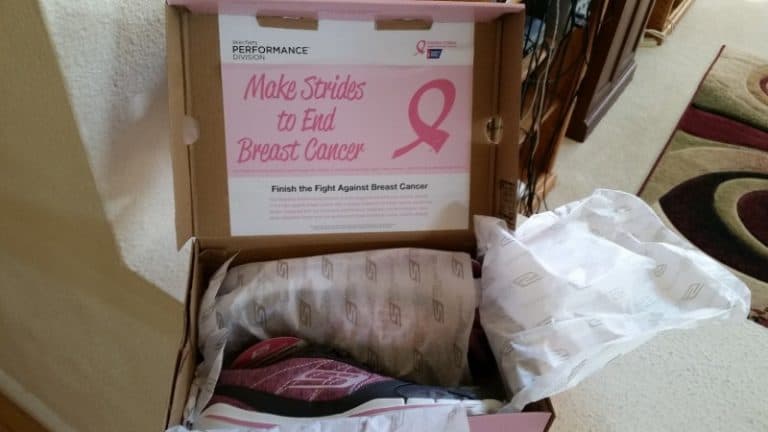 This is a company trying to make it easy for everyone to get involved in breast cancer awareness!
 If you're in the market for new shoes, check out the Skechers line of breast cancer awareness shoes. Help someone else and get a really cool pair of shoes! I am not a pink person by any means, so that makes these being pink even cooler, because my friends know I'm not into pink and that means the shoes get more attention. (And then they aren't looking at my running form!)
How are you helping with breast cancer awareness?