Thanks to Lindt for sponsoring today's discussion and inspiring me to try Lindt Hello Chocolate! Having the opportunity to talk about chocolate and meeting people? Perfect!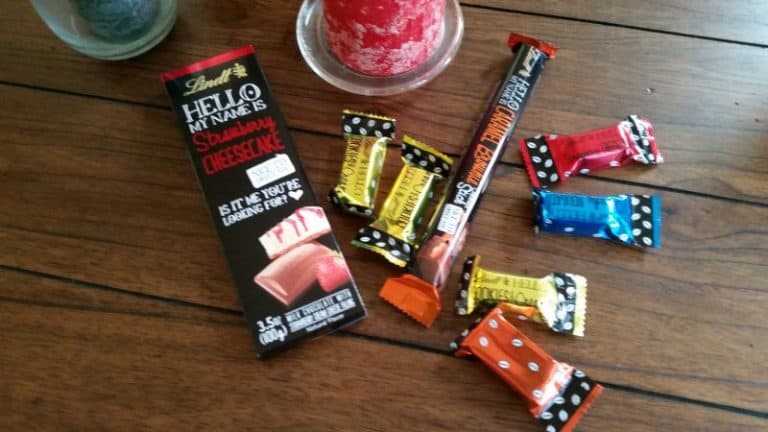 Years ago, I was a single mom of two very young children and working full-time in an office, trying to make ends meet. It was tough. There was never enough money yet I managed to make sure the kids had everything they needed. My wardrobe was pretty bare-bones but the kids had the love, attention and medical care they needed. I didn't like working – not because I didn't like to work, but I hated leaving the kids each day. I'd been a stay-at-home mom for a few years and it was a rough adjustment. I would get to work, jump right in and focus as best as possible, given that both the kids had asthma and a lot of respiratory issues that would limit sleep in addition to the worry.
I had a big pressure to keep my job and that made it all the more difficult. I remember the office cliques, the chatter, the menus getting passed around at work for lunch-time takeout orders and not being able to participate; I'd eat my bagged lunch and hear whispers about how I never joined in. Worse yet, they'd pass around cards to sign to celebrate a big day for someone and I wouldn't have the required $5 or $10 so I couldn't even sign the card. It was demoralizing at times, and a divisive environment with a bunch of people who didn't have a clue what it was like. Still, I went to work every day, planted a smile on my face and did the tasks required, knowing I was doing all that I could for my kids and looking forward to the smiles on their faces when I went home each night.
One day, the receptionist asked me if I could help her out as she needed to head out to an appointment and I'd had prior experience on a switchboard. I jumped at the idea! Not only did I get to do something different, but I got to help someone who had been friendly to me, someone who understood my situation without me having to explain it to her, and I got away from the other environment. It turned out that I was pretty good at handling the switchboard, and I was tapped frequently to cover her lunch hours and other appointments. She'd fill me in on her life, I'd tell her about mine, and frequently she'd bring little gifts to my kids. I don't know that I ever got the opportunity to tell her what a bright spot she was and I've thought about that a lot over the years. Her "Hello, Donna!" when I walked through the door each day helped get rid of the stress of the long drive and rush to get to work on time, something that's never easy when you're responsible for waking, feeding and dressing a toddler and infant in diapers…oh, and dressing yourself. I was exhausted by the time I got to work! The receptionist's smile each day as I walked in? Priceless.
I had an interest in baking even back then, and one day I took homemade cookies to work. I put them down at my desk, and then took a bowl to the front desk as I sat there covering the phones at lunch. People would walk by, grab a cookie and say hello to me that whole break. I loved it! There were weeks I couldn't even afford the chocolate chips or extra cost, but whenever I could, I'd take something with me, however small. Those tiny brownies would break the ice with a lot of people, and before long, I'd hear "Hello, Donna!" from a lot more people. Even though I never really won over the gossipers from some areas, I didn't care; when your focus is on the most important things in life – your kids – you can overlook the pettiness of others, and it all started with a "Hello!"
I still work full-time, two more kids later, 20+ years of being married to The Husband, but I work from home. I no longer have the worries I did all those years ago, but I do go to an office from time-to-time still. Last time, I took a plate full of brownie bars with this amazing frosting. I don't always have time to bake when I'm planning to make that 2.5 hour commute – those days, I spend almost five hours in the car – but I still like to take little treats. These little Lindt Hello Chocolate bars would be perfect! One bag of the mini-bars would fill everyone's taste favorites. The Husband prefers the Strawberry Cheesecake flavor, I like the Caramel Brownie, and the kids? The Cookies and Cream and Crunchy Nougat. Perfect little bites of chocolate and filling. Great things to go along with the morning "Hello!" greeting when you come into the office, and much-appreciated after the crowded freeway traffic.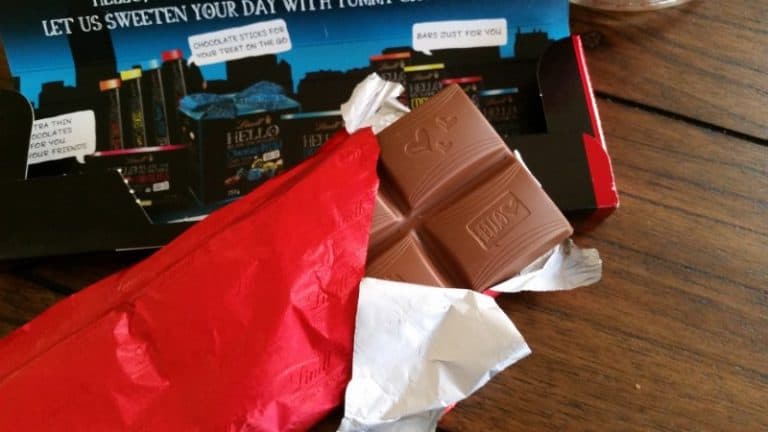 Lindt Hello Chocolate also comes in a full-sized bar with perforations so you can break off just the right amount, and sticks, which are long skinny mouthfuls of flavor that fit easily into your purse or school lunch bag. (I hid the Caramel Brownie from everyone! Shhhh, it's now in my purse.) It's a fun, fancy chocolate, available at Lindt.com and many stores all over. (I happened to find mine at my local Target.) Look at the inside of the Strawberry Cheesecake bar! So good.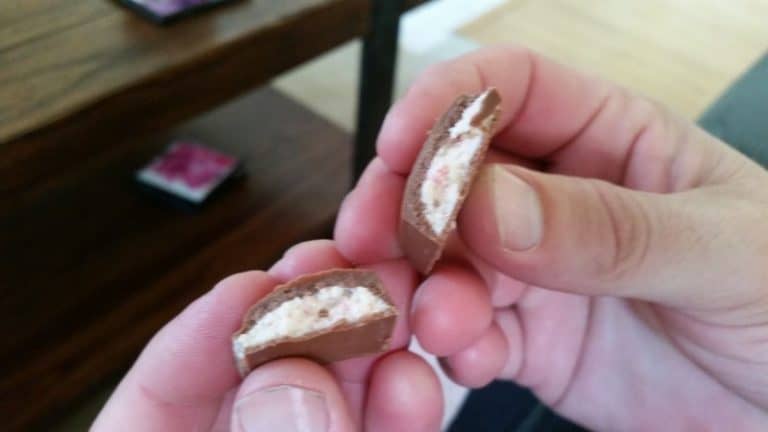 Lindt Hello Chocolate is partnering with Ashley Tisdale to co-produce "It Started with HELLO" premiering on September 12th on the "It Started with HELLO" Youtube page. The first episode, produced by Tisdale, will premiere on September 18, 2014. Three additional new episodes will debut weekly through October 9, 2014. It is a fun, new romantic comedy digital series capturing couples as they make their first connections, and is inspired by the cheeky personalities of the new Lindt HELLO products.
There's also a Lindt Hello Chocolate sweepstakes! To enter, visit the Lindt HELLO Sweet Connections Sweepstakes Landing Page and enter your email address. Entries can be made daily for additional chances to win the below prizes. It's that easy. 5 Weeks of Prizes – Connect with Someone You Love, or Someone New!