Have you heard of Seasons Restaurant in San Bernardino? Neither had I, before too long ago! My son used to be a client at the Inland Regional Center in San Bernardino, so we were frequently down by the Art Institute but we were unaware that they had a restaurant. I wish I'd known because it's the perfect atmosphere and location for a quick but deliciously decadent bite to eat when zipping around the Hospitaly Lane area.
Run by the Art Institute of the Inland Empire, Seasons Restaurant is operated by culinary students who take turns rotating between front of the house and back of the house. Other than a month over the holidays, when everyone's on break, and a couple of weeks between the changing of each semester, the restaurant is open downtown from 11:00am – 1:30pm Monday through Friday. It's located at 630 Brier Lane, just north of the 10 freeway at the Waterman (north) exit. The signage isn't real obvious, but turn into the parking lot towards the left and you'll smell the food!
Lunch at Seasons Restaurant
We were treated to a full menu of options; there were five of us at our table, so we all chose a different entree and passed it around for everyone to try. It was my first visit, so I had to go for the braised pork belly. (We like to laugh "Get in mah belly, pork belly" whenever we have it, so I got a quiet giggle when I first looked at the menu.) I'd also been told that the pizza fries were a life-changing experience, so I was really happy to find out they were the first appetizer being served, along with an artfully displayed caprese salad and crab cakes with a perfectly crispy outside but soft, creamy center.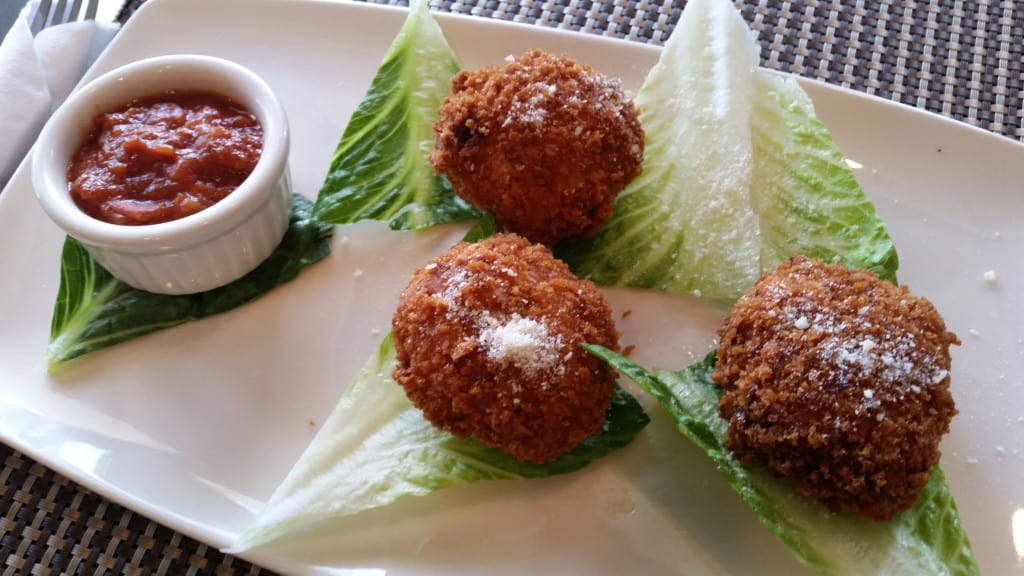 After we eat our many course meal — appetizers, five entrees, and a full plate of three desserts — we were taken on a tour of the back area. I was unable to stay for this portion of the event, but thank you to Sara of My Imperfect Kitchen, I have some behind-the-scenes photos of the school to share with you.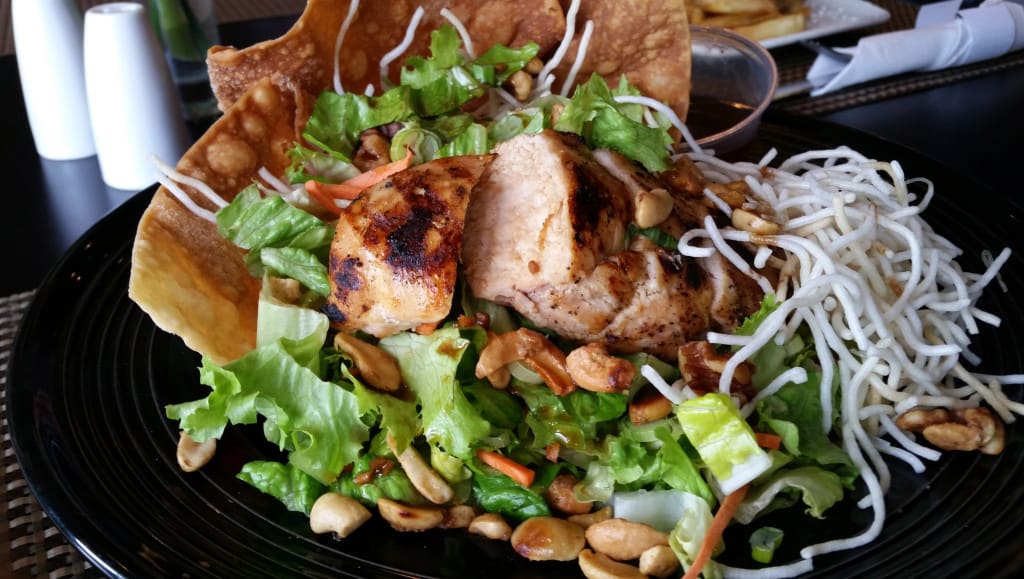 This Chinese Chicken Salad had a moist, tender chicken on top of romaine, bok choy and napa cabbage, topped with carrots, green onion, crispy noodles and a side of roasted peanuts, served in a wonton basket. The presentation was beautiful!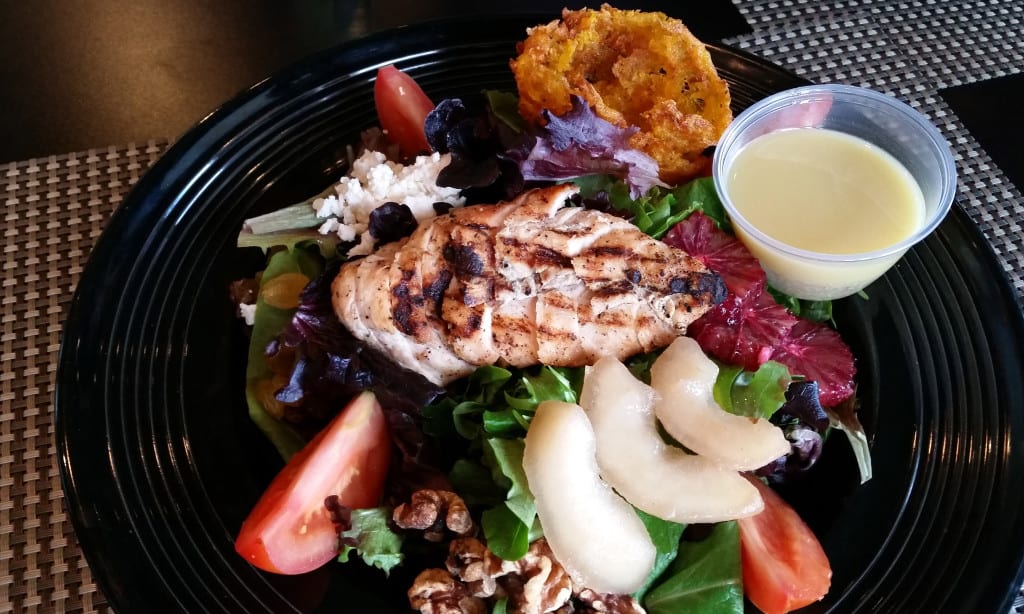 Look at the colors of all the fruit! This Winter Chicken Salad included tomato, candied walnuts, feta cheese, sliced pears, golden raises and blood orange, with that lovely crispy-fried butternut squash shell! We all devoured that shell quickly — such a unique part of the presentation.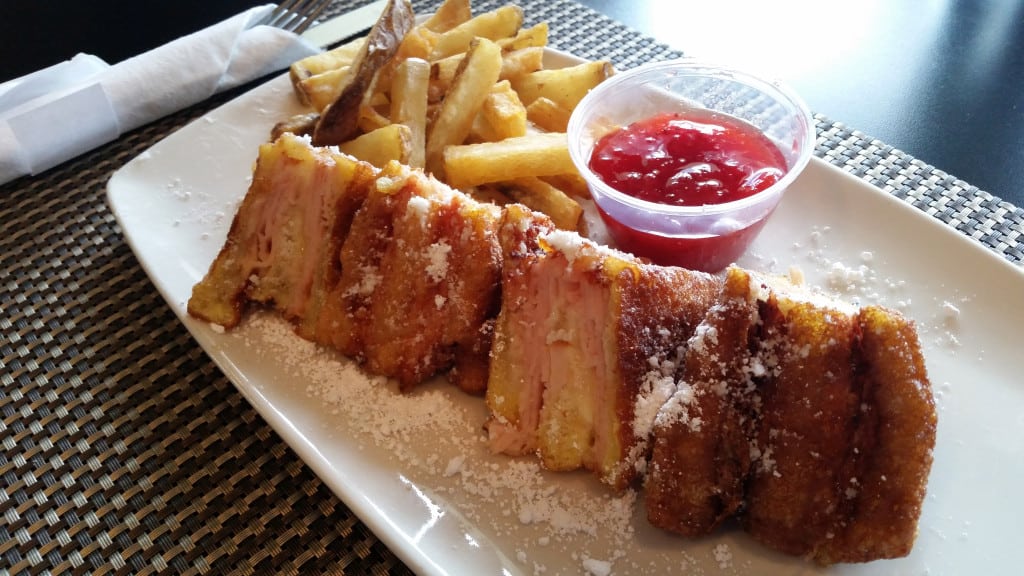 I haven't had a good Monte Cristo since our last visit to Disneyland's French Quarter and this was perfectly made. Ham, turkey and swiss, topped with powdered sugar and a berry compote to dip in. In a word: yum. (This wasn't my entree but I could have easily eaten the entire thing.)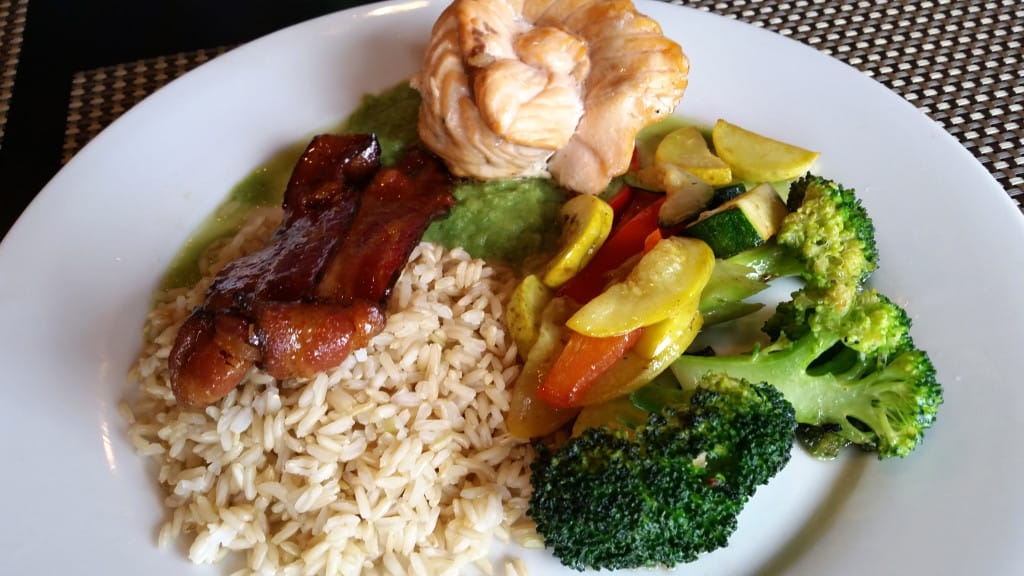 Another beautiful plate! That salmon belly was so fork tender, it melted in my mouth and was so good. Salmon, to me, is best served when it's just barely cooked and seasoned, so the real flavor of the fish comes through, and this was perfection.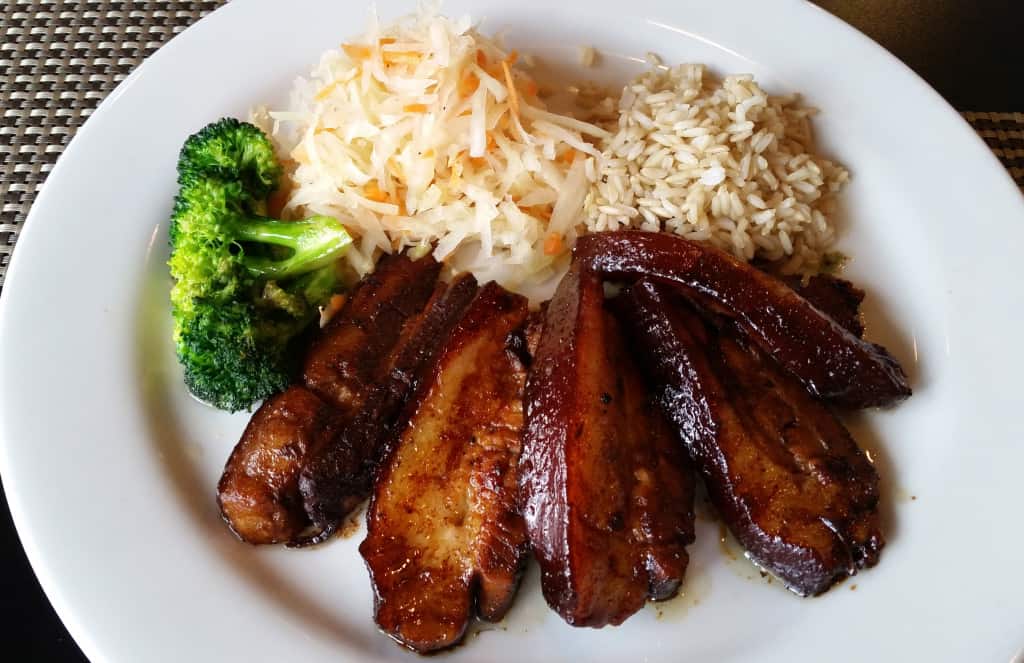 This was my entree of choice. The pork belly was braised in a Chinese Five Spice blend with orange zest and served with a green papaya salad that was so fresh, it was a perfect palate cleanser after the amazing fatty goodness (official foodie terminology there) of the pork belly. I may be biased but best entree of the day!
This Steak Diane looked so good, too, but since I can't eat red meat, I trust everyone else to tell me it was fantastic. Here's a video of our fabulous chef making it table-side. We loved the flame part the best! (Thank you, Chef, for being so accommodating and entertaining!)
And then it was time for dessert. A plate of heart-shaped bunuelos with fresh caramel sauce, a piece of tres leche cake, and a churro sandwich with vanilla ice cream. I had to take this whole plate home with me — which they packed up so nicely, including the ice cream (which made it home in-tact!) and it helped me get through the rest of a seriously busy day. My favorite was the churro sandwich, but the husband and little dude liked the other two items as well. All three were light and palate-cleansing after a rich meal of many flavors.
Thank you, Art Institute of San Bernardino and Seasons Restaurant students and staff, for a great afternoon. We were fortunate enough to have met both the director and the head chef, and we can see why the school and students are so successful. We'll be returning again. (And thank you too, Des, for the wonderful visit!)