Welcome to my latest edition of Seen in My Kitchen: Tales from my Tiny RV Kitchen aka I'm trying to make the best of a bad situation.
In two words: Trader Joe's. (ROCKS) Living in an RV means we don't always have the space for fancy things, but because we live in an RV means we sometimes NEED the fancy things. It's the little things that make all the difference while we try to pretend we're not without a home and without a job while we make this transition from South Carolina to California.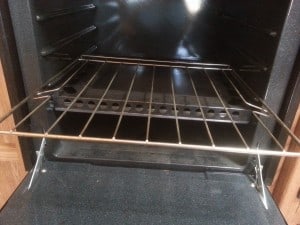 Second oven rack: ordered! I can't bake for squat with just one rack, especially since I'm always cooking for 4-6 people. Getting that second rack may not sound important, but it means we eat an actual hot meal ALL AT ONCE.
Another Trader Joe's find: being used in dinner tonight with gnocchi (store-bought..don't judge), crusty bread dipped in the aforementioned Dukkah, and roasted zucchini and cherry/grape tomatoes. Forgive the blur. Another fact of RV living when it's hot as blazes outside; lights or a/c is sometimes a choice, and today, I chose a/c.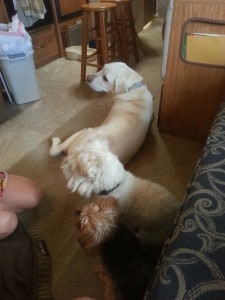 Pups hanging out — the middle one is my "grand-puppy." Ther's not always enough space for the big guy to run around in here, so it's a good thing he's a cuddle bug. He's happiest when he's near us, and even when we had the house with a big kitchen, you'd frequently find him standing behind me or laying on the floor nearby. I'm not sure if he just loves me that much that he wants to protect me, or if he's hoping I drop something on the floor.
What I'm currently reading, so it's sitting on my dining table. I've been in online community management since the mid-90s, an early type of social media, and I'm always doing my best to stay on top of the latest in the field.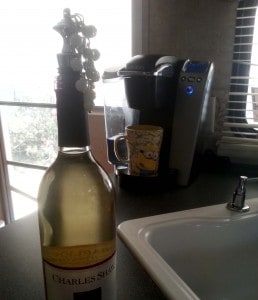 My two favorite beverages..one expensive, one not. You be the judge. Out of all of this stuff I've shared, other than the dogs, these are the two most important things seen in my kitchen. What are the most important things in yours?