My name is Donna and I like to shop.
There, I said it out loud.
Let me be clear though. I like to shop for things other than food. Food shopping is just another chore, one that I spend a lot of time on to stay within budget and feed everyone properly, but sign me up any time to go buy a pair of shoes, fun gifts for the family or new home decor items. When I was invited to attend the opening day celebration for Soft Surroundings at Victoria Gardens here in Rancho Cucamonga, it was an easy YES.
The store opened at 10am and I learned that customers had been lining up before 8am! All purchases on opening day qualified for 15% off and the first 100 customers received goody bags. (And because they went quick, the Soft Surroundings team gave out gift cards to other guests as a thank you for coming — how cool is that?) I got a goody bag as well, full of items from the store, including this beautiful shawl/scarf that's going to get a lot of use.
Soft Surroundings at Victoria Gardens is the first Southern California brick and mortar store, with two more coming later this year in Seal Beach and Mission Viejo. You can find out more them — including how to sign up to receive catalogs — on the Soft Surroundings website. The company started as catalog-based back in 1999, with their flagship store opening in St. Louis, Missouri in 2005.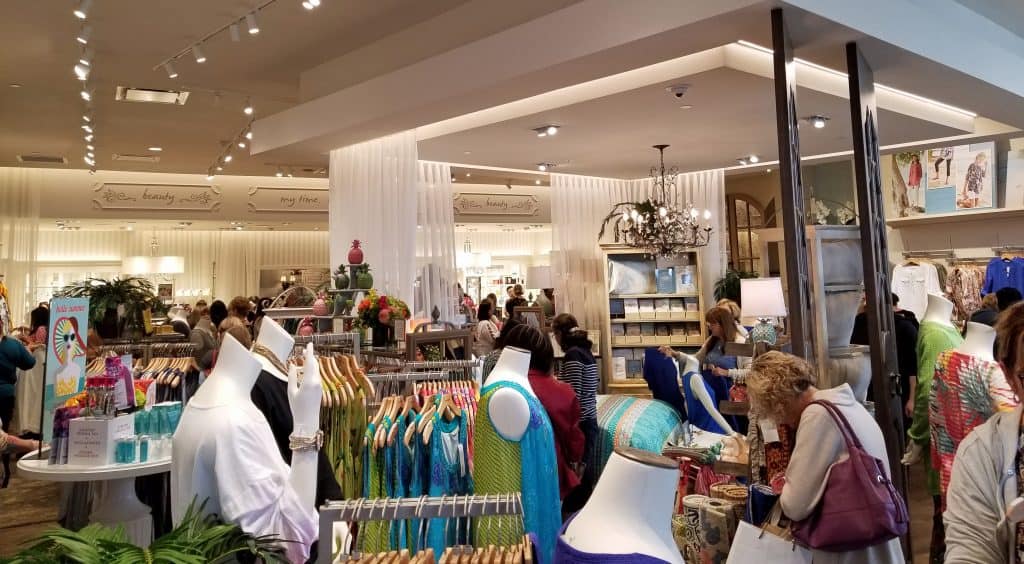 The store was crowded when I was taking photos, and while I wandered, I heard so many people telling their friends or other shoppers that they were so excited to see their favorite items in person. There are a lot of dedicated Soft Surroundings fans out there, and with good reason. There is so much cute stuff available! They are known for their quality bedding and clothing and skincare products, helping busy women take care of themselves so they can take care of the other people in their lives. Tucked in between dresses and kimonos and bedding, you'll find unique sculptures, books, aromatherapy items and Himalayan salt lamps, along with fun items like these books.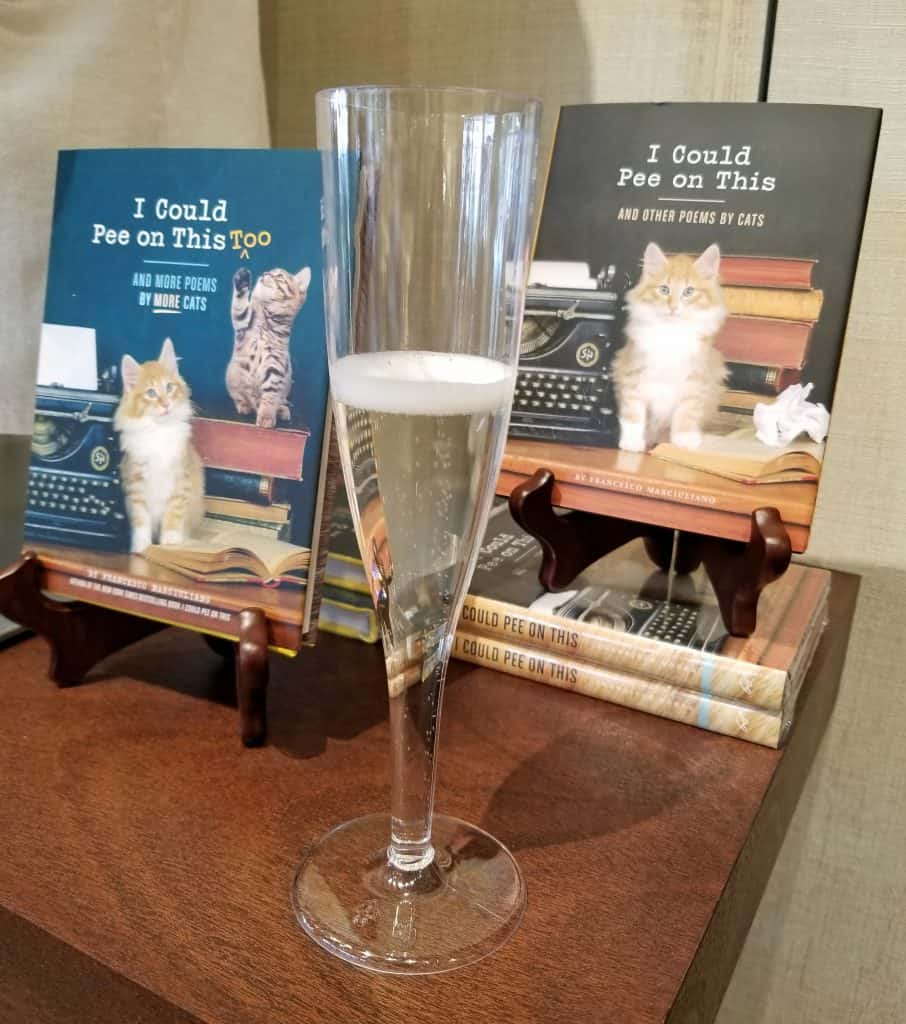 That champagne is mine though. Immediately inside the door, guests were offered a flute of champagne and macarons to enjoy while perusing the shelves. You know you're in a fun store when you get to shop with champs!
An immediate favorite of mine was all the pillows. I love adding a pop of color or personalizing a space with something you don't see everywhere, and pillows are perfect for that! I want all of these.

I also want the kimono on the right. (And that grey dress? I saw several guests take them to the checkout stand, they were really cute.) It would look good on the dress, too, perfect for a summer evening barbecue party.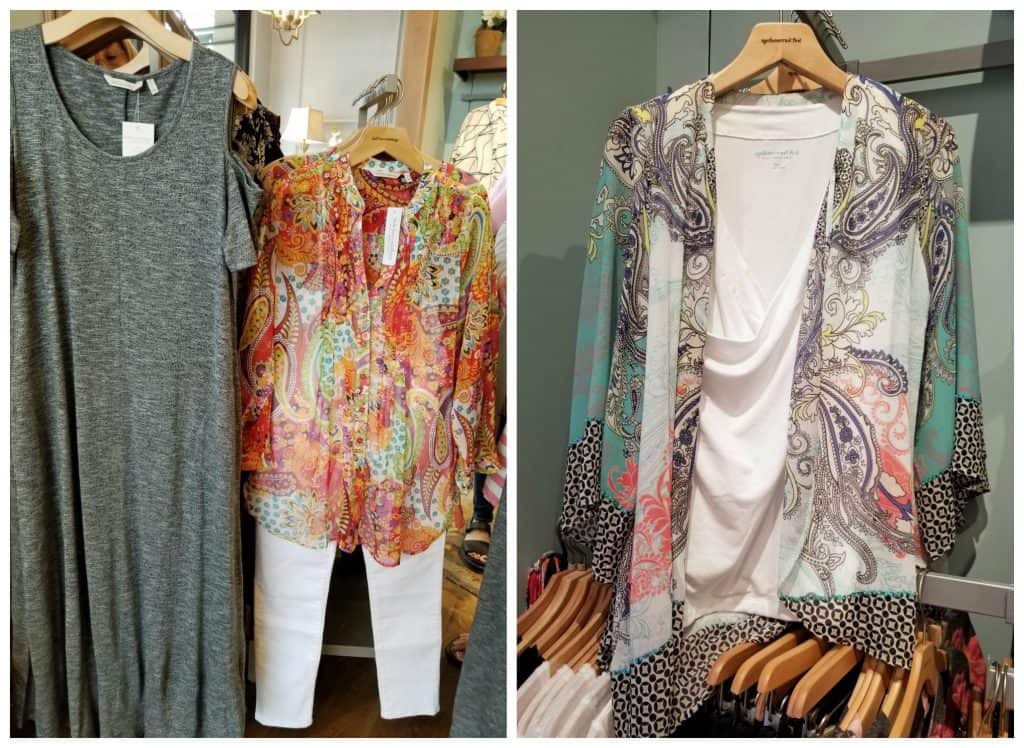 I found myself laughing at some of the random items on display between the racks of bedding and clothes. These little birds below would really suit a friend of mine that has a sun room full of colorful little items, and when I shared this picture on Instagram in a story, two people told me they wanted one of the pineapples!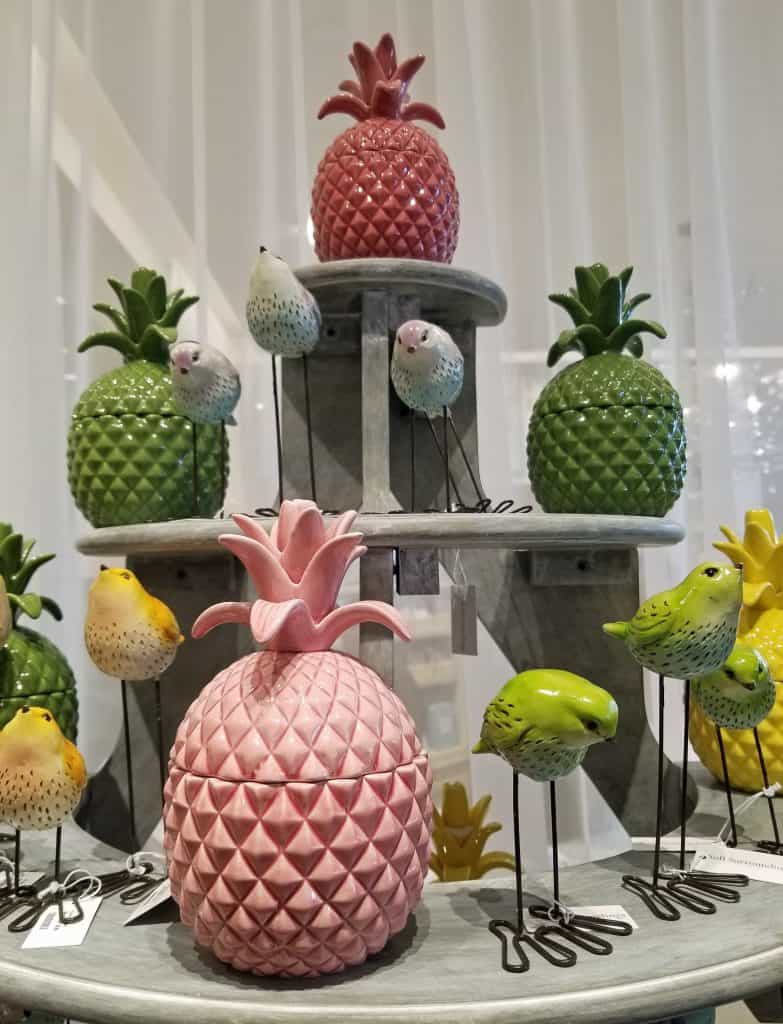 This book is apparently pretty popular but I had never seen the buttons before. Now I want one! What busy lady doesn't need a reminder or two to stop doubting herself so she can get back to living her awesome life?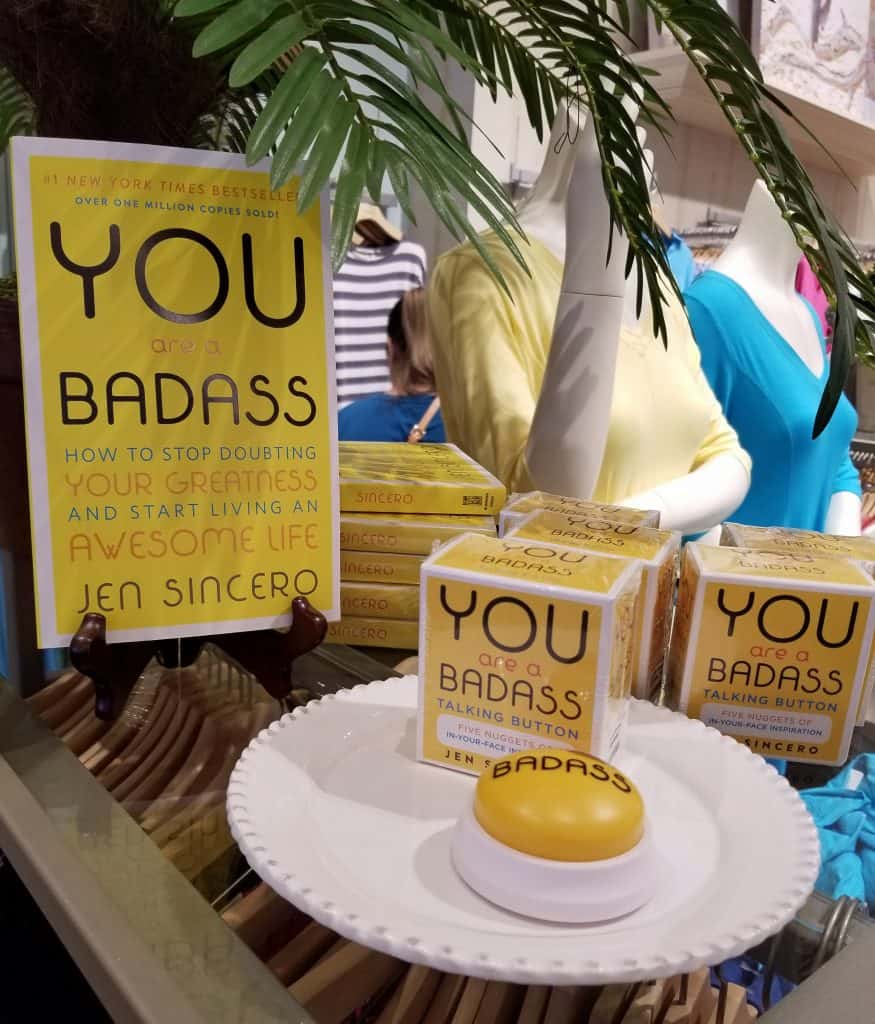 Soft Surroundings covers all the bases on beauty and well-being, too, with a big variety of skin care products from high-end names and ones unique to the store. The line for complimentary beauty treatments was long and spoke to the popularity of the products. Whatever facial product you could need is available on the website and/or store.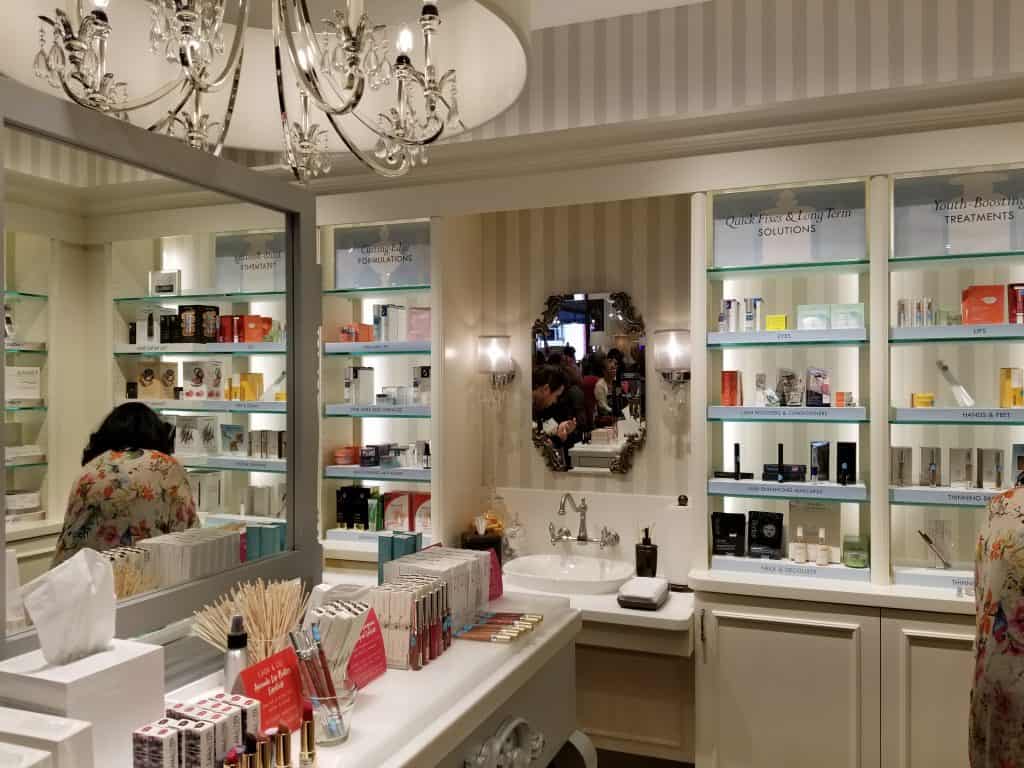 With summer weather coming soon here in SoCal, you can't be too careful with your skin. This display below is another great example of the whimsical approach Soft Surroundings takes towards its sales. Go in for one thing, find five other surprises that make you smile like I did.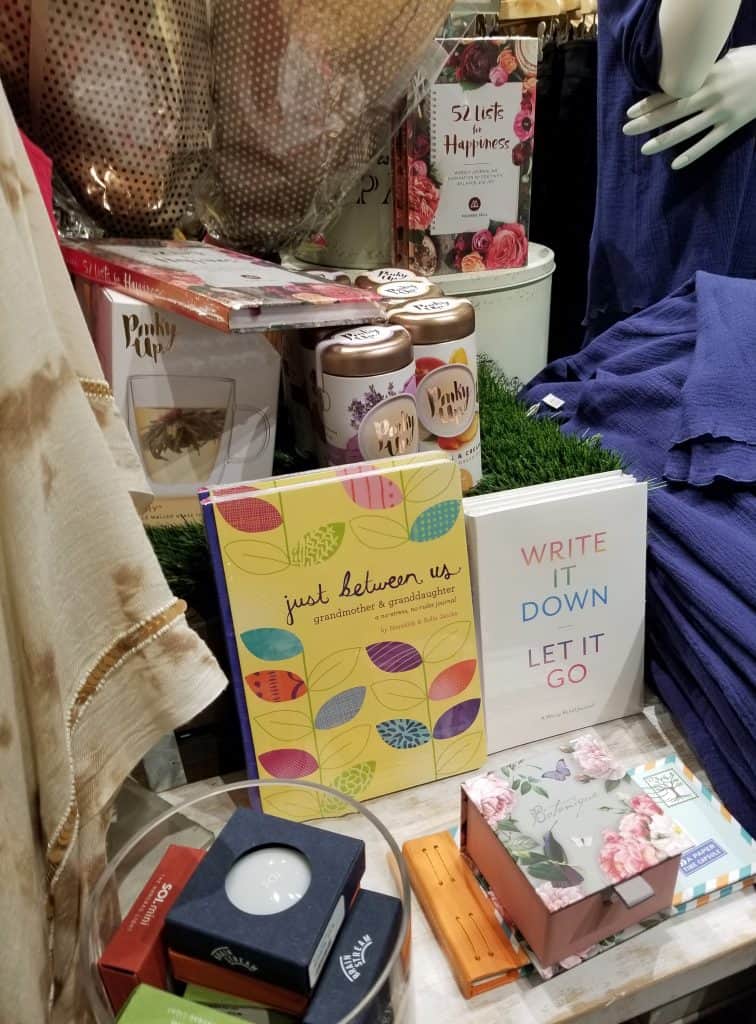 Front and center was this appealing bedding display, framed like a personal scene out of a home, all the way down to the essential oils and diffuser next to the beautiful lamp on the nightstand. Grab some pajamas, one of those fluffy robes, head for checkout and you're all set for a relaxed evening courtesy of Soft Surroundings!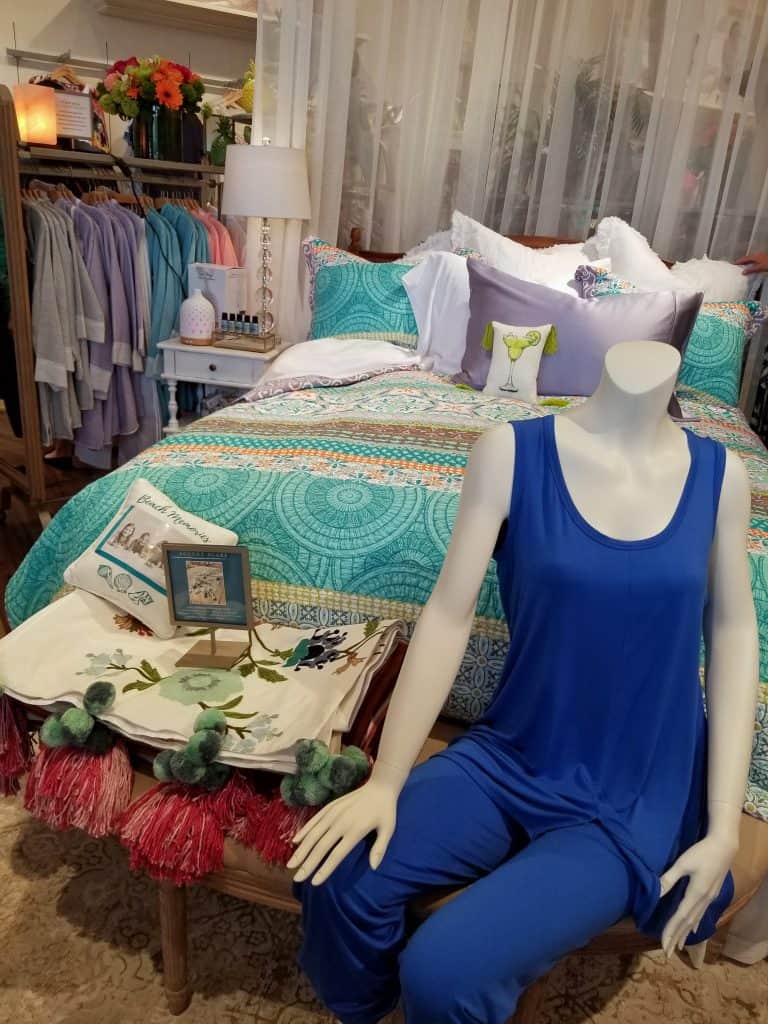 This collection of jewelry was for sale by the checkout counter. I wish I had bought those gold disc earrings with the blue tassels. Aren't they gorgeous? If you like color and style, you'll find a lot of new things to add to your wardrobe and put together a gorgeous outfit.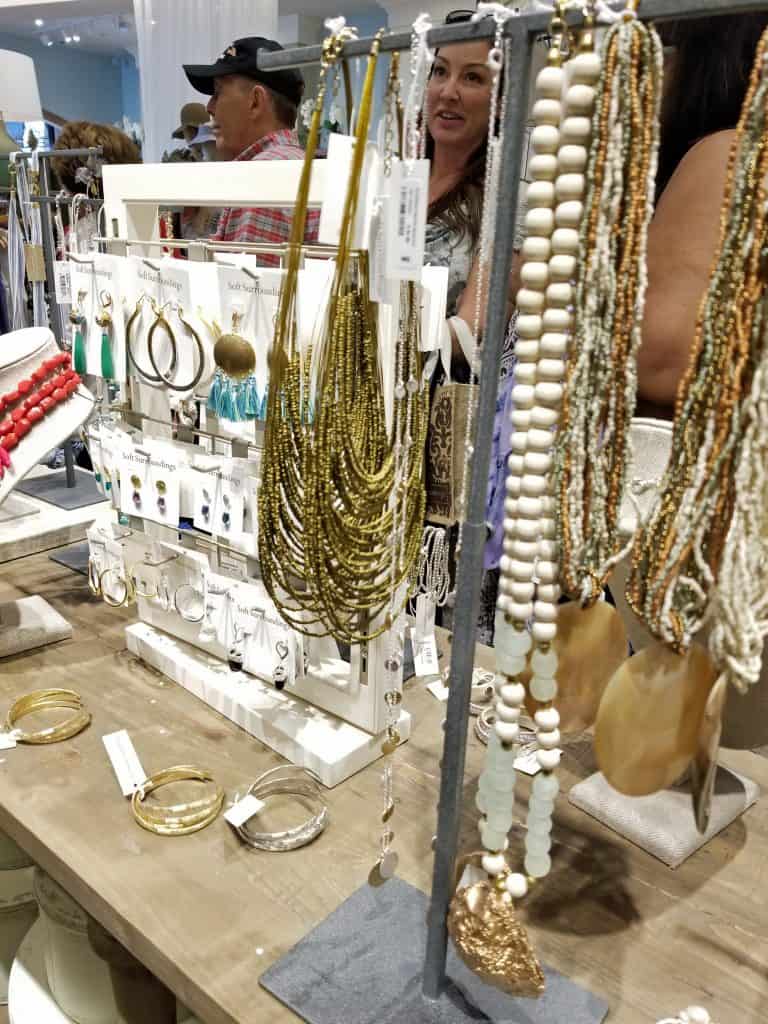 Soft Surroundings at Victoria Gardens is located on South Main at Kew, on the south end of the popular outdoor shopping mall. If you're like me and hit up happy hour and do some shopping after, the store is near several hot spots so I think it's going to get a lot of attention with a good location like this.