Living in the south, Fall comes later than some parts of the country, but when one reason you've moved here is because you want seasonal weather, it gets easy to get impatient when the weather isn't chillier and the leaves aren't turning by September 22. For the last month, I've been checking weather.com at least three times a day, and I got overly excited (aka crazy freaky excited, per my husband) when the 80s started falling out of the 10-day forecast. Finally, today, we're in the 70s and there's not an 80s in site! Heaven!
First thing I did today..in my jammies even, shhh, don't judge..was to go searching outside to bring the colors of Fall inside. Score!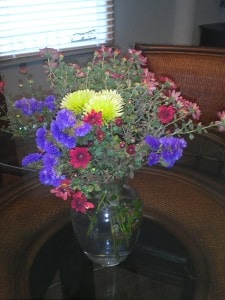 It's amazing what one beautiful bouquet can do to a room! I'm working on adding Fall colors throughout the house, but I'm planning on spending much of the remainder of the day in the kitchen knocking out a long list of pumpkin recipes. Scones, anyone?