As a long-time viewer of ABC's daytime news programs, I have been a fan of The View's Sara Haines for quite a while. She's sharp as a tack, witty, gorgeous and she takes no guff from anyone. In her line of work, she needs to be quick on the comeback and unafraid to speak up, and she nails it on The View, where she returned to the panel for season 24 after having been a co-host in 2016-2018 for seasons 20-21.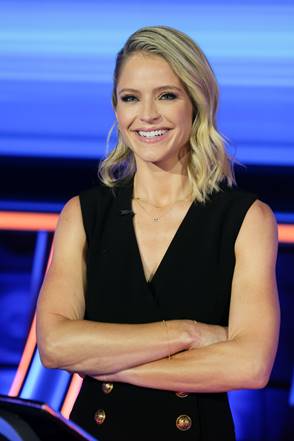 Sara's list of television achievements is long. Most recently, Haines co-hosted ABC News' "GMA 3: Strahan, Sara & Keke." Prior to her association with ABC News in 2013, Haines was part of the fourth hour of NBC's "Today," alongside Kathie Lee Gifford and Hoda Kotb, a position she held from 2009 to 2013. In 2008, she began online reporting as host of the program's entertainment video blog "Backstage Pass" interviewing countless celebrity entertainers, actors and musicians. Watching her spar with Michael Strahan was a highlight of morning TV!
Sara's now taken on a new challenge this season, hosting "The Chase", a heart-racing quiz show where three competitors must pit their wits and face off against the Chaser, a ruthless quiz genius determined to stop them from winning cash prizes. Each hour-long episode is a fast-paced battle of brain power, where contestants are challenged to think faster than they ever thought possible to answer up to 166 questions across all topics. "Jeopardy! The Greatest of All Time"'s James Holzhauer, Ken Jennings and Brad Rutter take turns serving as the Chaser, reuniting the three titans of trivia who last faced off in January 2020. But now they're no longer pursuing each other – they're chasing YOU!
I had the privilege of interviewing Sara last week regarding the new show, and while I had to leave 15 minutes early due to a rogue furniture delivery (they *never* come early) so I didn't get a photo with her, I really enjoyed hearing her talk about her role on the show and trivia regarding James, Ken and Brad. The first question is what I was wondering, so I was so glad someone asked it. Basically, what's a one-word descriptor for each of the three ex-Jeopardy champions? Her answers didn't surprise me!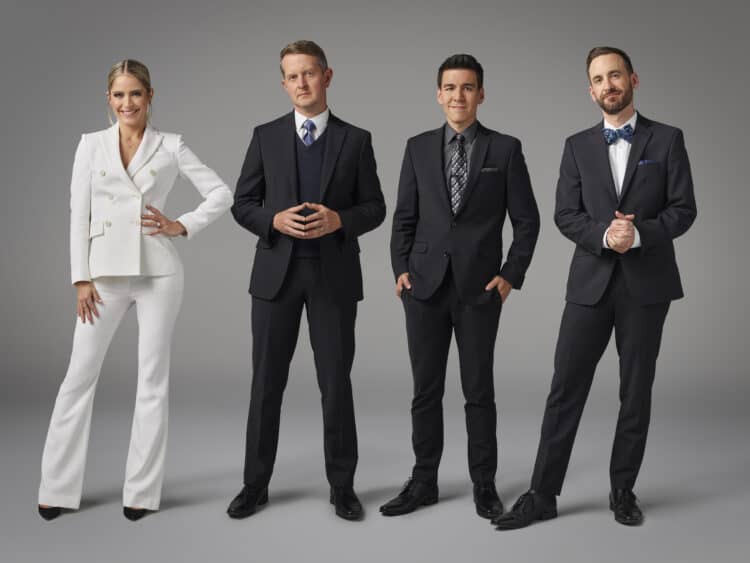 First, we're Jeopardy nerds. Well, maybe I'm the nerd and the rest of the family just tolerates my yelling answers at the screen. (Surprisingly, I don't do that bad…until we get to 16th century religion, explorers of the early world or anything political.) We watched the winning streaks of all three players, so I was unsurprised when she said that Brad is chill, Ken is warm and James is like a brat, like a sibling. Sounds about right!
Sarah shared a lot of behind-the-scenes tidbits, such as the challenge of slowing down while speaking yet reading the questions from the technology in keeping with the speed of the game.
"I read through the questions quickly before and try to catch any words that could trigger me. I'm notorious for mispronouncing things and then I just blame it on my regional Iowa accent and hope nobody notices, but I did a lot of practicing, looking up pronunciations, reading."
Sara's enjoyment of the game came through loud and clear, including getting to engage with some of the contestants, who have her laughing. She was asked if there was a question that stumped her, as in, "Is that really true?"
"And so a lot of times also I jokingly used the chasers as my own personal google. So I'd sit there on set, because there was a lot of time where we were stopped down for technical reasons. And I'd be like, James, is that even possible? And I'd pretend like he was my phone."
"In fact the first time I ever won Trivia Pursuit with my family happened after we shot The Chase, and my brother looked at me and said how did you know that, and I was like The Chase. Yeah, so needless to say I actually got smarter with this show."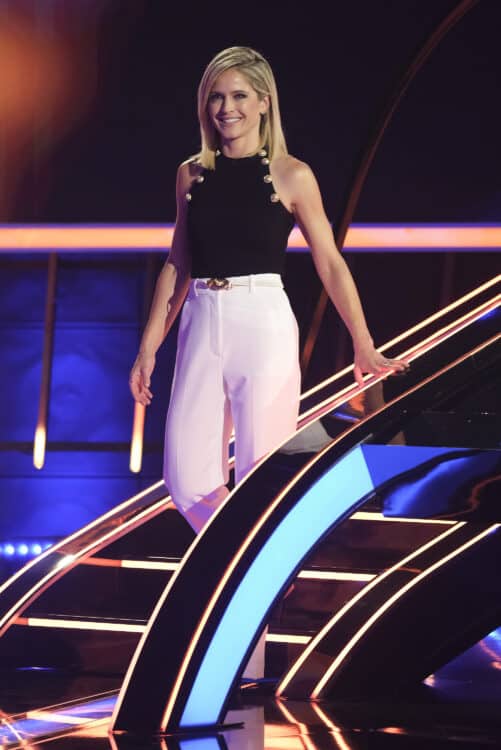 Sara was incredibly personable, acknowledging smiles and questions of other journalists, making for a fun interview. I only wish I'd been able to stay the last 15 minutes for a photo with her! Be sure to watch her new role on The Chase, showing on ABC on Thursdays at 9pm PST/EST.