When I say I'm doing a two-day detox, I get a look. You know the one, the one from the person who assumes that a detox plan is some crazy way to lose weight and 'cleanse' my system. It may not sound appealing. It may sound entirely different from what it is that I'm doing, because too many people get a detox plan confused with a cleanse. Thing is, it's an entirely different thing. This two-day detox plan is actually simple — it's a modified, easy fasting plan that promotes rapid detoxification and reduction of inflammation, along with a weight loss of 2-3 pounds, and sometimes more. Doesn't sound so bad, right?

The WeighFast Two-Day Detox
I was given a free WeighFast two-day detox kit from so I can try it out and jump start my weight loss while detoxing my system, and tell you about it. So far, so good! I just started today, and it's easy. I drink three detox shakes and three hunger management shakes each of the two days, while abstaining from other foods. I mix the detox powder with 8oz of water, pure fruit juice, rice milk or almond milk, as long as it doesn't exceed 120 calories of juice/milk per serving. The Satisfiber should be mixed with 8oz of water. Hard to screw up, and I like that I can have a variety of flavors.
Why am I doing it?
I have about 15 pounds to lose. That's my confession. I've shared it before, yet here I am, still 15 pounds heavier than I want to be. I do yoga several times a week and I do zumba, but I've not made the other changes that I need. We eat mostly healthy food, but that's not always enough. For me, it's also an age thing as my metabolism has slowed down. Making good decisions regarding food is paramount to weight loss, but there should also be activity, and all of it needs to be consistent. Doing good four days a week then splurging over the weekend..well, that may be part of my problem. I've maintained these same 15 pounds for a year or so now, so I don't gain, but I just don't lose. Now is the time to change that.
Today was my first day with the WeighFast two-day detox. I'll admit that not eating real food while the rest of the family is can be difficult, but it's so temporary, I'm not bothered. I like to eat, but breaking that cycle for me is a good thing, too. Food is fun, and it's okay to like it, but to lose weight, I have to make a change and this is a great way to get me on that path. My weight goal isn't so extreme that I can't have it done within a couple of months, so I'll be down the weight by the time that I have to dig my jeans back out of the closet for cooler weather. (Gotta think positive, right?)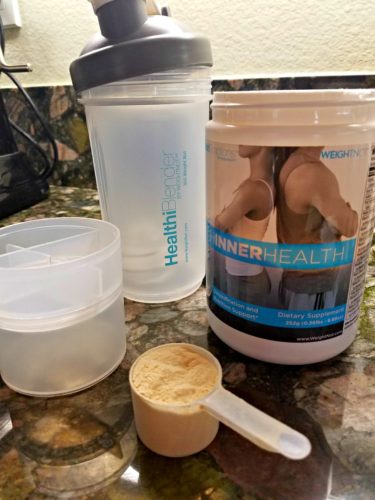 What is the two-day detox?
It's important to remember that WeighFast is NOT a colon cleanse, and it has a much higher nutritional density and far great efficacy than a "juice fast" or "green smoothie cleanse." The two-day detox works by providing specific forms of nutritional fuel to the liver, which the liver can then use to process and eliminate toxins. Fasting ensures that you won't add new toxins to your system, so it's important to stick to just the program products, but you can drink water. Water helps with the extraction and flushing of toxins. It also helps manage hunger so you can maintain during the brief period of calorie restriction.
If you like your results and want to continue, you can try the WeightNot complete, three-stage holistic weight loss plan; you can even apply your WeighFast purchase towards the full plan. Pretty cool, right?
For more information, visit their website by clicking one of the links I shared above or visit the consultation page here.