The Photofy free photo app will help you create better photos for social media. This easy iOS and Android app will improve your photos on the fly!
Being into social media as much as I am, I really need quality and reliable content creation apps on my Android that help me prettify my images and make them easy to share. I need to be able to add text, frames, make touch-ups (crop, brighten, change the contrast) and work on the background, maybe even add a sticker or other item into the photo. Collages are also popular, and not just for business, but because I'm a mom of four, with two significant others and two spoiled but well-loved dogs who all grace my photo album on a regular basis.
To keep up with the times and create beautiful content, I frequently check out new apps that are available. I've tested more than I've ever kept, and having an Android, sometimes our options are less stellar than those for the iOS. I'm a diehard Galaxy phone lover, and I've had all versions all the way up, currently using a Galaxy S5. I love it, and having it ready to go with apps to get my photos and images shared asap wherever necessary is paramount in my roles in social media and mom.
I even paid for a couple of apps and ditched them after realizing they were too slow, too memory-hogging or just didn't offer the simplicity, speed and variety that I want. Then I found Photofy, a creation tool for consumers AND pros alike. (And then I was offered premium Photofy additional content for the purpose of this review; my opinions and images are my own though.) Powerful social content creation is at your fingertips!
Photofy free is my favorite. Ever. Consumers and businesses alike need it. It's an incredibly easy photo editor to use, full of filters and lighting, as it guides you through everything you need to correct or add pizzazz to a photo you already have. Or, you can take one from within the interface, and share it. When I first open the app on my Galaxy, I am greeted with the option shown below, to either capture or create. I have used the capture option, but I more often use create. It then guides me to choose either photo or collage. Simple so far, right?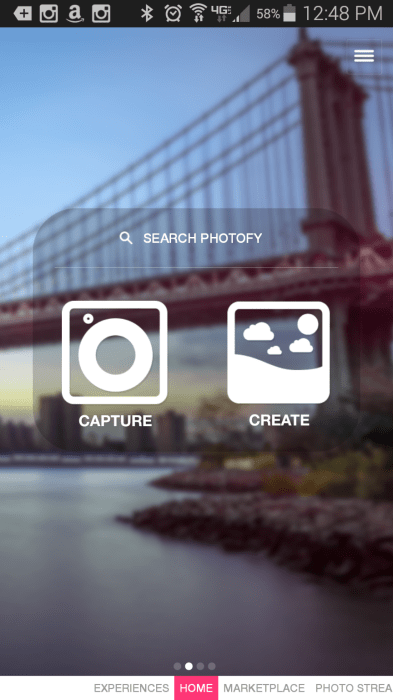 It stays simple. I choose the photo(s) I have in mind, and that's where the magic begins. (In fact, while it's loading, Photofy even reminds you that the magic is about to happen.) For this example, I chose a favorite photo of my two furry babies. See all those options?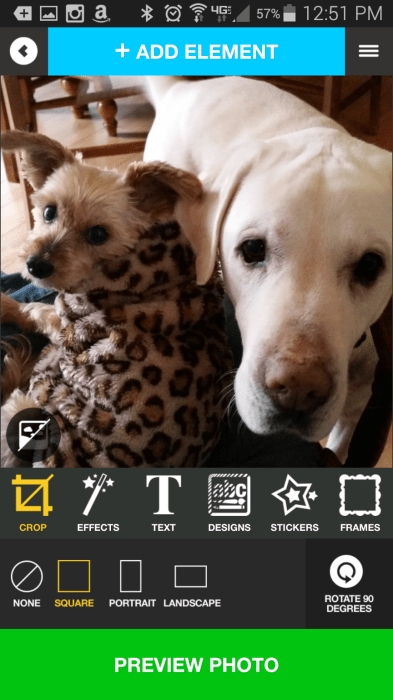 The photo was already cropped, but I decided I wanted to add some text. Free form or meme, it asks. Free form for this, but the meme option makes it so easy to get creative! Type in the text, click to enter it and then I can choose from a boatload of new options: font, size, color, format, etc. I can even operate in layers, and the graphic designer in me loves that this goes beyond the simple options without cluttering the app or making it too hard to navigate.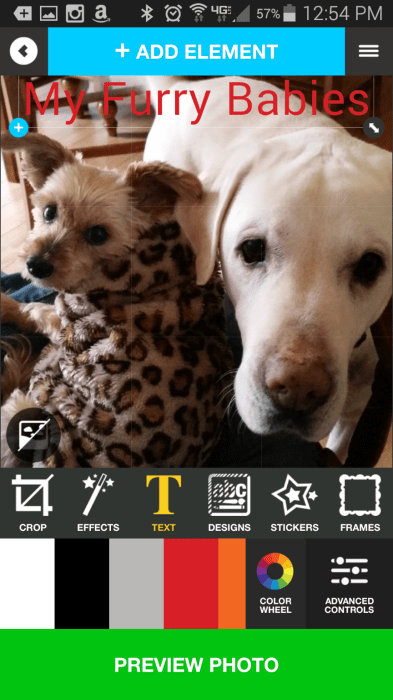 I relocated the text, centered it, chose red (as the default white blended in with Charlie's fur) and clicked close to get back to the next option screen. See where I am so far?
Click on effects and you see what is similar to filters in Instagram. So many choices! I didn't use any on this as the coloring was already true and I didn't feel that black and white did them justice. (Lighting effects are one of the most-used photo edit options amongst all users of all apps!)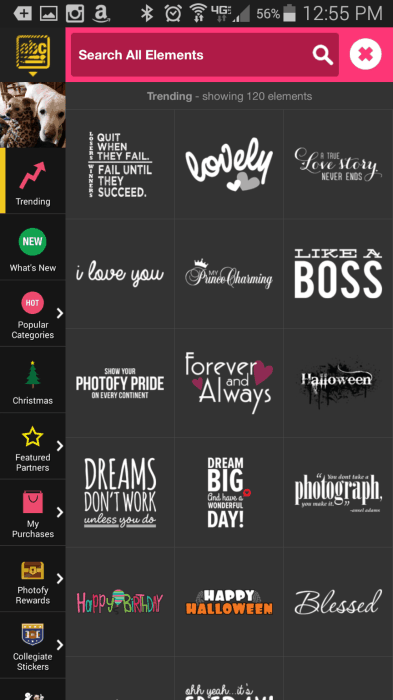 Then it's time to add a design. Click the design button and you're almost overwhelmed with options. The navbar on the left scrolls down a very long ways, giving you options from what's trending, to what's new and/or popular, holidays, featured partners, a folder for add-ons you've purchased (more on that later) and everything from anniversary, baby, fashion, animals, food & drink, gardening, home/moving, kids, love, school, seasons, etc., up to wedding. The list is far too long to list it all here. Quotes is a fave category of mine, too. I added an "I love you" quote from the Trending category, which is again alterable if you want to change color, font, size, etc. Then I went to the frame category. Since it's Christmas time, I chose Christmas. Isn't that frame adorable? BUT…the first text I typed was hidden behind the "I love you." No worries! Click the Advanced Option and Layers and there I can select which layer I want to move to the front, to the back, etc. I realized then it was all too crowded, so I removed My Furry Babies, relocated I love you, and chose a frame that added a cute Christmas element to the bottom and a basic white frame. Love it! It's really that easy to make changes on the fly!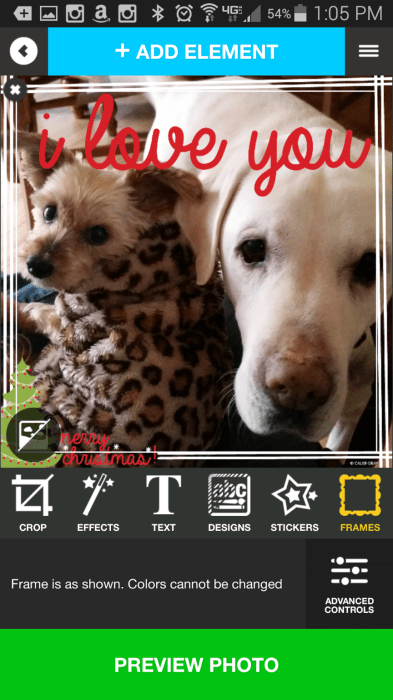 Back to the paid add-ons: much of the content is free, as in far more content that I've ever gotten free in any prior app I've tried, but you do have the choice to buy packages from designers or extended sections for each category. The prices are low and you don't have to carry stuff around on your phone unless you want to. The app itself is free, but you can buy the option to remove the watermark; I believe this cost me $1.99. You can also purchase branded sets, like Disney themes, etc. I can't wait to use some of these at my son's birthday party this weekend!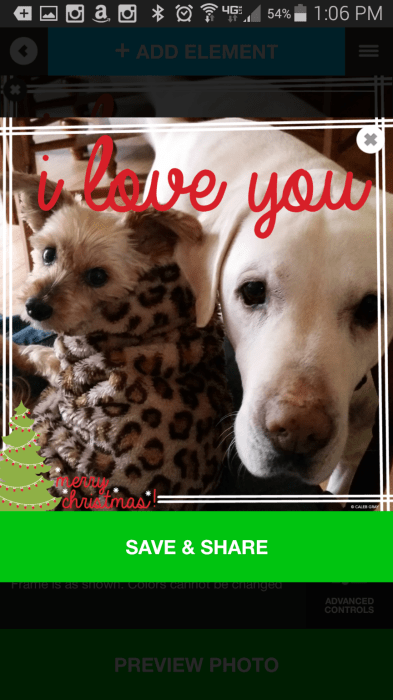 Click preview photo. Yes, I love it! Click Save & Share. Voila!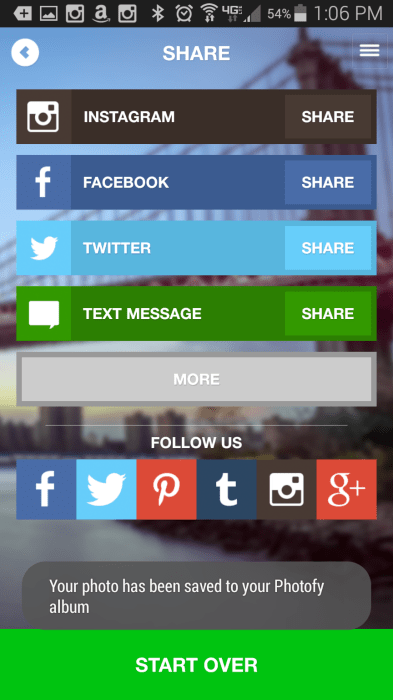 This option is self-explanatory. You can share in numerous places still; I frequently click on the Instagram option and then share from the rest there, but I can do it in a multitude of ways. At any point, if you want to start over, click the icon at the top right (which looks like a set of three bars) and you'll have a whole new menu of options.
This social content creation tool can do everything, and just to show you a few other options, here are a few photos of the app in action: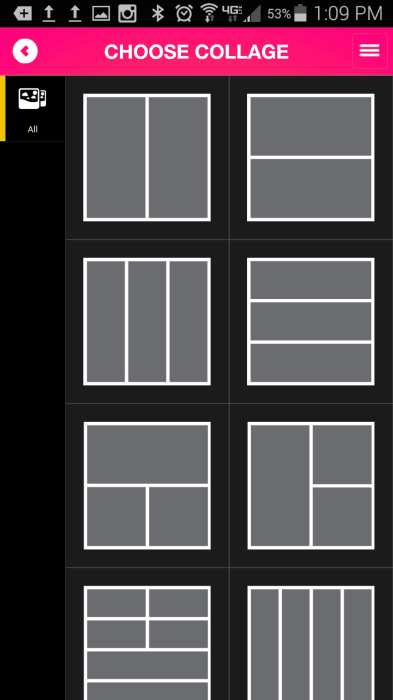 This is what you'll see when you click on the Collage option. You can scroll down there for a long while, too, including a large numer of photos or just a few.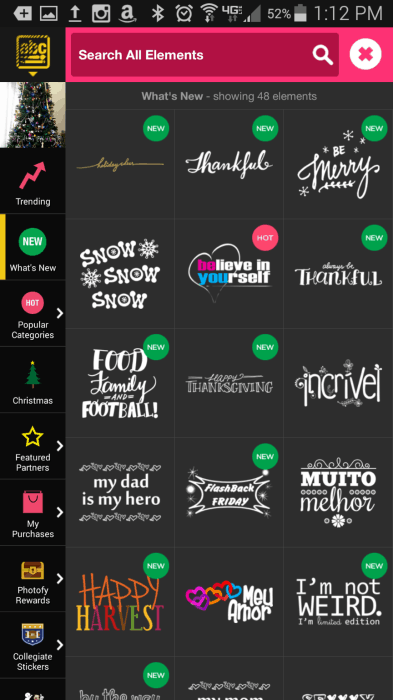 The largest collection of overlay content and design options is so long, I can't capture a screen shot that gives you a real idea of the choices.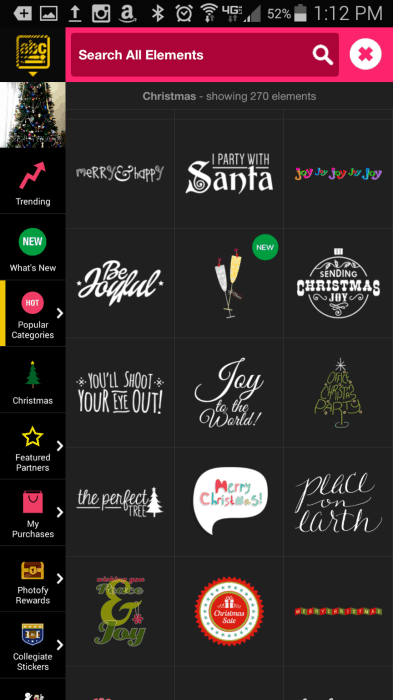 And more!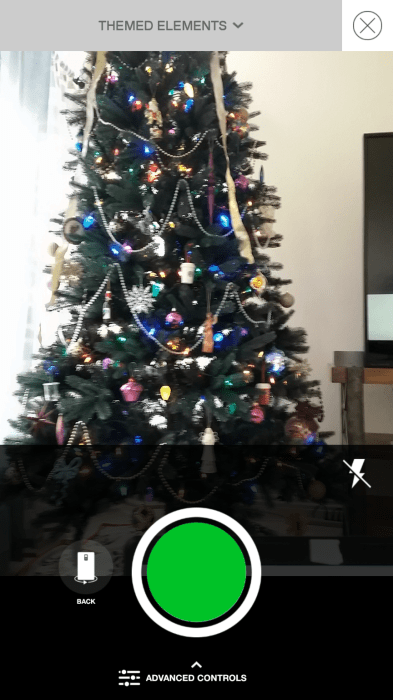 If you choose to use the Capture option, you'll see something like this. See that Themed Elements text at the top? You can click that and a large drop down menu will appear; you can choose options to appear in the photo as you take it, making it an all-in-one photo opp. You can also choose filters as you're taking it.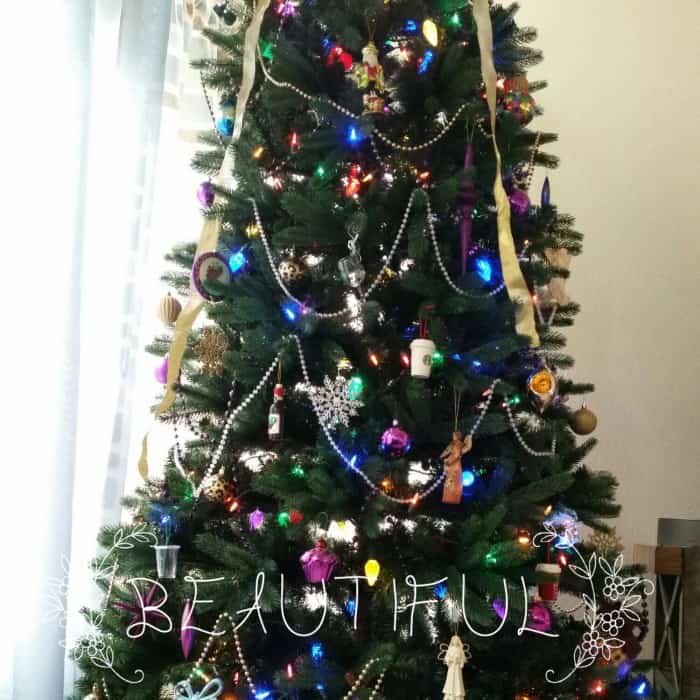 That's an example of a design element I added before I took the picture. (And that's my beautiful Christmas tree!)
For the price (FREE) and the variety of options, you can't go wrong with Photofy. It's not often you find a content creation tool that will help you create content for your social network in a fly and that you can truly say you love, you really use and you'd recommend. This is it.