Sports moms and coaches, read on for my review of using TeamSnap to make coaching life easier!
As a busy football mom, I'm always looking for ways to stay more organized and keep the prep time to a minimum. Easier said than done when you're scheduling practices, setting up transportation for busy parents, planning snacks, drinks and fundraisers. Then you have to make sure everything's ready, including you, for game time on Saturday. It's enough to scare people away from participating in football, being a team mom or a coach — and where would our sports-playing kids be without them?
Enter TeamSnap, a new app for Android and iPhone, that helps players, parents and coaching staff all stay in the loop for the season. Easily downloadable, the app sets up in seconds, allowing for a coach to create a team, a parent to find an existing team and join it, or a player to sign in.

I downloaded and was using TeamSnap in a matter of seconds. If you're a coach or a team mom setting it up for a coach, you'll be done in under five minutes. The only delay I ran into at all was adding in each parent/player email address. Enter your team name, your name, then individually enter each email address to invite them to the team. Boom, done in a flash!
(Keep reading for an opportunity to score your FREE three month trial of the app!)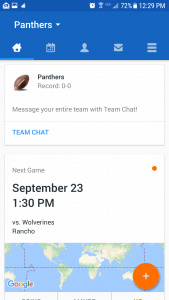 Next up is entering games onto the schedule. Enter the location, the time, the pertinent details and everyone who signs into the app has the season schedule available in a glance. There is even a chat option so parents/players/coaching staff can chat together without knowing each others' personal info. The location option also helps you see a map so you know where everyone has to travel.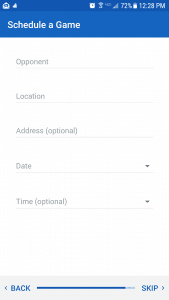 As a team mom, texts are great but last season, one mom would send a text, 15 others would answer and before I knew it, the group text was going crazy. I'd try to get back to my day job only to have to mute my phone to avoid the 371 texts in reply, and I'd end up missing important texts unrelated to football. That wasn't ideal, but I didn't want to be that mom that appeared rude for not interacting. This app will solve that problem! I can stay involved but without my notification sound going off non-stop.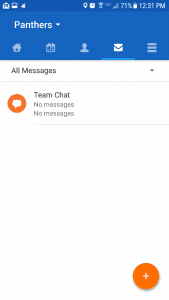 I can see how this will also help my son, too. He isn't the most organized and he has his homeschooling and Halloween haunt slider/performer practice to coordinate. This app will help him see his schedule ahead of time, so he'll have no excuse to not stay on top of his schedule and plan ahead.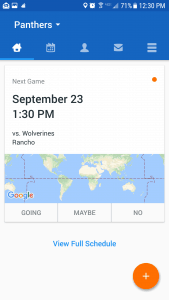 Not sure how well the team is doing? Click into the extensive options menu and click on Statistics. View/upload photos that you've taken from the sidelines or the files that team staff can upload. This will be particularly helpful when fundraising time comes around.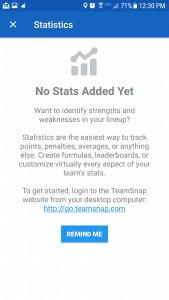 The app isn't costly either. It ranges from free, with 30 roster members, up to  $17.99 monthly per team. Busy football moms and parents won't need to pay and there are a lot of customizations available on paid plans. (The $17.99 plan even has weather forecasting! We get a lot of rain out here in SoCal during football season, so this will really help us be prepared for practice and games in the event of the inclement weather that always occurs.)
Below are a few screenshots of the app in use, as well as an email that a parent or player would receive when they join. The app is colorful, light on resources and the navigation is easy.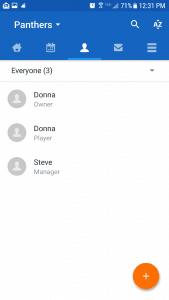 That's a list of the people that I added initially when testing. I'm the owner and a parent — which seems redundant but it makes sense in that parents will know who to go to for questions about the app or any changes they may need.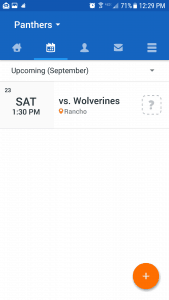 The schedule's super-easy to see, and you can easily click on each one to get more specifics, if added. Below is the welcome letter, which is colorful, easy to skim at first glance and contains adequate direction on what to do next.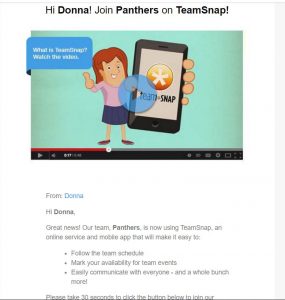 I think you'll enjoy TeamSnap as much as I am! One message, everyone has it accessible, and there's no "you have the wrong number" excuse or "I didn't have a copy of the schedule." Coaching staff and team moms don't have to keep printing things out, and can instead make sure everyone knows that ALL the info they need is readily available in this one place, for free. No more having to squeeze time into practice nights to make announcements beyond "Check TeamSnap for this week's info!"
Are your kids playing sports? Are you a busy football mom or other sport mom? Check out the
free THREE MONTH trial
, available
here
. Let me know what you think about the app!